Cardi B Just Debuted a Blunt Bob in a Surprisingly Wearable Hair Color
Cardi B Just Debuted a Blunt Bob in a Surprisingly Wearable Hair Color

With the help of her beauty team, Cardi B switches up her looks at lightning-fast speeds. Her fans like it like that, as her beauty moments — particularly her hair changes — have proven to be a source of damn good inspiration. Her latest one is no different, as she kicks off Fall with two of the season's biggest hair trends: a blunt bob and blond hair color.
Cardi B debuted a bob on her Instagram. The hairstyle appears to be slightly asymmetrical and with ends hitting just above her shoulders. It was created by hairstylist Tokyo Stylez, who credits Paris-based Glam Lace for supplying the wig.
The hair color isn't the platinum hue that is quintessential to the cooler months. Instead, it's closer to what London-based colorist Jack Howard calls "wheat blond," and what celebrities like Millie Bobby Brown and Dua Lipa have been loving this season. Howard describes the hue as being warm, buttery, and the perfect shade of blond to head into Winter with.
Cardi B is one of the many celebrities who have been loving the blunt bob haircut this year. She's debuted numerous in the last few months, including her looks during this season's Paris Fashion Week.
Check out her blond bob ahead.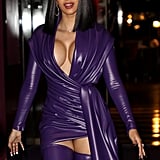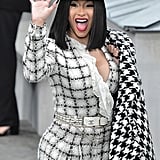 Source: Read Full Article