GMA couple Amy Robach and T.J. Holmes secret bond as romance blossomed
Former GMA stars Amy Robach and T.J. Holmes' relationship became public knowledge in November 2022, and while the couple haven't addressed what drew them together, their love affair came to light shortly after they achieved an impressive milestone together.
On November 7 2022, Amy and T.J. completed the New York City marathon together, with Amy sharing several photos of the two of them running alongside one another, as well as celebrating post-race.
DISCOVER: Amy Robach's rise to fame – her career before GMA job
Amy challenged herself to run four marathons in 2022, with two in two weeks, and T.J.'s support obviously meant a lot to her, as she wrote on Instagram: "4 marathons… 2 in the last 4 weeks… NO WAY I could ever have accomplished this alone! I love this running crew so much. We encourage each other, train together and finish together."
While it's likely that the duo were already in love pre-race, could it be that hitting such a momentous achievement solidified their feelings for one another?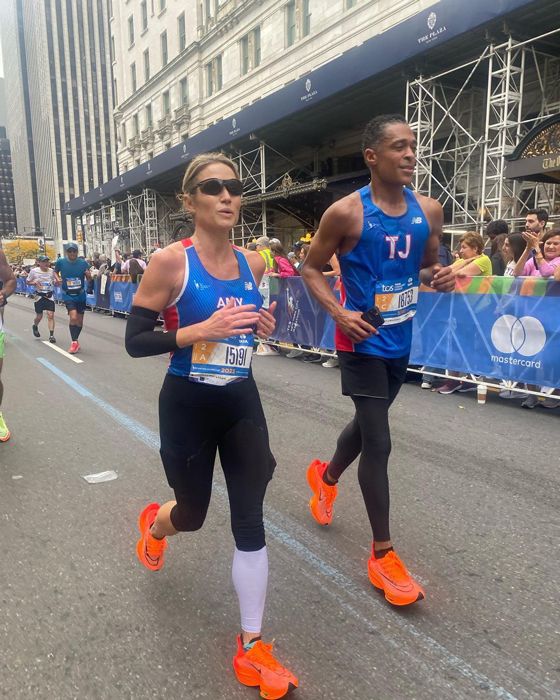 Amy Robach and T.J. Holmes ran the New York City marathon together
At the time, Amy's followers were delighted to see T.J. appearing on her social media profile, writing: "Love this. I was waiting for you or T.J. to post with the results! Congratulations to all of you!"
Another commented: "Love seeing u and T.J. in it together!!" while a third wrote: "I love that you and TJ did this together," and a fourth agreed, commenting: "Loved seeing you and T.J.!"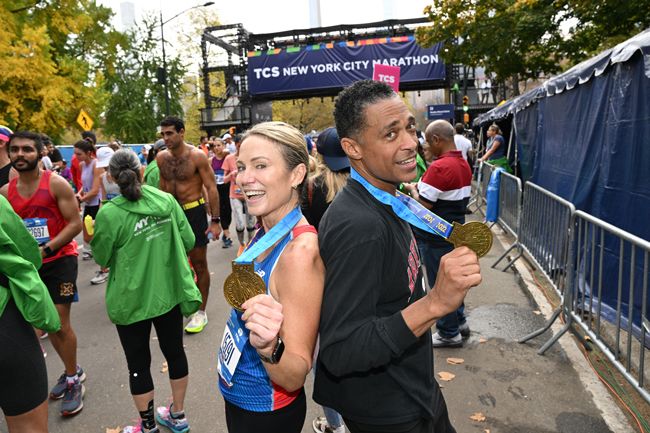 Amy Robach and T.J. Holmes celebrated their marathon success together
Other followers queried where Amy's husband at the time, Andrew Shue, was, asking: "Doesn't your husband run with you?" and: "Where is Andrew?!!"
MOST READ: Amy Robach and T.J. Holmes' net worths are worlds apart from one another
Reports suggest that Amy and Andrew had already split prior to the news of her relationship with T.J. becoming public knowledge, with the former couple allegedly selling their marital home two weeks before the news dropped.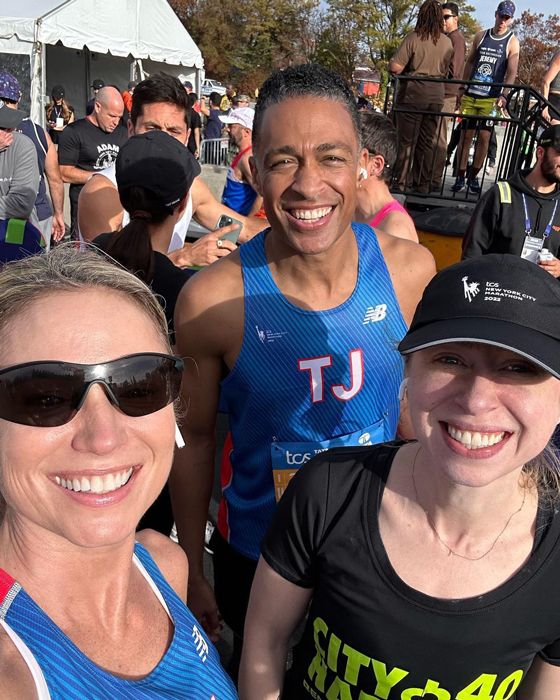 Amy Robach's fans wondered why her ex-husband, Andrew Shue, wasn't supporting her at the marathon
On the other hand, shortly after the news of their relationship hit headlines, T.J. Holmes filed for divorce from his wife of 12 years, Marilee Fiebig, with whom he shares ten-year-old daughter, Sabine.
Amy and T.J.'s relationship seems to be going from strength to strength, with the duo currently enjoying a romantic break in Mexico.
Subscribe to Hello Happiness, for your ultimate guide on how to be happier.
Source: Read Full Article