The Best Makeup Looks To Wear With A Red Outfit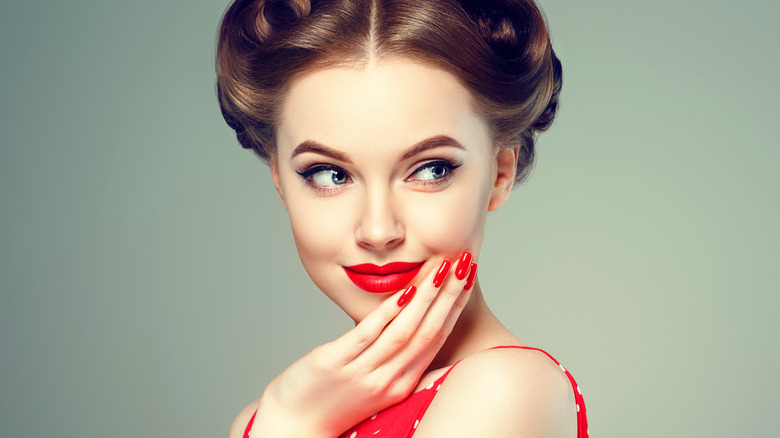 Every woman knows the importance and versatility of a little black dress, but also the need for a fiery red one. With a plethora of shades of red available, it's safe to say everyone can find their red. Stylight even suggest it might be time to, gasp, replace the LBD as the closet staple in favor of a red one. The problem is often the question of what to do about makeup. Obviously, the look has to hold up to the heat of the outfit itself either by intentionally playing second fiddle or standing just as strong and bold.
Deciding what makeup look often goes hand in hand with your plans for you locks as noted by Women's Health. Are you planning a sleek updo or maybe some retro look? Maybe natural beachy waves is your plan for the evening? Or perhaps it isn't an evening at all — maybe you are busting out a cherry hued maxi or jumpsuit for a garden party with some romantic curls. No matter what your plan we've got some ideas for makeup styles to help you out so you can focus on how fabulous you look in red.
Natural doesn't mean boring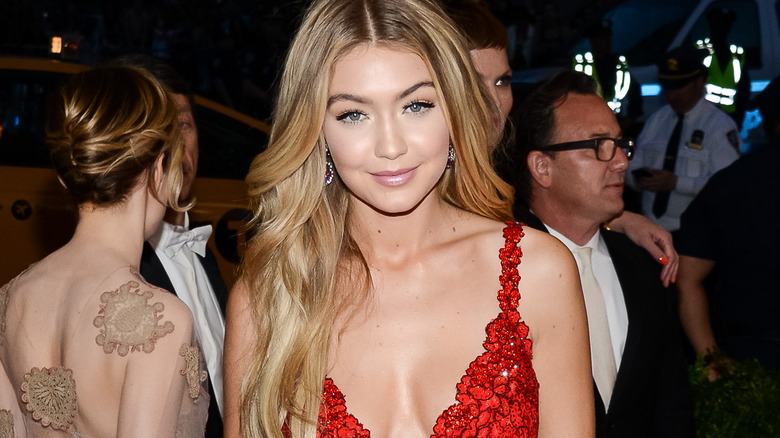 When you want the outfit to be the main attraction, a nude or natural look is the way to go. Gigi Hadid gave a literal model example of this at the 2015 Met Gala. Harper's Bazaar joined the supermodel and makeup artist Patrick Ta as he prepared the models makeup for the event. Ta said, "Gigi loves a natural look, so applying too much makeup is a crime!" In this case, the only crime against fashion being committed is how amazingly effortless she looks. 
Another benefit of this look is it work for those with less experience. As Style Cheer points out, a nude lip safely avoids the potential pitfalls of trying to find the right shade of red. They also suggest that it could "balance out" the look. Another added unexpected bonus to a natural look is that you're more recognizable. According to a study done called "Faces with Light Makeup Are Better Recognized than Faces with Heavy Makeup" by Tagai et al. (2016) on NCBI, "recognition performance was higher for the no makeup and light make up faces than for the heavy makeup faces." So this look lets you look fabulous without covering up the inner you. 
A little faux sun never hurt anyone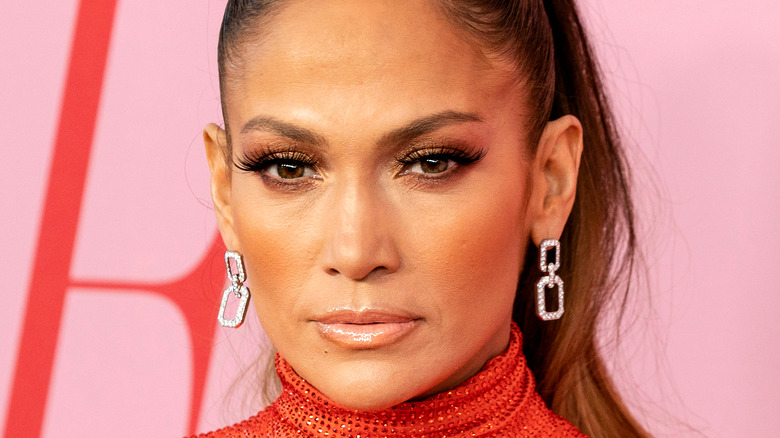 Another popular way to embrace a natural look when wearing red is to embrace a sunkissed glow that Teen Vogue dubs the "Golden Goddess" look. No one does the glowing look better than Jennifer Lopez, who actual wore this exact combination when receiving the Council of Fashion Designers of America (CFDA) Fashion Icon Award in 2019 wearing a bright red two piece ensemble by Ralph Lauren, as covered by CNN. Who What Wear pointed how the "Jenny from the Block" singer rocked her signature look at the awards, which includes glowing skin.
According to StyleCraze, the nude, bronze glow works well with a red outfit because it turns not just the face, but the whole skin surface into a focal point. Harper's Bazaar notes that J.Lo's iconic "natural-looking glow" can work for anyone. It requires topping thoroughly hydrated skin with a light foundation and layering illuminators. A method echoed by the "Selena" actress' makeup artist Scott Barnes, who recreated the look on YouTuber Tati Westbrook. One thing not to forget when doing this look is something Westbrook points out that Barnes is a pioneer in doing. As she says, "Scott was the first one to do full on body glowy makeup." So remember, if your entire skin is the focus, carry the look beyond your face. 
Smokey eyes bring the heat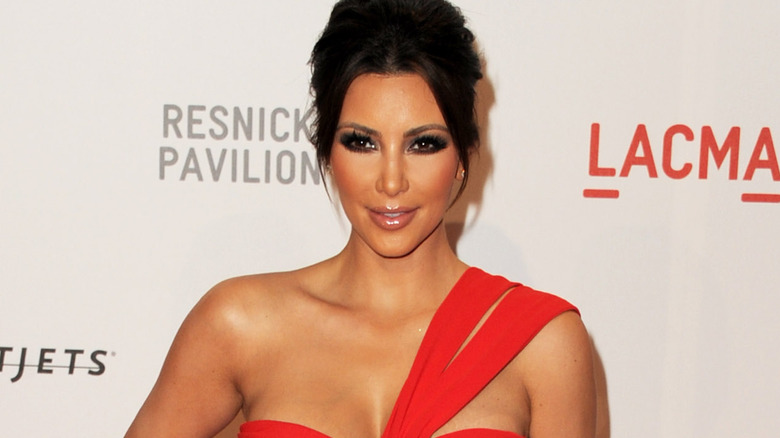 Speaking of fashion icons and their signature looks, the Kardashians have embraced many, and one of those includes Kim's smokey eye seen here with a red dress. Makeup artist Mario Dedivanovic, Cosmopolitan points out, was the artist behind the eye, having been responsible for many of Kim's looks for years. He recreated the reality star's signature smokey in a tutorial KKW Beauty posted on Instagram. One tip he gives viewers is that "the trick to any smokey eye is the pencil" and lots of blending.
Smokey eyes can be done in a variety of styles, and beauty expert Roxette Arissa does her own spin on red dress/smokey eye in her makeup tutorial for red prom dress looks, where she adds a little bling in the form of glitter to a matte smokey eye perfect for the more youthful wearer. This look, pairing one bold look with another, isn't as scary as it seems. Glam Corner notes that a smoldering eye doesn't have to be overwhelming with a va va voom red dress as long as you "keep your face and lips simple".
Old Hollywood got it right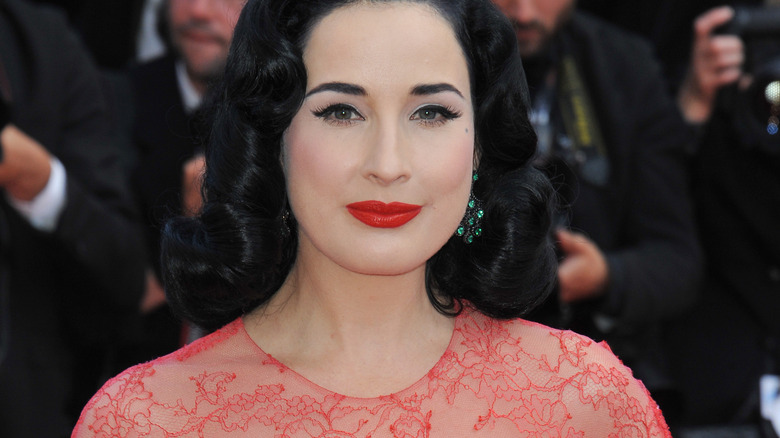 Last but definitely not least, try embracing red to its fullest. Red lips rarely have a more perfect time to shine than when you're wearing red. And who doesn't love a good red lip? According to one study, "Red lips have been considered attractive in women in geographically and temporally diverse cultures" (via APA PsychNet). A look that pairs well with a red ensemble is the old Hollywood glamour you can capture with black eyeliner with a red lip, according to StyleCraze.
The black liner in this look is usually done with a wing or cat eye style. Makeup artist Pat McGrath gave Elle the secret to helping us mere mortals create a perfect cat eye look. The trick, according to McGrath, is creating a stencil with a pencil liner that is then blended to the perfect wing shape. Only then do you go over it with the much less forgiving liquid liner. This look is perfected by burlesque star Dita Von Teese, who Glamour dubs the "queen of all red lipstick". Von Teese tells Marie Claire via YouTube tutorial, "lip liner is essential to getting that really vibrant red lip."
Now that we've solved the dilemma of what makeup looks go with red, the only question that remains is, which of these looks will you choose?
Source: Read Full Article