Coi Leray Loves Romantic Attention Amid Rumors Shes Dating Rapper B-Lovee
The 'No More Parties' raptress sparks rumors she's dating her 'Demon' collaborator after she's spotted spending a lot of time together with her fellow hip-hop artist.
AceShowbiz –Coi Leray may have hinted at how she wanted to be treated romantically. Amid rumors claiming that she's dating fellow hip-hop artist B-Lovee, the "No More Parties" raptress said that she loves "romantic attention."
Making use of her Twitter account on Wednesday, June 8, the "Blick Blick" spitter cryptically wrote, "I like romantic attention." In a separate post, she tweeted, "Not tryna be difficult. I'm different, baby."
That same day, Coi also shared that she wanted to be with someone who could understand her better. "F**k a relationship, can we have an understanding ?" she penned.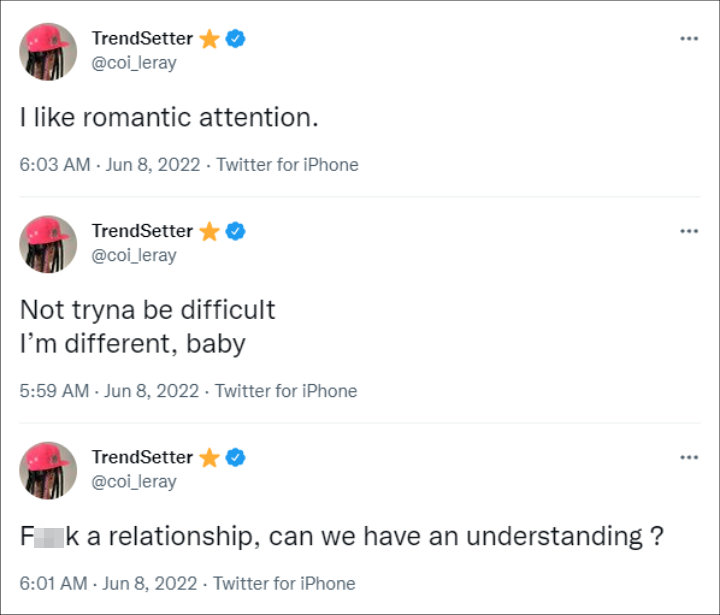 Coi Leray tweeted that she likes 'romantic attention' amid rumors she's dating B-Lovee just months after breaking up with Pressa.
Coi's social media posts came just hours after Hollywood Unlocked reported that she and B-Lovee were spotted spending a lot of time together. In photos surfacing online, the rumored couple could be seen having fun late at night.
In April, fans noticed that there's something special between Coi and Bronx rapper B-Lovee. At the time, the musicians made some public interactions on social media. Not long after, the duo announced that they were working on new music together and that B-Lovee was even joining Coi on her 2022 "Trendsetter" tour.
Then in May, fans were convinced that Coi and B-Lovee are an item after the pair were caught being flirty while shooting a music video for their collaboration "Demon". The shooting took place in New York and ended late. The rappers were then spotted leaving the set at around 4 A.M.
Previously, Coi dated Pressa. After confirming their romance in November 2021, Coi and Pressa weren't shy to make some red carpet appearances and TikTok videos. They even have a collaboration titled "Attachments".
However, in February, Coi unveiled that she and Pressa had called their relationship off. "No More Relationships," the 25-year-old raptress tweeted at the time. She further stressed that she's "done" in a follow-up post.
After claiming that she's hurt by the split, Coi shared a quote about staying strong "no matter what happens." She wrote, "Your a goddess living in the flesh & your mind and far beyond our generation. You a super star & no matter what happens your always gonna win and wen things seem down or the energy down, like you said the sun will shine avians again & again."
Source: Read Full Article