Dua Lipa Wore a Bikini Top with Sleeves and It! Is! On! Sale!
Dua Lipa is currently on vacation, and the vibe is best described as LOOKS ON LOOKS ON LOOKS. Everything Dua's worn on this trip has been impeccable, but we're here to talk about her iridescent blue bikini. Because it has cute little sleeves and I must own it immediately.
https://www.instagram.com/p/CST2UbjMIqq/?utm_source=ig_embed&utm_campaign=loading
A post shared by DUA LIPA (@dualipa)
According to fan site @closetofdualipa, which is truly putting in some serious work finding each one of these vacation outfits, Dua's wearing an Alessandra Rich bikini and it's currently on sale in limited quantities, so run don't walk.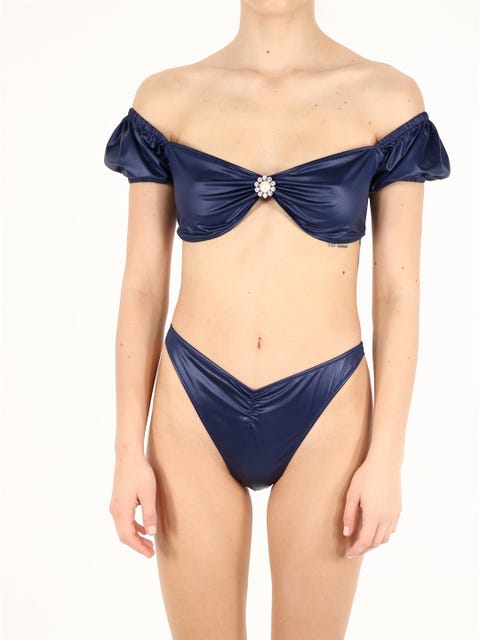 Psst: it also comes in pink and black, if that's more your thing!
FYI, Dua is on this amazingly-styled vacation with her boyfriend Anwar Hadid and some friends. She recently opened up about dating Anwar in her cover story for Rolling Stone, saying they spend most of their time together at the Hadid's family farm in Pennsylvania. "I'm very comfortable in the relationship, more so than any others," she said. "[We] wake up around 9:00, 9:30, shower, get dressed, have a bit of breakfast, take the dog out on a really nice long walk, maybe do some yoga, make some lunch, hang out, watch a movie, play with the animals."
She also revealed that she gave Anwar two pygmy goats named Funky and Bam-Bam, and mused "You can take them inside. They love a cuddle."
Sounds like the definition of idyllic, tbh. Kay, off to attach sleeves to all my current bikini tops.
Source: Read Full Article