Jessica Chastain Blasts 'Game Of Thrones' Scene — 'The Little Bird Was Always A Phoeni
If you haven't watched Game Of Thrones episode four yet… get out now because there are spoilers ahead!
Jessica Chastain watched the episode, and had a serious call out about a line said by her Dark Phoenix costar Sophie Turner.
Amid celebrations and a funeral following the Battle of Winterfell, The Hound and Sansa Stark reunite for a chat, with Rory McCann's character expressing remorse for not being able to protect the eldest Stark daughter from much of what she endured throughout the series:
"None of it would have happened if you had left King's Landing with me. No Littlefinger, no Ramsay, none of it."
ICYMI, Sandor Clegane is referencing a previous conversation between the two in season two when he fled King's Landing, but offered to take her with him and deliver her home.
Since they last saw each other, the Lady of Winterfell has dealt with A LOT, including being tormented by Joffrey Baratheon, married to Tyrion Lannister, creepily obsessed over by Littlefinger, and raped by her second husband Ramsay Bolton.
Taking his hand, she calmly replies:
"Without Littlefinger and Ramsay and the rest, I would have stayed a little bird all my life."
She's definitely no little bird anymore, and got her sweet revenge on Ramsay and Littlefinger who both faced their death at her hands in seasons six and seven. Over the past four episodes of the final season, Sansa has portrayed the qualities of a leader, and been outspoken against Daenerys (something a lot of fans wildly disagree with, even if it makes sense in her character arc), though she did hide in the crypt during the Battle of Winterfell… but we can forgive her for that.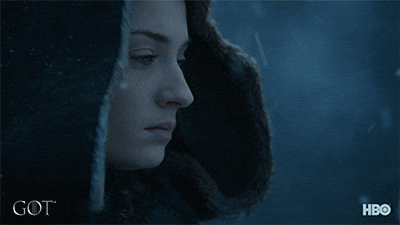 The Oscar nominee took to Twitter on Sunday evening to share her thoughts on the scene:
"Rape is not a tool to make a character stronger. A woman doesn't need to be victimized in order to become a butterfly. The #littlebird was always a Phoenix. Her prevailing strength is solely because of her. And her alone. #GameOfThrones"
Preach!!
Jess wasn't the only one to call out the problematic dialogue, as many claimed on Twitter it didn't seem in line with what the victim of abuse would say:
"It's several hours later and I'm still so fucking mad that D&D made Sansa say that repeated sexual trauma was the only thing that made her strong. Sansa was always strong. Trauma made her practical – and cynical. And these men are so bad at writing women. #GameofThrones" – @ohkayewhatever
"Sansa's not saying she's thankful for it she's saying without it she may not be as strong and may still rely on others more than herself. A common statement from many victims, myself included. Don't take that sentiment away from victims by trying to put a negative light on it." – @becky_mccowan
What did you think of this scene, Perezcious readers? Sound off (below) with your thoughts!
Source: Read Full Article