John Cusack Brands Barstool Sports Podcaster Belligerent Punk Over Fandom Confrontation
A viral video has captured the moment the 'High Fidelity' actor being accosted by Dave Williams, who picked on him for supporting both the White Sox and the Chicago Cubs.
AceShowbiz -"High Fidelity" star John Cusack was accosted by a belligerent baseball fan at a big game on Sunday, October 10.
The actor was at the Chicago White Sox's play-off game against the Houston Astros when he was confronted by Barstool Sports' Dave Williams, aka White Sox Dave, who picked on him for supporting both city teams – the White Sox and the Chicago Cubs – and then posted a video to Twitter of their heated argument.
Williams yelled at Cusack for his bipartisan approach to sports, but the actor wasn't having it, and quickly shut down the White Sox fan by saying, "You can't tell me where I can go. I can like whoever I want." The podcaster told him, "That doesn't count, you can't do that! That's like… against the rules."
John cited the fact that he starred in 1988's "Eight Men Out", about the real-life baseball scandal, during which eight members of the White Sox conspired with gamblers to throw the 1919 World Series and then stumped Williams, who couldn't place many of the White Sox players from years past.
The "Barstool" podcaster defended himself by noting he's younger than the actor, prompting Cusack to snipe, "That proves your ignorance." He ended the confrontation by saying, "We'll have to agree to disagree," before fist-bumping Williams and walking away.
After Williams posted the video to Twitter, with the caption, "BREAKING: @barstoolwsd just confronted actor John Cusack to tell him he's not allowed to cheer for the White Sox."
Twitter users commented that Williams had just made a fool of himself. "Why would you post a video of you being obnoxious and then also getting totally owned by John Cusack lol," tweeted one fan.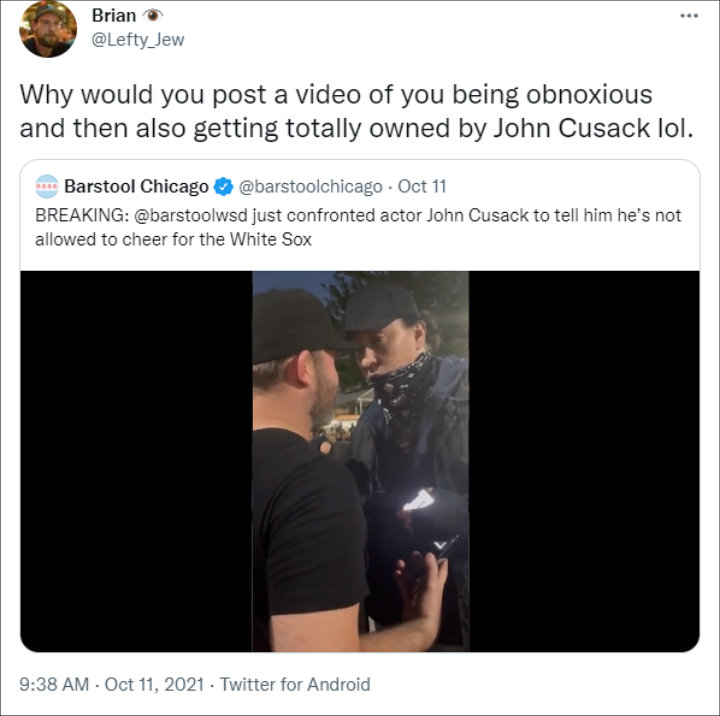 A fan believed that Williams made a fool of himself.
Another wrote, "I met John Cusack at a Cubs game and I asked him why he was wearing a White Sox hat. He explained that it's because he grew up rooting for both teams and just grabbed the closest hat as he left. I didn't press him, didn't record it, and didn't get bodied."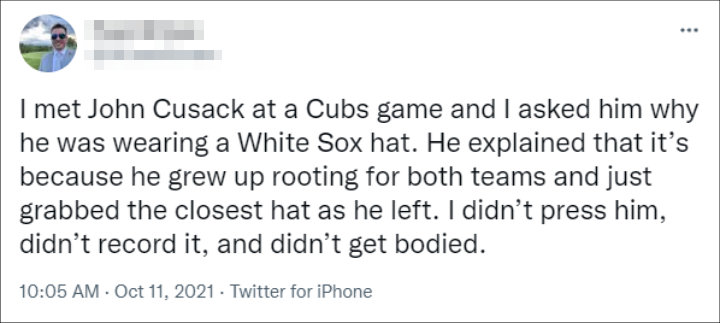 Another Twitter user reacted to the confrontation.
Meanwhile, actress Patricia Arquette chimed in, stating, "This whole thing is sad. It's a bad example to kids. It's bringing bad vibes. I hope people will stop stinking this all up. Baseball is a peaceful game and everyone can celebrate the White Sox and Chicago."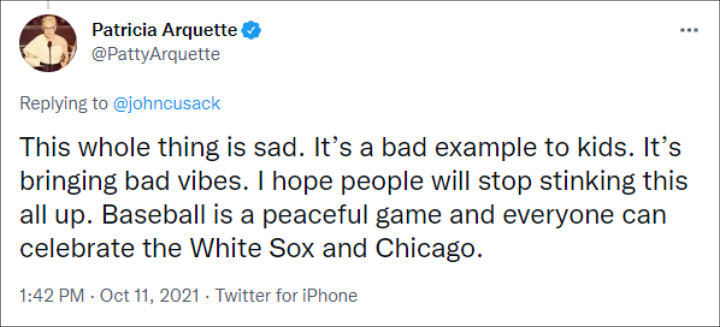 Patricia Arquette weighed in on the confrontation, noting that baseball is 'a peaceful game.'
Cusack responded, "There are not two sides/it's about a sweaty belligerent punk – f**k him – and his gotcha sports feed whatever it is – I was going to a baseball game/routing for a team I've routed for since I was a boy."
As of Monday morning, the video had been viewed more than 700,000 times.
Source: Read Full Article