Oh Hi, Here's How Awkwafina Got Her Stage Name in Case You're Wondering
As you're probably aware, Awkwafina's real name is not Awkwafina. It's Nora Lum! But the 31-year-old actress/rapper—who's getting tons of awards show buzz thanks to her performance in The Farewell, and is starring in her very own Comedy Central show, Awkwafina Is Nora from Queens, premiering this month—has been going by her stage name since she was 15, and it has a super special significance to her.
"The name 'Awkwafina' definitely [refers to] a person I repressed," she told Into the Gloss:
So…Why Did She Pick Awkwafina?
Awkwafina told Galore that "there's really no symbolic, great story" behind the name, and that she was basically just trying to come up with something amusing.
BTW, It Used to Be Spelled "Aquafina"
"When I was 16-years-old, it was just Aquafina—like my rap name was just Aquafina," she confirmed, explaining that this remained the case until a video producer "was like, well, we should change the spelling so you don't get sued,' and I was like, 'I feel like I'm going to get sued anyways.'
She'll Continue to Go By Awkwafina, Just FYI
Oh, and She Goes by Akwafina on Set, Too
Ya see? Here's a pic from Crazy Rich Asians:
"That always means a lot because you look at that name and you remember when you chose that name for yourself and what that meant to you at that age when you chose it, and then seeing it actually materialize and used in reality is very profound," she said. "So it's really cool to see my name on call sheets and see my name come up when I'm on TV. I chose that name for myself when I was 15 years old, so it's nice to see it actually being recognized, you know?"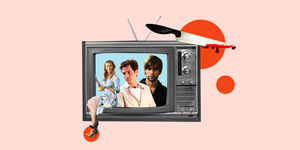 Source: Read Full Article