Olivia Wilde Says Jason Sudeikis Serving Her Papers in Public Was Intended to "Embarrass" Her
Remember back in April when Olivia Wilde was served legal documents on behalf of her ex Jason Sudeikis right in the middle of her CinemaCon presentation? Well, as you can imagine, she was less than thrilled.
In court documents obtained by the Daily Mail (via People) regarding Jason's custody petition, Olivia accused Jason of embarrassing her professionally and catching her off guard.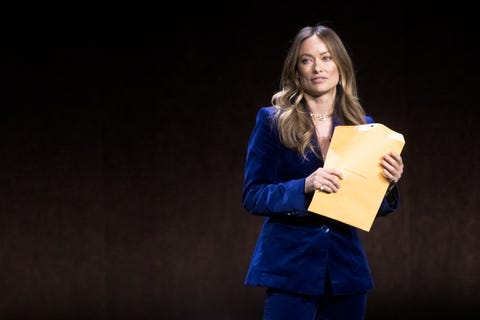 She added, "Since Jason has made it clear that we will not be able to work this out for our children's sake outside of the court system, I filed a petition for custody in Los Angeles."
According to Deadline back in April, Olivia was interrupted on stage by an "unidentified person" who "approached from the front rows and slid a manila envelope across the front of the stage toward her." After opening the envelope and looking at it, she said "Okay, got it, thank you" and continued on with her presentation.
In his own filing, also acquired by the Daily Mail, Jason expressed regret for how the serving went down. "I understand that the process server had only done her job; however, I deeply regret what happened," he said. "Olivia's talk was an important event for Olivia, both professionally and personally, and I am very, very sorry that the incident marred her special moment."
He added, "I did not want service to take place at the home of Olivia's current partner because Otis and Daisy might be present. I did not want service to take place at the children's school because parents might be present."
Per Us Weekly, Jason's petition to move their custody case from California to New York was just dismissed in a decision that reads "Both Judge Powell and this Referee agreed that New York was not the home state of the subject children; but rather California was the children's home state. This court finds that New York does not have jurisdiction to hear the custody petitions as New York is not the home state of the subject children."
Source: Read Full Article