Photos of the Royal Family celebrating Christmas through the years
It's the most wonderful time of the year, with the most magical photos to boot! As we gear up for the holiday season, we're reminiscing about royal family Christmases over the years.
MORE: Inside the royal family's poignant first Christmas without the Queen
From 1944 onwards, the holiday season has always made for some incredible Kodak moments – including the late Queen's first-ever televised Christmas address and performance of Aladdin with little sister Princess Margaret and Meghan Markle's first visit to Sandringham.
Keep reading to see all the best royal Christmas photos through the ages…
WATCH: Princess Kate issues heartfelt statement in festive video
1943
Princesses Margaret and Elizabeth, both in costume, smiled for the camera during a royal pantomime production of Aladdin at Windsor Castle on December 15.
Photo: © Lisa Sheridan/Studio Lisa/Getty Images
SEE: Royal wives and husbands' first Christmas at Sandringham – best photos
MORE: Meghan Markle shares new details about first Christmas with the royals
1944
On December. 23, a young Princess Elizabeth and Princess Margaret posed during a beach scene with actors and actresses in Old Mother Red Riding Boots, a pantomime that played at Windsor Castle.
Photo: © Lisa Sheridan/Studio Lisa/Getty Images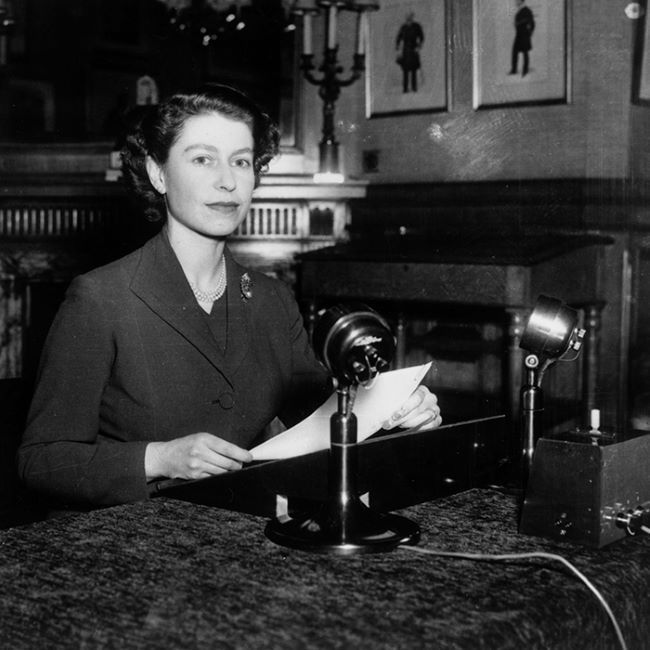 1952
Making history, Queen Elizabeth II made her first-ever Christmas broadcast to the nation from Sandringham House.
Photo: © Fox Photos/Getty Images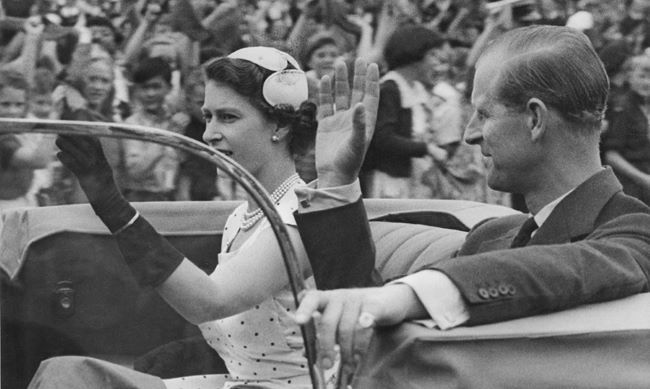 1953
Her Majesty and Prince Philip arrived at Government House after attending a youth rally in Auckland, New Zealand, during their coronation world tour. The late Queen delivered her Christmas message from Down Under.
Photo: © Central Press/Hulton Archive/Getty Images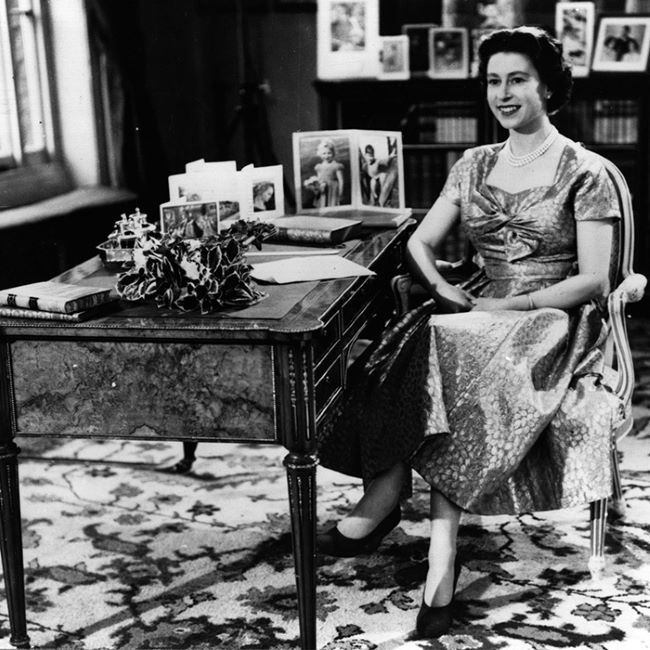 1957
Queen Elizabeth II showed off her megawatt smile just before the end of her first televised Christmas Day speech to the nation.
Photo: © Keystone/Getty Images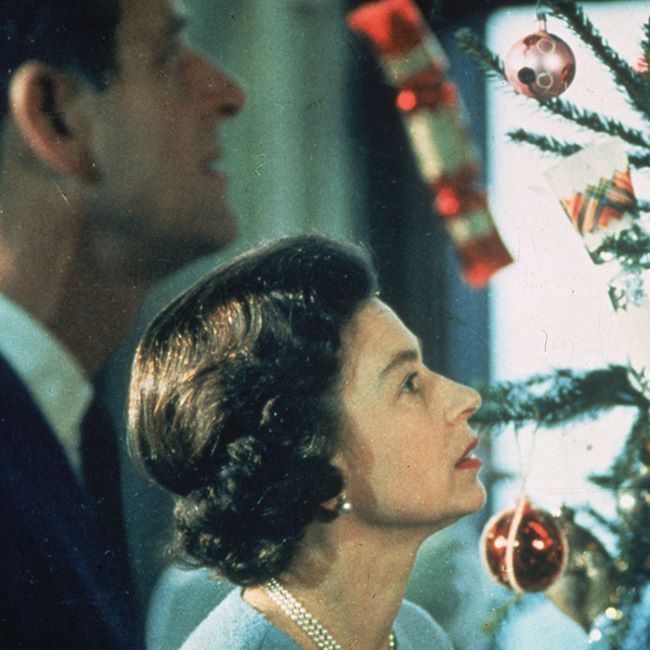 1969
Queen Elizabeth II and Prince Philip took a look at their decorated Christmas tree during the filming of a television special exploring their life in the British royal family.
Photo: © Fox Photos/Getty Images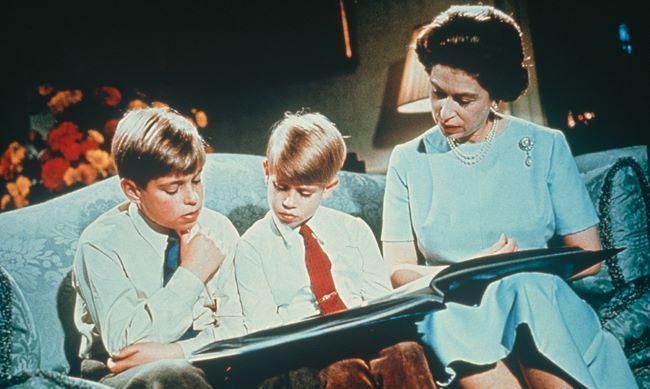 1971
Prince Andrew, Prince Edward and Queen Elizabeth II looked through a photo album.
Photo: © Hulton Archive/Getty Images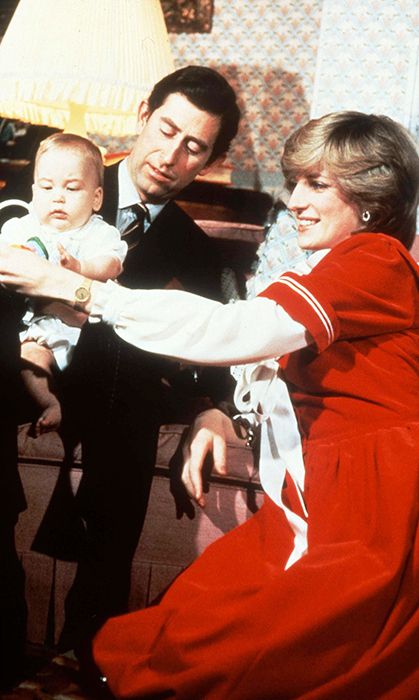 1982
Princess Diana and then-Prince Charles posed with baby Prince William during the Christmas season at Kensington Palace.
Photo: © Anwar Hussein/Getty Images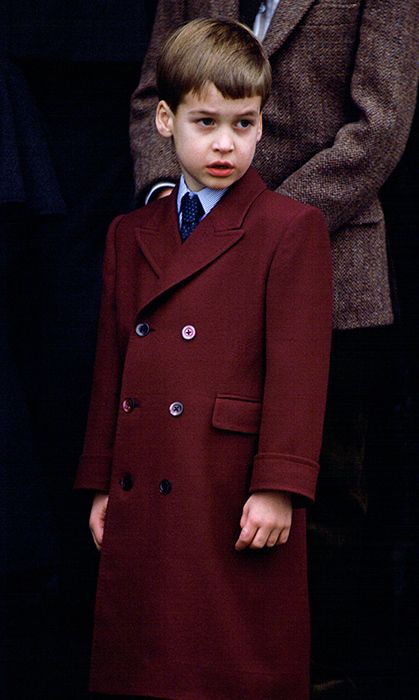 1988
Six-year-old Prince William enjoyed Christmas Day at Sandringham with his extended family. The young royal looked so smart in a maroon coat, blue shirt and tie.
Photo: © Tim Graham/Getty Images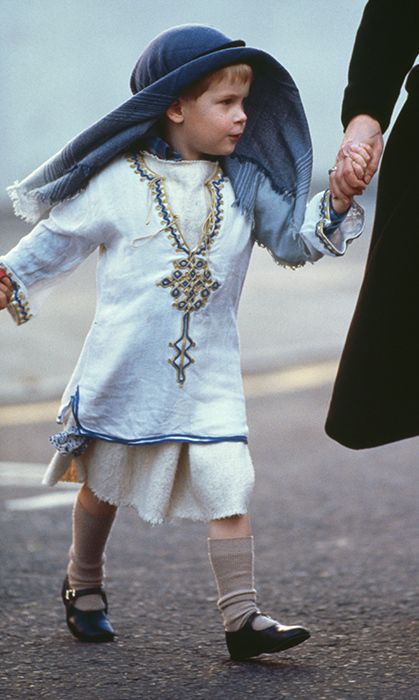 1988
Prince Harry, then four, dressed as a shepherd for his school's Christmas play and he looked so sweet!
Photo by Georges De Keerle/Getty Images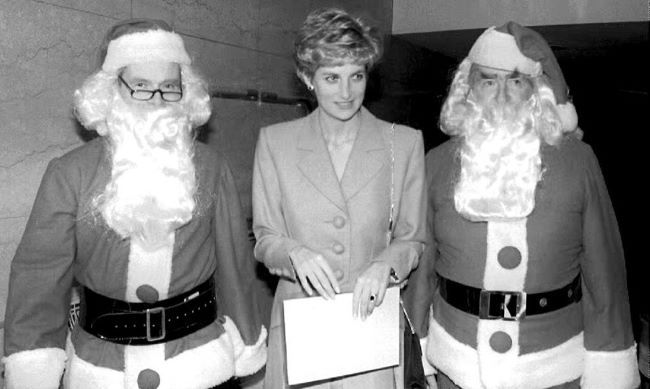 1992
Princess Diana – as patron of Headway, the National Head Injuries Association – attended a lunch hosted by the American Chamber of Commerce. She posed between British author and politician Lord Jeffrey Archer and former Chancellor of the Exchequer, Lord Denis Healey, both dressed as Santa Claus.
Photo: © THIERRY SALIOU/AFP/Getty Images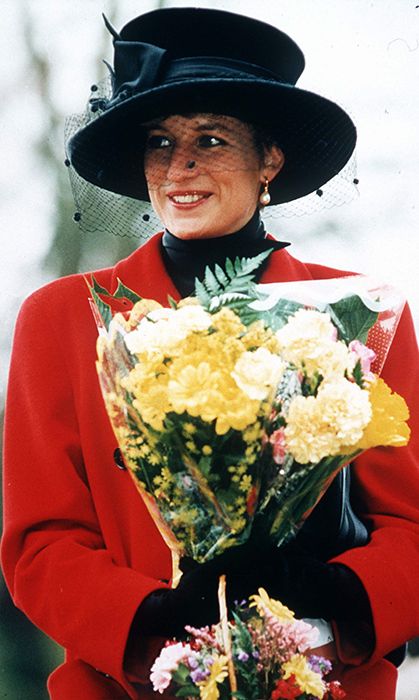 1993
Princess Diana looked striking in a bright red coat and black netted hat while at Sandringham for the Christmas Day service.
Photo: © Tim Graham Picture Library/Getty Images
SEE: 10 Royal Christmas decorations 2022: From the Queen's Corgi bauble to Buckingham Palace ornaments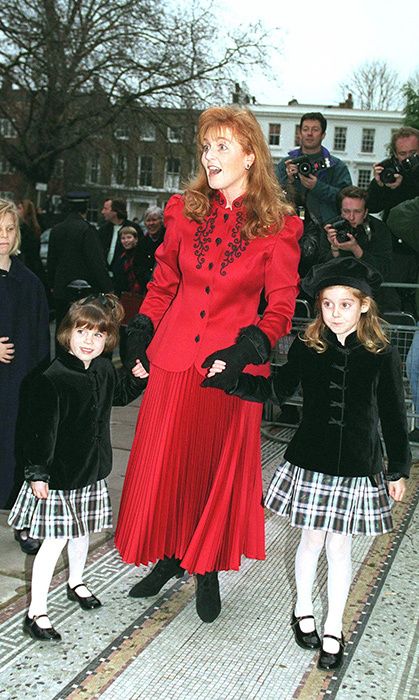 1995
Too cute! The Duchess of York dazzled in red as she held the hands of her daughters, Princesses Beatrice, seven, and Eugenie, five. The three were enjoying a mother-daughter date attending a pantomime of Cinderella in aid of Children in Crisis, of which Sarah is a patron.
Photo: © Tim Graham/Getty Images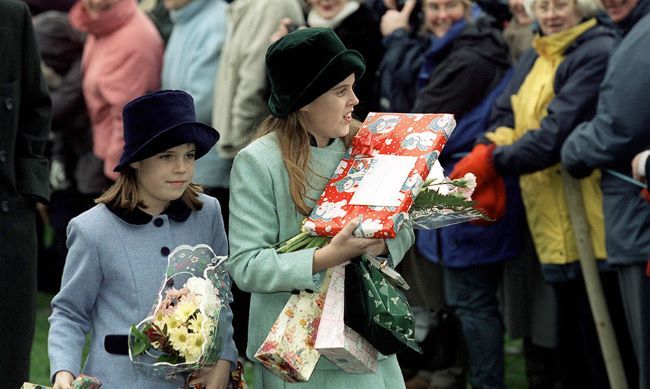 1999
At Sandringham for Christmas, the royal sisters looked sweet as ever in matching outfits, Eugenie in purple and Beatrice in green. The two held armfuls of presents given to them by admirers.
Photo: © Tim Graham/Getty Images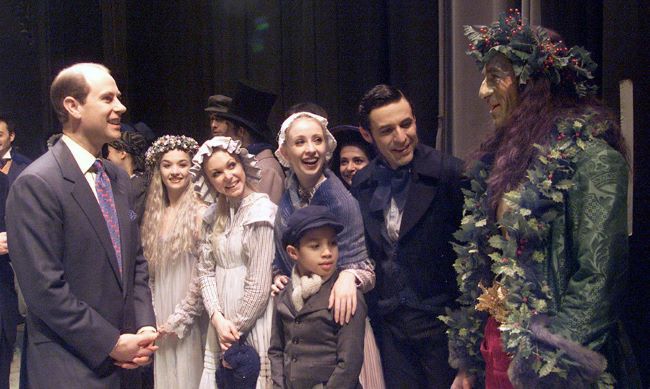 2001
Prince Edward met backstage with dancers in a Northern Ballet adaptation of A Christmas Carol in Surrey.
Photo: © Tim Graham Picture Library/Getty Images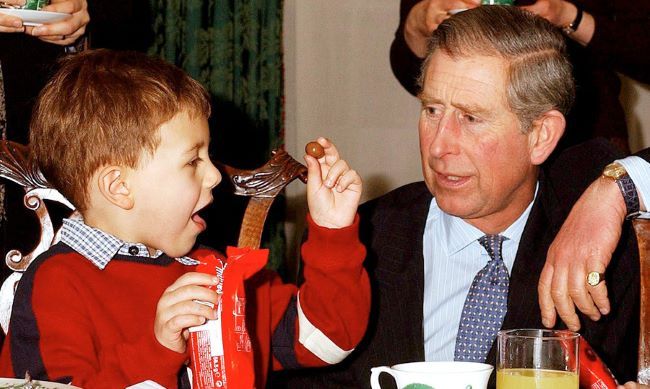 2004
Showing off his big heart, King Charles chatted with Thomas Willis, a four-year-old battling Leukemia, after helping to decorate the Christmas tree at Clarence House.
Photo: © Tim Graham Picture Library/Getty Images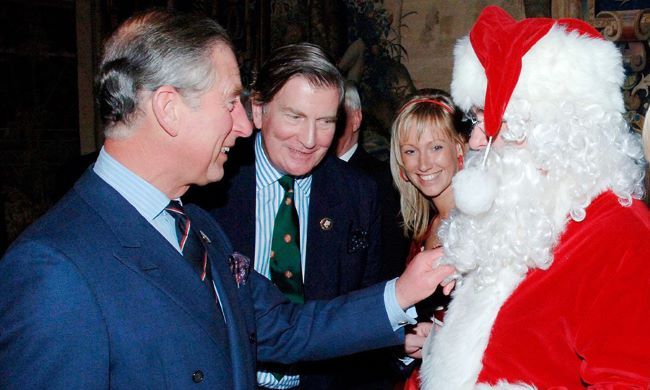 2006
The then-Prince of Wales scored a meeting with Father Christmas … and gave a tug on his beard for good luck! The father-of-two was at the Not Forgotten Association reception at St James' Palace. The Association acts on behalf of disabled and wounded service and ex-service personnel.
Photo: © Pool/Tim Graham Picture Library/Getty Images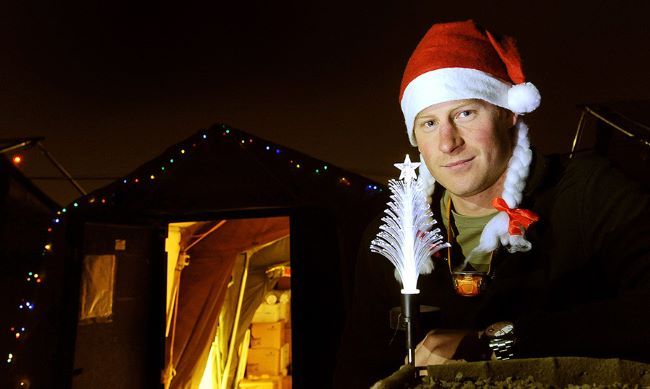 2012
Prince Harry donned a Christmas hat as he stood outside the VHR (very high readiness) tent at Camp Bastion in Afghanistan's Helmand province. The dad-of-two said he was "thrilled to be back" in Britain as he returned home after serving a 20-week tour of duty. At the time, Harry was an Apache attack helicopter co-pilot
Photo: © JOHN STILLWELL/AFP/Getty Images
2014
The then-Duchess of Cambridge lent a hand wrapping holiday presents during a visit to the Northside Centre for Child Development in New York City. She and Prince William were on an official three-day visit to New York and later met then-US President Barack Obama in Washington D.C.
Photo: © Mark Stewart – Pool/Getty Images
2016
Prince William was deep in concentration while decorating a gingerbread house during a visit to a Christmas party for volunteers at The Mix youth service in London. The charitable organization works with the Heads Together campaign.
Photo: © Alastair Grant – WPA Pool/Getty Images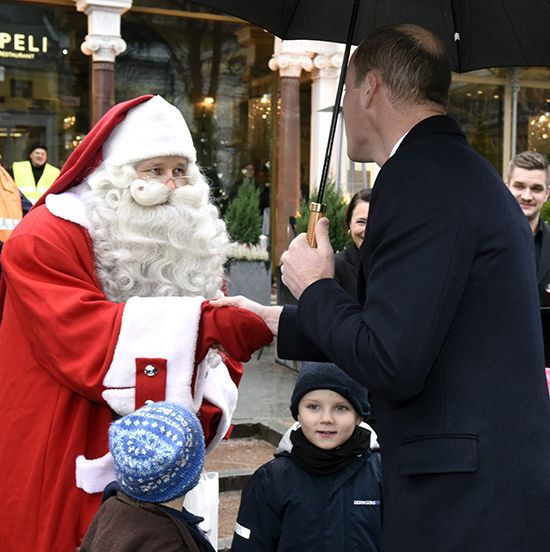 2017
Prince George handwrote a letter to Santa and it was adorable! His dad Prince William was able to deliver the letter to Father Christmas in person, and what did the little prince ask for? A police car!
George, then four, also circled that he had been "nice" that year in a line that read: "Dear Father Christmas, this year I have been naughty/nice". Prince William was on an official visit to Finland when he bumped into Santa and grabbed the opportunity to hand him the letter.
Photo: © Getty Images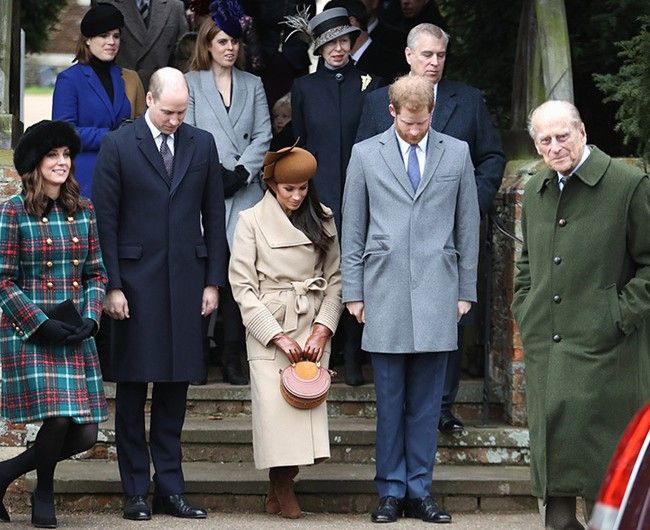 2017
This year marked Meghan Markle's first Christmas with the Royal Family. She attended the Christmas Day services at Sandringham along with Princess Beatrice, Princess Eugenie, Princess Anne, Prince Andrew, Prince William, Prince Philip, Princess Kate, and Prince Harry. Fans were delighted to see her curtsy to the Queen for the very first time!
Photo: © Chris Jackson/Getty Images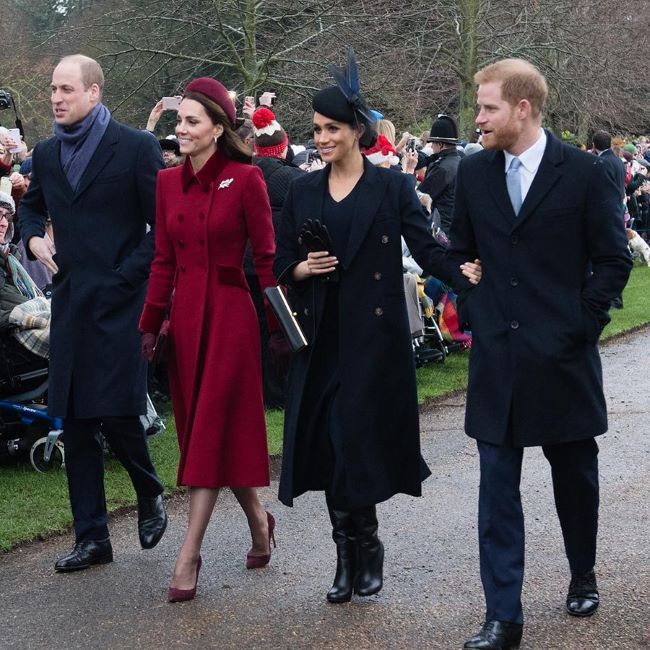 2019
A pregnant Meghan walked to church at Sandringham arm-in-arm with Harry. The couple were joined by Kate and William in the family's final pre-pandemic Christmas outing.
Photo: © Samir Hussein/WireImage
Make sure you never miss a ROYAL story! Sign up to The Royal Explainer newsletter to receive your weekly dose of royal features and other exclusive content straight to your inbox.
Source: Read Full Article