The Stunning Transformation Of Kim Kardashian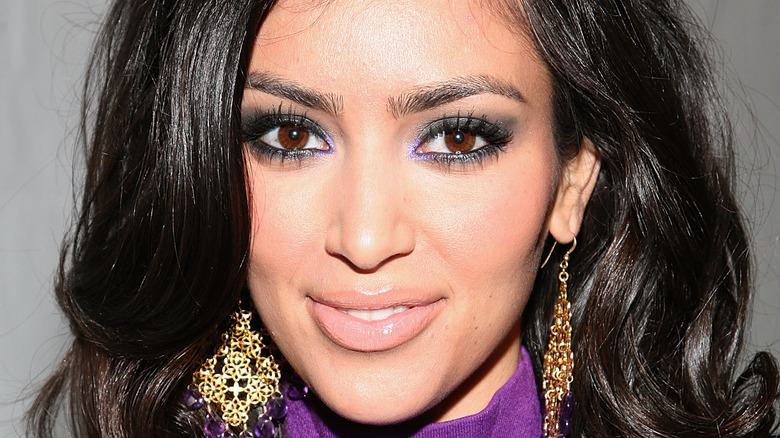 Astrid Stawiarz/Getty Images
By Louisa Marshall/Aug. 27, 2021 12:52 pm EDT
Her name is synonymous with opulence, fame, fortune and, of course, reality television. Kim Kardashian has been gracing our screens in the hit reality show, "Keeping Up With the Kardashians," for years and, while doing so, has carved a space entirely her own within popular culture. It seems as though she dominates the entertainment industry in a way that no one else can — her selfies can garner millions of likes on social media, her outfits are praised in the likes of Vogue, and her iconic moments on camera have turned into timestamps of the mid-2000s ("Kim, would you stop taking pictures of yourself? Your sister's going to jail," is an all-time favorite).
But, who was Kim Kardashian before she catapulted to fame? Most of us know that her family is the center of her world, but what were the famed Kardashian family members like before a camera crew set up shop in their homes? The middle Kardashian sister has always been the one to truly stand out from the rest, which only begs the question — how has she evolved over time? We did the digging so you don't have to. Here is the stunning transformation of Kim Kardashian.
Kim was born to parents Kris and Robert Kardashian in 1980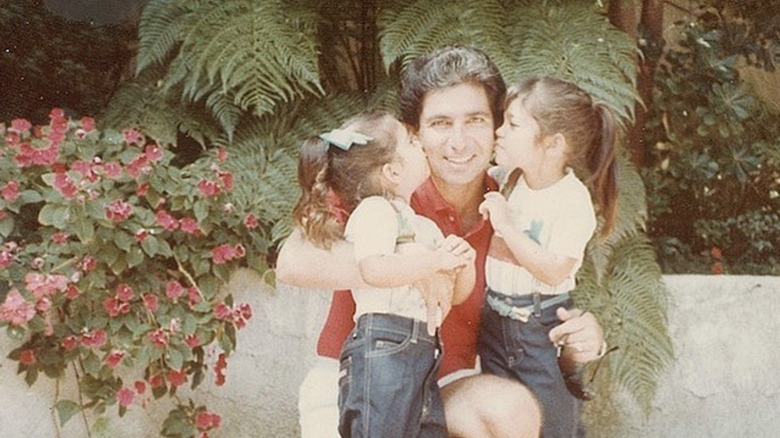 Before Kim Kardashian was the Kim Kardashian, she was Kimberly Noel Kardashian, the middle daughter of Kris and Robert Kardashian. Born shortly after her sister, Kourtney Kardashian, Kim was welcomed into the world two years after her parents got married. Four years separated her birth and that of younger sister Khloé, and the family lived in a gorgeous Beverly Hills home — not too far from where the bulk of the Kardashian family now live, as noted by The Sun. Little brother Rob followed, and the four kids sealed the deal on the Kardashian family name living on. 
"My mom had me at like 23 or 24 — she had my sister at 22. My dad was a bit older — he was like 36 when he had me. But I thought they knew everything," Kim shared about her parents with Wealthsimple. "Before I had kids, I remember just thinking like, 'Wow, they had it so together. Am I ready?' But you're never ready." Those early days for Kim consisted of church every Sunday, preschool with Paris Hilton, and a life full of all things Los Angeles (i.e. life in the fast lane), as noted by Biography.
Despite being known for wealth and opulence, Kim had a very normal upbringing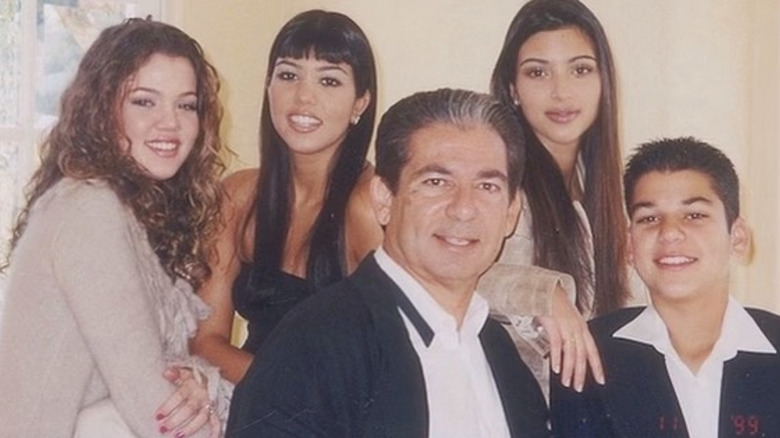 Kim Kardashian may have been born to a wealthy family, but her parents Kris and Robert Kardashian made it clear to her that she would have to work for what she had. In an interview with Wealthsimple, Kim shared that, while she was a quiet kid who never liked to party or break the rules, she did know that supporting herself financially was an integral part of her home life. She shared that she got her first job working in a clothing store at just 16 years old, and she even had to sign a contract with her father regarding how she would pay for any damages sustained in a car accident if it was her fault on the road. 
"I had no money, so I had to go get a job, pay for it. I grew up so normal, when there were no cell phones, you know? Like we had phone hours on our home phone," she said. As far as the clothing store where she got her start, Kim shared that the store sold "really cute, trendy clothes" and she was even responsible for helping set up the business's location in Calabasas.
Scandal and murder rocked Kim Kardashian's world in the 1990s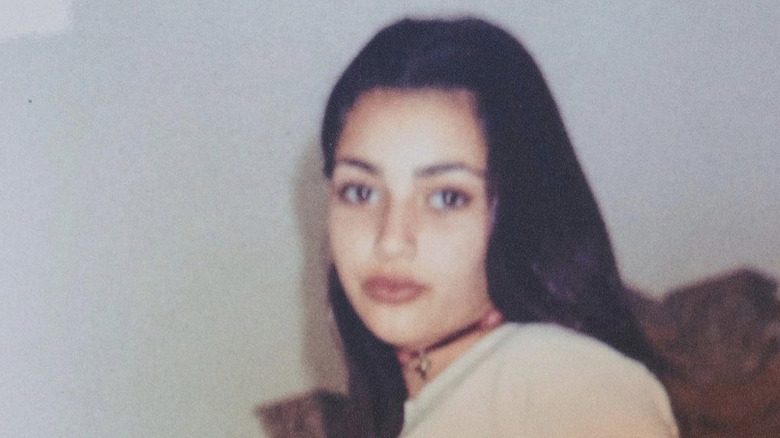 Kim Kardashian's life may seem like it's perfectly curated, but that hasn't always been the case. In the 1990s, things began to fall apart for Kim when her parents called it quits. As noted by The Mirror, it was 1990 at the time, and Kris and Robert Kardashian's marriage had crumbled after allegations of cheating plagued the relationship (Kris was reportedly sleeping with a then-soccer star 10 years younger than her). 
Pain and scandal rocked Kim's world yet again when her family endured the infamous O.J. Simpson trial. O.J. and his wife, Nicole Brown Simpson, had been good friends of the Kardashian family — Kim even called them "Uncle O.J." and "Aunt Nicole." When O.J. was put on trial for the murder of Nicole, Kim's father rushed to his side and immediately became part of his legal defense. "I definitely took my dad's side. We just always thought my dad was the smartest person in the world, and he really believed in his friend," Kim said of the stressful situation. 
And, in another horrible twist, Kim's then-boyfriend, TJ. Jackson (the son of Tito Jackson), suffered the loss of his mother when she was killed — just 10 weeks after Nicole was killed.
Kim Kardashian worked in her father's office in the early years of her career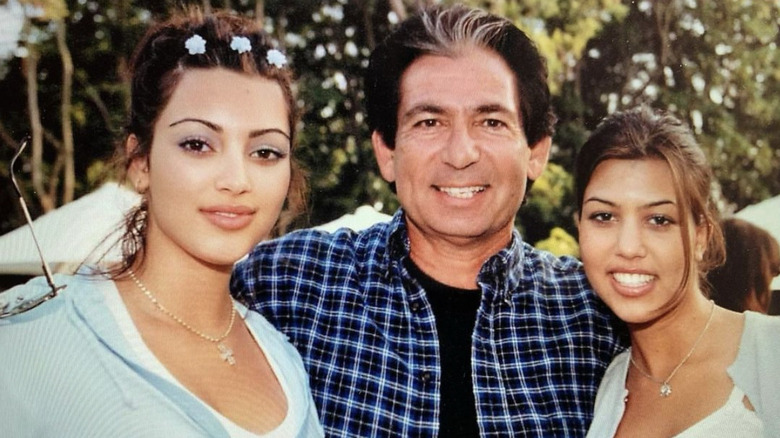 It might be surprising to some that Kim Kardashian is studying law (more about that later in this piece) but, when digging into her transformation, we learned that she had worked in her father's law office for five years at the start of her career. In an interview with Wealthsimple, Kim shared that her father, Robert Kardashian, encouraged her to strike out on her own, prompting her to "always [be] doing things on the side." 
It was in her job at her father's office that Kim learned how to manage money, and her dad drilled into her that it was incredibly important to save. "He'd talk to me about credit and getting a little credit card and trying to build up my credit and showing me how to really balance my chequebook … my dad was very instrumental, and he always taught me about credit," Kim said. The reality star also shared that when she was working for her dad, she was always on the hunt for a great purchase. Because she didn't have a credit card, she would use her father's, but then he would make her sign a form indicating her intent to pay him back.
The reality star's life transformed again when her father died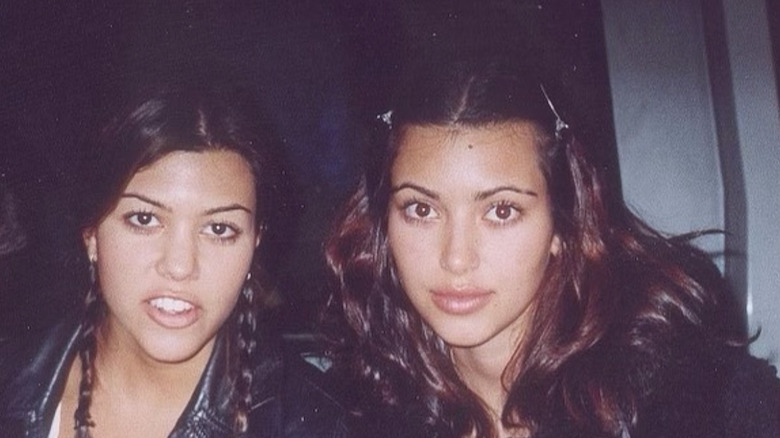 Kim Kardashian spent the 1990s not only learning the ropes of finance, but she also endured a number of hardships. Things went downhill in the early 2000s, when she watched her father, Robert Kardashian, suffer from cancer. As noted by E! News, Robert was diagnosed with esophageal cancer in 2003. Eight weeks later, he succumbed to the illness and died. In the forward of their book, "Kardashian Konfidential," Kim and her sisters remarked about their father and his lasting impact on their lives, writing that, without him, they wouldn't be the sisterly unit that they are today. 
In the book, the sisters wrote, "We know that every blessing in our lives is because you are our angel watching over us. We know your spirit has guided us through every challenge, highlight and memory we had. We miss you more than we did yesterday and less than we will tomorrow." They went on to say that the biggest lesson their father passed onto them was the importance of being "a good person," no matter the situation. Crediting their close bond to the way in which he raised them, the three Kardashian girls highlighted how loved their father made them feel.
This decision projected Kim Kardashian into the spotlight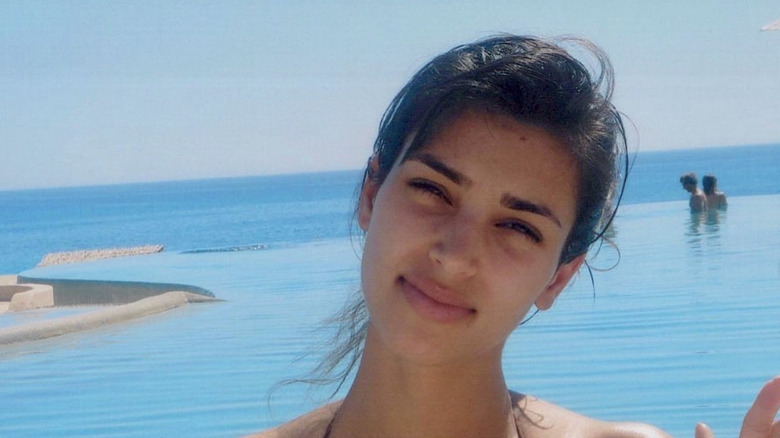 If you don't know Kim Kardashian for her work in the legal field, for her multiple businesses, or for her high-profile marriages, you still probably know her as the reality star whose sex tape launched her to new heights of fame. Yes, Kim was famous for quite some time due to her sex tape that she made in 2002 with Ray J — it was leaked in 2007, shortly before "Keeping Up With the Kardashians" made it to the airwaves. 
When asked by Andy Cohen if the show's success was linked to the sex tape in any way, Kim confessed that she didn't think the show would have been as popular if the tape hadn't been leaked, as reported by Yahoo!. "I think that everything happens for a reason," Kim said. "And every time there's, like, something and a crazy scandal that feels like you can't breathe and how are you going to get through this, it always is a lesson." When asked if she has had to approach the subject with her children, shared with ex Kanye West, Kim said that "so many years" have passed that she hopes time has erased the tape's impact.
Kim Kardashian's days as a stylist for this starlet solidified her star status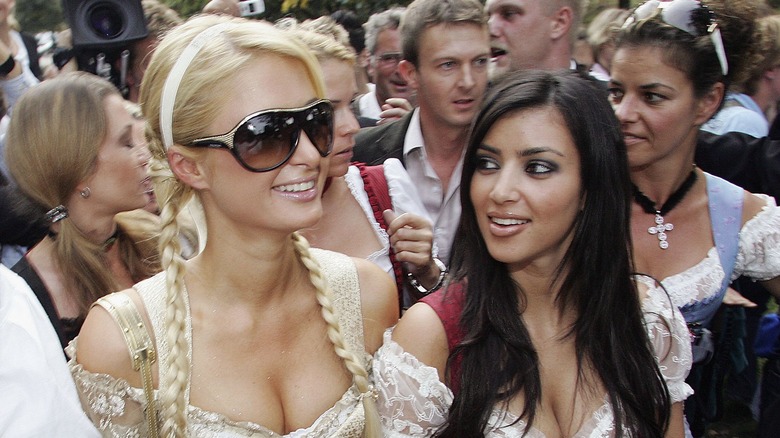 Kim Kardashian may be the queen of reality television, but she started her career alongside one of the world's most dazzling starlets, Paris Hilton. Kim worked for Paris as a stylist, and the two were often seen together with their matching Louis Vuitton bags and velour sweatsuits. Sheeraz Hasan, a strategist who worked with Kim, told ABC News that Kim and Paris knew how to use the paparazzi to their advantage in the early 2000s, especially considering that social media was not yet at their disposal. 
"When I built Kim Kardashian's career there was no social media. The only form of content that you could get was through the paparazzi," Hasan said. As such, he helped keep Kim "in the news all the time, every single day," whether the stories were about her hair, her coffee order, you name it. Rick Mendoza, who worked in the paparazzi world when Kim and Paris were at the height of the gal-pal phase, said that he photographed Kim "day and night." The more she became "relevant," the more his business profited. "It was nothing more than just feeding the frenzy and creating it," Mendoza said.
2007 brought a huge shift to Kim Kardashian's life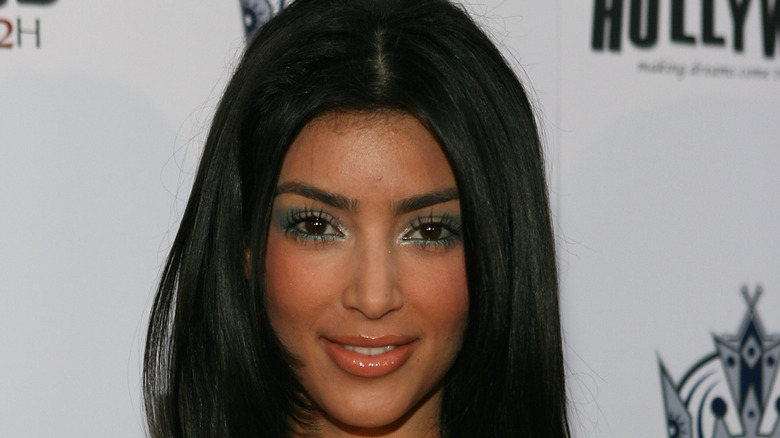 After years of paparazzi pics, Kim Kardashian made it to television. She and her family found themselves on-screen with the show "Keeping Up With the Kardashians," and the starlet's life was seriously about to change. When "Keeping Up With the Kardashians" first premiered, Kim was the most well-known member of her family. Thanks to her association with the likes of Paris Hilton and Lindsay Lohan, Kim attracted the attention of many. As time went on, weddings, businesses, children, drama, and, of course, scandals, made "Keeping Up With the Kardashians" must-see television, according to Entertainment Weekly. 
The family went from relatively unknown figures to powerhouse, social media-dominating superstars in just a couple of years, and their lives have since evolved into those of expensive cars, amazing homes, lavish vacations, and just general jealousy-inducing moments. That isn't to say that the attention has always been great for Kim — just think back to when she was robbed in Paris, France, due to the fact that the cameras (and her own social media presence) gave away a lot of clues about her whereabouts. But, it's safe to say that 2007, and the show, drastically transformed her life.
Kim Kardashian found herself walking down the aisle in 2011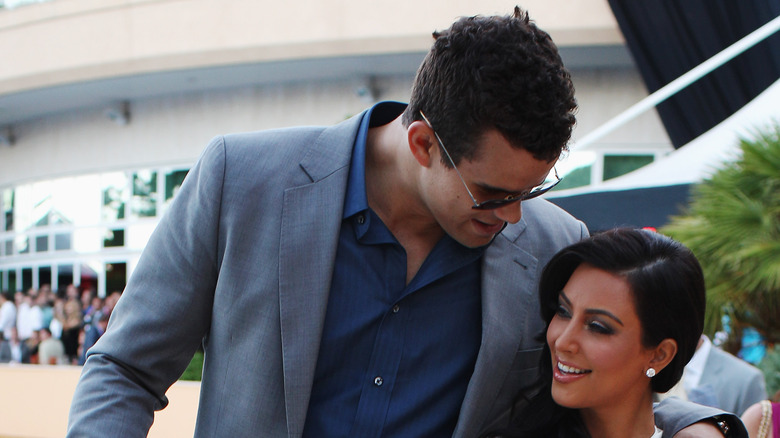 After Kim Kardashian found immense success in front of the cameras, it was her turn to walk down the aisle. In 2011, she and fiancé Kris Humphries tied the knot in a $6 million affair after just six months of dating. The event was just as lavish as the price tag and, from what most everyone could tell, the couple were living a fairytale. But, not so fast, because if you consider yourself a fan of reality television, then you know that Kim and Kris were only married for 72 days before calling it quits. Yes, the 20.5-carat ring, the multi million-dollar wedding, the pomp and circumstance, all went down the drain less than three months later. 
Things began to look rocky for the couple after they returned from their honeymoon. They attended events separately, and just three weeks after E! aired her wedding footage, the couple had announced their intent to separate due to "irreconcilable differences." "I had hoped this marriage was forever, but sometimes things don't work out as planned," Kim said in a statement at the time, as noted by People. "We remain friends and wish each other the best."
The reality star became romantically involved with this icon in 2012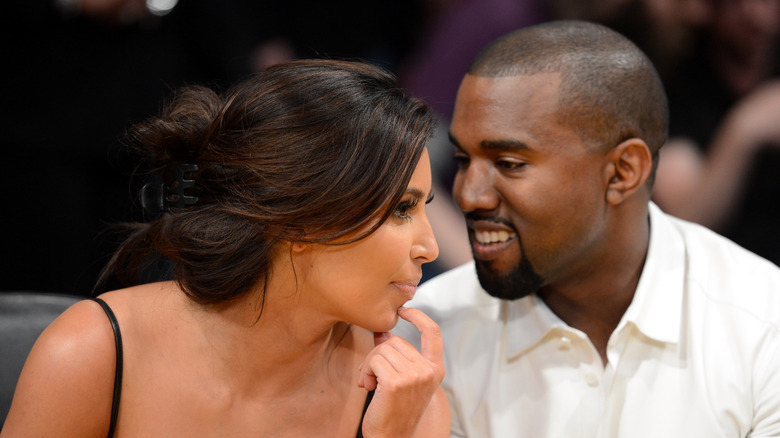 Very soon after her marriage to Kris Humphries was behind her, Kim Kardashian moved on and, this time, it was with a bonafide music icon. Kim and Kanye West had crossed paths much earlier in their lives, as noted by Us Weekly, but the two had maintained a friendly relationship all the way up until Kim and Kris got married. "Right before I got married to Kris Humphries, [Kanye and I] were talking, and I just went in a different direction," Kim recalled. "I think I had to go through that to figure out what I wanted." 
The reality star revealed that, shortly after her divorce, Kanye invited her to Paris to watch one of his fashion shows — the trip that marked the start of their relationship. "I swear from the moment I landed, I fell madly in love with him and I thought, 'Oh, my God, why didn't I do this sooner?' Like, this is what real life is like — love and fun and real support," she said. By the spring of 2012, Kim and Kanye had gone public with their relationship, and it was the start of a reality television power couple.
Kim Kardashian became a mom for the first time in 2013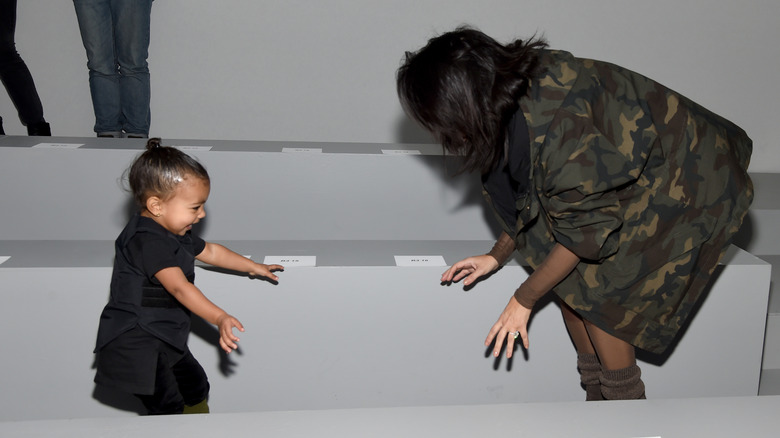 The world was shocked when it was announced that Kim Kardashian was expecting her first child with then-boyfriend Kanye West. The two had yet to tie the knot, and the whirlwind surrounding Kim's divorce, attachment to Kanye, and pregnancy all happened in a short amount of time. But, nevertheless, in December 2012, Kim confirmed that she was pregnant, and Kanye even referred to Kim as his "baby mama" during a concert in Atlantic City (via Us Weekly). 
Kim welcomed her first child, North West, in 2013, but her baby's delivery was nothing short of dramatic. As noted by People, Kim was determined to make a couple of stops on her way to the hospital, including a pit stop for a McGriddle from McDonald's, as well as for a bikini wax. Yes, while Kim was literally about to give birth, she stopped for a wax to make sure everything down there was … ready to go. Of course, we all now know about the icon that is her daughter, North West, and the star kiddo makes waves just about wherever she goes. She is also the eldest of four children, with her siblings Saint, Chicago, and Psalm following her.
The reality star launched several successful businesses, with this one in particular taking off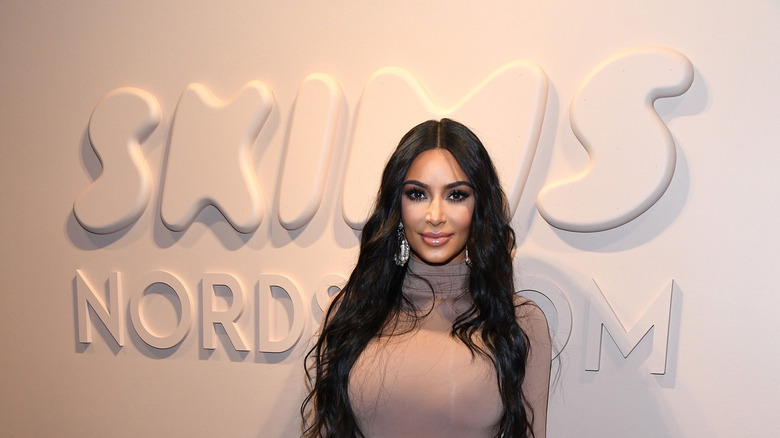 "Keeping Up With the Kardashians" not only elevated Kim Kardashian's star power, but it put her in a position to launch her own businesses. With 248 million followers on Instagram as of publication, Kim's ability to influence is something else and, as such, she's been able to launch and operate extremely well-received brands. One such line is Skims, Kim's shapewear and underwear line, launched in 2018. Skims became an instant hit, and she spoke to Nordstrom about the shapewear line when it dropped for the first time. 
Kim shared that she realized there "was a lack of options" for her when it came to shapewear. She, therefore, identified a gap in the shapewear industry that needed to be filled. "I began to experiment on my own by constructing pieces made from other garments and I would cut a leg or even dye fabric to get the right shade," Kim shared. "Skims has really been in the making for over a decade." In addition to Skims, Kim has launched successful brands including her KKW beauty line and her KKW fragrance. As of April 2021, Kim is officially a billionaire, as noted by Forbes.
Kim Kardashian turned her attention to prison reform and law school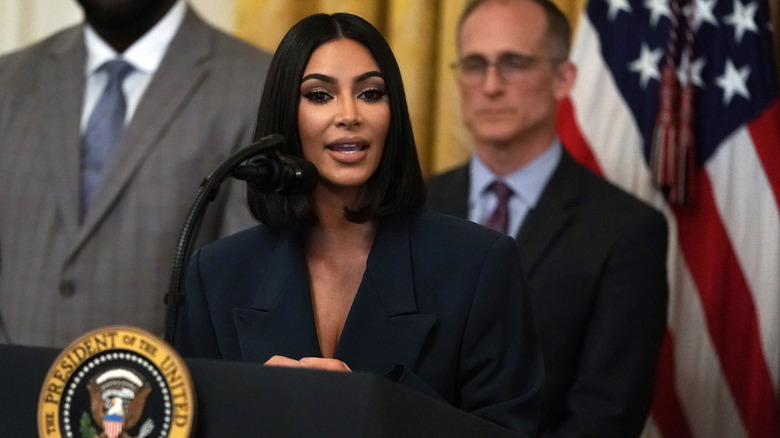 In a surprising twist along the path of her stunning transformation, Kim Kardashian turned her attention to the law and announced that she would be pursuing an education and career within the field. A far cry from her days on reality television, some laughed off Kim's announcement. No one was laughing, however, when Kim successfully advocated for prison reform, resulting in the clemency of Alice Marie Johnson. As noted by Harper's Bazaar, Kim personally advocated for Johnson — who was serving a life sentence for a non-violent drug charge — and, thanks to her efforts, Johnson was released from prison and pardoned by the then-Trump administration. 
Kim is going about her education and career in law in a rather unique way. As noted by The Sun, she isn't actually enrolled in law school, but is rather gaining her education and experience through an apprenticeship, as California state does not require students to have a law degree to take the bar exam. Kim has plans to take the bar in 2022, after she had attempted to take it earlier and failed to pass. The bar is extremely difficult, and we're in your corner, Kim.
The reality star transformed into a force to be reckoned with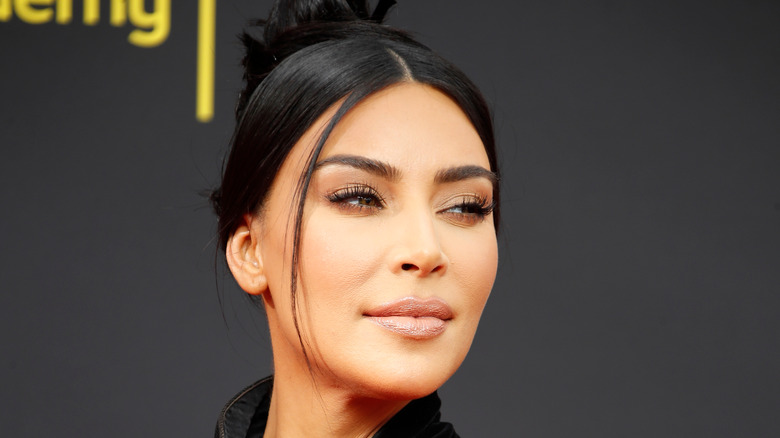 Kim Kardashian may have gotten her start in the pop-culture world by unusual means, but she's transformed into a power to be reckoned with. A businesswoman, a pop culture icon, a law student, a devoted mom — these are just some of the hats that Kim wears, and she doesn't seem to have any intention of slowing down. She has even advocated for herself and well-being and, after years of marriage, she filed for divorce from Kanye West. The marriage between the two always had question marks surrounding it, given Kanye's history with mental health. In 2021, Kim finally called it quits. 
But, as noted by Entertainment Tonight, the two are dedicated to co-parenting their kids, and Kim has taken valuable lessons away from her marriage. Talking about "likability," Kim shared that being married to Kanye was like getting a crash course in authenticity, as he seldom cared what other people thought of him. "[He] taught me so much in the best way, of just being me and living in the moment," she said. Kim has only continued to transform in front of our eyes, and we can't wait to see what she does next.
Source: Read Full Article