The Transformation Of Gabby Douglas From Baby To 25
The following article includes mentions of mental health issues and sexual abuse allegations.
Gabby Douglas had perhaps one of the most unexpected rides to the top as a three-time gold-medal-winning Olympian. She may have started out taking gymnastics classes at a later age than most, but turned out to be one of the best athletes USA Gymnastics has ever produced — and she shattered glass ceilings along the way. But it hasn't been an easy road, as Douglas described her experience in the sport as a mixed bag to former NCAA gymnast Nia Dennis in an April 2021 chat for Interview magazine. 
"Even though I'm grateful for everything from the sport, it does have its pros and its cons, because it doesn't really prepare you for life in general," Douglas explained. "It's only the mindset of: win, win, win, win, win. It is instilled and ingrained in us to win. And when we don't, we have this huge feeling of, 'I'm worth nothing, I'm replaceable.'"
But in taking a step back from the sport, Douglas finally found her voice and power both in and out of the gymnastics world — and that has meant encouraging a focus on mental health for elite athletes. We've seen this same type of journey with Simone Biles at the 2021 Tokyo Olympics, but Douglas also experienced it through her two Olympic opportunities. To learn more about how she surprised everyone with her incredible talent and where she's headed next, let's take a look at Gabby Douglas' transformation from a baby to 25 years old.
Gabby Douglas got a gymnastics assist from her older sister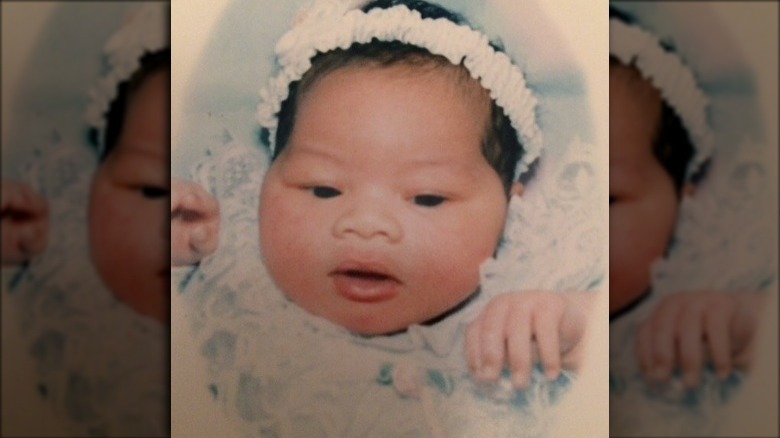 Even though she was tumbling all over the house by the age of three, Gabby Douglas didn't enroll in a gymnastics class until she was six years old. It was her older sister, Arielle Douglas, who told their mom, Natalie Hawkins, that Gabby needed to get into lessons, because her little sister was "scaling the doorframes" in their Virginia Beach home. Hawkins enrolled her young daughter at Gymstrada Gymnastics in Hampton Road, Virginia, where she learned all of her core basics of the sport — but it also became a safe haven for the shy athlete. 
"I was a huge show-off," Gabby later told Interview magazine. "Ever since I got introduced to my first rec class, I was like, 'This is it. I love this sport.' Gymnastics also got me out of my shell."
By the age of eight, she moved gyms again, this time to Excalibur Gymnastics, where she hoped the coaches could take her to the next level. The gym had trained many USA Gymnastics National Team members, so it felt like the right move at the time. By 2004, Gabby had won her first all-around competition as a Level 4 athlete at the Virginia State Championships — and with that win, the path to the Olympics became more of a reality instead of just a dream (even though she still had a long way to go).
This gymnast moved away from home to achieve her Olympic dream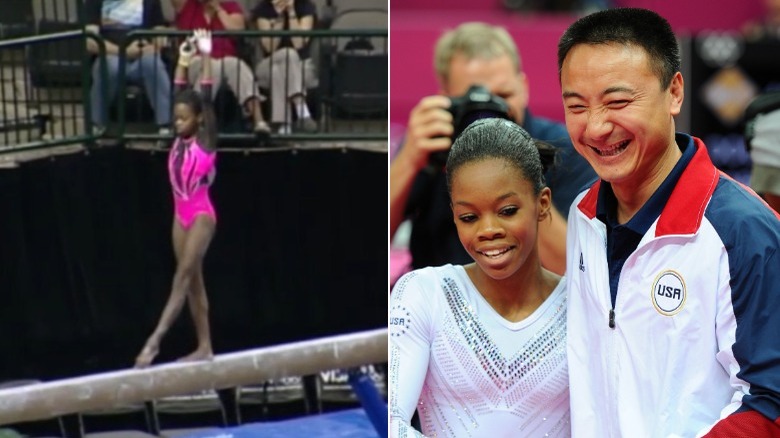 At age 14, Gabby Douglas moved to Des Moines, Iowa to train full-time with Coach Liang Chow of Chow's Gymnastics & Dance Institute, where 2008 Olympian Shawn Johnson trained. Her family couldn't travel with her, so she lived with one of the gym parents' families, Travis and Missy Parton and their four daughters. But it unfortunately wasn't an easy transition for the aspiring Olympian, as she often felt lonely as a young Black teen in a predominantly white community. Douglas was also homesick in the early days of Iowa, but staying connected with her family in Virginia helped motivate her. "They always keep telling me to fight and to never give up and that if we set our minds, we can achieve anything," Douglas told The Mercury News. 
Meanwhile, Chow also worked on building the young gymnast's confidence — she had the skills, but Douglas didn't always believe in herself. "He's just, 'You don't need me anymore — you got this,'" Douglas shared with The Wall Street Journal. "He knows I can do it." That's when she started to thrive … and USA Gymnastics National Team Coordinator Martha Karolyi started to take notice. "I don't ever recall anybody this quickly rising from an average, good gymnast to a fantastic one," Karolyi said to the AP's Jim Litke (via The Oakland Press). 
Douglas was peaking at just the right time to make the 2012 Olympics team of five gymnasts heading to London. She was just 16 years old.
Gabby Douglas emerged as the one of the big winners at the London Olympics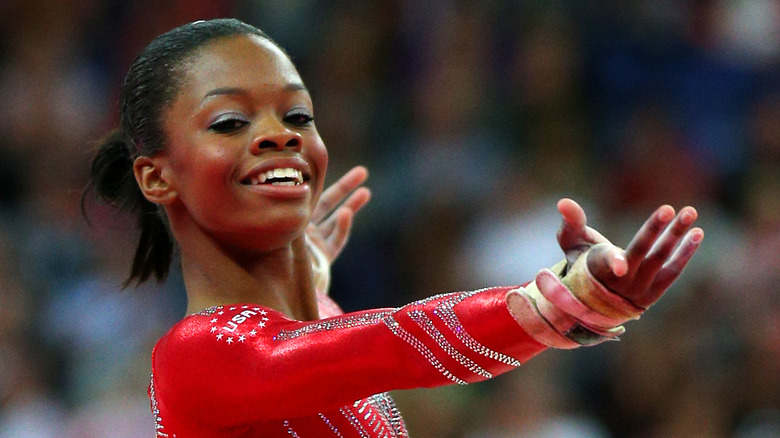 At the 2012 Summer Olympics held in London, Gabby Douglas went on to make history as the first BIPOC woman to become the All-Around champion, in addition to becoming "the first American gymnast to win gold in both the gymnastic individual all-around and team competitions at the same Olympic games," per Douglas' website. It was a celebrated feat that even she could finally acknowledge. "I wanted to seize the moment," the gymnast told the Toronto Star. 
But that amazing Olympics moment almost never happened, because she wasn't in the right headspace when they arrived in London — and it was Martha Karolyi who demanded that her coach, Liang Chow, get Douglas back on track. Ever the cheerleader, Chow knew exactly what he needed to say to the gymnast, because he knew she was dealing with a few nagging injuries. "He just said that everyone has pain, so just go out there and you know, why are you focused on that?" Douglas recalled to the Canadian outlet. "He said, 'You're at the Olympics, and put that behind you, and, if you don't push it now you don't have a chance, you'll regret it.'"
Those words of wisdom are what helped Douglas set her mind straight to achieve her Olympic goals and make history, inspiring an entire generation of young gymnasts. 
The post-Olympics media blitz followed her everywhere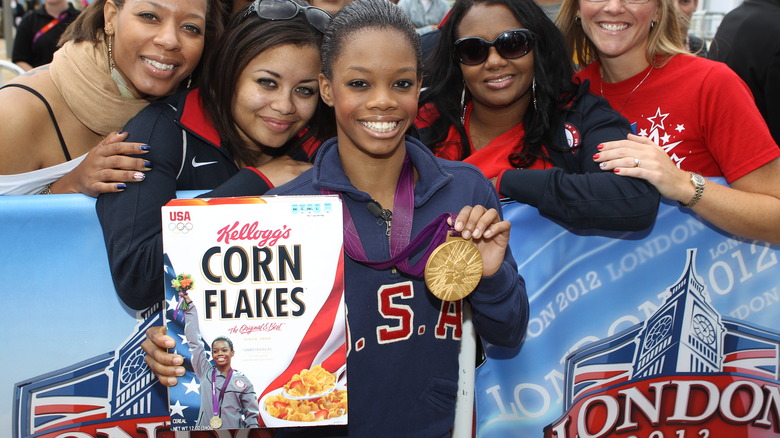 Between the covers of Time magazine and Sports Illustrated, Gabby Douglas was everywhere following the London Olympics. She had a successful autobiography published, 2012's "Grace, Gold, and Glory: My Leap of Faith," and a television movie that aired about her life in 2014 on Lifetime, "The Gabby Douglas Story." She even got her own special-edition box on Kellogg's Corn Flakes, skipping the usual Olympics Wheaties box for this honor. "As a 16-year-old, she has really got kind of the sky is the limit," media consultant Joe Favorito explained to CBS News. "She brings so many intangibles that marketers look for. She's young. She's fresh. She's a new face."
As America's latest Golden Girl, Douglas decided to use her newfound voice and power to talk about how challenging things were at one of her former Virginia Beach gyms, Excalibur Gymnastics. Douglas told her story to Oprah Winfrey, alleging that she was picked on because of her race. "I was just, you know, kind of getting racist jokes, kind of being isolated from the group," she said (via Yahoo! News). "So it was definitely hard. I would come home at night and just cry my eyes out." 
The gym later denied the Olympian's claims. But as Douglas explained to Winfrey, her alleged experience with bullying made her feel "scared at [her] old gym to show [her] potential," which was apparently why training at Chow's Gymnastics & Dance Institute made a difference in achieving her gymnastics dreams. 
Gabby Douglas had a tough time adjusting to life after the Olympics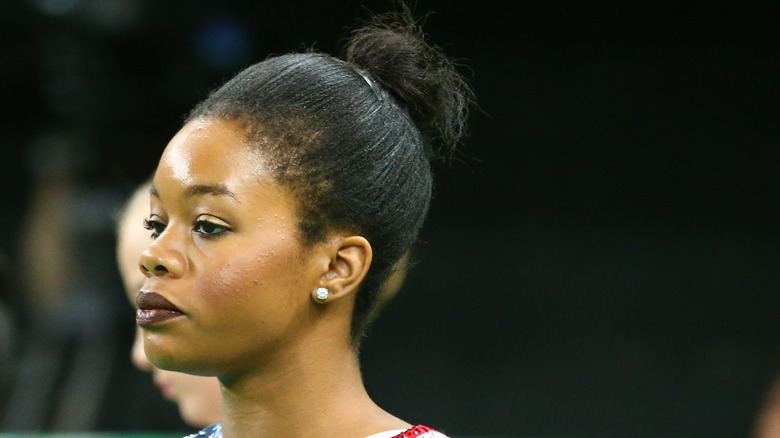 After taking a year off following the London Games and moving with her family to Los Angeles, Gabby Douglas went back to training with Liang Chow, but her stay in Iowa only lasted three months as she decided to go to a new gym to continue her quest for the 2016 Rio Olympics. "She is searching for a new coach, I guess," Chow told the Des Moines Register in 2014. "We had an understanding, a tryout period. The new goal for the tryout period, try to prepare her to be in decent, good physical shape. When the period was over, she had to make a decision — either train here or train somewhere else."
Douglas then headed to Buckeye Gymnastics in Columbus, Ohio, trying to find that Olympics magic for a second time. But there was one person who wasn't too thrilled with the move: USA Gymnastics National Team Coordinator Martha Karolyi. "I'm not crazy about lots of changes," she revealed to USA Today. "I like stability and I know from my times when I was directing, coaching gymnasts, I liked to develop a relationship with my gymnast." However, new coach Kittia Carpenter made sure to get Douglas back in the gym approximately 30 hours per week, and she also started limiting her media appearances to get any distractions out of the way, per the outlet. 
"She wants to come back looking as strong as she left," Carpenter said of Douglas.
A return to the Olympics stage in the shadow of Simone Biles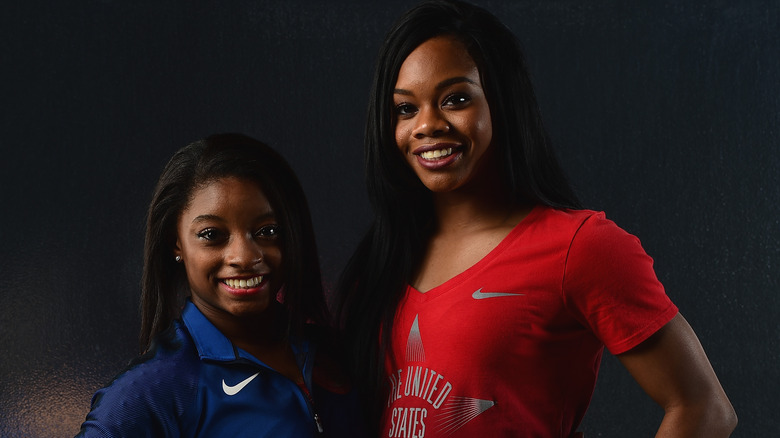 Gabby Douglas returned to the U.S. Olympic team for the 2016 Rio Games, which was an amazing feat — but she was no longer considered the star. Even though she had her own Mattel Barbie doll and a reality show, "Douglas Family Gold," leading up to the Summer Games, Simone Biles was the heir apparent for the All-Around gold medal … and Douglas reportedly felt left out. But Biles downplayed any of that seemingly petty sentiment, which circled in the headlines, telling Refinery29, "We're friends, in and out of the gym. Everyone makes it [out] to be some big rivalry, but we're just friends." 
However, it may have been difficult to see Biles and Aly Raisman beat her out for the All-Around competition at the Olympics, thanks to the two-per-country rule for individual events. The media even alleged that Douglas wasn't showing good sportsmanship when Biles won the gold medal in the same All-Around event she had won four years prior. Teammates Laurie Hernandez and Madison Kocian jumped to their feet and applauded Biles' win, but Douglas remained seated and appeared to be clapping a little less enthusiastically. 
Douglas couldn't explain what she was feeling in Rio, only stating in a press conference (via Sporting News), "There's definitely been some life lessons, things I've learned a lot. But I don't know. I don't know." Perhaps what everyone should have been celebrating was her third gold medal win, but many media outlets unfortunately chose to focus on the negativity instead. 
A gymnastics Twitter feud turned into an abuse revelation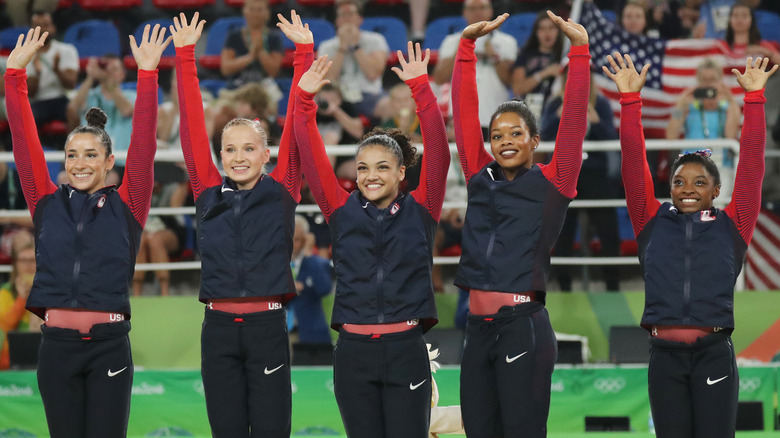 In November 2017, Aly Raisman came forward as a survivor of Dr. Larry Nassar's abuse and took to Instagram to talk about some of the negative feedback she'd received from some social media users. "Just because a woman does a sexy photoshoot or wears a sexy outfit does not give a man the right to shame her or not believe her when she comes forward about sexual abuse," Raisman wrote in part. 
At this point, former teammate Gabby Douglas decided to chime in with her thoughts in a now-deleted tweet (via The Guardian): "however it is our responsibility as women to dress modestly and be classy. Dressing in a provocative/sexual way entices the wrong crowd." That's when Simone Biles jumped in to defend Raisman on Twitter. "Shocks me that I'm seeing this but it doesn't surprise me… honestly seeing this brings me to tears bc as your teammate I expected more from you & to support her," Biles responded to Douglas' tweet.
The exchange between these fan-favorite Olympic gymnasts was shocking to read, but by the time Douglas stepped up to apologize on Instagram, she also came forward with the revelation that she, too, had been abused by the team doctor. "I didn't correctly word my reply & i am deeply sorry for coming off like i don't stand alongside my teammates," she tweeted. "regardless of what you wear, abuse under any circumstance is never acceptable. i am WITH you. #metoo."
If you or anyone you know has been a victim of sexual assault, help is available. Visit the Rape, Abuse & Incest National Network website or contact RAINN's National Helpline at 1-800-656-HOPE (4673).
Gabby Douglas has shared her mental health journey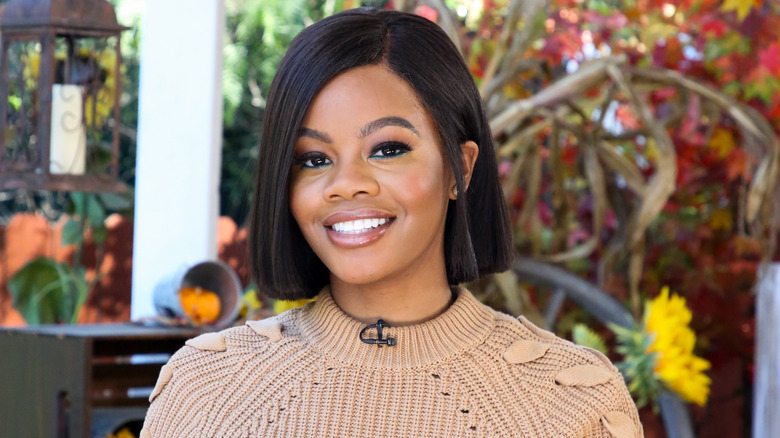 After making it to two Olympic Games as an elite athlete at the top of her game — and as a sexual abuse survivor — Gabby Douglas made it her mission to talk about the importance of mental health. One of her main messages to young athletes is that "taking care of your physical and mental health is key" because it's "the new wealth," the gymnast told Cheddar News in 2021. Douglas has also encouraged self-love, because it is crucial to gaining confidence, no matter what goals you are pursuing in life. "I would say never limit your talent or your beliefs because of someone else's limited imagination," Douglas said. "If you have a passion, heart, to do something, then go for it 100 percent."
She even made sure to voice her support for tennis player Naomi Osaka, after she withdrew from the 2021 French Open, citing mental health concerns. Douglas empathized by saying to USA Today that the 2016 Olympics "really did a number on [her]." The gymnast continued, "Every person knows what they need to do to fix themselves, to heal themselves, and everyone's different. Being an athlete, we go through so much already. If you need to step back, that's what you need to do." 
Douglas admitted that she's worked on "healing" and making sure to rest when needed, adding, "So I've just been taking years off of social media, off of my phone, and really just kind of getting back to who I am."
If you or someone you know is struggling with mental health, please contact the Crisis Text Line by texting HOME to 741741, call the National Alliance on Mental Illness helpline at 1-800-950-NAMI (6264), or visit the National Institute of Mental Health website.
She also took a chance and did something different — The Masked Dancer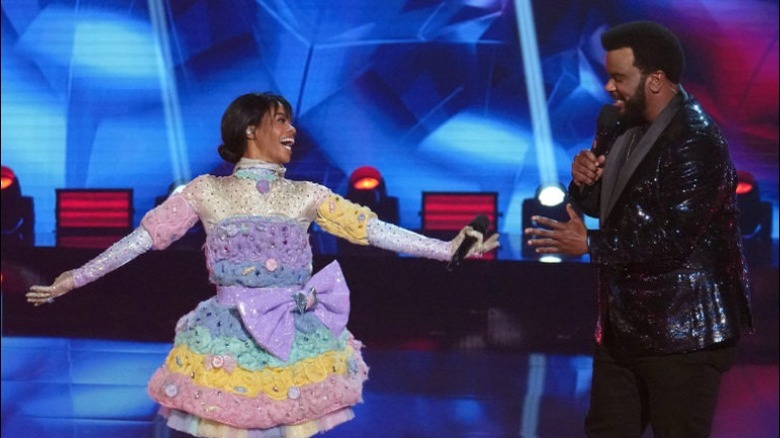 In 2021, a 25-year-old Gabby Douglas decided to do something fun for herself and compete on the first season of "The Masked Dancer" as Cotton Candy. Doing the show was a surprising choice, because most gymnasts head to "Dancing With the Stars" after the Olympics, such as former teammates Aly Raisman and Simone Biles. And she didn't exactly have the easiest start.
During a dress rehearsal for the first episode, Douglas had a terrifying fall from a hoop suspended in the air — miraculously, she wasn't seriously injured. "I was so fortunate for Cotton Candy's outfit because she has a huge, fluffy skirt, and also her head shielded me, and it softened the fall," the gymnast explained to Entertainment Weekly. "But I was okay, I was fine. I only got a bruised chin and a bruised knee."
The former Olympian went on to win the show, beating out "Dancing With the Stars" pro Maks Chmerkovskiy and "Dance Moms" star Mackenzie Ziegler. "The Masked Dancer" opportunity came at the right time for the athlete, because she's admittedly "super-competitive," but also wanted to do something where she could "go out there and have fun." All in all, it was an experience she would never forget, further sharing with the media outlet, "I was emotional the whole entire [finale] because I just can't even express enough. … It was just such a fun experience for me, and just being able to develop very close relationships with everyone, and with the road ending and the journey coming to a stop. … I didn't want this journey to end."
Everyone is wondering if she's officially retired from gymnastics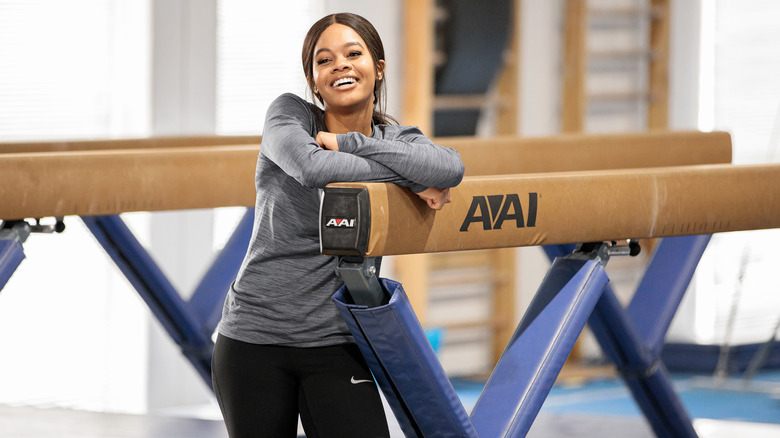 The big question from many gymnastics fans is whether Gabby Douglas is officially retired, because she's never formally stated that she's done with gymnastics for good. The last time we heard anything about her athletic career was back in 2017, when the Olympian told NBC Sports that she was taking a break — at least for now. 
"This time is different because I've been to two Olympics, and I always wanted to go to two Olympics," Douglas said to the media outlet. "But right now since I've been doing gymnastics for 14 years, I am taking this time off, especially growing into my own person." We obviously didn't see her try for the 2021 Olympics team in Tokyo, Japan, but it's unclear whether or not she's entered an unofficially official retirement. But that's not to say that this three-time gold medal winner hasn't been keeping busy.
Besides doing "The Masked Dancer," Douglas has been flirting with an acting career for years, and has even taken classes in Los Angeles to brush up on her skills, per NBC Sports. She explained, "You have to expose your vulnerability a little bit in acting classes." The athlete has put that work to the test since her last Olympic outing, tackling roles in TV and film, including "Helpsters," "Same Difference," and "Love, Of Course."
Gabby Douglas' net worth is significant in her post-Olympics career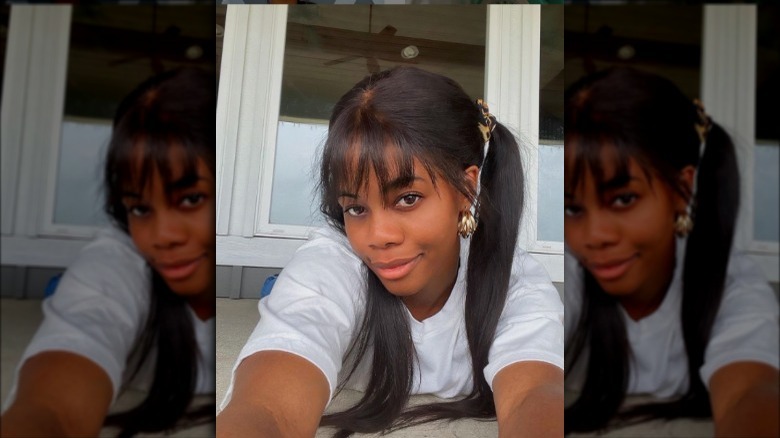 Gabby Douglas took advantage of the opportunities presented to her after her finding record-breaking success in two Olympic cycles — a smart financial move for the gymnast, because her status as the first Black gymnast to win the All-Around gold medal is one for the record books. At the time of this writing, Celebrity Net Worth estimates her fortune to be in the neighborhood of $4 million, thanks to lucrative deals with Kellogg's, Nintendo video game "New Super Mario Bros. 2," Mattel, and numerous social media influencer campaigns. Not to mention the fact that this multi-talent co-wrote two best-selling autobiographies, "Grace, Gold, and Glory: My Leap of Faith" and "Raising the Bar," featured in the Lifetime movie, "The Gabby Douglas Story," and also starred on her own reality show, "Douglas Family Gold." 
And, of course, we can't forget the money Douglas earned for her three gold medals — $37,500 was the going rate in 2021, according to CNBC. Remember, she had to split that five ways for the team medals, but the All-Around gold-medal earnings were all hers. Basically? At age 25, Gabby Douglas' star power is still on the rise, proving that this former Olympian is a popular athlete on and off the mat. 
Source: Read Full Article