The Untold Truth Of Olympic Swimmer Caeleb Dressel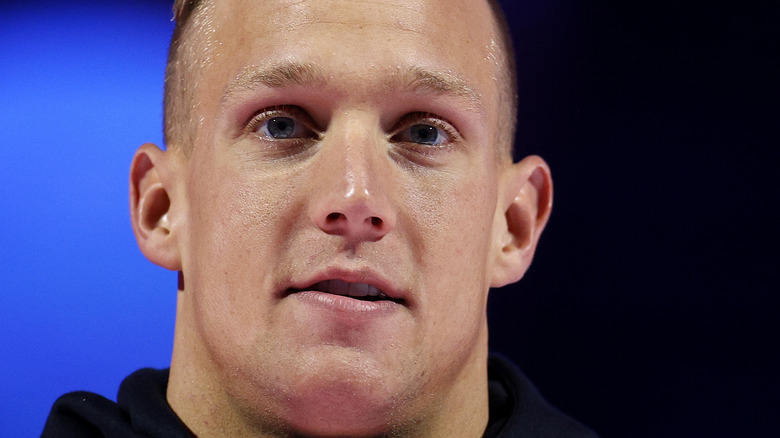 Fast and consistent, it's no wonder swimmer Caeleb Dressel is a favorite to win at the 2021 Tokyo Olympic games.
The Florida native, born and raised, competes in the butterfly and freestyle races, specializing in the 50m and 100m sprints. Dressel also competed in relay races, his Olympic debut included two relay races and the 100m freestyle in Rio (via USA Swimming). For its 2021 iteration, Dressel will be competing in six different disciplines, including the 50m and 100m freestyle and the 4x100m butterfly, freestyle and medley relays (via ISPO).
The fan-favorite to win big for team USA has been training and pushing himself ever since the Olympics were rescheduled due to the coronavirus pandemic. From being the biggest critic in his own YouTube channel to perfecting his vertical jump to 43 inches (a height exceeded only by two 2020 NBA players),  Dressel is ready for the Tokyo races (via IPSO, Sports Illustrated).
Perhaps because of the high expectations for the 24-year-old to perform, he's not the biggest fan of the press. "I'd rather just shut up and swim," he told the AP.
But who is behind the record-breaking swimmer? Here's the untold truth of Caeleb Dressel.
Caeleb is breaking records left and right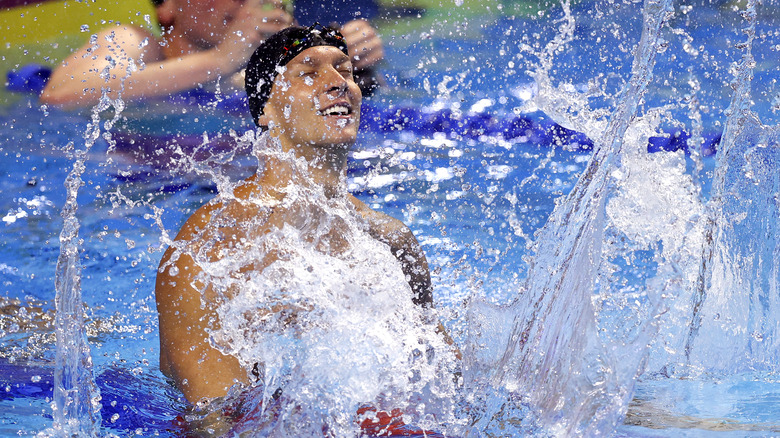 Caeleb Dressel has been breaking records since the start of his career. After setting age-breaking records throughout high school, he became the youngest male qualifier for the 2012 Olympic trials (via Sports Illustrated).
Ever since Michael Phelps' 2016 retirement, Dressel has stepped up and risen to American butterfly dominance. Winning the NCAA Championship 100m butterfly run and setting a new world record of 49.50 seconds at the same event, taking three-tenths off of Phelps' own World Record (via Swim Swam). He also holds seven out of the 10 fastest swims of all time, and holds two relay World Records as well as the World Record for the individual 50m freestyle (via ISPO).
Yet the comparison to Phelps comes from all the titles. At Tokyo, Dressel will be competing in multiple events, with the chance of winning up to seven medals for Team USA in a single Olympics (compared to Phelps' record-breaking eight). Still, Dressel doesn't want to be the next Phelps, just the best Dressel.
"I swim different events than Michael," he explained to the AP News. "I'm not chasing someone else's goals. I want to chase my own."
He even referenced the eternal "GOAT comparison" of Michael Jordan and LeBron James as an example of comparisons to him and Phelps.
"Look, I turn on the TV to watch LeBron [James]," he told ISPO. "I don't care if he's better than [Michael] Jordan. He's great at what he does. Why does it matter if he's better than MJ or not?"
He has a small circle of athlete and Olympian friends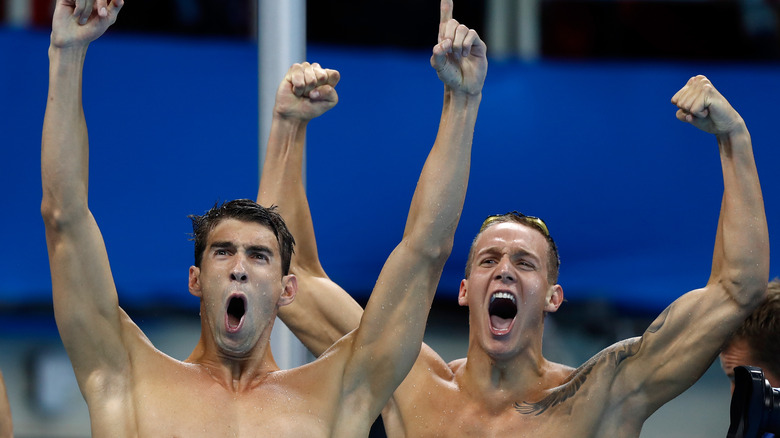 Though neither of his parents were competitive athletes growing up, Caeleb Dressel has created a support system filled with people that both care about him and understand the life and struggles of a professional swimmer.
As a Gator at the University of Florida, Dressel trained with former Gator and current world-record holder of the 60-meter indoor hurdles Grant Holloway (via Sports Illustrated). Holloway is also a favorite to win the 110-meter hurdles in Tokyo and has spent time with Dressel discussing skills that could transfer across disciplines (via USA Today).
Standing at 6'2" and 198lbs, it's no wonder why former football coach Steve Spurrier said Dressel should've "played receiver for the Gators" (via Sports Illustrated). Dressel is also close to current and former swimmers, most notably Olympic champions Michael Phelps and Ryan Lochte, whom he competed with at the Rio 2016 Olympics.
At home, all four Dressel siblings started swimming competitively in high school (via Sports Illustrated). His sister Sheridan is now swimming professionally with the Cali Condors, and has joined Dressel in multiple Speedo partnerships.
His wife, Meghan Dressel was also a competitive swimmer throughout high school and college. The two met in 2013 while training at the Bolles school, and have been together since then (via Team USA). The high school sweethearts wed on Valentine's Day 2021 in their home state of Florida.
Caeleb is no stranger to treading through the water and through the woods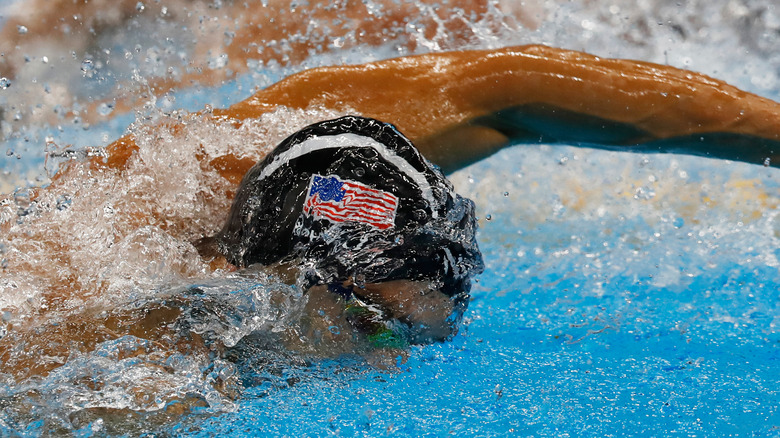 Though his swimming schedule had never allowed Caeleb Dressel to participate in his family's annual camping trip, the pandemic provided the perfect chance to join his dad and siblings in hiking the Appalachian Trail (via USA Today). This past spring, he also went hiking with his family the woods of Tennessee, an activity on his dad's "Dream Board" (via Sports Illustrated).
"Everything that I thought was a problem in my life, you get out on the trail, it wasn't a problem," he told USA Today. And while he loved his experience going to the 2016 Rio Olympics, he says it didn't change his life whereas, hiking on the other hand, definitely did (via USA Today).
Apart from swimming and hiking, Dressel is a fan of many outdoor, adrenaline-seeking activities. His favorite pastimes include fishing, wakeboarding, and playing video games (via AP). He's even jumped out of a plane. Indeed, when he first moved into the University of Florida campus his freshman year, he quickly discovered his bow and arrow were not allowed in the dorm (via Sports Illustrated).
But adventures don't have to be grandiose for Dressel to enjoy them. Growing up around dogs (his dad is a veterinarian), Dress is never too far from a canine friend. Ever the dog man, his loyal companion is a black lab named Jane. Earlier in the year, she even accompanied him during an interview with Sports Illustrated.
Caeleb was a podcaster before podcasting was cool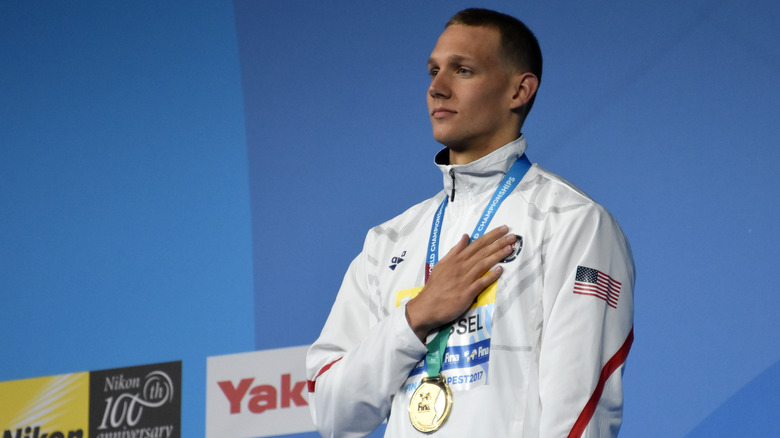 While Caeleb Dressel loves swimming, his friends and family assure that it's not all there is to him. Indeed wife Meghan Dressel says that they rarely talk about it once he gets home from practice.
"He's not his swimming," she told USA Today. "It's something he loves, but it's not who he is."
Shortly before the pandemic in late 2019, Caeleb and former teammate and roommate at the University of Florida Ben Kennedy started a podcast – "The Ben and Caeleb Show." Not focused on swimming, the two discuss everything including hummus, making a bed, "redneck stuff," and conversations with their Uber drivers (via AP).
While the two have not posted a new episode since July 2020 – we can assume Caeleb has been busy preparing for this summer's games – the podcast amounted to quite the following. Kennedy and Caeleb rarely address swimming in their podcast, and if they do it's always in the greater context of self-motivation and improvement.
To Kennedy, Caeleb is a "very interesting person" and said he thrives off of exploring the world past his swimming accolades (via USA Today).
Source: Read Full Article