Travis Scott Just Broke His Knee While Performing and the Videos Are So Intense
Kay, first of all a quick word of warning: if you find, IDK, videos of people breaking their damn knees to be disturbing, it's time to look away! Because that's fully what just happened to Travis Scott and it's rough to watch. The injury went down during the first night of the Rolling Loud Music Festival in Queens, New York, when Travis took a bad fall while performing "Butterfly Effect." Basically, Trav was jumping around and landed very badly—but in a crazy plot twist, he actually got back up and finished the song. Not to mention the entire show.
Here's a video of the fall (literally cannot watch so tell me what happens):
Travis Scott just broke his Knee at Rolling Loud 😦 and he's still performing after this. 🐐 @RollingLoud pic.twitter.com/LwsZ1152eq
And his reaction:
Travis Scott legitimately believes he broke his knee right now at Rolling Loud but refuses to let the show stop 🥺
pic.twitter.com/CTRGbb1jfv
"I ain't gonna lie, I think I just broke my knee right now," Travis told the audience while surrounded by crew who seemed visibly concerned. "But this show cannot stop." True to his word, he ended up performing the final song with some sorta knee brace, and told the audience "nothing can ever stop this show."
Reminder: Travis and his longtime girlfriend Kylie Jenner recently broke up thanks to frequent "fighting," but apparently they're this close to getting back together and are continuing to put their daughter Stormi first.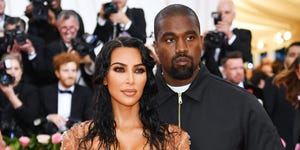 Source: Read Full Article