Twitter Is Trying So Hard to Explain the Met Gala Camp Theme
The Met Gala is tonight, and all your favorite, most fashion-y celebs are ready to send you into a full-on panic attack with their designs. Last year's theme was "Heavenly Bodies," which gave us Pope Rihanna and Joan of Arc Zendaya, and this year might actually top that. (TBD, though, because Rihanna supposedly isn't even going!) Upping the stakes, Vogue editor Anna Wintour tasked everyone with dressing like "Camp: Notes on Fashion." Okay, but what the hell even is that?
As of now, one of Twitter's best guesses includes dressing like the classic Bug Juice Disney Channel summer camp reality show, IMO. But mostly, everyone just knows that camp is a feeling and knows what camp is not.
"THATS NOT CAMP" —twitter, 2019 pic.twitter.com/ILWWGmHw3b
Lotta people seem to think the Met Gala's "camp" theme tonight is a lot of things other than what it actually is, which is a BUG JUICE homage
what is camp is writing an essay that goes so viral that four decades later people are attending a party centered around it dressed up in costumes because of something you wrote
I've avoided all camp explainers because I only care about what giuliana rancic says it is
This is 100% camp pic.twitter.com/XLJm05PP4v
As a teen theater nerd I loved the movie Camp. That's all I got.
If you were to ask Kylie Jenner, she's going off this quote that describes camp as a sh*t ton of feathers.
"The hallmark of Camp is the spirit of extravagance. Camp is a woman walking around in a dress made of three million feathers." #MET
One thing everyone can agree on, though, is that Lady Gaga IS camp and did the damn thing.
Lady Gaga just fucking bodied the MetGala. The good sis built a career on being camp and she didn't disappoint with the theme at all 🔥 pic.twitter.com/sNt0OjqT0b
Personally, I'd like to see some stars roll up in some REI camping gear. Zendaya, Harry Styles, can we count on you two to wear a sleeping bag dress? A literal tent maybe? LMK!
But seriously, Vogue tried to expand on the theme and described it as "artifice and style and exaggeration," so hopefully that helps you a little bit for any camp theme parties in the future.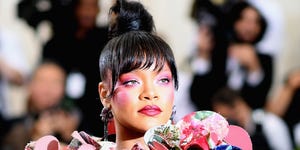 Source: Read Full Article