Tyga Used To Be Married To Tristan Thompson's Other Baby Momma! Yes, Really!
Tyga was once married to Tristan Thompson's baby momma!
No, not Khloé Kardashian (though wouldn't THAT be a juicy piece of gossip!) … it's Tristan's other baby momma — his ex Jordan Craig!!!
According to TMZ, court records indicate that Tyga and Craig got hitched on September 6, 2010, only to file divorce docs exactly ONE MONTH later. So they even beat Kim Kardashian West's infamous two-plus month long wedding to Kris Humphries…
Anyways, the pair was clearly together for a month of wedded bliss (yeah, right) before splitting; Tristan and Craig hooked up a few years later, and now, the NBA star has a two-year old son (Prince) with Jordan.
This is all coming back up now because Tyga recently started liking Jordan's pics on Instagram again… for what reason, we don't know.
And of course when you think about the Kardashian dating tree, and how inter-related Tyga and Tristan already are to the harem of KarJenner sisters… well, this is just one more layer to add to the onion! Crazy!!!
Meanwhile, In San Diego…
Despite all that weird web of marriage and baby momma drama, the show must go on — or not go on, as Tyga up and failed to show for his Friday night concert in San Diego.
The rapper was supposed to perform at Omnia night club in Ron Burgundy's beloved hometown last night, but Tyga must have just forgot (?!) about it or something, because he never showed and never gave notice before hand… leaving fans PISSED OFF considering how much money they dropped on tickets! Per TMZ, the event and performance at the club cost $100 for men and $70 for women — and that's just the price to get in the door, before drinks and everything.
And all that for no concert?? Eyewitnesses at the scene reported a rowdy crowd as the evening wore on and it became clear Tyga probably wasn't going to show. There was apparently a LOT of pushing and shoving in the crowd with bottles and glasses being thrown on stage, as well.
The club's DJ tried in vain to keep the crowd entertained until nearly 2:00 a.m., but they weren't having it — and eventually the whole night had to be scrapped. There may be an issue with securing refunds, too, because management was reportedly telling the crowd on the way out that "nothing could be done." Not a good look!!!
As for his part, Tyga posted an apology to his Instagram account, as you can see (below):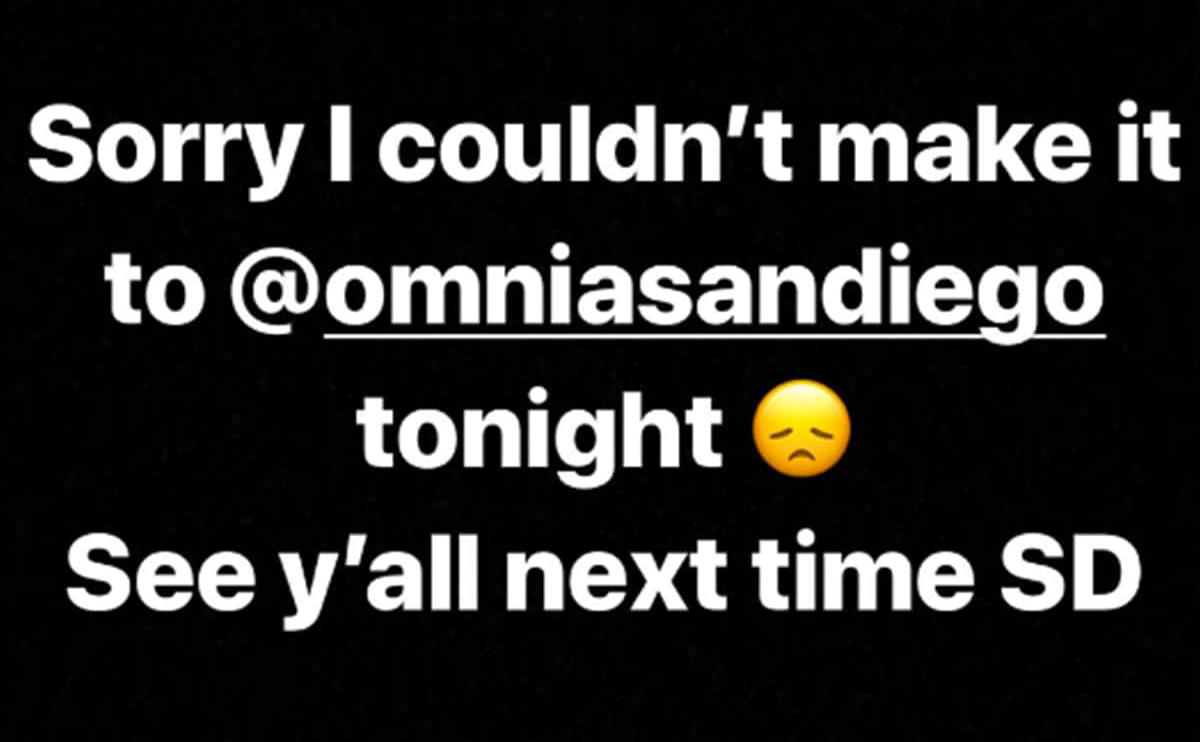 Yeah… that's it? No reason?! No good story or legitimate excuse?? That's not gonna cut it, Tyga…
Maybe he was busy reminiscing about Jordan Craig?!?! Ha!!!
Related: Khloé Reveals Why She 'Paused' Her Divorce From Lamar Odom!
The rapper's next performance is supposed to be tonight up in Irvine, but don't hold your breath for that one, Orange County concert-goers… it hasn't been a great weekend for Tyga!
Reactions to all this, Perezcious readers?? Sound OFF on everything in the comments (below)!!!
Source: Read Full Article