Victoria Beckham Proudly Wears Crocs New Boots Despite Past Rather Die Claims
A few years after making the declaration, the former member of Spice Girls strikes a pose in a pair of boots that came out of the MSCHF x Crocs Big Yellow Boots collaboration.
AceShowbiz -Victoria Beckham (Victoria Adams) appeared to have a change of heart when it came to trading her heels for Crocs. More than two years after declaring she would "rather die" than wearing a pair of lilac Crocs Justin Bieber sent her, the former member of Spice Girls proudly struck a pose in a pair of the footwear brand's new boots.
On Tuesday, July 25, the 49-year-old uploaded via Instagram Story a photo of herself sporting a pair of massive yellow boots designed by Crocs in collaboration with Brooklyn-based fashion brand MSCHF. Over the snap, she added a yellow heart emoji and tagged MSCHF's Instagram account.
In the photo, the fashion designer wife of David Beckham also sported a sleeveless long black dress that came with two straps. She styled her long straight hair in a sleek low ponytail, and added a silver wristwatch, matching bracelet and sparkling ring to her look.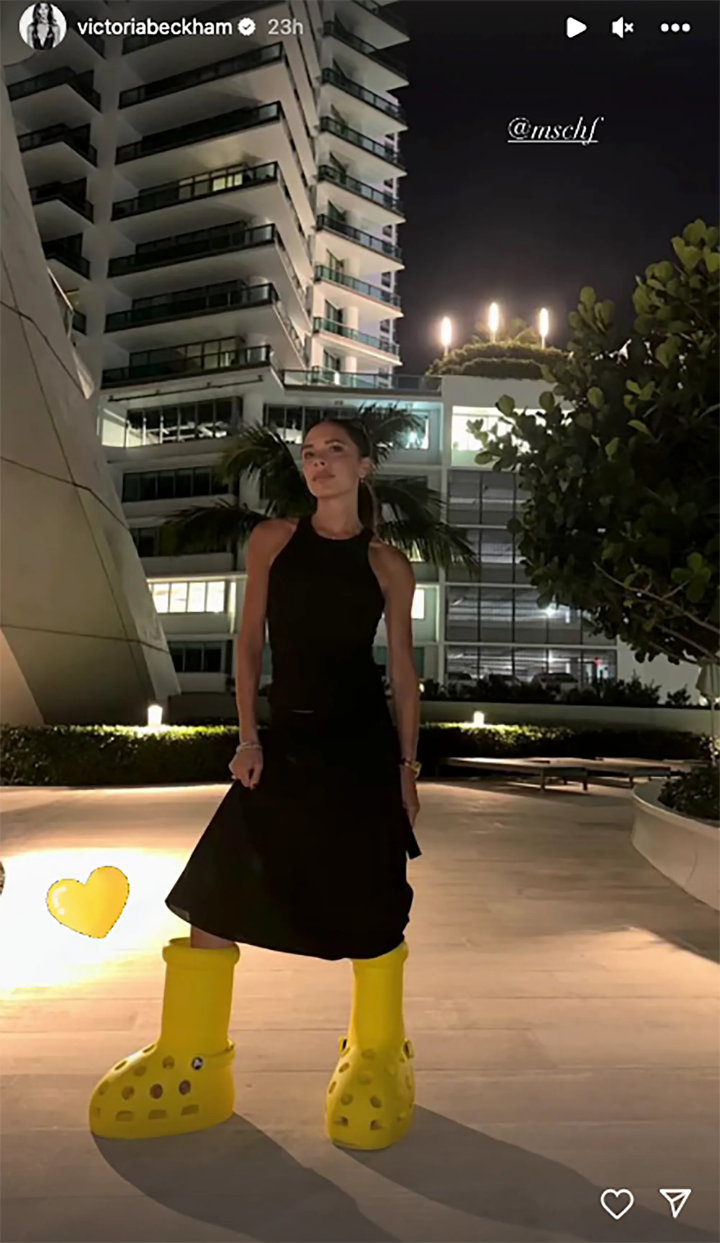 Victoria Beckham shared a photo of her wearing yellow massive boots designed by Crocs and MSCHF via Instagram Story.
Just two years earlier, in April 2021, Victoria voiced her opposition to wearing the famous foam clogs. Revealing via Instagram Story that she received a pair of Crocs in lilac color from Justin, she stated, "A lot of people have been asking me what I'm planning on wearing after lockdown…what do we think about this suggestion from @justinbieber?!"
In a follow-up Story, the mother of four further asked her Instagram followers to share their opinions by responding to a yes or no poll of whether or not she will be wearing lilac crocs. She wrote, "Will I be wearing lilac crocs?"
The former Posh Spice later shared the result of her poll through another Instagram Story post. Revealing that 43 percent of voters said "yes" and 57 percent of others picked "no," she shared her thought, "Well that was close! I think I'd rather die but thank you anyway @justinbieber [a smiling face with tears of joy emoji]."
You can share this post!
Source: Read Full Article