What You Didnt Know About Bernie Sanders
Bernie Sanders may have become a national figure when he ran for president of the United States in 2016, but the Vermont senator's values were first formed in his childhood. As Sanders told a New York rally, per the AP, his Jewish immigrant father arrived in Brooklyn "without a nickel in his pocket," and his family lived in an apartment with three-and-a-half rooms, surviving "paycheck to paycheck." Tragically, the majority of his father's family had died in the Holocaust. According to his biography, "The Socialist Mayor," Sanders once commented that he was "very conscious as a kid that my father's whole family was killed by Hitler." 
This knowledge first sparked the future politician's interest in politics. He lost his first-ever campaign, however — for class president. During the young Sanders' campaign, he promised that he would start a fundraising scheme to raise money for children orphaned by the Korean War. "It was an unusual thing for a person so young to be involved in," his brother, Larry, told Time, recalling these campaign promises. Sanders may not have won, but the idea of creating scholarships for kids in Korea was so popular that it was still implemented.
Keep scrolling to find out more about how a young Bernie Sanders forged a political path for himself as an unlikely people's champion.
Bernie Sanders has always fought for civil rights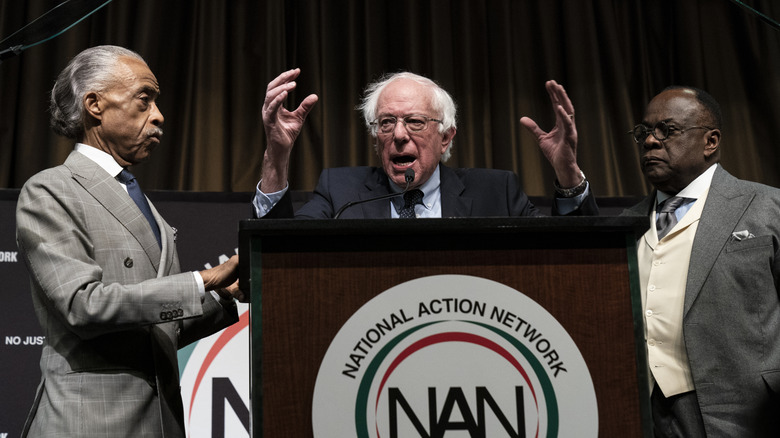 Bernie Sanders was always interested in equal rights, as he proved back in 1963, when he was arrested for protesting school segregation. As the Chicago Reader reported, the young activist was photographed being restrained by police at a demonstration. A dispute over Chicago public education had spiraled after a new school for Black children had been set up in an empty warehouse, which parents argued was a "firetrap." However, as the politician later quipped in an interview with Time, his arrest wasn't a meaningful achievement. "You can go outside and get arrested, too!" Sanders observed. "It's not that hard if you put your mind to it."
As a student at the University of Chicago, he also helped stage a sit-in outside the president's office, protesting the segregated housing provided by the college. "We feel it is an intolerable situation," the protestors stated at the time, pointing out that students of different races were not allowed to "live together in university-owned apartments."
His mother's death inspired him to support Medicare For All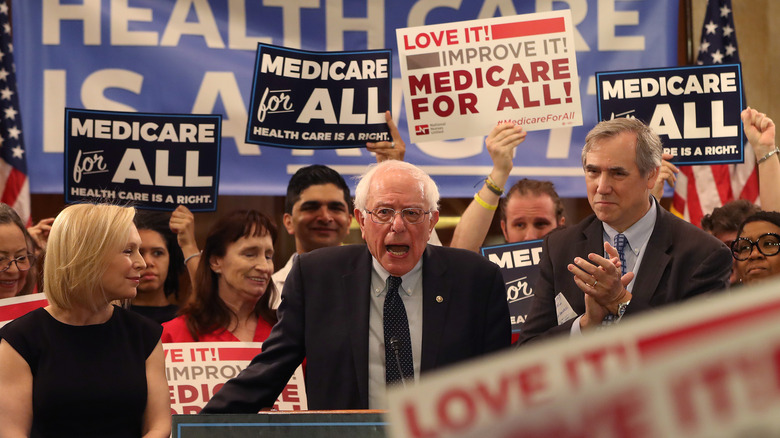 One of the key policies that Bernie Sanders has pushed for over the years is universal healthcare. "All Americans are entitled to go to the doctor when they're sick and not go bankrupt after staying in the hospital," the politician argues on his website, stating his commitment to the idea of a "single-payer, national health insurance program."
His first major encounter with tragedy came during his teenage years when his mother, Dorothy, became very ill and eventually died. "Losing one's mother at the age of, I believe, 18 … was very, very difficult," Sanders told the AP, recalling how he moved out of Brooklyn soon afterward. The experience taught him that "health care is a human right — it's not a privilege — and that was not the case back then and that certainly is not the case right now."
As The New York Times revealed, a trip to Canada further showed Sanders that not every family had to struggle with paying for their loved ones' healthcare, like his family had. After a 2017 trip up north, Sanders praised the country's approach to medical care again, per CBC. "There is so much to be learned and we will take back what we learned here and what we learned about the Canadian healthcare system to the United States Congress and to the American people," he declared at a University of Toronto event.
Bernie Sanders was named one of the best mayors in America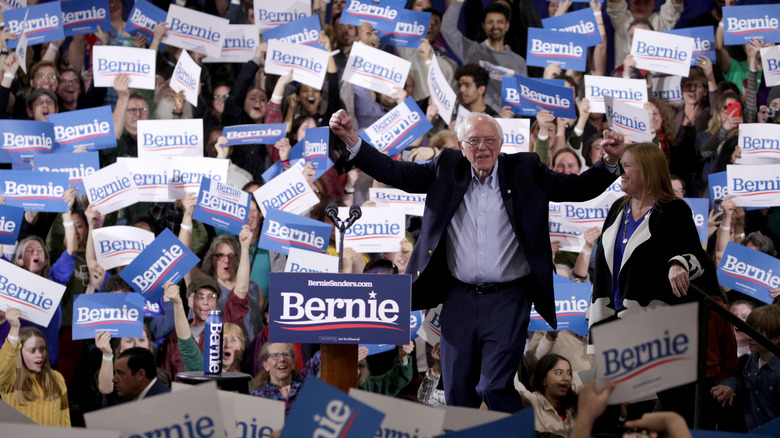 When Bernie Sanders first moved to Vermont full-time in 1968, the single father was working several different jobs and struggling to pay his electricity bills. By 1987, he had been voted one of the 20 best mayors in America by US News and World Report, as The Courier-Journal reported. But let's back up a bit.
His first political campaign happened because of Liberty Union, per Politico Magazine, a small anti-war party that needed someone to run for the U.S. Senate. "Sanders said, 'You know what? I'll try it. What do I have to do?'" Liberty Union co-founder Peter Diamondstone recalled, describing how Sanders threw himself into organizing and advocating for societal change. Despite his energy, the politician never won more than 6% of the vote while running on a Liberty Union ticket.
Sanders' campaign had been popular in Burlington, however, where he decided to run for mayor in 1981. As he still notes on Twitter, he only won the race by 10 votes, but the mayor's popularity began to skyrocket quickly. Despite his new salary, Sanders was still a man of the people: As Politico Magazine reported, he once received a ticket for parking in the mayor's spot, since an officer assumed that his Volkswagen Dasher was too beaten-up to be the mayor's vehicle.
The politician released a folk album in 1987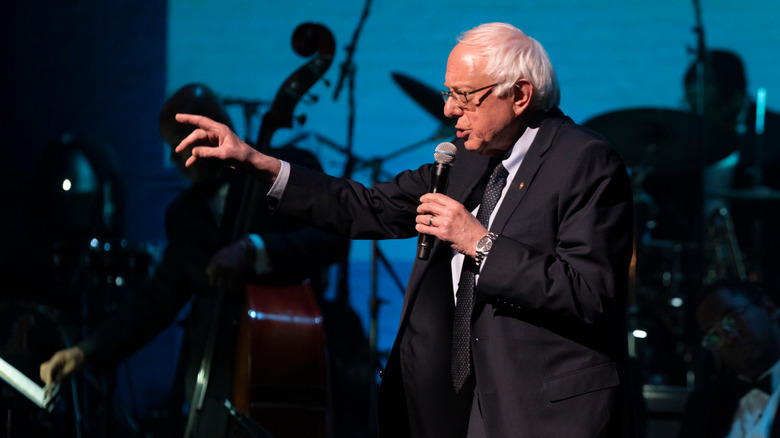 Bernie Sanders is a man of many talents, but singing might not be one of them. In 1987, the then-Mayor of Burlington talked 30 artists from Vermont into joining him on a folk album called "We Shall Overcome." As Rolling Stone reported, the album featured Sanders reciting the lyrics of protest songs like "We Shall Overcome" and "This Land Is Your Land" in a spoken-word style (perhaps channeling his inner William Shatner?).
Although a lot of local musicians had collaborated on the album, it didn't exactly become a hit. Only 600 copies were sold, according to CNN, which meant that it didn't break even with its studio production costs. In 2016, a renewed surge of interest in Sanders, who was then running for president, led to a spike in sales. But it looked like the politician still wasn't interested in recording a follow-up.
"If you're looking at a President who can carry a tune, I'm not the guy," Sanders declared during a Democratic town hall on CNN. "… It's the worst album ever recorded."
That time Bernie Sanders appeared in a Susan Sarandon rom-com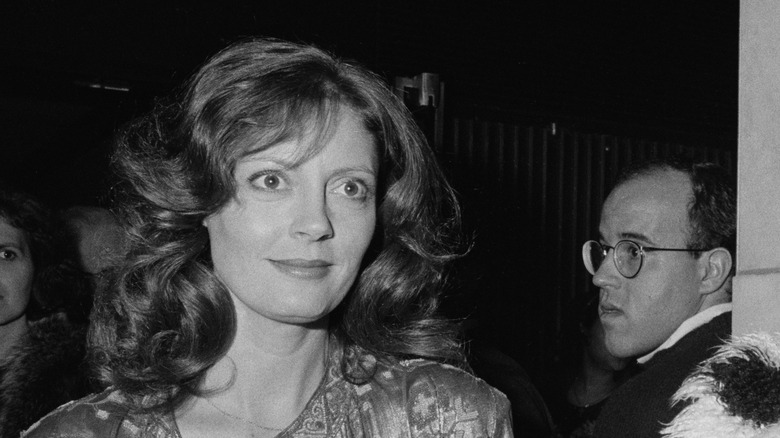 Bernie Sanders has had many different careers in his lifetime — author, politician, carpenter, recording artist. And in the late '80s, the then-Vermont mayor decided to add "actor" to that list.
His film career had previously consisted of low-budget educational films that Sanders made himself, per Politico Magazine. The American People's Historical Society released videotapes about people who Sanders admired, like the socialist and trade unionist Eugene Debs, and the politician drove to schools himself to persuade them to show the films. "It wasn't just a way to make money," his friend, Steve Goodkind, insisted. "He made filmstrips about people he admired and believed in. He just thought kids should know the truth of how things really were."
Sanders' movie efforts then became a bit more mainstream, per the AV Club. "Sweet Hearts Dance" was released in 1988 and featured Susan Sarandon and Jeff Daniels. Sanders made a short cameo in a walk-on role. But he also appeared in another rom-com over a decade later: "My X-Girlfriend's Wedding Reception," which starred Dom DeLuise and Mo Gaffney, as well as the musicians Vitamin C and Debbie Gibson. Sanders appeared as a rabbi who goes on a rant about baseball — which might not have been a stretch for the lifelong baseball fan, who was still taking to Twitter to condemn the MLB's "greed" in 2021.
He also hosted his own TV program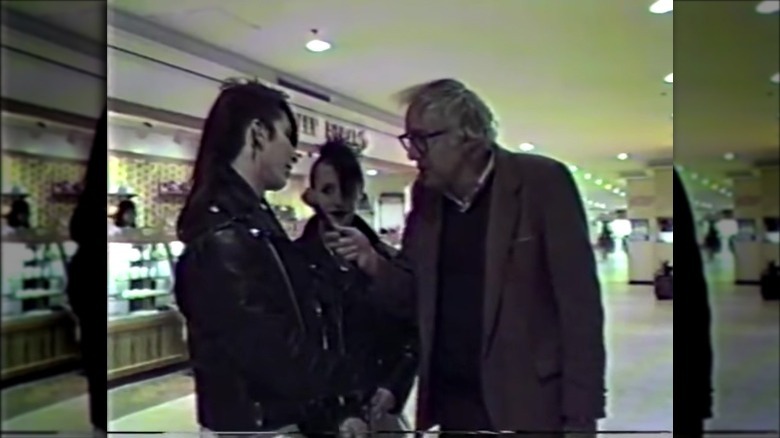 Years before politicians could talk directly to their supporters through social media, Bernie Sanders used TV to spread his message. The local access show, "Bernie Speaks with the Community," aired in the '80s and featured him talking to Vermont locals. As he shared in the first episode, the program was developed because his radio show had been canceled. Sanders had "enjoyed" hosting "The Mayor Speaks" and having "an opportunity to communicate with the people of the city," so when the station's owners ended it, he moved to the small screen.
His relationship with the media, however, was fraught: After Sanders was elected in 1981, reporters were quick to write about the "socialist mayor" and his agenda. "Burlington will be on center stage because the country has gone in one direction and we have gone in the other," he told The New York Times. "People will be paying $10 a head to see the freak Mayor of Burlington and what we do can have an effect."
So, he came up with his own show, where he talked to children about cocaine and interviewed punks at the mall. "The day after I was elected mayor, I said to some of my colleagues, 'We can't survive. We're going to have to develop our own media,'" Sanders recalled in Episode 50, lamenting how the state of Vermont had not created a "real progressive media" yet. "… Why aren't we putting pressure on the local media to demand that it be a lot better than it is? The fight ultimately is a political fight."
Bernie Sanders is the 'longest-serving independent' in Congress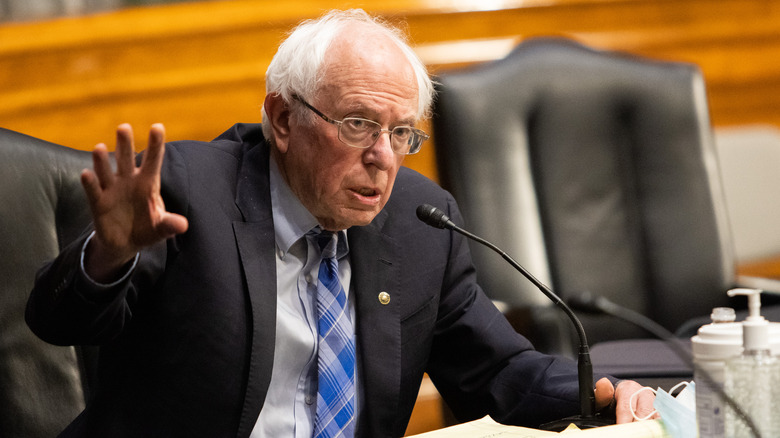 Despite running for president as a Democrat, Bernie Sanders hasn't always seen eye-to-eye with the party. He entered the House of Representatives in 1990 as an Independent legislator, and as ABC News reported, he is officially the 'longest-serving' congressman outside the Republican and Democratic parties.
"You don't have to be a political genius to know that if you function alone, there are real limits to what you can accomplish," Sanders wrote in his 1998 book, "Outsider in the House: A Political Autobiography," adding that while he had managed to form the Burlington Progressive Coalition to connect with other progressive Independents in Vermont, he was tactically overwhelmed by "the two-party system" in Congress. Later, in a 2015 interview with Vox, Sanders explained his opposition to the Democratic party by declaring that they were "separated from working families."
"Are the Democrats 10 times, 100 times, better on all of the issues than the Republicans? They surely are," Sanders, who was elected to the Senate in 2006, admitted, before insisting that they had lost touch with the average American. "There was a time — I think under Roosevelt, maybe even under Truman — where it was perceived that working people were part of the Democratic Party. I think for a variety of reasons, a lot having to do with money and politics, that is no longer the case."
He got famous through an eight-hour filibuster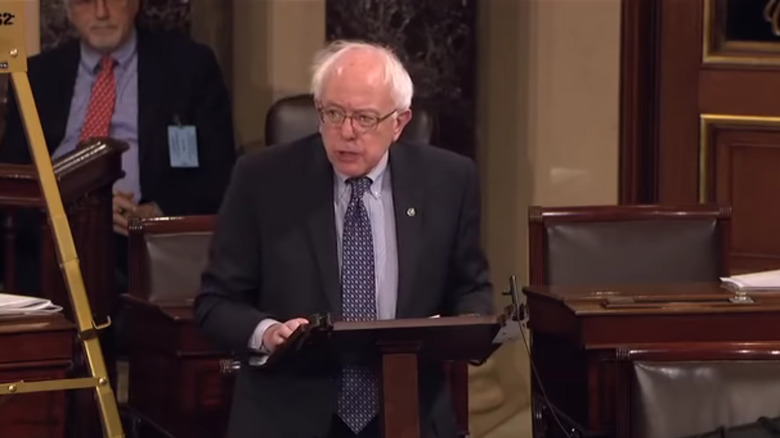 Bernie Sanders made a name for himself on the national stage in 2010 by delivering a filibuster on the Senate floor, arguing against tax cuts for corporations. For eight-and-a-half hours, the congressman spoke about how both the Republican and Democrat parties had responded to national debt. "You can call what I am doing today whatever you want," Sanders told the room full of politicians. "… I am simply here today to take as long as I can to explain to the American people the fact that we have got to do a lot better than this agreement provides."
In his characteristic speaking style, Sanders addressed the public watching at home more than the politicians around him. "The polls show us the American people do not believe millionaires and billionaires need more tax breaks," he declared, according to NPR, urging any spectators to ring up Congress and tell them that "enough is enough." There were so many phone calls that people couldn't get through, the outlet reports, and the Senate website couldn't handle the traffic it was receiving.
Sanders didn't succeed in stopping the massive tax breaks. But as his strategist, Jeff Weaver, told NPR, the filibuster still raised his profile. "I think it laid a lot of the groundwork for the success that he would see in the 2015-2016 election cycle," Weaver explained, adding that the speech "brought Bernie Sanders to the notice of millions of Americans who didn't know who he was."
This politician keeps his family life secret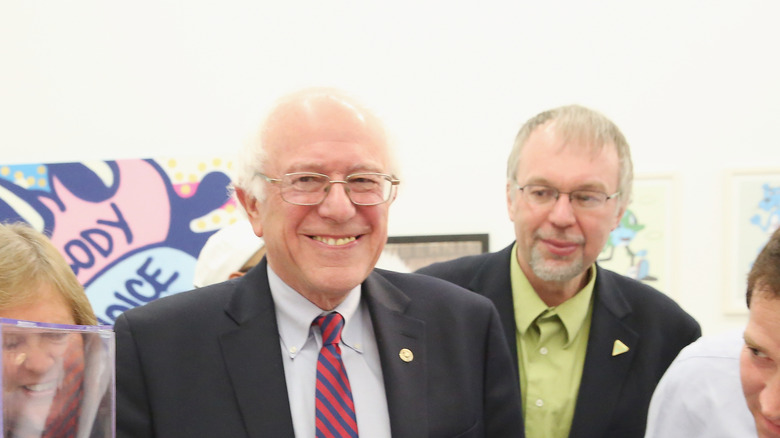 Although Bernie Sanders is always ready to discuss his policies, the politician is more reticent when it comes to his personal life.
Sanders has been married twice and has one biological son and three stepchildren. Although many assumed that he had son Levi with his first wife, Levi's mother actually was a woman named Susan Campbell Mott, whom Sanders had lived with in New York, as Politico Magazine discovered in 2015. Then in 1981, he met his second wife, Jane, at a political debate. "I sat in the second row and I fell in love with Bernie's ideas," the teacher told People, describing how he later proposed to her in the parking lot of an ice cream parlor.
Jane had three children from a previous marriage, who welcomed Sanders into the family. "I'm his daughter. He's my dad," her daughter, Carina, told Yahoo! News. "We grew up in his house. They're our parents." Controversially, however, he declined to endorse both Carina's run for mayor of Burlington, per Seven Days, and Levi's run for Congress in New Hampshire. "Levi has spent his life in service to low income and working families, and I am very proud of all that he has done," Sanders told the Boston Globe. "In our family, however, we do not believe in dynastic politics. Levi is running his own campaign in his own way."
Bernie Sanders' brother, Larry, is involved in UK politics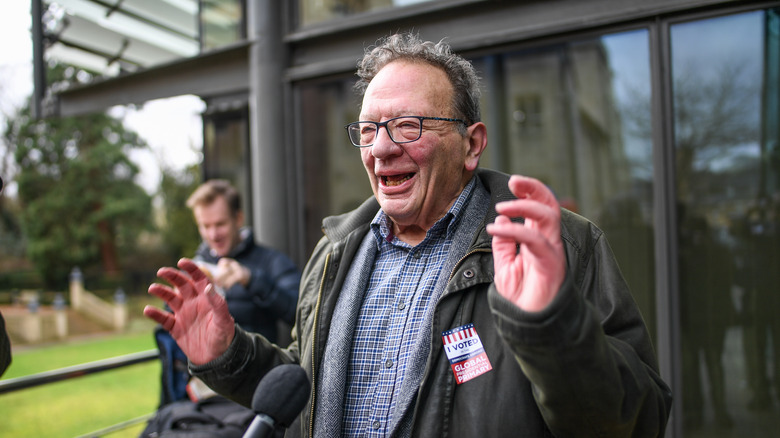 While Bernie Sanders was working his way up from Vermont mayor to presidential hopeful, his brother, Larry Sanders, was carving out his own place in politics on the other side of the pond.
Larry moved to the UK in the '60s, according to the Independent, where he became a university lecturer and began exploring local politics. He was a county councillor for the Green Party in Oxfordshire until his retirement in 2013, working with an emphasis on healthcare and social services. And in 2016, he was picked as the new health spokesperson of the Green Party.
Despite having similar views, Larry told CNN that the brothers don't actually discuss their policies with one another that often. "He knows I follow politics and he's not interested in talking about it, because he's living it all the time. So we don't really talk politics. He turns it off," he explained of Bernie. Of their non-political conversations, Larry continued, "I think it's been very important for him to come down and touch base."
He's inspired two flavors of Ben & Jerry's ice cream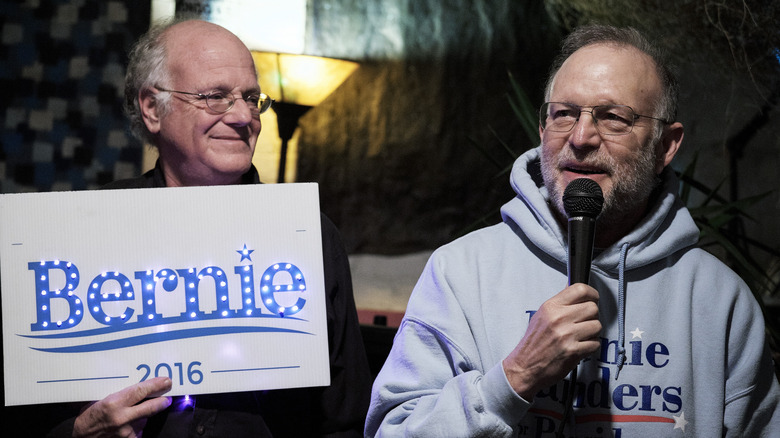 The founders of Ben & Jerry's have been passionate supporters of Bernie Sanders since his successful run for mayor in 1981.
"We were there at a victory party for Bernie, at the bottom of Memorial Auditorium," Ben Cohen, who's one half of the iconic ice cream duo, told CBS News. "… I've been scooping ice cream for Bernie for 40 years." Their loyalty to Sanders and his policies led to the two entrepreneurs, whom Sanders has praised for their progressive views, joining him on the presidential campaign trail in 2016. Cohen even bears a striking resemblance to the politician: As he revealed to CBS News, people often mistake him for Sanders from behind. "I think especially if somebody really hopes that Bernie will be around, and they see me," Cohen said. "It's kind of close enough."
They also created two original flavors, the mint chocolate chip-inspired "Bernie's Yearning" in 2016, as well as "Bernie's Back" for the 2020 election, in the candidate's honor. In a 2019 Facebook video, Cohen explained these different flavors to his business partner, Jerry Greenfield, joking that the latter pint had a butter crunch toffee "backbone" because "Bernie's got spine."
The Vermont senator is not afraid to feud with billionaires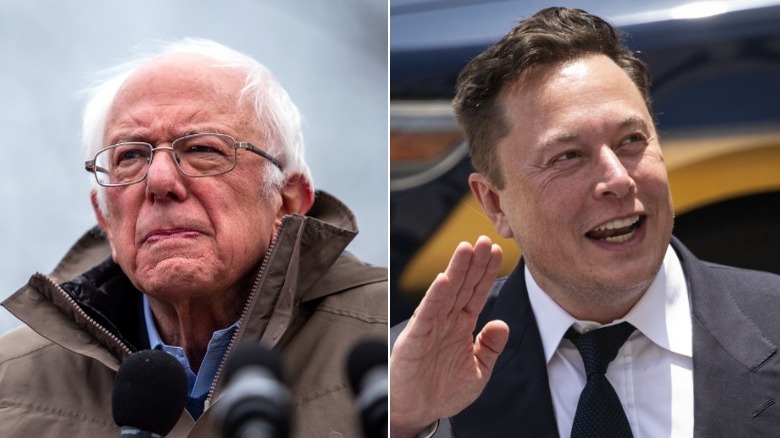 Bernie Sanders has built up a reputation for facing off against billionaires over the years, calling for an end to the vast wealth gap between America's richest and poorest families. And in more recent years, he's had public feuds with famous CEOs like Elon Musk, Jeff Bezos, and Bill Gates.
After Gates protested the idea of a wealth tax in 2019, Sanders tweeted that even if the Microsoft founder was actually taxed 90 percent, he "would still be a multibillionaire." In 2021, he condemned Bezos in a Twitter thread for attempting to prevent Amazon workers from unionizing. And Sanders also sparred with Musk over how he used his wealth, tweeting: "Space travel is an exciting idea, but right now we need to focus on Earth and create a progressive tax system so that children don't go hungry, people are not homeless and all Americans have healthcare."
The latter pair had previously butted heads on Twitter, when the Tesla CEO called Sanders "a docile puppet of big oil" for pointing out that Musk had received $4.9 billion in government subsidies.
Bernie Sanders' books made him a millionaire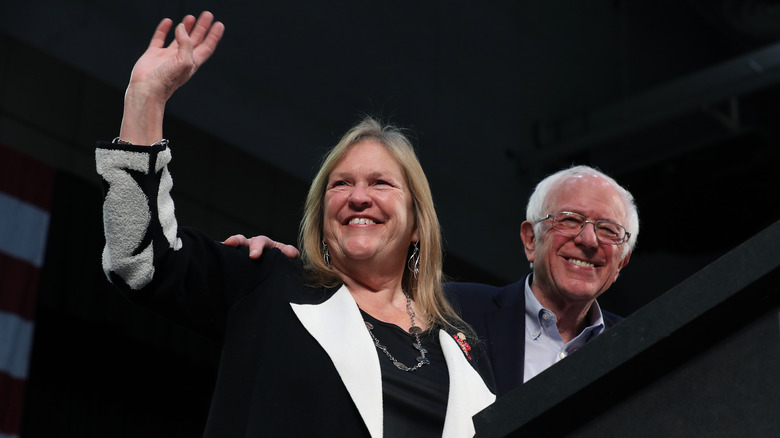 Bernie Sanders has come quite a long way from being unable to pay his electricity bills as a carpenter and writer. As The Wall Street Journal reported, Sanders and his wife, Jane, own three properties: a four-bedroom home in Vermont, a townhouse in Washington, D.C., and another vacation house in Vermont that they bought in 2016.
Although he was one of the least wealthy members of Congress for a long time, book royalties have skyrocketed Sanders' net worth to an estimated $3 million, according to Celebrity Net Worth. After his first presidential campaign pushed him to a new level of fame in 2016, the senator published "Our Revolution," which explained his political agenda and became an instant bestseller. Per Forbes, the book sold more than 220,000 copies and was followed by his "Guide to Political Revolution" and "Where We Go From Here." Altogether, the books had made him over $1.7 million by 2019.
While some have accused Sanders of hypocrisy, given his well-documented aversion to billionaires and tycoons, the senator is open about his finances. In 2019, he released 10 years' worth of his tax returns, per CNN, admitting that "our family has been very fortunate." The politician also promised that he would still "continue to fight to make our tax system more progressive so that our country has the resources to guarantee the American Dream to all people."
Source: Read Full Article