What You Don't Know About Stephanie Beatriz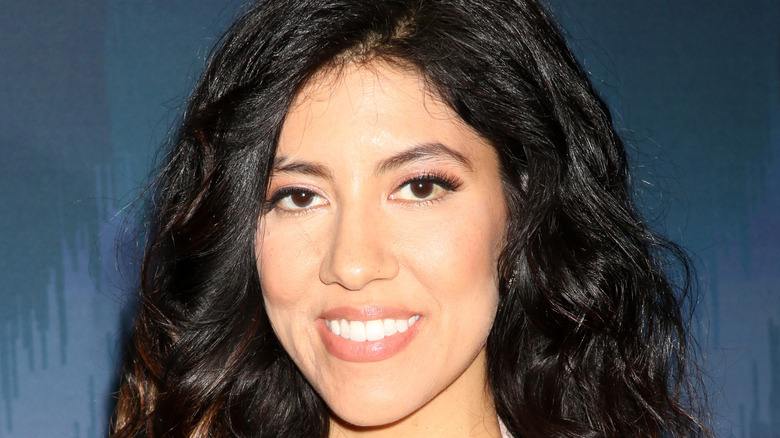 It's been more than a year of waiting, but it's almost time for "In the Heights" to open in movie theaters and on HBO Max.
The star-studded cast is brimming with fan favorites including Anthony Ramos (who played Philip Hamilton and John Laurens in the original Broadway cast of "Hamilton") starring as Usnavi and Dascha Polanco from "Orange is the New Black" as newly-added character, Cuca, for the film adaptation.
Fans of "Brooklyn 99" may be especially excited to see Stephanie Beatriz, who plays the seriously scary (and extremely funny) detective Rosa Diaz, as hairdresser Carla – a very different character from the intense Diaz. Though her fame may be inextricably tied to the cop sitcom that made her a household name, Beatriz is more multifaceted than you might know. Not only is she a brilliant actor, but she's also an outspoken advocate for queer visibility and Latinx representation in media. 
Here are a few juicy tidbits and fun facts about Stephanie Beatriz – Carla approved, of course.
Stephanie started acting because her choir teacher wasn't impressed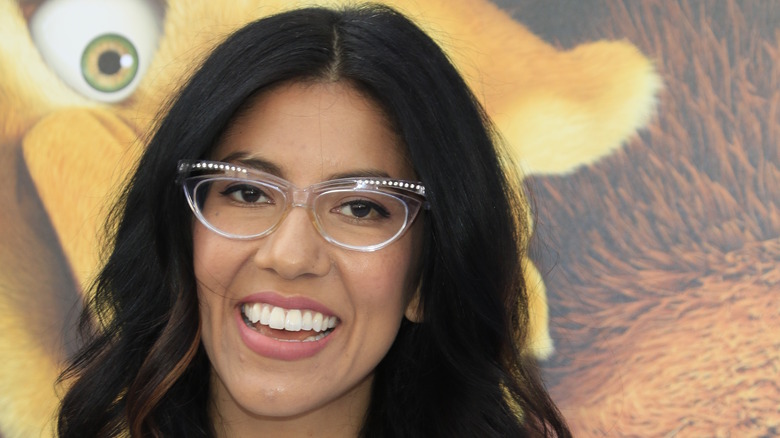 On Cameron Esposito's podcast, "Queery," Stephanie Beatriz talked about her introduction to the theater and how it started off a bit less-than-glamorous. 
When given the option to choose electives in middle school, Beatriz chose choir because other artistic pursuits like band and art required fees for supplies. Not wanting to ask her parents for money, Beatriz chose choir, since she could be her own instrument. Unfortunately, after the first day, the teacher pulled her aside to say that maybe singing wasn't her forte and suggested she try speech and debate instead.
The harsh suggestion led Beatriz to act in two plays, which is where she found her love of acting as it allowed her the opportunity to escape into someone else, and fool her classmates as well. She even recalled an incident where, after playing a male villain onstage (complete with false mustache and slicked back hair) a popular boy who'd been in her class all year told her to compliment "her brother" on his performance! 
Dancing for In the Heights Gave her the anxiety sweats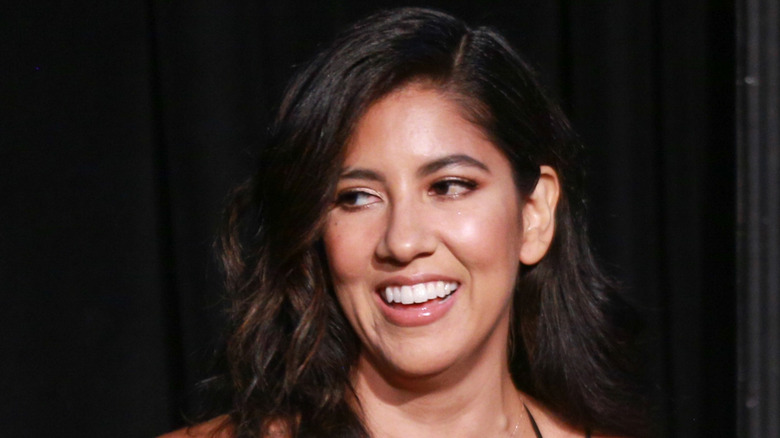 In an interview with Variety, Stephanie Beatriz talks about her struggles with the complex choreography for the upcoming film, "In the Heights." 
Though she and other headliners were cast for their "triple threat" skillset, meaning they can act, sing, and dance, Beatriz was still intimidated by the dance crews that fill out the film. "We're in a room with, like a hundred professional New York dancers who've been doing this since they were kids," she explained, while recalling getting up at 5 a.m. to go over the choreography on her own, even before rehearsal started, so she wouldn't be embarrassed. "I'm flop sweating now, just thinking about it." 
But the hard work paid off, and ultimately she was happy with her performance, adding, "We look pretty good." From the multiple trailers, including the first eight-minutes of the film which HBO released, it's certain that huge dance numbers are a big part of the film's storytelling, so fans can't wait to see the star in motion!
Stephanie sounds nothing like her Rosa character IRL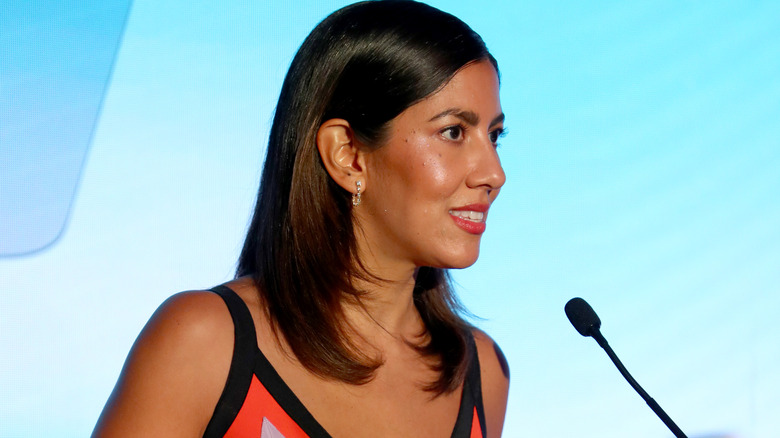 Stephanie Beatriz is probably best known for her role as Detective Rosa Diaz in "Brooklyn 99." 
Her sultry voice and deadpan seriousness make for a strikingly dark comic style – a sharp contrast to the "fiery" roles that Latina women are often typecast in. But, as Beatriz told Variety, people are often "very confused" when they hear her real voice, which is vibrant, quick to laugh, and at least an octave higher than Rosa's. Doesn't mean she can't drop in and out of it at the drop of a hat, but the signature sound is just for the character alone.
Beatriz was especially surprised to be cast in the role of Diaz since, when she auditioned, the character was known as "Meghan." After hearing that Melissa Fumero had been cast as Amy Santiago, Beatriz assumed that she wouldn't get either of the parts she'd read for since she couldn't imagine a network sitcom casting more than one Latinx actor in a leading role (per Vulture). We're betting she's never been so happy to be wrong.
Lin-Manuel Miranda helped save Brooklyn 99
Working on the film "In the Heights" wasn't Stephanie Beatriz's first connection to theatrical juggernaut Lin-Manuel Miranda. 
Back in 2018, when Fox tried to cancel the show, Miranda went full all-caps rage on Twitter, writing, "RENEW BROOKLYN NINE NINE/I ONLY WATCH LIKE 4 THINGS/THIS IS ONE OF THE THINGS" and adding the hashtag #renewb99. Due to overwhelming fan support, including other celebrity endorsements, the show was, in fact, uncancelled. 
Miranda even made a guest appearance in the show's sixth season as Amy Santiago's overachieving brother. The humor of his appearance is compounded by his character being the "golden child," which feels appropriate for Miranda's IRL accomplishments. However, David Santiago isn't nearly as humble or generous as Miranda. The sibling rivalry culminates in a hilarious dance off where both Amy and David prove themselves to be horrific dancers.
Though he doesn't share much screen time with Beatriz in his appearance on the show, it's clear that Miranda admired her work as Rosa well before she joined the cast of "In the Heights."
Stephanie's an advocate of queer visibility for herself and others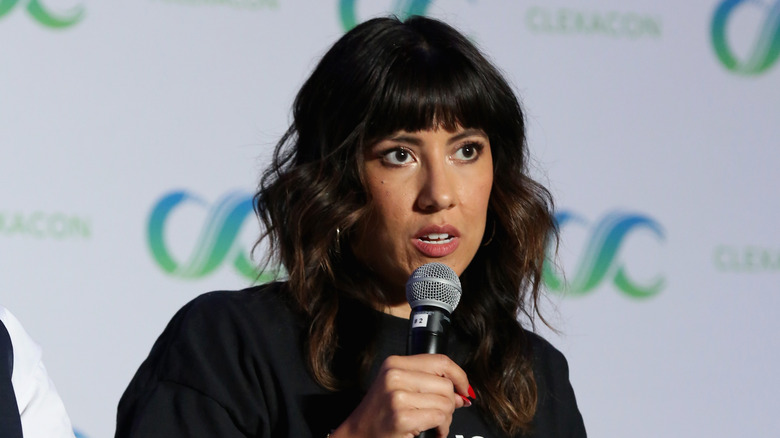 After Stephnie Beatriz came out as bisexual on social media, and then wrote a reflective piece for GQ about marrying a straight man and worrying that she didn't feel "queer enough," the producers of "Brooklyn 99" reached out to her about a coming out episode for her character, Rosa Diaz, who had long given off coded queer vibes on the show. 
"And I was like, 'Absolutely. Yes. I'm so excited! Yes! Yes! Yes!'" she told Vulture. "It was like, tens, tens, tens across the board." There wasn't anyone bisexual n the writer's room, so Beatriz served as her own cultural consultant and helped shape the character's coming out story.
She's also bringing that same energy to "In the Heights" where two characters who are portrayed as "best friends" in the Broadway show, Carla the hairdresser and salon owner Daniella, are definitively romantically involved in the film adaptation. 
As reported by Playbill, Beatriz said at a press event, "What was so gratifying to me as a person who is queer is to see this relationship in the film be part of the fabric of the community and to be normal, and be happy and functioning, and part of the quilt they've all created."
Source: Read Full Article