The Best Styles To Pair With Mom Jeans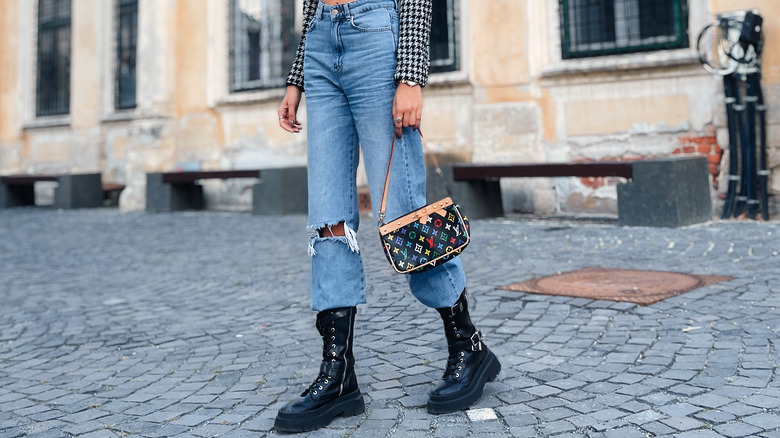 Edward Berthelot/Getty Images
By Hillary Sussman/Sept. 11, 2021 4:44 pm EDT
The 21st century mom jeans have a far trendier connotation than the "Saturday Night Live" parody would imply (via YouTube). These days, the term "mom jeans" typically refers to a pair of high-waisted, tapered jeans as opposed to its tighter early 2000s cousin — skinny jeans. Celebrity stylist Samantha Brown told New York Magazine, "Mom jeans have proven their staying power for the last few seasons. Women have really embraced the higher rise and slightly more relaxed fit."
It's true! Mom jeans first broke onto the scene in the '80s and '90s thanks to Calvin Klein and Brooke Shield's flawless derrière. But now, over 30 years later, mom jeans have made the transition from Gen X to Gen Z. Perhaps this is due to their versatility. Celebrity stylist Ali Levine explains, "They're super cute and easy to throw on with a tee, and get out the door" (via New York Magazine). 
While that's true, fashionistas shouldn't be afraid to experiment with the denim staple. In fact, with the right styling, mom jeans have the power to take any outfit from a 10 to an 11.
Go vintage with mom jeans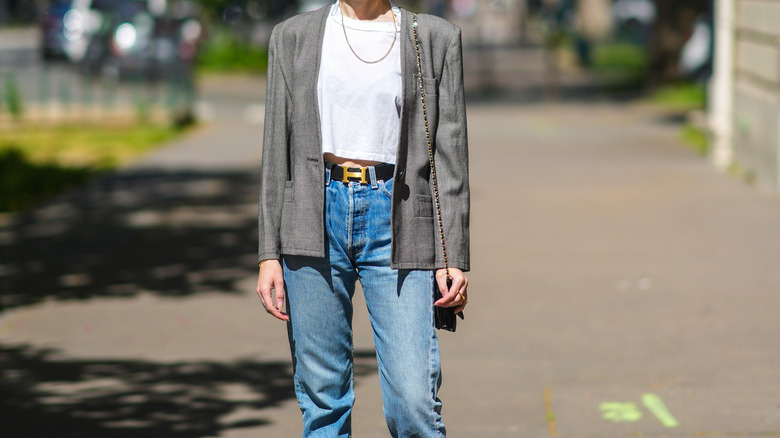 You don't need a DeLorean to travel back in time. Just toss on a few accessories instead. The Trend Spotter suggests channeling your inner '90s goddess by pairing mom jeans with an oversized printed t-shirt, chunky turtleneck, or blazer. These timeless staples work for any look, day or night. And if you're headed out to a more casual affair, top off the look with a baseball cap and sneakers to achieve full Princess Diana realness.
While most mom jeans of this era boast a light wash denim, don't be afraid to play with different shades, such as an acid wash, to fully capture that nineties aesthetic. Celebrity stylist Ali Levine suggests buying two new washes every season to keep your finger on the pulse of denim fashion (via New York Magazine). If that's not in your budget, there's always resale sites for true vintage denim, such as Poshmark or Levi's SecondHand. 
Embrace the denim on denim look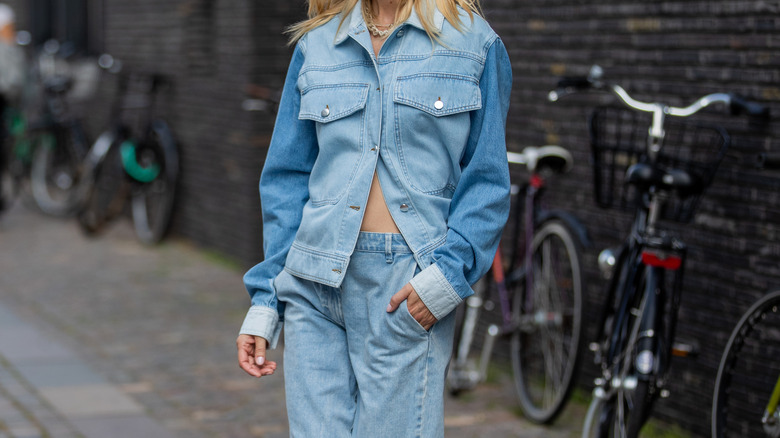 InStyle urges fashionistas to double up on their denim, but be wary of mixing the same denim shades in one outfit (unless of course you're donning a chic denim jumpsuit). In order to stay effortlessly cool and avoid a "Canadian tuxedo" moment, StyleCaster suggests mixing a pair of crisp white jeans with a dark wash button-down shirt. If you're curvier on the bottom and want to accentuate your waist, feel free to switch your shades!
Keep the look neutral by avoiding any denim accessories. Whether it be the latest Chanel handbag or a cheap bucket hat, stick to two denim pieces max per outfit. Finally, add contrast to your similar fabrics by opting for a few distressed details. Take note from A-list celebs like Megan Fox and Sarah Jessica Parker, who have made ripped jeans and frayed hems synonymous with being fashion-forward (via InStyle). 
Don't forget to double check with your partner that they aren't making a similar denim statement. The world isn't ready to relive Justin Timberlake and Britney Spears' denim couple outfits (via Page Six).
Get monochromatic with mom jeans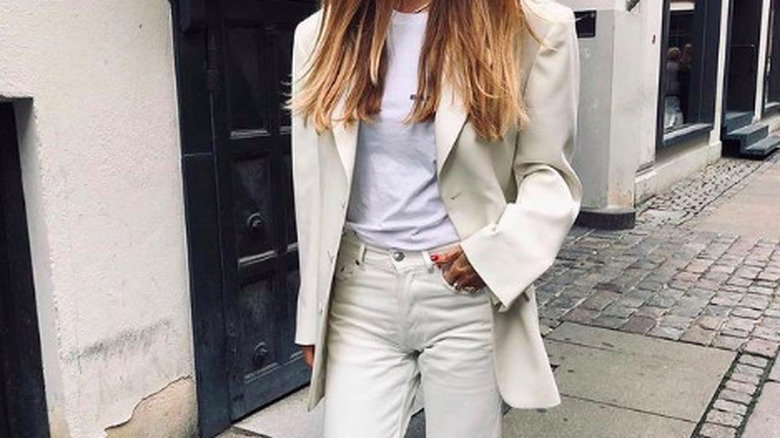 The monochromatic look has always found its way into fashion magazines, and if it's good enough for the runway, it's good enough for your local coffee shop! For those dark, cooler days, slip on a pair of black mom jeans with a leather jacket and boots. InStyle insists that darker jeans are an easy way to "achieve a more polished look," since blue jeans can often come across as "too" casual without the right accessories. Plus, because black is often associated with sleeker, more elegant styles, this monochromatic look is perfect for the evening. 
However, if you're looking to turn heads during the day, Grazia suggests a lighter color, such as an all white ensemble. Embrace a crisp, clean look with white mom jeans, a fresh pair of converse, a simple white tee, and a statement piece, like an oversized blazer. Just beware of grass, dirt, and that time of the month!
Keep it classic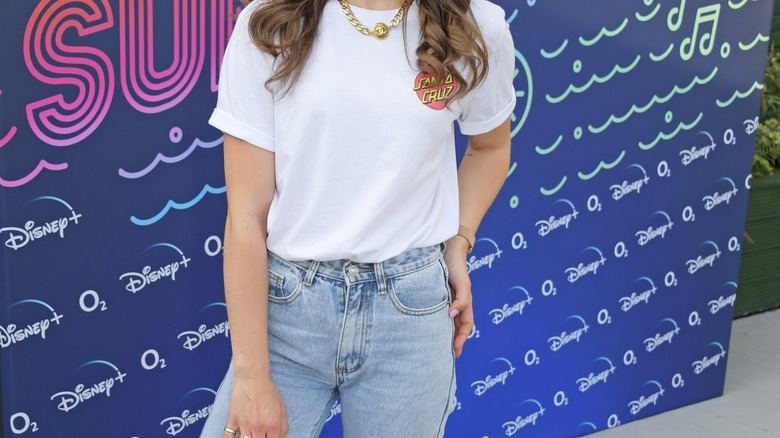 There's a reason jeans are a closet staple, because they go with anything! Keep it classic by pairing your mom jeans with a simple white tee or button-down. Style influencer Nena Evans told InStyle, "I love styling mom jeans with a button-down and loafers or blazer and tennis shoes — simple combinations that work every time. When done right, they look effortlessly chic and timeless."
The best part? This look doesn't sacrifice fashion for comfort. "A loose, breezy button-down shirt with a slightly askew collar and heeled thong sandals will add an effortless touch that will keep you from looking too stuffy," says Tobi's head stylist, Joanna Angeles. If you're ever stuck on mom jeans fashion inspo, Angeles urges folks to follow Hailey Bieber's lead. "[She's] essentially mastered making mom jeans look high-end yet still practical and comfortable." Quite the feat for a style of jeans that have been alive longer than her!
Source: Read Full Article