The Legging And Sports Bra Sets That Deserve All The Hype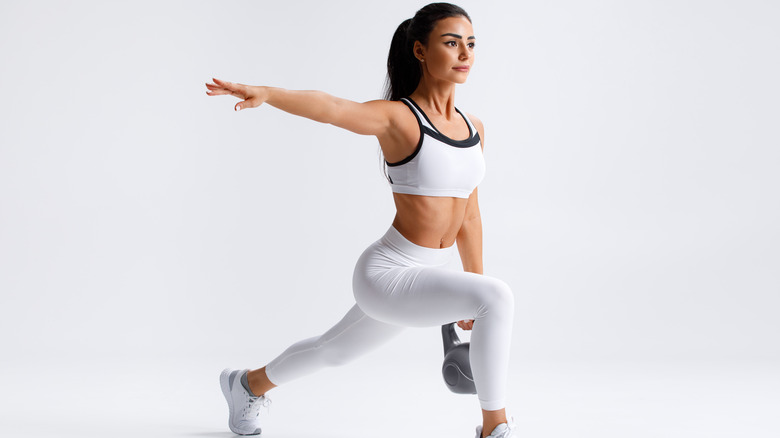 Let's not sugarcoat things — finding the right workout clothes can be a challenge. Whether you're into yoga, jogging, or even the proverbial Peloton, making sure you have garments that are breathable and practical can make or break your experience. And if you're gonna work out, you might as well look fabulous while doing it. However, it can be difficult to find coordinating pieces that make you look put together, and some mixing and matching is usually required, which is an extra step that can always be an inconvenience during your busy day. Many may not know that there are actually plenty of matching sports bra and legging sets on the market, you just need to know where to look. And what better way to motivate yourself then a cute pair of athletic tops and bottoms that act as twins? These fabulous matching legging and sports bra sets will let you break a sweat while still looking adorable.
We're floored for florals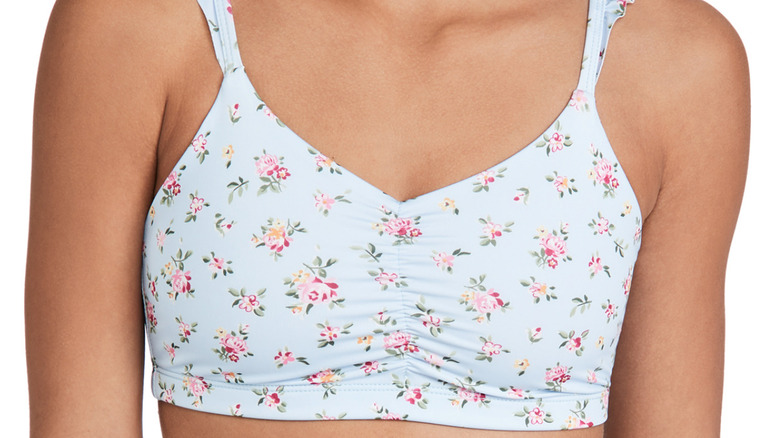 This USA-made brand's philosophy is "keep your practice challenging, and your wardrobe simple!" (via ShopBop) and it's not hard to understand why. The Onize La Femme Floral Bra and High Rise Leggings have a delicate pink rose pattern against a classic baby blue background that gives a soft, feminine look that's perfect for your spring and summer outdoor workouts. For an extra flair, the ruffles on the top gives babydoll vibes that have been all the rage lately, so you can look extra modern during your routine. This particular set is designed for lighter activities, such as yoga and everyday wear.
The Leah Top in Blue and Pink Floral and Piper Legging from Beach Riot scream West Coast in the best way. The larger floral patterns against a muted canvas make a statement that's girly yet unapologetic (as girls should be). The thick straps offer extra support for a more intense workout, while the square neckline is flattering for all body types.
Dying for tie-dye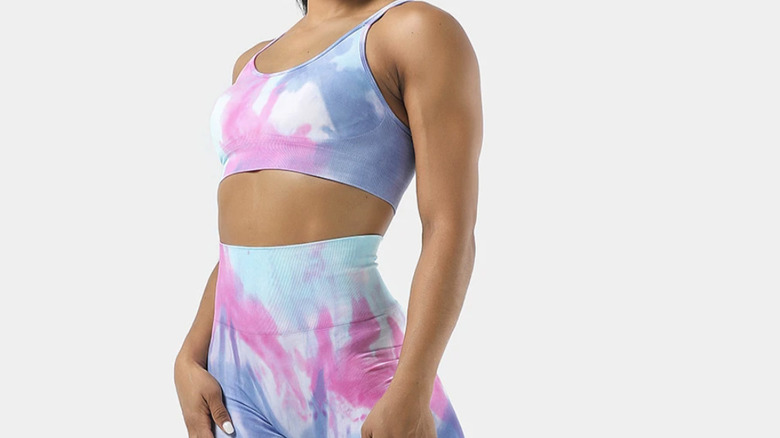 The Seamless Flow Low Support Crisscross Tie-Dye Sports Bra and Seamless Flow High Rise Leggings from Halara, a website known for affordable athleisure, comes in three distinct colors. The Celadon is a light Easter-y green with splashes of pink and blue that resemble watercolor, the Lilac is a bolder blend of purple, hot pink, and light blue, while the Granite Rose is perfect for those with warm-toned complexions with various shades of orange contrasting against the pastel turquoise. The top comes with removable pads so you can customize your support, and better yet, the bottoms come with ruching near the center for an extra enhanced behind.
The MixMatchy Women's Two Piece Tie Dye Gym Yoga Racerback Sports Bra With Slim Fit Legging Active Set is sold together and comes in five tie-dye selections. Black Blue Yellow, Black Mint, Black Mustard, Black Orange, and Black Yellow all stay true to their names and design to channel your inner '70s hippie. At only $10, this set comes in an extremely reasonable price so you can save money while getting your pump on.
We're suckers for simple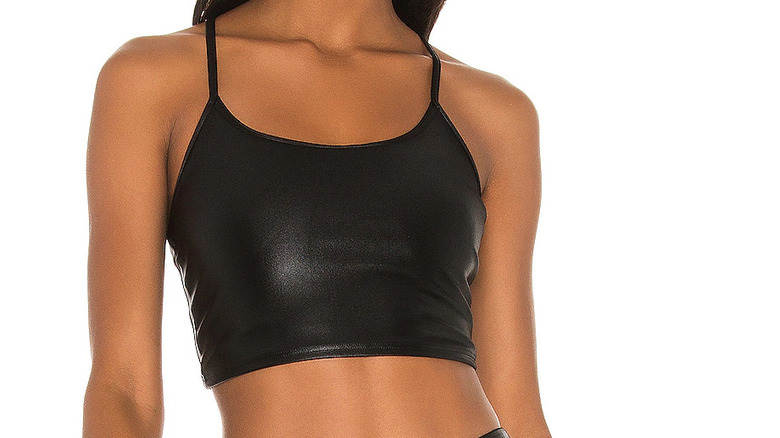 If you're looking for something sleek and straightforward, you can never go wrong with the All Access Starter Kit from Bandier, where activewear meets style. It's not hard to understand why this matching pair is the best selling set on their website. The classic, all-black design plays no games as it is perfect for high-intensity workouts, while the racerback top keeps everything in place.
If you're looking for more single color options, who said that exercising can't be edgy? The Koral Leah Infinity Sports Bra and matching Lustrous High Rise Legging come in a reflective, shiny material that resembles leather and comes in five luminous colors from sharp Black, Cafe, a medium coffee brown, Dark Iris, a midnight blue, Heather Grey, and Rose Orchid, a sophisticated magenta.
The Ribbed Tank and Regular Rise Legging from Carbon38, a company known for its luxury fashion wear, comes in a unique berry shade that complements every skin tone. These versatile pieces can be used both for workouts or everyday wear.
Source: Read Full Article