Andrew Luck Was Right to Retire Exactly When He Did
As Andrew Luck walked off the field at Lucas Oil Stadium in Indianapolis on Saturday night for what was maybe his final time as an NFL player, it was amid a chorus of boos. Reporter Adam Schefter had tweeted during the Colts' preseason game against the Chicago Bears that Luck, 29, would be retiring in part because he's "mentally worn down." Luck, in tears, went on to tell reporters that the decision to walk away from the game was the "hardest decision of my life."
Since 2012, Luck had been the Colts' franchise quarterback, passing for the second-most touchdowns and third-most yards of any player in their first six seasons. When he was healthy, he was one of the top players in the NFL. But Luck suffered a long list of injuries in his career that sidelined him for stretches of time and hampered his ability to operate at full strength. Over six seasons, Luck experienced torn cartilage in two ribs, a partially torn abdomen, a lacerated kidney that caused him to pee blood, at least one concussion, a torn labrum in his throwing shoulder, and a nagging calf/ankle issue.
"For the last four years or so, I've been in this cycle of injury, pain, rehab, injury, pain, rehab, and it's be unceasing, unrelenting, both in-season and offseason, and I felt stuck in it," Luck said in a post-game press conference. "The only way I see out is to no longer play football."
The Colts fans who booed their quarterback, as well as those who questioned and mocked his decision to retire online, were not-so-subtly reinforcing an age-old cliché of masculinity. Since Luck was leaving the game before they were ready to let him, fans said he must be "soft." One tweeted that he "pussied out" by choosing to take care of himself and trust his intuition about his own body and mental health. "Retiring cause rehabbing is too hard is the most millennial thing ever #AndrewLuck," sports pundit Doug Gottlieb tweeted.
In Luck's mind, he had given all he had to give, and the constant injuries had "taken the joy out of the game." But for some, he still hadn't given enough.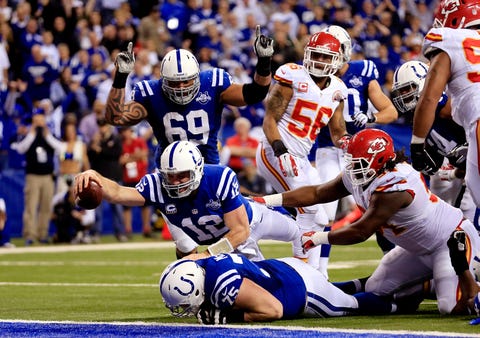 Rob CarrGetty Images
The NFL is a league that glorifies wounded heroes who tolerate punishment and play through pain. Reports show an increasing number of retired players who have experienced repetitive hits to the head have developed memory and cognitive issues such as chronic traumatic encephalopathy (CTE), dementia, Alzheimer's, and depression. In a recent study, more than 40% of retired NFL players tested with advanced scanning technology showed signs of traumatic brain injury, a much greater rate than the general population. Given that the NFL is the most-watched major sport in the U.S., this celebration of an ability to endure pain is undoubtedly influential in determining social norms for men at-large.
As Sean Evans wrote for Men's Health, "Men who are vocal about any kind of mental issues can be dismissed as weak. As inferior. As flawed, broken guys who are more likely to be ostracized for their honesty, instead of rewarded for their bravery. Instead of affording a fellow man compassion, we mock, belittle, and turn a blind eye. We freely spit the phrase, 'Man up,' as though your gender alone should suffice to guide you through your darkest times."
Those internalized norms about masculinity have real-world consequences: 6 million men experience depression on a daily basis; more than 3 million men deal with anxiety daily; of the 3.5 million people diagnosed as schizophrenic by the age of 30, more than 90 percent are men; 10 million men in the U.S. will suffer from an eating disorder in their lifetime.
Luck's bold decision to walk away from football—not to mention nearly $500 million—subverts the NFL's accepted narrative about masculinity and sets a powerful example about what it really means to be a man. It's also representative of a growing trend in professional sports where athletes like Kevin Love and Michael Phelps are using their platforms to address mental health issues.
"These superheroes that we look at, whether it be somebody in the entertainment industry or an athlete, we also have these layers that we deal with on a daily basis," Love told Men's Health earlier this year. "Know that you're not alone. You're not different. You're not weird. And we can do this stuff together."
Having the courage to be vulnerable isn't soft or weak or spineless. It's one of the strongest things a man can be.
Source: Read Full Article