Botantic gardens are art galleries of plants. Here's what you can learn
Save articles for later
Add articles to your saved list and come back to them any time.
It's a question that has been put to Professor Tim Entwisle several times before and so he was at the ready when one of the people taking a tour of Melbourne's Royal Botanic Gardens recently asked him why – given all the environmental crises we face – these 38 hectares of inner city space weren't being "taken back to nature".
Entwisle's career has spanned more than 40 years with stints as executive director of the Royal Botanic Gardens and Domain Trust in Sydney and director of conservation, living collections and estates at the Royal Botanic Gardens, Kew in London, so he has a few thoughts on the matter.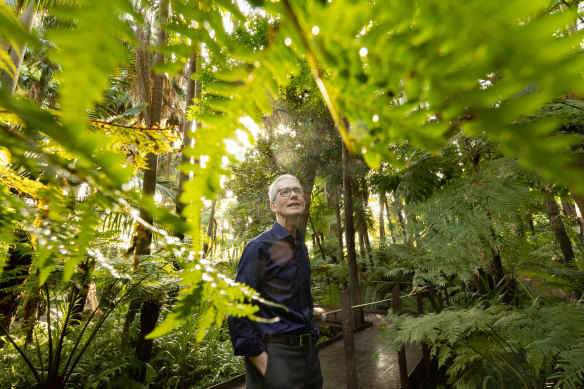 Entwisle says botanic gardens can teach us a lot about nature.Credit: Jason South
"Couldn't we convert them to the sort of vegetation that once grew beside the Yarra River?" this visitor asked baldly.
"Interesting question," Entwisle replied. "I would first remove the MCG or the NGV and put nature back there. Why is it that this is the space that has to be converted back to nature?"
For as long as there have been cities, people have looked at their areas of open green as opportunities for something else. Neither public parks nor gardens, or botanic gardens, have been immune. They are all sometimes seen as being ripe for change.
But these spaces are not just blank canvases and, as Entwisle prepares to leave his post as director and chief executive of the Royal Botanic Gardens Victoria, he is especially vocal about why botanic gardens should be kept as botanic gardens.
Over the more than 10 years he has been in the job he has made no bones about the fact that these landscapes are as carefully curated as an art gallery. They are not bush or forest or anything wild and weedy. They are fenced off and unashamedly nurtured and manicured. They are carefully curated collections. That is their very point.
While both climate change and the pandemic have fostered a growing desire for spaces that are less about control and more about natural rhythms, Entwisle, who leaves the gardens next month, has been steadfast in his belief that botanic gardens can help drive societal change.
Both the Melbourne and Cranbourne ones contain a staggering diversity of plants and are places of education, research and conservation as well as of relaxation, healing and solace. As any gardener will tell you they are also straight-up great sources of ideas.
And another good thing about botanic gardens is that they are arranged with our viewing front of mind. We can watch how different plants interact with other plants and also how they change over time. Sometimes we can see them die.
Botanic gardens might not be entirely natural but in the memoir Entwisle published last year, Evergreen: The Botanical Life of a Plant Punk, he outlined how botanic gardens can teach us a lot about nature. They can help us learn to really look.
"If plants are taken for granted, or viewed as a kind of green wallpaper… we will not make the right decisions to protect and preserve life on earth," he wrote, quoting from a lecture he gave some years ago. "While happy with whimsy and charm in botanic gardens, we need to add some respect."
That doesn't mean they have to be set in stone. Almost 500 years since the world's first botanic gardens were established in 16th century Italy, botanic gardens continue to grow and change and reflect something of the times in which we live. This is especially true when it comes to climate change and how plant collections are being finessed to better suit future climates and environmental conditions.
And in another nod to the times, natural processes are increasingly helping to drive some of the designs. Just as a white oak that crashed to the ground in the Melbourne gardens at the end of 2019 was kept largely where it fell and transformed into playful seating, a self-seeded Moreton Bay fig erupting from an old Monterey cypress stump in the same gardens, is currently being left to mature in situ.
Sometimes visitors have not been lured by horticulture but by lighting shows, art installations or other events but then ­– even inadvertently – they find themselves face to face with collections of carefully tended plants. And that, as any gardener will tell you, can set you on a path to gardening.
Make the most of your health, relationships, fitness and nutrition with our Live Well newsletter. Get it in your inbox every Monday.
Most Viewed in Lifestyle
From our partners
Source: Read Full Article