Jack Harlow & Sinqua Walls Replay 'White Men Can't Jump' Conflict in Trailer for Remake
While the original soared via the powerful chemistry of Harrelson and Snipes can the remake reach the same heights?
Jack Harlow and Sinqua Walls are doing a not so instant replay in the trailer for "White Men Can't Jump" — a remake of the 1992 favorite starring Woody Harrelson and Wesley Snipes.
Running back the classic plays that made for iconic moments for Harrelson and Snipes back in the day, the new film doesn't seem to stray too far from the original's celebration of streetball hustling culture. And maybe that's a good thing?
Decide for yourself by watching the trailer below:
Unable to render YouTube Video.
Directed by Calmatic, the movie also stars Teyana Taylor, Laura Harrier, Vince Staples, Myles Bullock and Lance Reddick.
The remake is penned by Kenya Barris and Doug Hall and has none other than Blake Griffin listed among the executive producers.
"White Men Can't Jump" starts streaming on Hulu May 19.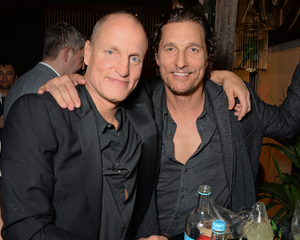 Woody Harrelson Confirms Matthew McConaughey Might Be His Actual Brother
Source: Read Full Article