Lenny Hochstein Says Lisa's Reaction to Engagement Was 'Expected'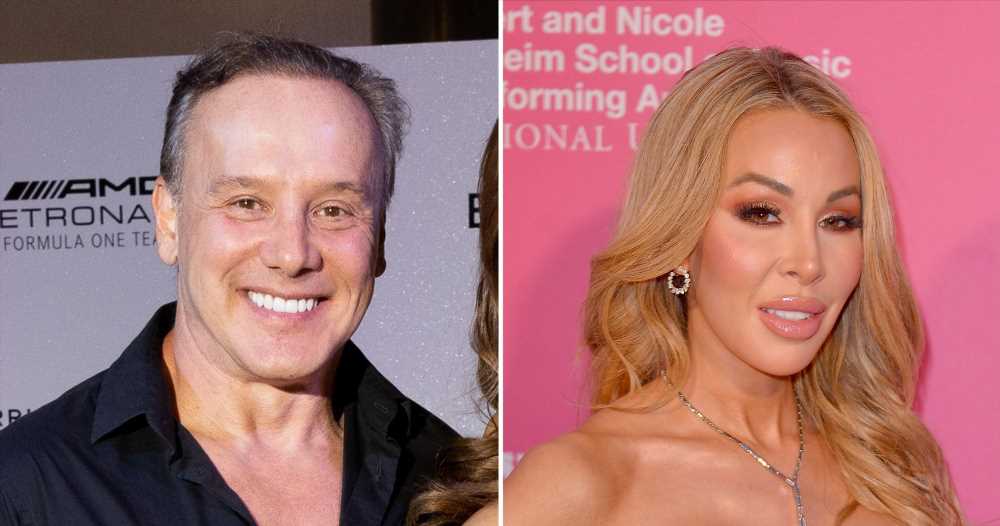 Lenny Hochstein is over the moon about his engagement to Katharina Mazepa — and he's not concerned with estranged wife Lisa Hochstein's feelings on the subject.
"Lisa will never miss an opportunity to play the victim, so her response was expected," Lenny, 57, exclusively told Us Weekly on Tuesday, August 1. "It's not something I spend any time worrying about."
Lenny and Mazepa, 27, announced their engagement on Saturday, July 29, after more than one year of dating. "On top of an ancient pirate cave, overlooking the sunset over breathtaking Es Vedrá, he asked to steal me away forever," Mazepa wrote via Instagram alongside photos of the couple.
Social media users, however, were quick to point out that Lenny is not yet legally divorced from Lisa, 41. The former couple separated in May 2022 after Lenny went public with Mazepa. He claimed at the time that his romance with Mazepa didn't begin until after he and Lisa had already agreed to divorce.
Everything to Know About Lisa Hochstein's Messy Divorce From Lenny Hochstein
"Congrats to my current husband and mistress on their engagement," Lisa wrote via her Instagram Story after Lenny announced his betrothal.
Despite the drama, Lenny told Us that his and Lisa's children — son Logan, 8, and daughter Elle, 3 — are happy about their dad's new relationship. "My discussions with my children are private, but to say they adore Kat would be an understatement," he said.
In order to view the video, please allow Manage Cookies
Lenny went on to defend his mother, Marina Hochstein, who made headlines for throwing shade at Lisa after Lenny announced the engagement. "My mother speaks her mind, and although I do not agree with some of the things she says, it is her right to say what she wants," he told Us.
Marina shared her thoughts on Lisa in the comments section of Lenny and Mazepa's post announcing their big news. "I will be very happy that this time you are getting a woman who love and respect you," Marina wrote on Saturday. "You certainly did not have that in your previous marriage."
Real Housewives of Miami's Lisa and Lenny Hochstein's Relationship Timeline
Lisa responded to Marina via her Instagram Stories, writing, "What a wonderful mother-in-law and grandmother. How disgusting."
Following her split from Lenny, Lisa moved on with Jody Glidden. Shortly before learning of Lenny's engagement, Lisa shared a photo of herself celebrating her birthday with Glidden, 49.
"Most incredible romantic dinner with this amazing man," wrote via Instagram on Saturday alongside a snap of the duo having dinner at the Ristorante Mistral in Italy.
Sign up for Us Weekly's free, daily newsletter and never miss breaking news or exclusive stories about your favorite celebrities, TV shows and more!
With reporting by Andrea Simpson
For access to all our exclusive celebrity videos and interviews – Subscribe on YouTube!
Related Stories
Bethenny Compares Lenny Hochstein's Engagement to 'Bargain' Shopping
RHOM's Lisa Enjoyed Romantic Dinner With BF Before Lenny's Engagement News
RHOM's Lisa Congratulates 'Current Husband' Lenny and His GF on Engagement
Source: Read Full Article