'Ms. Marvel': How Many Episodes Are in the Disney+ Series?
Ms. Marvel has made its debut on Disney+, bringing Kamala Khan (Iman Vellani) into the Marvel Cinematic Universe at long last. From the show's premiere, it's already obvious that Vellani's character is going to be a Phase 4 favorite. But how much time will fans get to spend with her? How many episodes are planned for Ms. Marvel Season 1?
'Ms. Marvel' sets up Kamala Khan's origin story
Ms. Marvel will set up Kamala Khan's origin story in the MCU, similar to series like Moon Knight and She-Hulk. The franchise's new characters are each getting a television run to establish their powers and backstory. After that, fans are hopeful they'll join the existing lineup of heroes. And Kamala's likely to be starstruck at the prospect of such a thing.
After all, Kamala Khan is a major Avengers fangirl, cosplaying and attending events like AvengerCon. Given the popularity of Marvel's heroes in her world, that's probably no surprise. What does come as a shock is her discovering abilities of her own.
She'll spend the Disney+ series learning to balance those with her teenage experience and Muslim culture.
"Yeah, she represents everything about being a teen and everything about fan culture," Vellani told Entertainment Weekly. "She's just so unapologetically herself. I think that's wonderful, and it's hopefully a good palate cleanser coming out of Moon Knight and Multiverse of Madness."
The first chapter certainly has been delightful after two darker projects. So, how many more Ms. Marvel episodes can viewers look forward to? Fortunately, we have several weeks of content left.
How many episodes is 'Ms. Marvel'?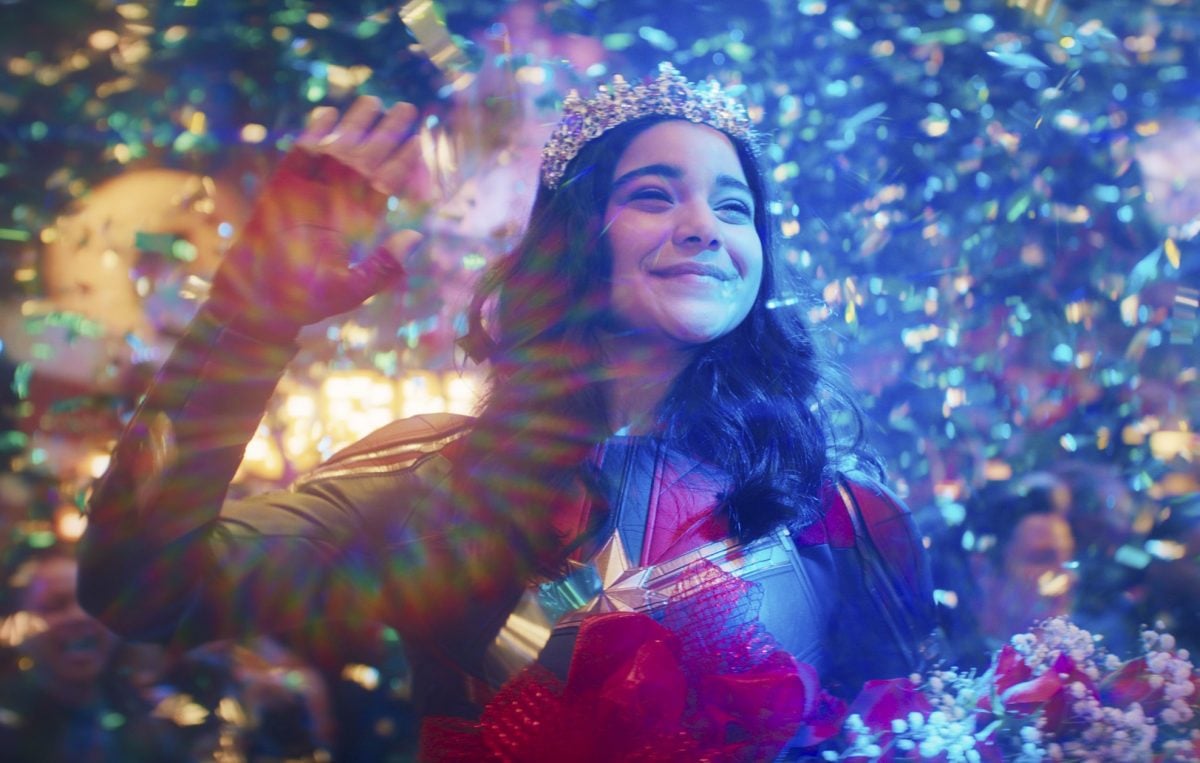 With Kamala Khan's origin story promising to be both charming and entertaining, fans will undoubtedly look forward to it from week to week. But just how long will they get to spend with Iman Vellani's young hero?
Like many other Marvel series on Disney+, Ms. Marvel clocks in at six episodes. Since only one of them premiered on the show's release date, that leaves five more weeks to enjoy Kamala's life.
Here's the full release schedule for Ms. Marvel:
Episode 1 – June 8
Episode 2 – June 15
Episode 3 – June 22
Episode 4 – June 29
Episode 5 – July 6
Episode 6 – July 13
Of course, some fans have found themselves wanting more after Marvel's other six-episode series. Fortunately, Kamala Khan is already set to return after Ms. Marvel — even if it's not through more episodes of the Disney+ show.
Kamala Khan's next MCU appearance is already in the works
It's unclear if Ms. Marvel will get further episodes in a season 2, but Kamala Khan's next appearance in the MCU is already in motion. Iman Vellani will return for 2023's The Marvels, which will see her fighting alongside Captain Marvel (Brie Larson) and Teyonah Parris' Monica Rambeau on the big screen.
Naturally, that's been an exciting development for Vellani. During an interview with Entertainment Tonight, she revealed what it's been like working with Larson:
"She's been super supportive, and you know, having a figure like Brie Larson kind of hold your hand throughout all of this and tell you she's going through the same things that you are is just crazy. The fact that the people I relate to now are Marvel actors, and they're like my peers, it's weird."
Seeing the pair together promises to be a solid follow-up after Ms. Marvel ends. Perhaps the series will get the green light for a second season as well. Only time will tell if that's in the cards for Kamala Khan.
For now, fans can check out the premiere of Ms. Marvel on Disney+.
Source: Read Full Article