'Not fair to be cruel': Melanie Lynskey on hitting back at her Last of Us critics
By Louise Rugendyke
"People want to classify someone who looks like me as kindly, loving, mumsy," says Melanie Lynskey.Credit:AP
If you believed everything you saw on TV – which you definitely should not – you wouldn't want to mess with Melanie Lynskey. In fact, your safest option would probably be to cross the road.
In her two most recent roles, the 45-year-old has put an electric carving knife to inventive use, while in another she has casually shot a prisoner and ordered the militia under her control to "burn the bodies, it's faster".
In other words, don't mess with a woman in her 40s who has secrets to hold, a complicated marriage and not enough time to get everything done.
"It's empowering for other women to be able to watch something and go, 'Oh, gosh, you don't know what she's going to do, what she's capable of,' " says Lynskey. "People want to classify someone who looks like me as kindly, loving, mumsy. And it's fun to just be like, 'But what if she's not?' What if she's none of these things? What if she's actually scary and murderous?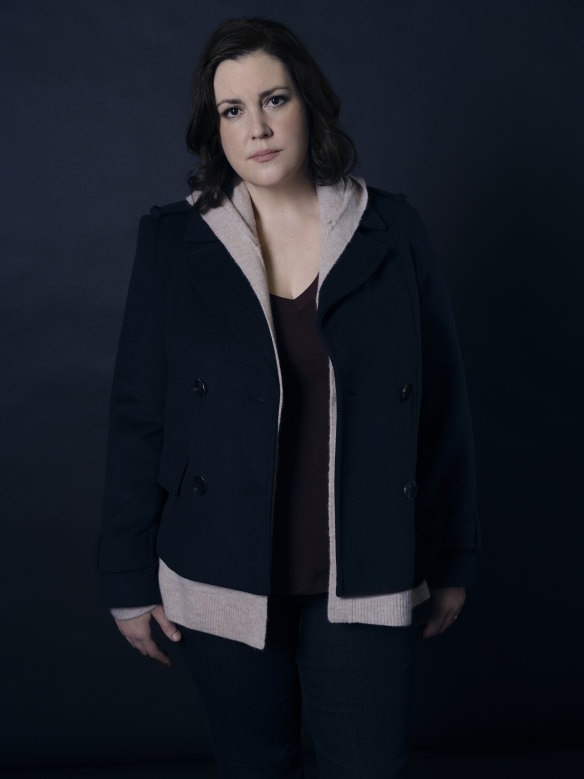 Lynskey won a Critics' Choice Television Award for her performance as Shauna Shipman in Yellowjackets.Credit:Lorenzo Agius/Showtime
"What if she's actually trying to come to terms with a lot of shit and is going crazy? People contain multitudes and I love the idea of appearing to be one thing to people who don't bother to look any further."
That last part sums up Lynskey perfectly. She's one of the most talked about stars in two of the most talked about shows – the are-they-aren't-they cannibal thriller Yellowjackets, for which she won best actress at the Critics' Choice Television Awards, and the post-apocalyptic zombie drama The Last of Us.
But if you looked closer, you'd see a 30-year career that started opposite Kate Winslet, when Lynskey was plucked from high school in 1994 to star in Peter Jackson's psycho-thriller Heavenly Creatures. What happened next is a study in Hollywood sliding doors: Winslet went on to climb the ladder and was nominated for an Oscar only two years later, while Lynskey, at the urging of Jackson, stayed in school. She didn't make it to Los Angeles for another four or so years.
[Kate Winslet] wanted to be a successful, famous actor … I was still processing being cast in a movie. I just was like, 'Oh god, did I do an OK job?
Since then, she's been the classic "Oh, her" actor in big hits (Up in the Air, The Informant!, Mrs America, Don't Look Up) and cult classics (Ever After, Candy) across film and TV. The kind of actor you know you've seen before, because she's so good, but who disappears so completely offscreen that you don't think about them again until the next "Oh, it's her!" role comes along.
She has become so good at disappearing offscreen and then into her characters onscreen that it's a delight to hear her Kiwi accent is still so resolutely there.
Lynskey as rebel leader Kathleen Coghlan in The Last of Us.Credit:HBO/Binge
"In some words I don't have it," says Lynskey. "But I think it's mostly still present. Sometimes I would be asked in auditions to go in with an American accent, to kind of trick people. And I never could. I just felt like a fake. My first agent was so mad at me about it. But it just always felt so weird."
Today Lynskey is doing the press rounds for season two of Yellowjackets. She starts off a bit nervous – that could be the Kiwi accent, but she has said before she doesn't like talking about herself in interviews – but warms up quickly, slightly baffled at this new level of attention.
"It's something that I did not think was in my future," she says. "I've always been very grateful for the career that I've had. And certainly, in the last few years, to have gotten to do so many interesting, independent movies and gotten to do work I'm very proud of – even if very few people have seen those movies.
Christina Ricci as Misty, Juliette Lewis as Natalie, Tawny Cypress as Taissa and Melanie Lynskey as Shauna in Yellowjackets.
"It's been a very creative and fulfilling time for me, not necessarily a time where there has been any financial freedom, but I've felt grateful for it. Now to have this opportunity in the show that people are really watching, it's beyond my wildest dreams."
Is she glad the recognition has come now instead of when she was fresh out of Heavenly Creatures?
"I feel like I know myself now," she says. "I know what I stand for. [When I was younger] I had so many doubts. I was in the middle of a massive and very destructive eating disorder. Honestly, I think that would have just intensified and gotten worse. I think the level of scrutiny, I couldn't have dealt with it. I don't know how good my work would have been because I was just in too much personal turmoil.
Kate Winslet and Melanie Lynskey in Heavenly Creatures in 1994. Two years Winslet was nominated for an Oscar, while Lynskey went back to school.
"It takes a Kate Winslet to be able to deal with that. She's a tough one, you know, and she was very, very sure that that [attention] was what she wanted. She wanted to be a successful, famous actor. I think you need to have that kind of drive and ambition and belief in yourself. And for me, I was still processing being cast in a movie. I just was like, 'Oh god, did I do an OK job?'"
In Yellowjackets, Lynskey plays Shauna Shipman, one of the surviving adult members of a high-school girls' soccer team, whose plane crashed in the Canadian wilderness in 1996, while they were on their way to a national tournament.
The story is split into two timelines: Lynskey as the adult, while Sophie Nelisse plays the stranded teenage Shauna. What the teenage Shauna and her friends did to survive, and the effect that has had on their lives, is what drives the adult part of the story, particularly when an unknown figure threatens to spill their secrets (OK, it's maybe, possibly, cannibalism).
Ella Purnell (left) as Teen Jackie, Sophie Nélisse as Teen Shauna, Keeya King as Teen Akilah and Jane Widdop as Teen Laura Lee in Yellowjackets.
The result is a terrific, completely absorbing series that will have you simultaneously covering your eyes and then pressing play on the next episode and the next. It doesn't hurt that along with Lynskey, it has two more Gen X heroes – Juliette Lewis and Christina Ricci (both in peak form) – and a cracking mid-'90s soundtrack.
For Lynskey, it's Shauna's interior rage that drew her in. On the one hand, she's grateful she survived but on the other she is furious at the life she's been left with.
"You can kind of read her as being quiet," says Lynskey. "Somebody earlier was like, 'So Shauna is very sweet.' But I don't know if she is sweet. It's the last word I would describe her as. She's not mean. She just genuinely doesn't really care what people think about her.
Melanie Lynskey as Shauna in season two of Yellowjackets. "People contain multitudes and I love the idea of appearing to be one thing to people who don't bother to look any further."
"And there's such a freedom in that, especially for me, as somebody who thinks about that constantly, like non-stop: 'Is everyone OK? Am I being nice enough to this person? That person? Does everyone have what they need?' It's fun to play someone like that."
Not caring what people think is something Lynskey has only recently embraced with gusto. Her casting in The Last of Us, as the leader of a revolution, attracted the usual predictable criticism online, with one tweet from model Adrianne Curry saying "Her body says life of luxury … not post apocolyptic [sic] warlord." Urgh.
Instead of letting it slide, Lynskey shot back: "I don't need to be muscly. That's what henchmen are for."
What made her stand up for herself?
Lynskey as rebel leader Kathleen in The Last of Us. She was criticised for not looking enough like a warlord.
"A few years ago, I had a therapist, who said to me, 'I wish you had the same agency for yourself as you do for your characters,'" says Lynskey. "Because at work, I'm very clear about what is right and what's wrong in my instincts. And if someone says,'Oh, why don't you make it a bit lighter?' or, 'Why don't you try to be a bit sweeter?' I will absolutely fight back.
"And [my therapist] said, 'So why in your personal life do you let people push you around, or you feel like you can't speak up?'
"So she gave me this advice where she said a good thing to do with a bully is to call them out in front of other people. To sort of say, 'Hey, you said this, what exactly did you mean by that?' It's kind of a gentle way of making people stand behind what they said.
"There are times where I think, 'Oh, god, it's not worth it,' but it's not just for my benefit. There are so many women in the world who resemble me, there are more women in the world who look like me than look like most actresses, honestly. And I just don't think that's fair. I don't think it's fair to be cruel and to be mean about perfectly normal human beings."
With her predilection for complicated women – and her crowning on Twitter as "the mother of gays", I'm pretty sure this heading only one way: White Lotus, season three. Come on!
"Is that what that tweet means?" she says, laughing. "Am I the new Jennifer Coolidge?"
I think so. She could be cast as Tanya's younger sister and avenge her watery death off the coast of Sicily.
"Listen, it's every actor's dream to be on White Lotus," she says. "I went to a party the other night, and that whole cast is just hanging out together laughing and looking gorgeous and cool. And I just was like, that sounds like so much fun, to go to an exotic location and get Mike White's scripts and hang out with creative people. But I think I'm probably, like, 200th on the list. Mike White could have anyone in the world! He could have Julia Roberts if he wanted to, don't you think? Who would pass on White Lotus?"
No one would pass on White Lotus. Mike White, if you're listening, you know you want to…
Season two of Yellowjackets streams on Paramount+ from March 24.
Find out the next TV, streaming series and movies to add to your must-sees. Get The Watchlist delivered every Thursday.
Most Viewed in Culture
Source: Read Full Article