Police Release Jussie Smollett Case Documents: Everything We Learned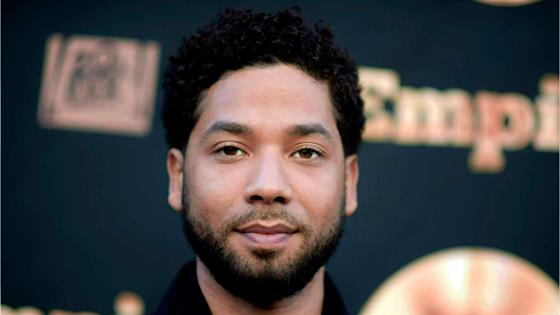 New details about the Jussie Smollett alleged attack case have been made public, following a judge's ruling to unseal legal documents.
In late January, the 36-year-old Empire star made headlines when he told police that two men attacked him on a Chicago street, hurled racial and homophobic slurs at him, poured a chemical liquid on him and put a noose around his neck. He was then treated at a hospital. But following an investigation and amid much public skepticism of his account, he was soon accused with staging the incident.
A grand jury indicted him on 16 felony counts of disorderly conduct for filing a false police report after allegedly lying to authorities about being the victim of a hate crime. Prosecutors accused the actor of orchestrating the attack with the two alleged suspects, brothers—Olabinjo "Ola" Osundairo, 27, an extra on Empire and Abimbola "Abel" Osundairo, 25, a stand-in on the series. They also have a fitness business.
The actor pleaded not guilty. In a surprise move, prosecutors then dropped all charges against him, spurring outrage from Chicago police and a $130,000 lawsuit from the city.
A judge recently ruled to unseal the police and other legal records relating to Smollett's alleged attack case, following media requests. On Thursday, Chicago police released over 450 pages of case reports arrest files and other documents relating to the investigation. Many of the names were redacted.
Here are some new things we learned about the case:
1. Description of Attackers: The Osundairo brothers who were arrested are black. But Smollett had told police that one of his assailants was a white male who wore a black ski mask with an open eye area, and said he was able to see the color of the person's skin through the open area of the mask, according to a police report. It also stated that he was unable to provide a description of his second attacker.
In the City of Chicago's civil lawsuit, it is claimed that Smollett made this statement about the first attacker "despite knowing that the Osundairo Brothers are not white-skinned" and that "by providing this false description," he "purposely misled" police to believe that his attackers were white, when, in fact, he "knew that his attackers were the Osundairo brothers."
The new records also state that in a subsequent interview with police, Smollett described an offender as "pale" and when asked why he originally stated that the person he was able to see was white, the actor related he did not say he was white. A detective then told him that he had stated, in the hospital, that the offender was white, and that he was specifically asked about the mask, whether it had eye holes cut out, or if it was a face mask exposing the area above the nose. The report states that Smollett said that he "assumed they were white due to the comments that were made," and reiterated that he was only able to see the area just above the bridge of the nose.
When shown photos of the brothers as suspects, he identified Olabinjo as his trainer, his friend and an extra on Empire. He also identified his brother but said he did not know his name. He said the two could not be his attackers, adding, "They are black as sin. We don't have any issues. They are straight so we don't have any problems with women or men. They did not owe me any money, I don't owe them money. We have a good relationship."
2. Someone Was Apparently in a Hurry: The brothers told police that during the confrontation with Smollett, one of them threw the actor to the ground and began rubbing his knuckle into his face to try to bruise him without hurting him too badly. The report also states that one of the brothers was nervous about a car that passed them and was "trying to get the staged incident finished as quick as possible." They said one of them brought a hot sauce bottle filled with bleach and poured it onto Smollett while he was on the ground. One of them then threw a rope around his face and the two fled.
3. Drug Connection: In supplementary case report, it was revealed that phone records showed that in months prior to the attack, Smollett had texted one of the Osundairo brothers to try to score drugs–marijuana, Molly (ecstasy) or Whitney (cocaine). Examples of his texts: N— you still got a molly connect?"
The brother in question told police he did not deal in drugs but he would ask around. Police said other texts showed he was able to find a source for the drugs and supply them to the actor.
4. Riding With Jussie: The Osundairo brothers told police that Smollett picked them up and dropped them off on January 25 and January 27—two days before the incident. In the second occasion, he allegedly brought them to the location of the alleged attack.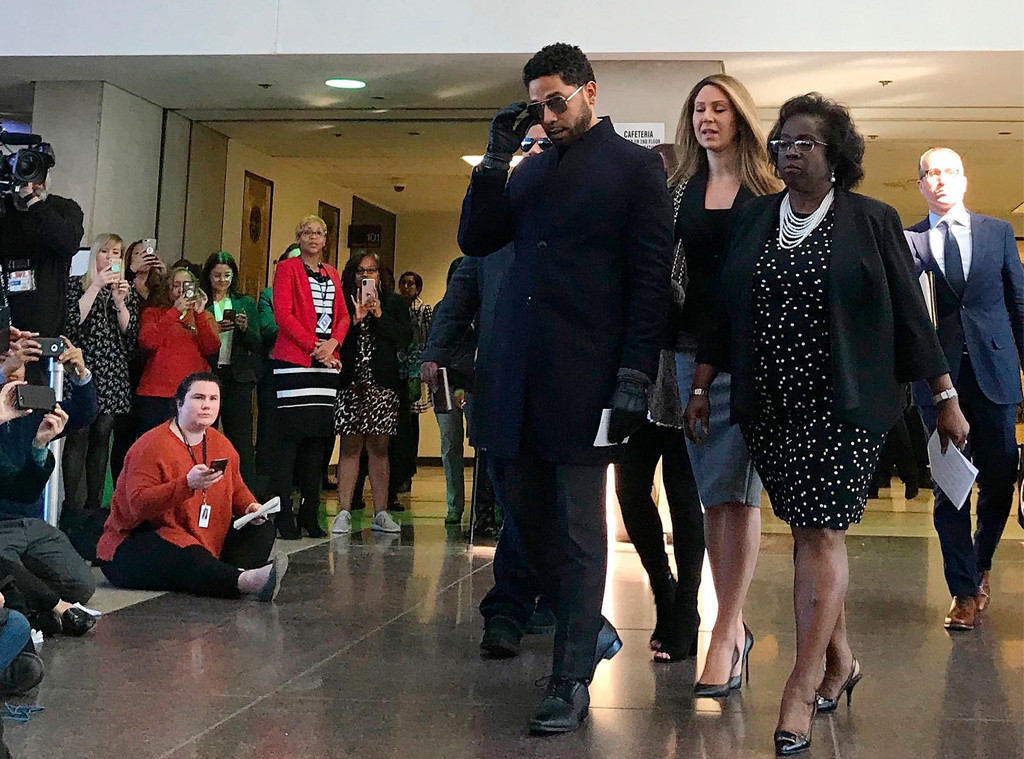 Amanda Seitz/AP/Shutterstock
5. Abusive Phone Call: It has been reported extensively that a week before the incident, Smollett had reported to police that he had received on the Empire set a threatening letter containing a white powder later discovered to be Tylenol. Chicago police accused him of having the document mailed to himself. The letter is currently in an FBI crime lab for analysis, and Smollett could face federal charges if it is determined he had had it sent.
In a recently unsealed police report, it is revealed that the actor had also told authorities that days before the alleged attack, he received a phone call in which a male voice told him, "Hey you little f—-t," and then hung up.
It was previously reported that during the course of the investigation, Smollett had given Chicago Police a PDF file of redacted phone calls but did not provide "a download of the phone or a digital record." A department spokesperson said at the time that detectives may follow up with the actor to "request additional data to corroborate the investigative timeline." Smollett's rep had said that the information in the phone records given to police was redacted "to protect the privacy of personal contacts or high-profile individuals not relevant to the attack," adding, "Jussie has voluntarily provided his phone records from within an hour of the attack and given multiple statements to police."
6. Late-Night Snack: While in the hospital, Smollett told police that the alleged attack occurred after he arrived at his Chicago apartment around 1:30 a.m. He said he was hungry and left the home alone, first walking to Walgreens to "grab some eggs." The pharmacy was closed, so he went to a Subway and bought a tuna sub and a salad.
7. Speaking of Food: The alleged attackers were also arrested and treated at the hospital for lacerations following the incident. They were released without charges. During their time in police custody, both declined food, claiming to be fasting.
8. Informing the Doorman: Smollett told police that after the alleged attack, the offenders fled and he then made his way back to his apartment building. He said he told the doorman, "I just got jumped," then returned to his home.
Their interaction was captured on surveillance video.
9. Getting Creative: Chicago Police headquarters was surrounded by media in the days of the investigation, and some reporters even posed as homeless people, according to police.
Smollett continues to maintain his innocence in the case and his family and many of his co-stars have stood by him amid the scandal.
But his future with Empire doesn't look promising; He was written out of the final two episodes of the recent fifth season and FOX has said that while the studio negotiated an extension to Smollett's option for season six, "there are no plans for the character of Jamal to return."
Source: Read Full Article