Raquel Leviss Called Out by Andy Cohen for 'Blaming' Affair on Ariana During Vanderpump Rules Reunion
Raquel admits she and Tom planned to lie to Ariana about the length of their affair during a one-on-one with Andy … while Sandoval cusses out a producer for not giving the couple space.
Raquel Leviss was finally in the hot seat on Part 2 of the "Vanderpump Rules" reunion, fielding questions from host Andy Cohen before sitting down with the rest of the cast at the very end of the episode.
Before we get to Raquel's one-on-one with Andy, however, viewers first saw her with Tom Sandoval in her trailer during a lunch break. The two had to be filmed there due to her restraining order against Scheana Shay, which required the pair to be separated by 100 feet the duration of filming.
Though Leviss had been watching the action unfold on a TV monitor, Sandoval filled her in on the high emotions inside.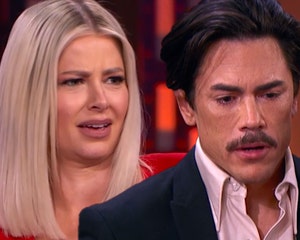 Vanderpump Rules Reunion: Every Bombshell Moment from Part One, Tom and Ariana Sit-Downs
"It's rough out there," Tom said after joining her. "I got emotional right off the bat and [James Kennedy] is literally been exactly how I knew he would be. He's out of control. Scheana's fully groveling to [Katie Maloney] because she wants to be back in the group. [Lala Kent] who literally does not give a flying f— about either one of us calling me a narcissist. They're making us out to be basically pathological liars."
"We know that we're not, we haven't lied about anything besides this affair," Leviss said, trying to reassure him. She then said she did have some concerns about what she had watched so far, however, as she felt it sounded like Tom "had a solid relationship" with Ariana Madix before the affair began. "Clearly, I only know what you're telling me," she added, "I feel like she felt like she wanted to keep the relationship going because you never broke up with her."
Sandoval said that was true, "in a sense," before warning Raquel that Madix was going to "unleash on you" when she eventually joined the rest of the group. "It just sucks because my entire character is in question now," she said, calling the scandal her "wakeup call."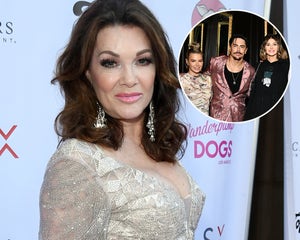 Lisa Vanderpump Shuts Down Speculation by Revealing What She Knew and When About 'Scandoval'
With that, Tom made his exit, before telling producers he was done for the moment and wanted a "real break" where he and Raquel weren't being filmed. One of the show's producers pushed back, however, saying that cameras had to stay up whenever anyone was together talking — and said that's exactly what they were doing with the rest of the cast as well.
"We legally have to have a break," said Tom, as the producer said he could, but wouldn't be able to have alone time with Raquel. "I'm gonna f—ing flip," Sandoval exclaimed, "I'm not kidding. I need a break from filming. Stop filming me! I wanna talk to her like, I don't want a camera in my f—ing god damn face!"
"I don't feel relaxed, she doesn't either, we have to watch what we f—ing say, we don't want that. We're in a very delicate position right now!" he added, before it appears production relented. Sandoval then joined the group back on stage as filming continued without Raquel.
At one point, Sandoval accused Kennedy of getting belligerent at an event and smacking a woman on the butt — prompting Ariana to exclaim, "You just f— my friends! You just f— 'em!" She also slammed Tom for dedicating songs to her at some of his gigs, while he was already "f—ing other people."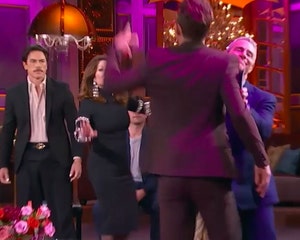 James Kennedy and Tom Sandoval Nearly Come to Blows During Explosive Vanderpump Rules Reunion
Talk then transitioned to the restraining order against Scheana, which Raquel filed, claiming Shay had punched her after learning about the affair. Since Scheana wouldn't get into specifics due to litigation and Raquel wasn't yet on stage, Andy asked Sandoval what he thought happened.
"I wasn't there. I feel like I'm between a rock and a hard place. The thing is, I don't want to upset my relationship with Scheana but I wanna tell the truth," he said, as Ariana told him he didn't actually have a relationship with Scheana anymore.
"Scheana said, 'I'm on Raquel's phone right now, I'm gonna throw it and call you from mine,'" claimed Madix. "She said, 'I pushed her,' she never said punched.'
Sandoval told a totally different story though, claiming Scheana exclaimed, "I just punched that bitch in the face and threw her phone in the street." He was adamant, saying he'd "take a f—ing polygraph" to prove he was telling the truth — though Scheana told him to "keep your f—ing mouth shut."
Shay went on to tell Sandoval they'd never be friends again, before admitting she had suspicions something was going on between Raquel and Tom and even expressed them to Ariana. Madix, she said, told her she didn't think there was any truth to the rumors at the time because "neither of them would ever do that to her."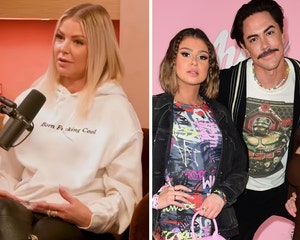 Ariana Madix Spills on Tom Sandoval's Other Alleged Affairs, Raquel FaceTime Sex Video & Billie Lee Rumors
Cohen then presented Scheana with some paperwork he received from Raquel during their one-on-one interview the day before the reunion. In a clip from that conversation, Leviss said she "completely" regretted filing for the restraining order and claimed she and her lawyer were taking "every measure to have it dropped." The papers she gave to Andy to give Scheana were proof of her request to dismiss their upcoming court hearing.
"I'd rather she didn't, we don't need her anywhere near any of us," remarked Madix, before Lala said the whole ordeal had "taken its toll" on Shay. Scheana then broke into tears as she opened up about how emotional it's been for her.
"Having this for the last few weeks, first of all, the betrayal of two of my best friends, that is heartbreaking in itself," she said, before pointing out how much of a "ride or die" both she and Ariana had been to Raquel before the affair.
"I did everything for her and for her to do this to me, it has taken such a toll on me. I have not been able to be completely present for my daughter. My daughter sees me crying and she starts crying, she started hyperventilating the other day because she saw me having a full breakdown. It's been a lot," she said, before breaking down again.
Watching Shay's tears, Raquel said to a producer in the trailer that she should have written "a personal note" to Scheana after the scandal was revealed. "As things are unfolding, it's more realizations and more regrets," she added.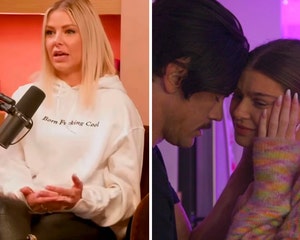 Ariana Madix Reacts to Tom & Raquel's 'I Love You' Scene, Suicide Claims from Vanderpump Rules
Back in the studio, Tom apologized to Scheana and said the situation had "spiraled way, way out of control." He said their deceit shouldn't erase 15 years of friendship, saying he and Raquel "did not do this maliciously." Madix was incensed at that comment, shouting at him, "You watch what you f—ing say right now, because it is malicious!"
He tried to say they didn't enter the affair with "malicious intent," but Ariana wasn't hearing It — calling him "disgusting" before a vicious back-and-forth between the former couple. Andy broke it up and then sent Scheana packing so Raquel could join them on stage, though he showed more from his one-on-one with Leviss before she stepped out.
In their conversation, Raquel said she was "a little nervous" about the reunion, but acknowledged that "it's important for me to be here to take accountability for my actions and so I'm here to do that." She went on to say that while Tom has always been "somebody that has been in my corner and has rooted for me," things between them didn't start to get romantic until around August 2022. "He made me feel heard and seen. And those are feelings that I haven't really felt maybe ever," she added, confirming she never felt that way with ex James either.
When asked by Cohen whether she thought there would ever be a path forward with Ariana after she found out, she laughed and said she did. "I think I was living in my own little reality hoping that it would work out," she responded, before Cohen then wondered whether she and Sandoval were telling themselves Madix was ignoring all the red flags because she "didn't want to know" something was possibly going on.
"It seemed that way. She never pressed about it, she never confronted me about it. She didn't, from what I know form what Tom's told me, she didn't question him too much about it, just believed at face value what he would tell her," said Raquel. That, to Cohen, sounded "like you're blaming" Ariana for the affair.
"At the time, I think that was my mindset. Now I know that she really did want to know and it was very deceitful. I'm very ashamed of it," she said.
Vanderpump Rules' Ariana Madix Sticks Up for Billie Lee Amid Tom Sandoval Hookup Rumors
Leviss claimed that she and Tom were planning to tell Ariana about the relationship, but the two "wanted to get 'our story straight' beforehand. "He felt like it would hurt her if she knew how long this has been going on," she added, as Andy asked if that meant the two were going to lie about how many months they'd been sneaking around behind her back. "Yeah," she responded, saying she ended up telling Madix the truth when confronted about the affair.
"She said thank you for telling me because Tom would have never told me the truth," she claimed Ariana told her. Raquel added she was "scared" to see Madix in person and was "preparing for the worst, hoping for the best."
Before Raquel finally walked out, Andy pointed out that she and Ariana hadn't seen each other in person since the affair was exposed. When asked how she felt about seeing Leviss, Madix said, "Not great," while Sandoval had no idea how to feel. As she started to walk toward the stage, Tom Schwartz popped a Xanax and offered them to to the rest of the cast … while Ariana totally refused to even look in Raquel's direction.
With that, the episode ended — though a preview for next week's third installment of the reunion showed Ariana going for the jugular, the cast questioning the whole Raquel-Schwartz dynamic and Tom breaking down in tears as he tells Madix, "I know that you hate me and that's okay … but I want you to know I will always love you."
"I can't think of two worse people, I can't," Ariana replies.
The reunion continues next Wednesday on Bravo.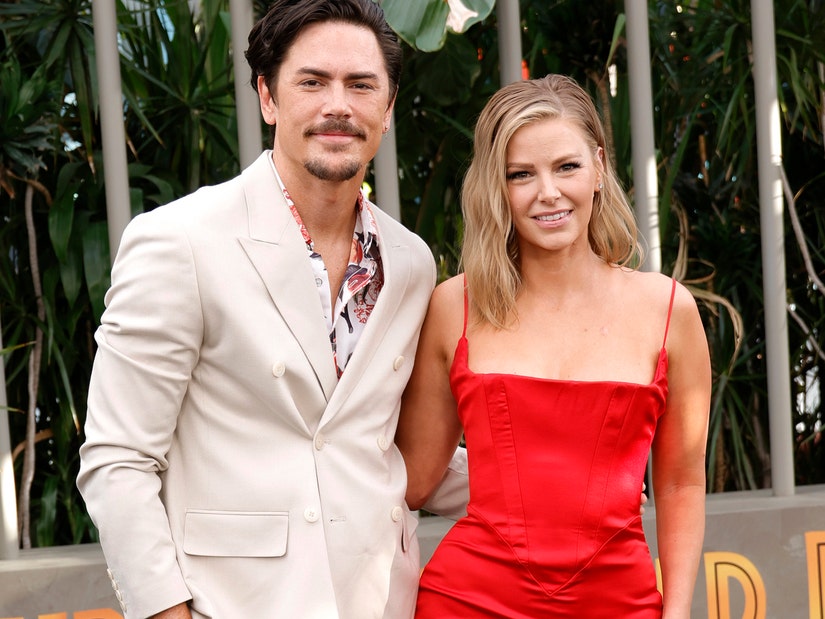 Source: Read Full Article