RHOSLC's Monica Garcia 'Not Currently Speaking' with Mom After Brutal, On-Air Fights (Exclusive)
The RHOSLC newcomer opens up about her icy relationship with her mother, how her mom's social media posts "have not helped" things and which costar's fans have been toughest on her.
While The Real Housewives of Salt Lake City's Monica Garcia has faced off against quite a few of her costars in her debut season, her biggest opposition has been with someone not in the cast: her mom, Linda.
According to Monica, the two have had issues stemming all the way back to her childhood, claiming on the most recent episode that Linda dropped her to live with her grandparents when she was just 12 so her mom could "chase her dream" and live in New York City. That, paired with her dad leaving when she as 4, left Monica with "major abandonment issues."
After a blowup in front of all the cast's families during a Greek Easter party thrown by Angie Katsanevas, Monica and Linda attempted to hash things out during dinner … but that conversation also quickly went off the rails, with videos of some of its wilder moments popping up all over social media.
While speaking with TooFab at BravoCon, Garcia revealed things between her and her mom have not gotten any better. In fact, they aren't currently speaking; but she has a positive way of looking at the on-camera family drama.
"It was hard. Honestly, I obviously cried. Seeing it play back was a wild, out of body experience," she said of watching the latest episode. "It was also therapeutic and gave me closure in a weird way as well."
She added she believes being on the show didn't make their relationship worse either, as they had issues stemming back ages. "It's been hard to watch it back, but it's also been very eye-opening," she said.
While Monica said she was "slaughtered" by fans for everything that went down at Greek Easter, it flipped following the recent hour.
"Seeing the response from this last week has really helped. It's been amazing," she told TooFab. "People really feel seen, they feel like they can relate and they're like, we've never seen anything like this on Housewives."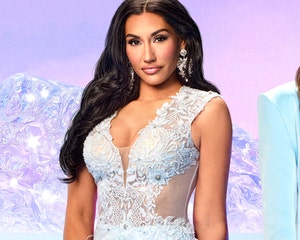 RHOSLC Star Monica Garcia Reveals the Shocking Reason She Was Excommunicated From Mormon Church
Linda, meanwhile, has made it pretty clear show she feels about the show — posting a number of negative remarks to X throughout the season, including one reading, "Monica begged me to do this reality show with her. Begged. I didn't want to do it. She told me all I had to do was cook and speak Portuguese. How did she return the favor? She did me dirty." She went on to claim she never abandoned her daughter, called herself a "devoted mother" and — of the latest episode — said her behavior was "abhorrent" but was "unpacking 16 years of bullying and manipulation" by her daughter in the moment.
"Everyone knows how she feels about the show, considering she's Twitter-happy or X or whatever," Monica told TooFab. "We have not spoken, we are not currently speaking. Her online, social media responses have not helped."
Garcia also revealed that when it comes to negative comments from viewers, "Lisa's fans have probably been the hardest, which is to be expected." Otherwise, she added, she hasn't felt "that much hate from fans" of the other women.
While the rest of Monica's costars will be hitting the BravoCon press line on Saturday, she walked it solo on Friday. With that split, we wondered whether there was anyone she wasn't currently speaking with at the moment.
"For sure. We're in the middle of the season, so obviously there's a lot of things going on, a lot of dynamic shifts. A lot of stuff to come that will kind of explain all of that," she teased.
The Real Housewives of Salt Lake City airs Tuesdays on Bravo.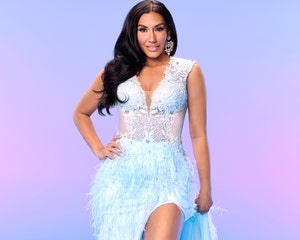 RHOSLC Newbie Monica Garcia Helped Put Jen Shah Behind Bars
Source: Read Full Article