'Teen Mom:' Does Farrah Abraham Get Along With Sophia's Father's Family?
Former Teen Mom star Farrah Abraham has not had an easy life when it comes to raising her daughter. Aside from being subject to unending criticism from MTV fans, Abraham has also raised her daughter entirely by herself. Sophia's father, Derek Underwood, died before Sophia was born. But does Abraham get along with Underwood's family?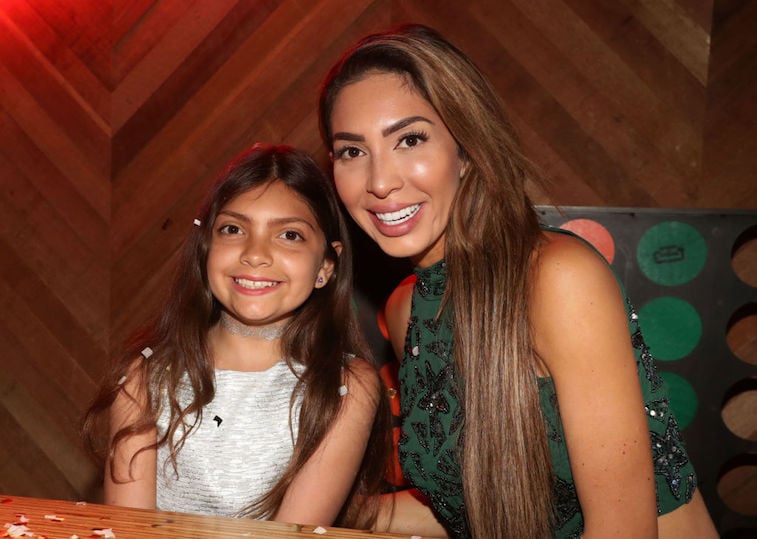 Sophia's late father died in a car accident three months before she was born
When Abraham first appeared on 16 and Pregnant, she hardly ever mentioned her ex. (She and Underwood had broken up when she was five months pregnant.) And it wasn't until Teen Mom that details about Underwood began to be revealed. It turned out Underwood died in a car accident when he was 18, just three months before Sophia was born. There was reportedly alcohol involved in the crash, though other reports have said Underwood was under the legal limit when the crash occurred. Sophia never met her father, but these days, Abraham does her best to keep Underwood's memory in Sophia's life. 
Abraham reportedly had major problems with Underwood's mother while they were dating
Abraham's relationship with Underwood wasn't easy for either of their families. Abraham reportedly didn't get along with Underwood's mother, Stormie Clark, at all. Abraham accused Clark of stealing her daughter from a babysitter's home when she was only six months old, and Clark claims that Abraham never lets her see her granddaughter. Clark also said she never kidnapped Sophia, and the only time she met Sophia was in a public park, when their families ran into each other. Even up until 2016, the two have had their drama occasionally aired out on television.
Underwood didn't get along with Abraham's parents, either
It seems like the family drama wasn't only on Underwood'sside. Abraham revealed that the last time she saw Sophia's father was when shewas five months pregnant. Abraham opened up about Underwood's rockyrelationship with her father on an episode of Teen Mom back in 2016. "My dad and Derek pulled knives on eachother and called the cops on each other, and it was really sad," Abraham said.Her dad ended up in jail for the altercation, and Underwood refused to helpbail him out.
When Underwood died, Abraham revealed in her 2012 book that neither of her parents were said. Debra Danielson, Abraham's mother, reportedly said that Underwood's death "is better for you and your baby" when she heard the news.
Farrah has a decent relationship with Underwood's father and step-mother, but she doesn't appear to be close with other family members
Today, Abraham and Sophia do have a relationship withUnderwood's father and step-mother. Debra Underwood, Derek's step-mother, toldRadarOnline that Abraham brings Sophia to visit with her grandfather andstep-grandmother every few months. "She wants Sophia to know our side of thefamily," Debra Underwood said. "I have two daughters; they get together withher as well."
There hasn't been word on Abraham's relationship with herex's mother or biological sisters, though, and it's likely that there stillisn't much of a relationship there at all. But Debra Underwood stood up forAbraham and said she has always been committed to keeping Derek's father andstep-mom in Sophia's life.
Check out TheCheat Sheet onFacebook!
Source: Read Full Article