Super Bowl 2023 LIVE: Latest news and build-up to Eagles vs Chiefs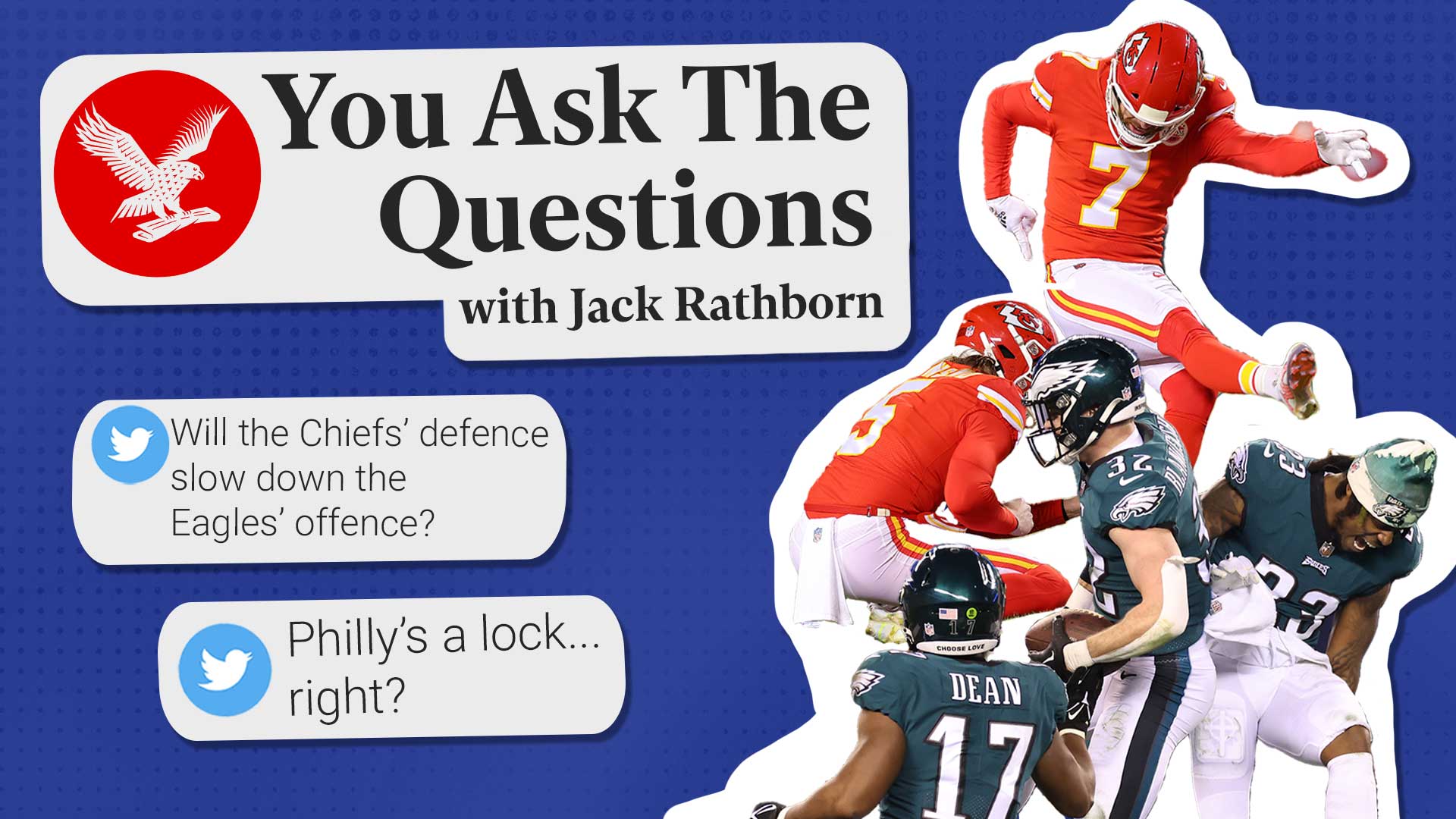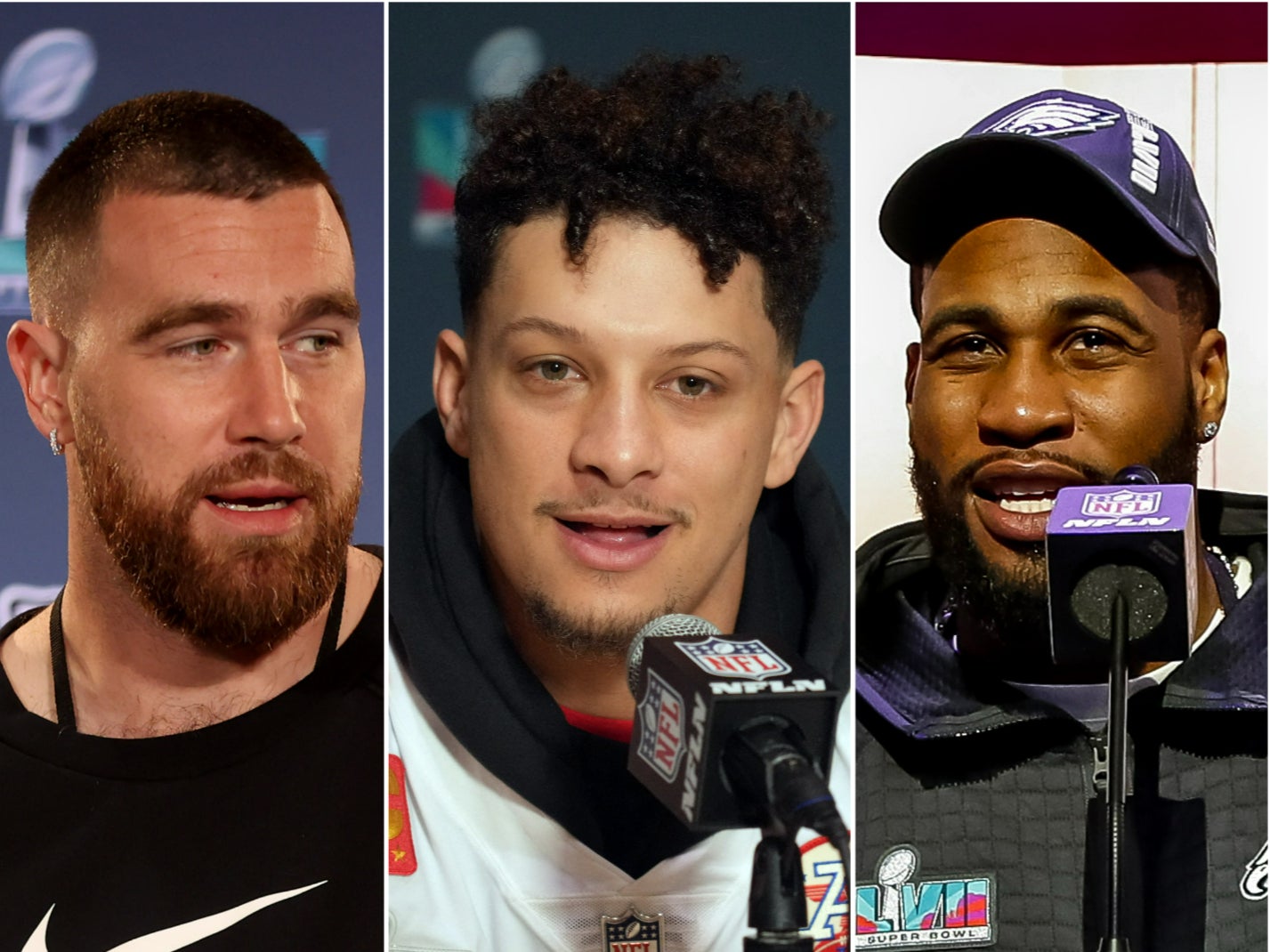 Super Bowl 2023: Hurts convinced by Eagles team spirit
Philadelphia quarterback Jalen Hurts believes the Eagles' charge to Super Bowl LVII has been fuelled by their collective strength.
Hurts has been one of the stand-out figures in the Eagles' run to Sunday's NFL showpiece at the Arizona Cardinals' State Farm Stadium, where they will take on the Kansas City Chiefs.
Receiver AJ Brown, running back Miles Sanders and linebacker Haason Reddick have also been among the key players but Hurts feels it has been a team effort.
The 24-year-old told reporters: "I think the number one thing is to invest in your team-mates and coaches.
"It's important to go out there and build relationships with the people around you, the people that you're going to be playing with so everyone can play that much harder for one another.
"I feel like if you have a relationship with someone, you know them on a personal level, they're going to play harder for you on the field.
"I think that's why we've come so far, because we've been truly connected all year. We've been on the same page.
"We've competed hard for one another. You can see that passion on the field, you can see that passion in the stands and the city of Philly. It all goes together."
Super Bowl 2023: Mahomes and Hurts make history
At Super Bowl 57, Hurts will be only the eighth Black quarterback to start the title game. Mahomes became the seventh when he started for the Chiefs in their victory over the San Francisco 49ers three years ago.
Before them came Cam Newton with the Carolina Panthers, Russell Wilson, who won with the Seattle Seahawks, and the 49ers' Colin Kaepernick, whose kneeling protest against racial injustice begun in 2016 transformed American professional sports.
Kaepernick was lambasted by many fans and filed a collusion grievance against NFL owners a year later, when he went unsigned as a free agent, eventually settling with the league in 2019. But he never threw another NFL pass.
Following the murder of George Floyd by Minneapolis police in May 2020, Mahomes was among more than a dozen Black NFL players to appear in a video demanding an end to systemic racism and police brutality, declaring "Black Lives Matter."
Hurts, who was drafted in 2020, has sported the 'Black Lives Matter' slogan on his helmets during games.
After the beating death of Tyre Nichols in Memphis last month, the NFL released a statement saying the league remains 'deeply committed to combating the injustices and inequities' that plague our society.
"To have two Black quarterbacks competing on this big stage, in a sport where, not too long ago, Black men were deemed as not intelligent enough to play that position, is a testament to the progress that we have made," NFLPA Executive Director DeMaurice Smith told reporters this week.
"This is certainly a proud moment for the game of football that has been long overdue."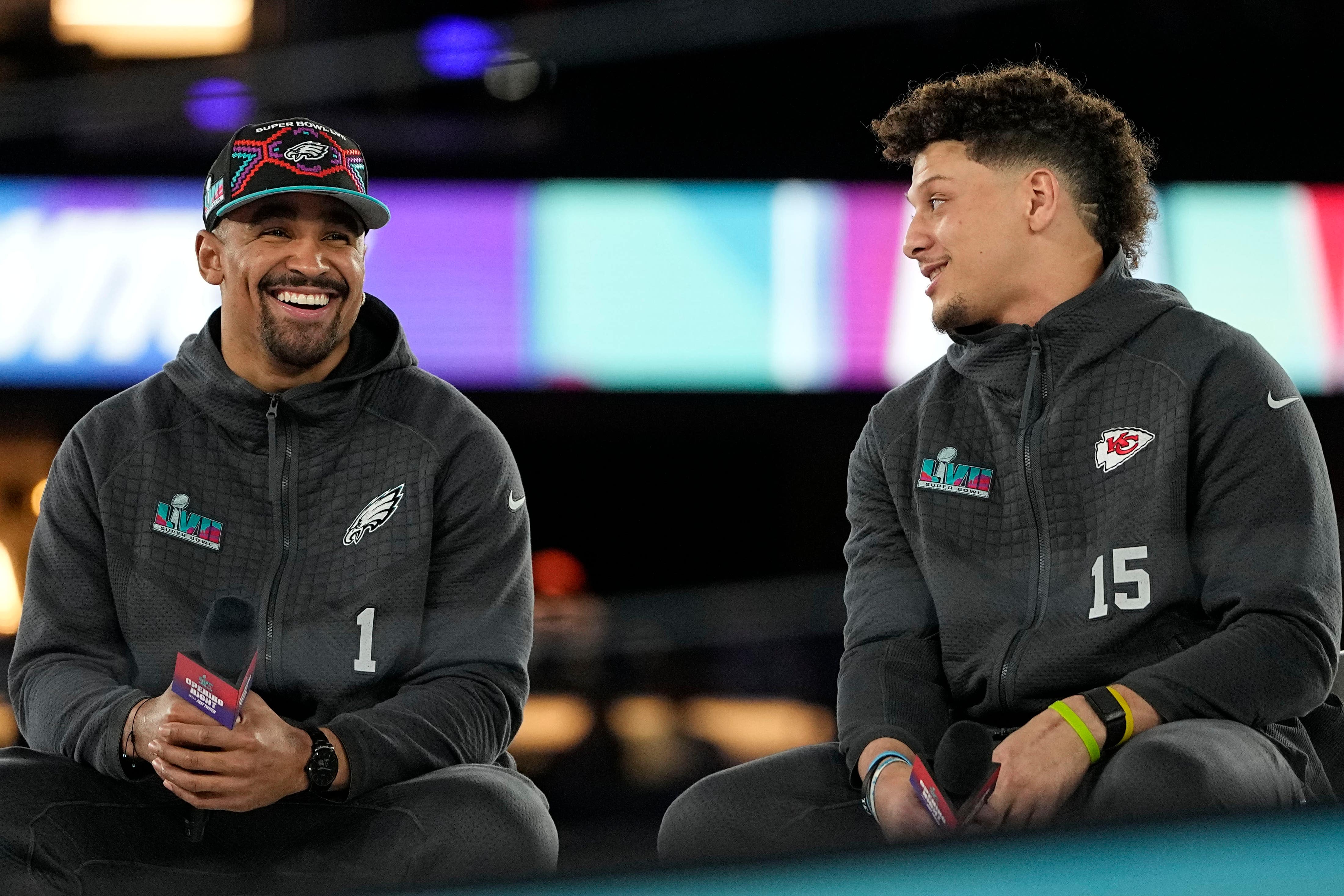 Jalen Hurts (left) and Patrick Mahomes lead their teams in Sunday's Super Bowl (David J Philip/AP)
Super Bowl 2023: Mahomes and Hurts make history
Kansas City Chiefs' newly minted league MVP Patrick Mahomes and the Philadelphia Eagles' budding superstar Jalen Hurts will make history on Sunday, marking the first time two Black quarterbacks have started in the Super Bowl.
The occasion prompted uneasy celebration in Phoenix this week, as a sign of progress but also a stark reminder of hurdles that Black players have faced for decades.
Asked by a reporter this week what took so long, NFL Commissioner Roger Goodell was blunt: "There are probably a variety of reasons – probably none of them good."
"The reality is, there's such great talent at that position, Black and white," Goodell said at his annual state-of-the-league media briefing. "I think we have 11 Black starting quarterbacks today. They are some of the best leaders I've ever seen."
It wasn't until 1988 – at Super Bowl 22 – that Doug Williams became the first Black quarterback to start the NFL title game, winning the Super Bowl for the then Washington Redskins.
When the Tampa Bay Buccaneers picked him out of Grambling State a decade earlier, Williams was the first Black quarterback to go in the first round who was not eventually converted to another position.
He told the New York Times that year that Black quarterbacks had not "been given the opportunity and the patience" their white counterparts had.
"White quarterbacks like Bert Jones and Terry Bradshaw needed time. But their teams let 'em learn. You learn from experience. It's hard to learn and produce at the same time," he said.
Twenty-three years later, Michael Vick made history as the first Black quarterback taken first overall in the NFL Draft, bringing a different style to the position with extraordinary mobility.
"When I first came into the league there was a lot of speculation about how long I was going to last as quarterback and if my style would hold up and I should change my style and become a pocket passer," said Vick, who now works as an on-air analyst for Fox Sports.
"I never felt it was thing where people said it was harder to win with Black quarterbacks, it was more about durability. There are a lot of stereotypes but we found ways to overcome that, we found ways to cross that barrier."
Super Bowl 2023: Kansas City Chiefs protest
Native American groups are expected to protest the Kansas City Chiefs on Sunday, calling for the AFC champions to drop their name and logo as they take on the Philadelphia Eagles in Super Bowl 57. The Chiefs wear the arrowhead logo on their helmet and use a large drum to kick of their home games, as fans routinely engage in what's known as the "tomahawk chop" chant, all of which critics say draw on offensive and racist stereotypes.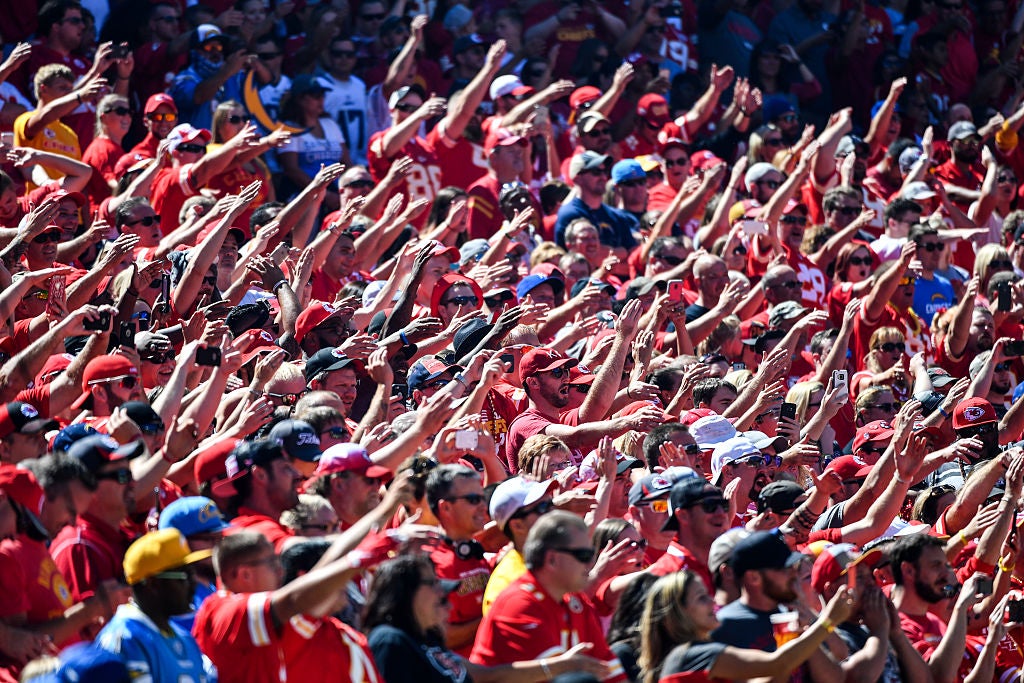 Super Bowl 2023: 5 players who could decide game
PATRICK MAHOMES, CHIEFS QUARTERBACK
An elite thrower with exceptional improvisational skills and pinpoint accuracy, Mahomes is returning for his third Super Bowl appearance in four seasons having gone 1-1 in his previous two trips to the title game.
His famous mobility may be hampered by a high ankle sprain suffered earlier in the playoffs. Despite clearly being hobbled in the AFC Championship, however, Mahomes still managed to throw for 326 yards, two touchdowns and made a key scramble that set up the game-winning field goal assisted by a Cincinnati penalty.
– –
JALEN HURTS, EAGLES QUARTERBACK
The third-year quarterback has proven to be a nightmare for defensive coordinators around the league as he has established himself as a true scoring threat with both his arm and legs, leading his team to a NFC best 14-3 record.
Hurts has also been dealing with an injury, to his right throwing shoulder, since hurting it during a Week 15 game in December that forced him to miss two game before returning for the regular season finale and playoffs.
TRAVIS KELCE, CHIEFS TIGHT END
Kelce, who has already established himself as one of the best tight ends in NFL history, is Mahomes' favourite target and will certainly be a key component of Kansas City's game plan against Philadelphia.
As the No. 1 option in Kansas City's passing game, Kelce can be expected to be the focal point of the offense, especially in the red zone – inside the 20-yard line – where the Eagles may be forced to utilize double coverage in a bid to limit the damage he can cause.
A.J. BROWN, EAGLES WIDE RECEIVER
Acquired in a trade with the Tennessee Titans last April, Brown's outstanding physicality and toughness with the ball has made him a potent weapon in the Eagles' offense this season.
Brown is Philadelphia's top playmaker and had the fourth-most receiving yards of any player in the NFL during the regular season. While he has not had a major impact in Philadelphia's two lop-sided playoff wins, he will likely play an integral role for the Eagles on Sunday.
CHRIS JONES, CHIEFS DEFENSIVE TACKLE
Jones has been nearly unstoppable at the line of scrimmage while earning himself a reputation as one of the NFL's premier inside pass rushers. His talents will be put to the test against an Eagles team that boasts the league's best offensive line.
The dominating defensive tackle was named this season to his fourth consecutive Pro Bowl after tying some of his career-highs with 15.5 sacks and 29 quarterback hits. Even when double-teamed, he can still find his way to the quarterback or ball carrier.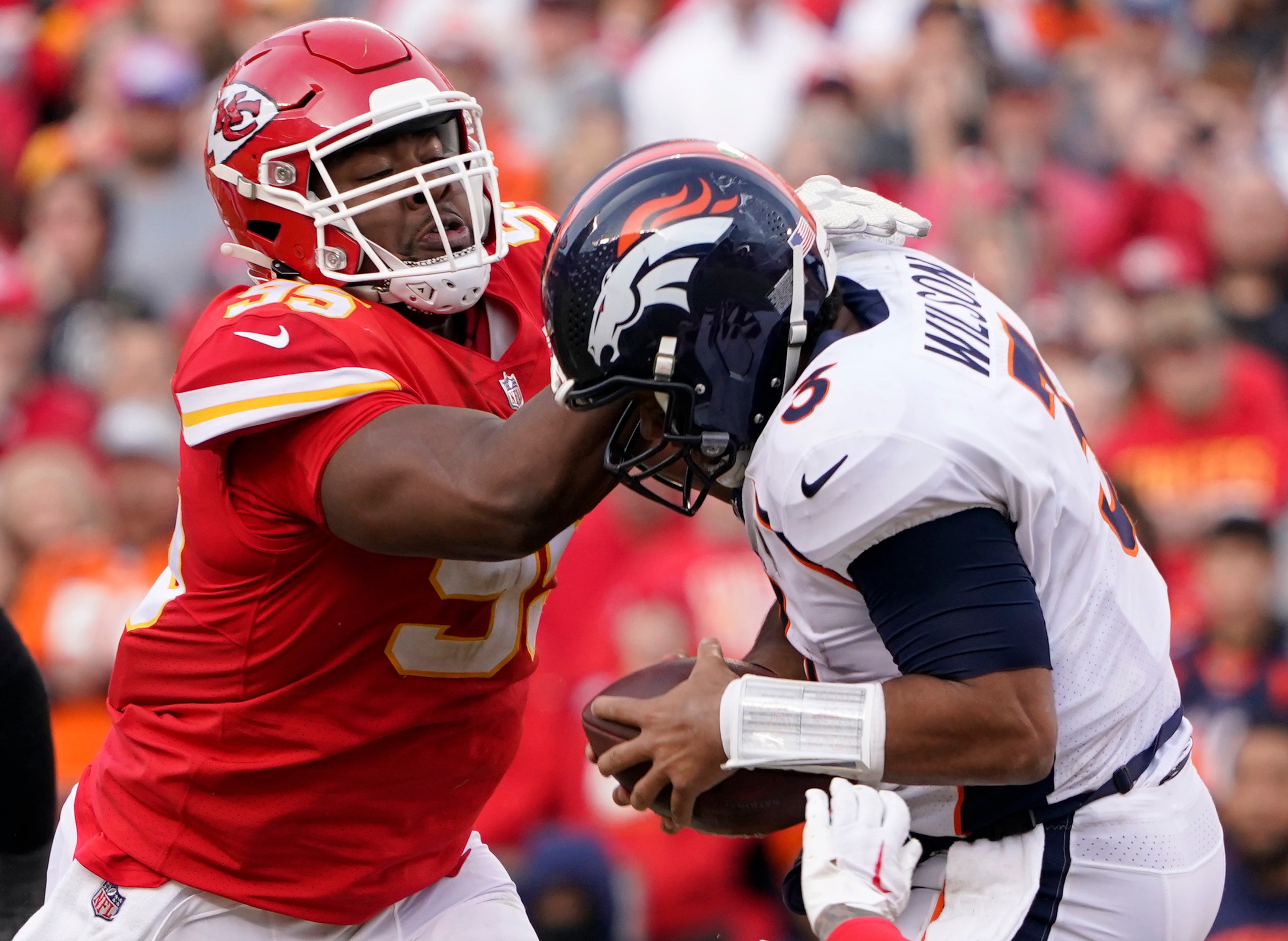 Patrick Mahomes magic put to the test as Chiefs face Eagles in Super Bowl
Patrick Mahomes will look to pull one more rabbit out of his hat on Sunday as the Kansas City Chiefs face the Philadelphia Eagles at Super Bowl 57.
Kansas City broke a half-century curse at the NFL title game three years ago and will need quarterback Mahomes, who picked up his second Most Valuable Player honors in six years on Thursday, to be at his magical best if they are to beat the Eagles.
Mahomes overcame a high-ankle sprain in the divisional round to get the Chiefs to their third Super Bowl in four years, producing a heroic late-game sprint to help clinch the AFC Championship.
"I'm definitely in a better spot (with my ankle), I can definitely move around better," he told reporters this week. "Just trying to continue to get the treatment and the rehab and get as close as I can to 100%."
After throwing for a career-best 5,250 yards, becoming only the second player after future Hall of Famer Drew Brees to produce more than 5,000 passing yards and 40 touchdowns in multiple seasons, there appears little Mahomes cannot do.
Even when receiver Tyreek Hill went to the Miami Dolphins in the offseason Mahomes quickly found a rhythm with new receivers JuJu Smith-Schuster and Marquez Valdes-Scantling to finish the season 14-3.
"Tyreek's a heck of a player," head coach Andy Reid told reporters this week. "But we've got other guys that stepped up. We've got Patrick Mahomes as a quarterback – that's a special thing.
"Pat Mahomes brought everybody in, made them feel at home, and I think he utilized every guy's strengths to make them great."
Mahomes has helped his favorite target Travis Kelce become one of the greatest tight ends ever to play the game. The eight-time Pro Bowler has had 1,000 or more receiving yards in each of the last seven seasons.
Kelce is keen to banish memories of their last Super Bowl appearance two years ago, when Tom Brady's Tampa Bay Buccanneers humiliated them 31-9.
"The last taste I had in my mouth of the Super Bowl, it wasn't too good," said Kelce, who will make history at State Farm Stadium with his brother, Eagles center Jason Kelce, as the first siblings to play each other in a Super Bowl.
"I'm focused on making sure I don't end the last one like I did."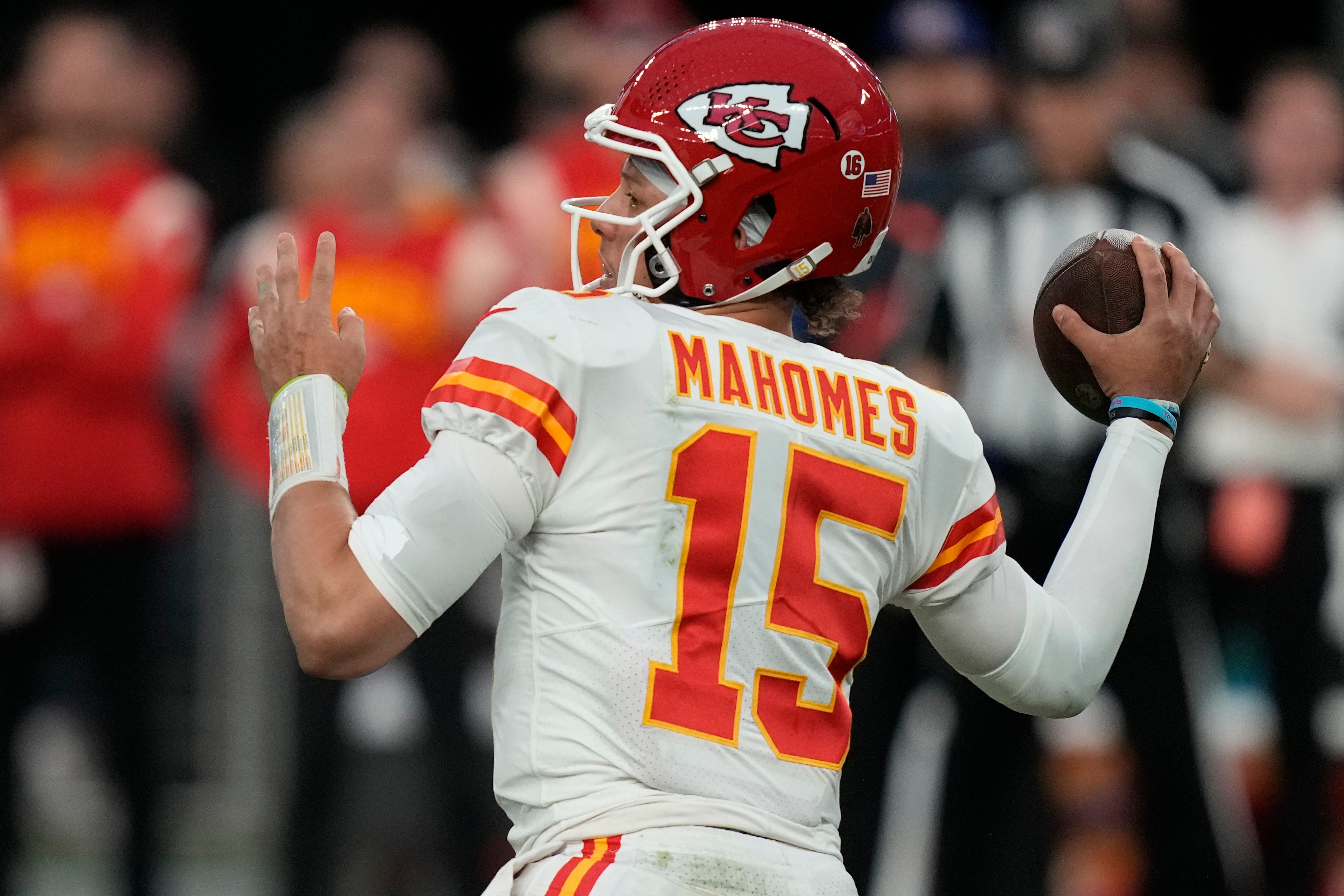 Super Bowl 2023: Talking points for Eagles vs Chiefs
A potentially legacy-defining game for Andy Reid
Given his success with these two franchises as a head coach, this Super Bowl feels like it may be oddly pivotal in Andy Reid's wider NFL legacy. Despite assembling a succession of contending Eagles teams, Reid repeatedly came up short in the play-offs while head coach in Philadelphia. He departed the city in 2012 with his place in the coaching pantheon uncertain: undoubtedly an influential offensive mind, Reid was perhaps unfairly labelled a head coach with shortcomings that too often proved fatal come the postseason.
His work in Kansas City, and particularly the Super Bowl success three years ago, has placed him more securely among the coaching greats. Reid has improved significantly as a clock and game manager – a common criticism during his long stint in Philadelphia – but Chiefs fans may worry his woes are not totally bound to the past. Reid's decisions in the second half of the AFC Championship game did not ultimately prove costly, but the veteran coach was widely criticised after allowing Cincinnati an opportunity to steal victory.
On the opposite sideline, Nick Sirianni's intuitive feel for in-game decision-making has been a key driver of the Eagles' success since their head coach gave up playcalling duties midway through the 2021 season, but must now deal with the unique challenges that the Super Bowl brings.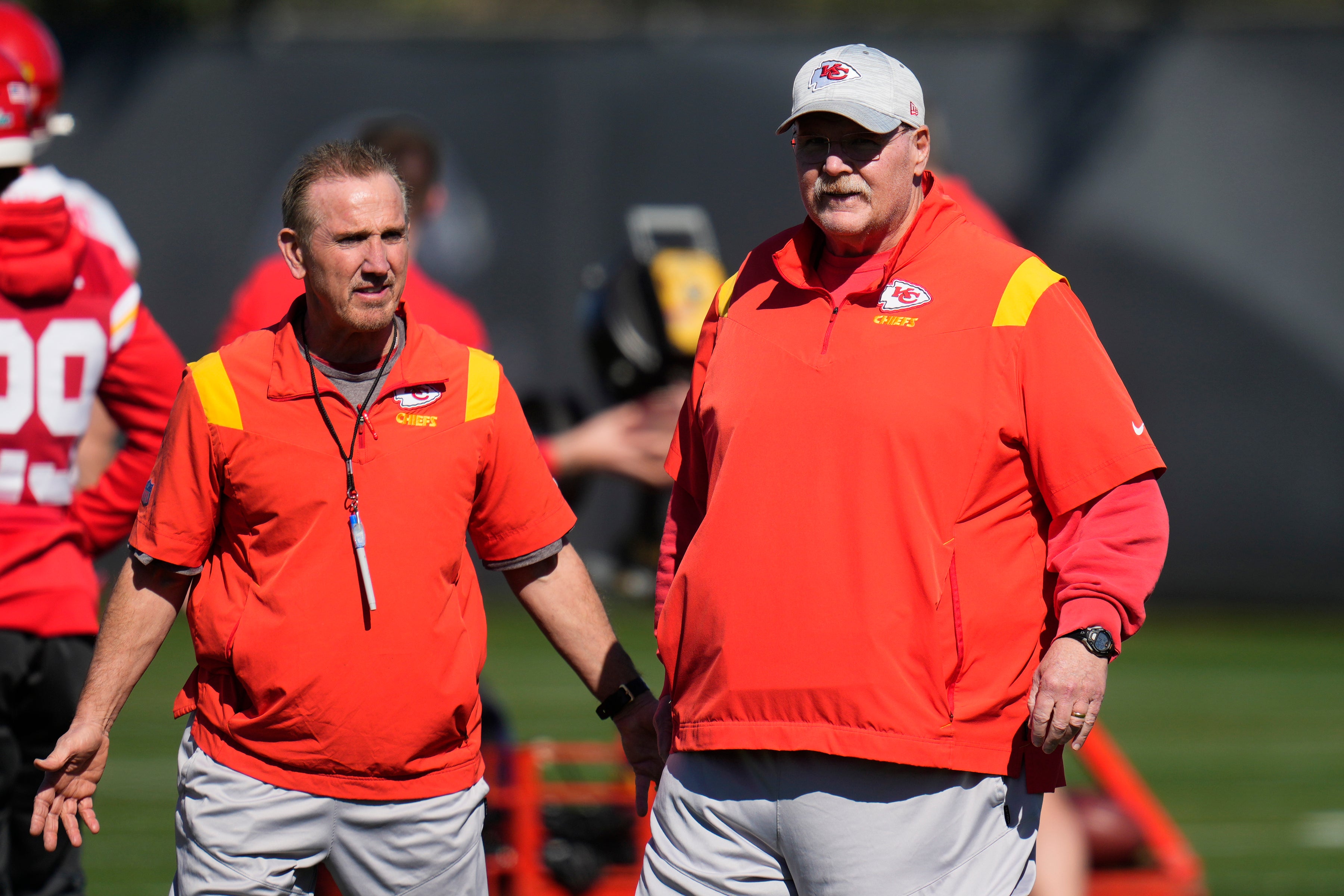 SUPER BOWL-CHIEFS-COORDINADORES
Jill Biden not shy about her 'Philly girl' sports fandom
Jill Biden won't let even a White House gala get between her and the Philadelphia Eagles.
After a late night entertaining governors with President Joe Biden at a black-tie dinner on Saturday, the first lady was heading for the Super Bowl in Arizona on Sunday with hopes of watching "the Birds" defeat the Kansas City Chiefs and claim the NFL title.
First ladies have been involved with sports in a variety of ways over the years, from throwing out the first pitch at baseball games to representing the United States at the Olympics. But Jill Biden's unabashed public expressions of support for Philadelphia's teams — she grew up in suburban Willow Grove — are a rare kind of devotion.
"The first lady is a proud Philly girl and devoted sports fan, and is excited to cheer on her hometown team for the Super Bowl," said her spokesperson, Vanessa Valdivia.
At a time when national politicians often avoid taking sides in sports contests, Jill Biden, a community college professor, wears her Eagles and Phillies garb in public and tweets photos of herself watching games in the private cabin on a government plane.
She and her grandson, Hunter, were at the stadium in Philadelphia on Jan. 29 when the Eagles won the NFC championship. The 16-year-old will join her again on Sunday.
"I'm going. I'll wave to you at the game," the first lady was overheard telling two girls about the Super Bowl when she visited California last weekend.
Super Bowl 2023: Eagles coach Nick Sirianni uses lessons from Frank Reich
"He's got an incredible ability to connect with players and it's just authentic, it's genuine," Frank Reich told the AP Pro Football Podcast.
"It's easy for him because he cares. He's just really good at that. He's also an elite offensive mind. He's a great game-planner. He's got that coaching pedigree. We worked together for six years.
"It was a real highlight. I know he's always complimentary because I'm like the older brother who mentored him, but trust me, this was a two-way street. We both benefited from it and I've learned a lot from that."
Super Bowl 2023: Talking points for Eagles vs Chiefs
Is Jalen Hurts healthy and can he hurt the Chiefs from the pocket?
If the Chiefs dare Hurts to win from the pocket, then the Eagles must test the nerve of the four Kansas City rookies in the secondary with Jaylen Watson, Trent McDuffie, Bryan Cook and Joshua Williams daring to replicate the youthful nature of the San Francisco secondary en route to the Super Bowl in 1981.
While Hurts can routinely connect deep with AJ Brown and Devonta Smith, Nick Sirianni will hope his quarterback's shoulder is healthy enough to emphasise the option threat and occasionally dart towards the edge with a heavy dose of violence deny the Chiefs rhythm on defense.
Just like Josh Allen did, Hurts has elevated his accuracy in the passing game, up more than five percent to 66.5 percent this season, even if his legs remain the most potent threat towards the Chiefs. Should he prevail on Sunday, Hurts would become the first quarterback to triumph with over 100 carries along the way.
Crunch the numbers and Hurts is third in the entire league in adjusted yards per attempt (8.4), according to Pro Football Reference, with only Patrick Mahomes (8.5) and Tua Tagovailoa (9.2), who missed four games, ahead of him. Another efficient, yet versatile display from Hurts will prove once and for all he is more than a dual-threat quarterback.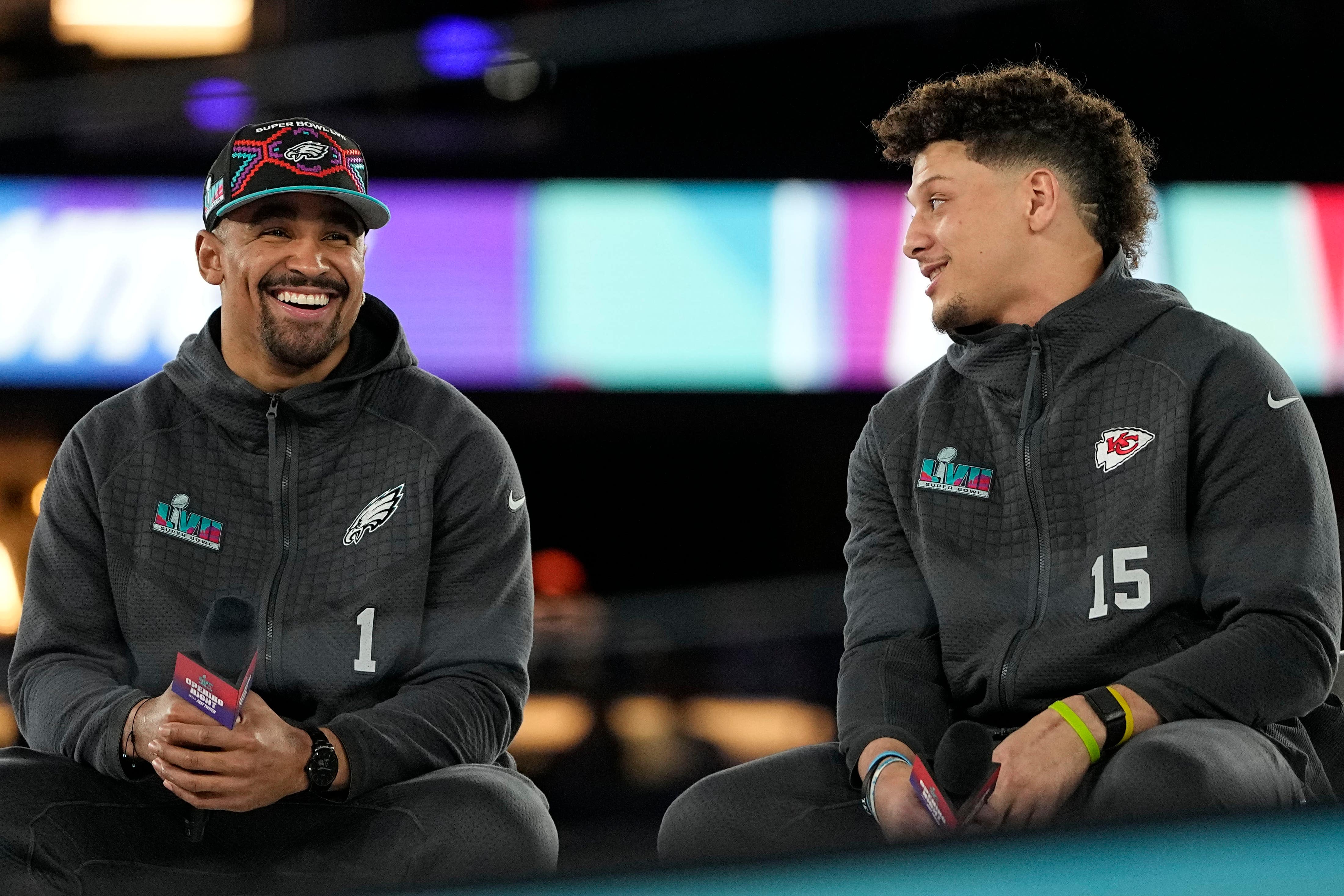 Jalen Hurts (left) and Patrick Mahomes lead their teams in Sunday's Super Bowl (David J Philip/AP)
Source: Read Full Article