Fred Armisen Guest Stars in a New Episode of 'Superstore'
Fred Armisen is a pro at guest-starring on comedy shows. As a Saturday Night Live alum, Armisen has starred in Portlandia and appeared in Parks & Recreation, Brooklyn Nine-Nine, and now Superstore. In the Superstore episode, Armisen appeared as Kyle, a representative for a charity. Warning, this article contains spoilers for the newest episode of Superstore.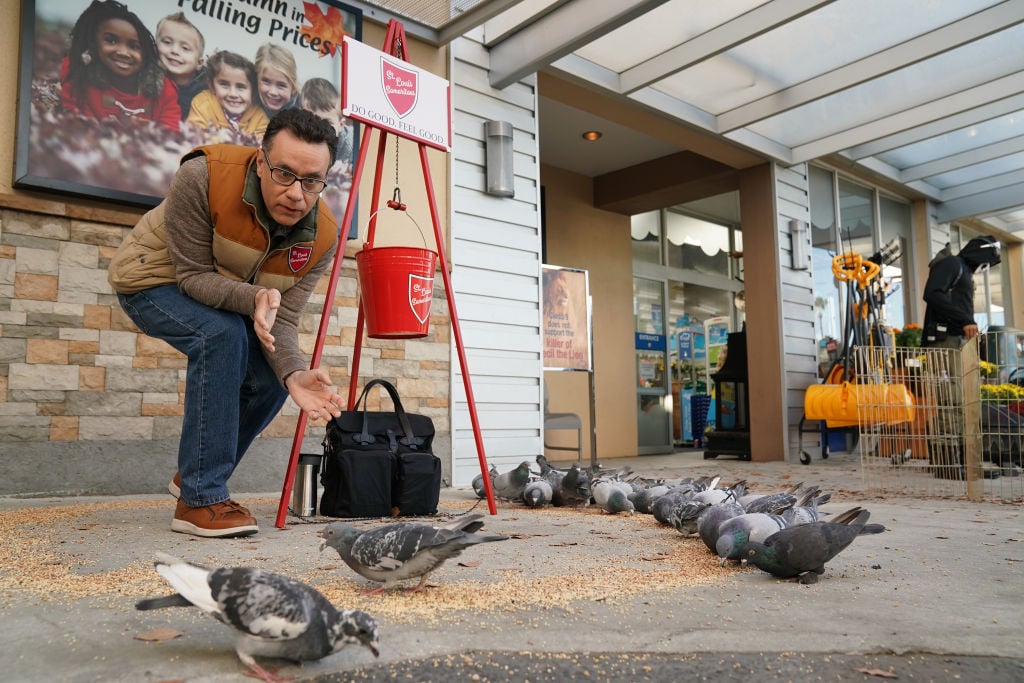 Fred Armisen competes with Mateo, Amy, and Jonah in 'Superstore'
The Superstore episode opens with Mateo hosting a toy drive for a charity called Happy Tots. Amy and Jonah help him, and discover from a customer that another charity is stationed outside. Amy investigates and finds Kyle who is collecting money for a charity called Samaritan for the holidays.
She asks Kyle to leave, but he shows her an email from her confirming that he is allowed to collect money outside. Amy tries to kick him out, but he refuses. Kyle then attempts to sabotage Mateo's toy collection by only donating tiny soldiers and taking the gift card prizes.
Amy, Jonah, and Mateo retaliate when they realize Kyle will not leave. Mateo sprinkles bird seed around Kyle's stand so he will be surrounded by pigeons. Jonah sets out fresh fertilizer to put a bad smell in the air. Mateo, Jonah, and Amy then surround Kyle's station with shopping carts.
In the end, Kyle has the last laugh. He has a friend pose as the collector for Mateo's charity and steals the toys. Because Mateo was holding the toy drive to try and help his immigration case, Jonah filmed every stage of Mateo's efforts, including the toys being stolen. The group decides to include the video of Mateo accidentally giving the toys to Kyle's friend, because technically the toys still went to charity.
Colleen ghosts Garrett in 'Superstore'
In a previous episode of Superstore, Heidi Gardner guest starred as Dina's nemesis, Colleen. Amy ended up having Colleen transferred to a different store, but not before Garrett asked Colleen out. To keep this from hurting Dina, Amy and Garrett pretended it was part of a plan to hurt Colleen.
"Toy Drive" follows up on this story line. Garrett shows Cheyenne texts with Colleen. Cheyenne tells Garrett he's being ghosted. Throughout the episode, Garrett tries to convince Cheyenne he isn't being ghosted. He tells Cheyenne every outlandish story Colleen has told him before finally realizing she is avoiding him.
At the end of the episode, Dina tells Garrett some ideas she has for how he will dump Colleen. He sadly tells her that he already broke up with her and she took it poorly. Dina then goes to Colleen's Instagram and sees she has already moved on with someone else.
This episode did not mention the union dilemma
Since the end of season 4 of Superstore, the employees of Cloud 9 have been trying to unionize. As the manager of the store, Amy has been torn in two different directions. She wants to protect her career as she finally has a high-paying job, but does not like how corporate treats the employees of Cloud 9.
The last episode of Superstore introduced a possible conflict for future episodes. The new district manager said Amy could possibly get a job at corporate. This could jeopardize the Cloud 9 employees' union plans. "Toy Drive" did not address this new development, and instead was a lighthearted episode of Superstore.
Source: Read Full Article