Here's Everything We Know So Far About 'Selling Sunset' Season 6
Run, don't walk, to your nearest streaming device, because season 5 of Selling Sunset is out! Everyone's favorite real estate agents and brokers are back in the Oppenheim Group office, ready to show us luxury homes in Los Angeles, the likes of which we can only dream about. They're also back to serve us up more drama, ofc.
Once again, Jason and Brett seem to be expanding the business as we see more new faces. More personalities mean more differing opinions and chances of clashes, fanning the flames of pre-existing conflicts. Then there's the Chrishell and Jason of it all as the show chronicles their still-blossoming-at-the-time relationship.
I wouldn't be surprised if fans binged the whole season as soon as the clock struck midnight. We already know that by the time we finish the last episode of this season, we'll be wanting more. So it's never too early to ask about season 6! Here's what we know about Selling Sunset's unreleased next season.
Is Selling Sunset getting a sixth season?
Before season 5 even got a premiere date, Netflix already confirmed the show would be renewed for season 6 and season 7! Talk about being in demand. It's no surprise because of how big a pop culture phenomenon the series has become.

Who from the cast is coming back?
Expect to see Chrishell Stause, Mary Fitzgerald, Christine Quinn, Heather Rae El Moussa, Amanza Smith, and Brett and Jason Oppenheim. Plus, Davina Potraz has come back since season 4. And the season's new additions—Emma Hernan and Vanessa Villela—are also likely to return unless the show dramatically shakes things up.
But one cast member has already said they won't be back…at least not at the same capacity. As viewers know, Maya Vander is now a mother of two who has to split her time between L.A. and Miami. She told E! News, "I'm probably not going to be a full-time cast member because it's going to be difficult for me logistically to do the back-and-forth again."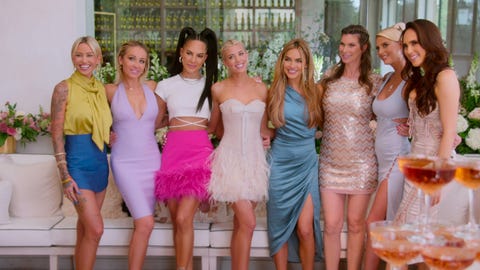 It's sad to see someone from the original gang go, but at the rate we're going, there are sure to be more additions down the line.
When does Selling Sunset season 6 come out?
There isn't a confirmed release date just yet, but the cast didn't start filming immediately after finishing season 5. They took a well-deserved break from all the cameras and had a little breather, which means it's likely that season 6 won't be coming out until later in 2023.
Of course, we'll keep you updated as soon as we hear anything!
Source: Read Full Article