Here's Your 'Ship Update on Kelly and Andrew from 'Bling Empire' Before Season 2 Drops Tomorrow
Season 1 of Bling Empire brought glitz, glamour, and an extremely unexpected storyline involving a penis pump being thrown out of a window. But when it came to the more ~dramatic moments~ on the Netflix reality show, many of them involved the relationship between Kelly Mi Li and Andrew Gray—and for literally anyone who watched for .2 seconds, you knew the couple was clearly not in a good place. So, you might not be wondering so much why Kelly and Andrew broke up, but instead why it took so long.
With season 2 premiering on May 13 (that's tomorrow, bb!), let's take a look at what happened between the now-exes that led to a Single-And-Ready-To-Mingle Kelly in the show's new season.
Remind me, what happened with Kelly and Andrew in season 1?
Glad you asked! Kelly and Andrew had already been dating for about three years when Bling Empire season 1 was filmed in 2019. The first episode of the show began by showing how in love they were, but by the end of that same episode, Andrew was screaming at her over the phone for letting him sleep in their Paris hotel room while she went out shopping (aka, not a valid reason to scream at someone, if there ever is one).
The relationship was rocky from there, and even though they broke up at one point during the season, by the last episode, they were spending time together again. The final scene showed Kelly showing up to Andrew's home and kissing him in his doorway. Yes, it was an emotional rollercoaster for viewers, TYVM.
So, what happened after season 1?
In a "Where Are They Now?" video released by Netflix in January 2021, Kelly and Andrew shared that they were back together after taking a six-month break. Kelly said that since Andrew's anger issue—his "darkest secret"—was now out in the open, she hoped they could "only go up from here." That same month, Kelly also opened up about herself and Andrew working on themselves in therapy in an essay for Women's Health.
"We're still taking it day by day, but I have to say it's like night and day watching that version of him compared to now," Kelly wrote in the piece. "Andrew has put in so much work. I'm so proud of and inspired by him." She continued, "We want to wait until we're done with our individual therapy courses to start our couples therapy. I know that next chapter will be really focusing on us together as a couple and building a family."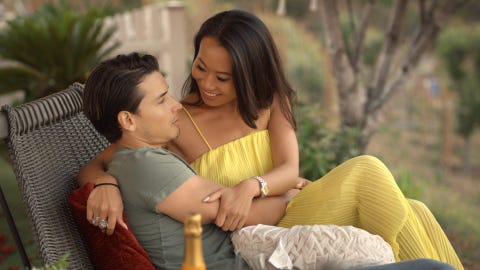 When did Kelly and Andrew officially breakup then?
The now-exes called it quits not too long after giving those updates, actually. In March 2021, Kelly and Andrew jointly announced their breakup with statements on Instagram.
"Over the past 5 and half years, Andrew and I have shared some incredible times together. I have a tremendous amount of respect and love for him and will always cherish the memories we made," Kelly wrote in the now-deleted grid post. "However, we have made the difficult decision to officially separate at this point in our lives. We are both so grateful to have experienced a relationship that allowed us to grow and learn so much."
She went on: "Moving forward, Andrew and I plan to continue working on becoming the best versions of ourselves individually. We want to express our appreciation for your continued support and thank you for allowing us to share our journey." Kelli ended the note by asking for privacy during an understandably hard time.
Andrew added a nearly identical post to his own Instagram grid the same day, but it's now-deleted from his page as well.
Why did Kelly and Andrew breakup?
Neither Kelly or Andrew got specific about why they broke up in their statements, but their words implied that it had to do with them focusing on themselves as individuals. A few months after making their break up public, Kelly opened up about her therapy journey in an article for Byrdie in November 2021. While she didn't say the exact reason she and Andrew split, she did talk about how she has grown and changed. She wrote:
Are Kelly and Andrew *both* in Bling Empire season 2?
Well, Kelly is definitely back—she's one of the main stars and an executive producer of the show. It would be verrry surprising if there was an appearance from Andrew, but who knows! Producers certainly like to ~keep things spicy~.
When talking to Page Six about the show's second season, Kelly said, "The audience will be able to see the funner and lighter side of me. And they will see me finding my voice and my own power." She also shared of Andrew, "We haven't really spoken for almost a year." Welp!
Cue the sigh of relief from anyone who watched season 1.
Source: Read Full Article