'How to Get Away With Murder': Will Marsha Stephanie Blake Play Gabriel's Mother, Vivian in the Final Season?
With so many murders at the end of season 5, it's inevitable that ABC needs to add a new star or two when How to Get Away With Murder returns for the 6th and final season this fall. They announced recently that  Emmy-nominated actress, Marsha Stephanie Blake (When They See Us) will join the cast, but her role has been kept under wraps. 
Creator of the show, Peter Nowalk might have given us a clue in an interview earlier this year when he told TV Guide that he planned to "cast some amazing actress" for Gabriel's mother, Vivian. Read on to find out if there is any truth behind this rumor.
'How to Get Away With Murder' announces Marsha Stephanie Blake's role is a secret
Fans were excited to hear that Marsha Stephanie Blake will be joining the cast of the hit-drama on ABC but left contemplating which character she will play.
Creator and producer of How to Get Away With Murder, Peter Nowalk has left everyone guessing with his comment to TV Insider, "She plays a great mystery role."
In addition to playing Linda McCray on the Netflix miniseries When They See Us you may also recognize Blake from Orange is the New Black, Happyish, and Getting On.
Could Blake be the 'amazing actress' Peter Nowalk was referring to for Vivian Maddox?
Fans on Twitter immediately began throwing out the name, "Vivian Maddox" when the announcement was posted, but is there any truth to this theory?
If we look back to an interview Nowalk had with TV Guide right after the finale of How to Get Away With Murder Season 6, we can see that he seems to indicate an actor with similar accolades to Blake.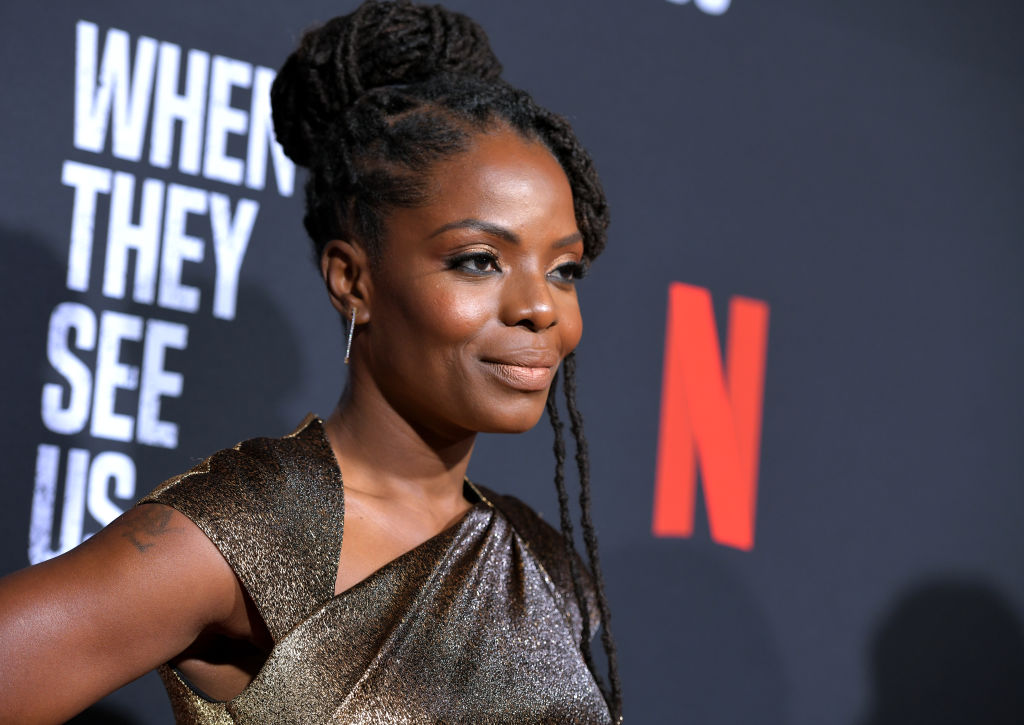 When Nowalk was asked by TV Guide about Gabriel (Rome Flynn), he revealed that we are definitely going to meet his mother and that, "We're going to cast some amazing actress, fingers crossed. I might have some great ideas. But that is an exciting showdown and character. I can't wait for her and Annalise to encounter each other."
That statement about a new character was the only one that Nowalk hinted at and the only person who would really make sense as someone mysterious to the series. Since Blake is nominated for a Primetime Emmy for Outstanding Supporting Actress in a Limited Series or Movie, it seems clear that this could be just the type of star he was looking for to fill Vivian's shoes.
Vivian Maddox could really shake things up on 'How to Get Away With Murder' Season 6
Although the trailer for the upcoming season shows Annalise (Viola Davis) burying all of the lies she and the Keating five have told, the introduction of Vivian Maddox is sure to dig up plenty of past deceit.
Nowalk told TV Guide, "I will promise this, we're going to meet his mother, Vivian, and that's going to be very complicated for everyone. Whether Gabriel is convinced to drop what happened to Sam, he might be, but Vivian's going to stir all that up again. We're going to have to find out did Annalise and her know each other?"
If it is true that Blake is playing Vivian, she is certainly going to have a key role in the upcoming season. The murder of Sam — Annalise's husband — in season 1 is where the show began, so it only makes sense that the creators would revisit that crime in the final season of the series to have everything come full circle.
We will all find out the truth — at least about Blake's role in the series — when How to Get Away With Murder returns on ABC, September 26, 2019.
Source: Read Full Article