James Gunn Unfazed by Riot Threat as He Hints at Rockets Death in Guardians of the Galaxy Vol. 3
When a fan asks if he will cry watching the upcoming third 'GOTG' movie, the director cryptically responds, 'If I have to cry while writing them you have to cry while watching them.'
AceShowbiz –James Gunn doesn't fear about his safety despite fans' threat over the script of "Guardians of the Galaxy Vol. 3". After receiving riot threat if he kills off one of beloved characters in the upcoming movie, the director seems to be unfazed.
On Sunday, October 10, Gunn responded to a fan who posted on Twitter, "If Rocket Dies! We [riot]." But the filmmaker appeared to take it as a bluff as he claimed that none of the threats he received before have materialized so far.
"I'm not saying anything about anything so don't take this as insinuating anything about what's going to happen in #Vol3," he first said to prevent fans from speculating further based on his response. He went on insisting, "BUT I was threatened with, easily, 300 riots before #TheSuicideSquad was released & almost every character was killed & so far I've received exactly zero riots."
When another fan asked if this means he will tear up watching the movie, Gunn cryptically responded, "If I have to cry while writing them you have to cry while watching them, that's the deal."
A third fan, meanwhile, explained why if Rocket is killed off in "GOTG 3", he will be so emotional. "I won't riot but Rocket reminds me of my dog who recently passed away, so I might not be able to deal with it," the fan shared.
To this, Gunn seemed to hint that such fate is inevitable as he wrote back, "Try dealing with the fact that Rocket's in part based on my best ever pal Von Spears – from the eyes to the exact same snaggle – who died last year at nearly 17, & I'm spending all day every day telling his story."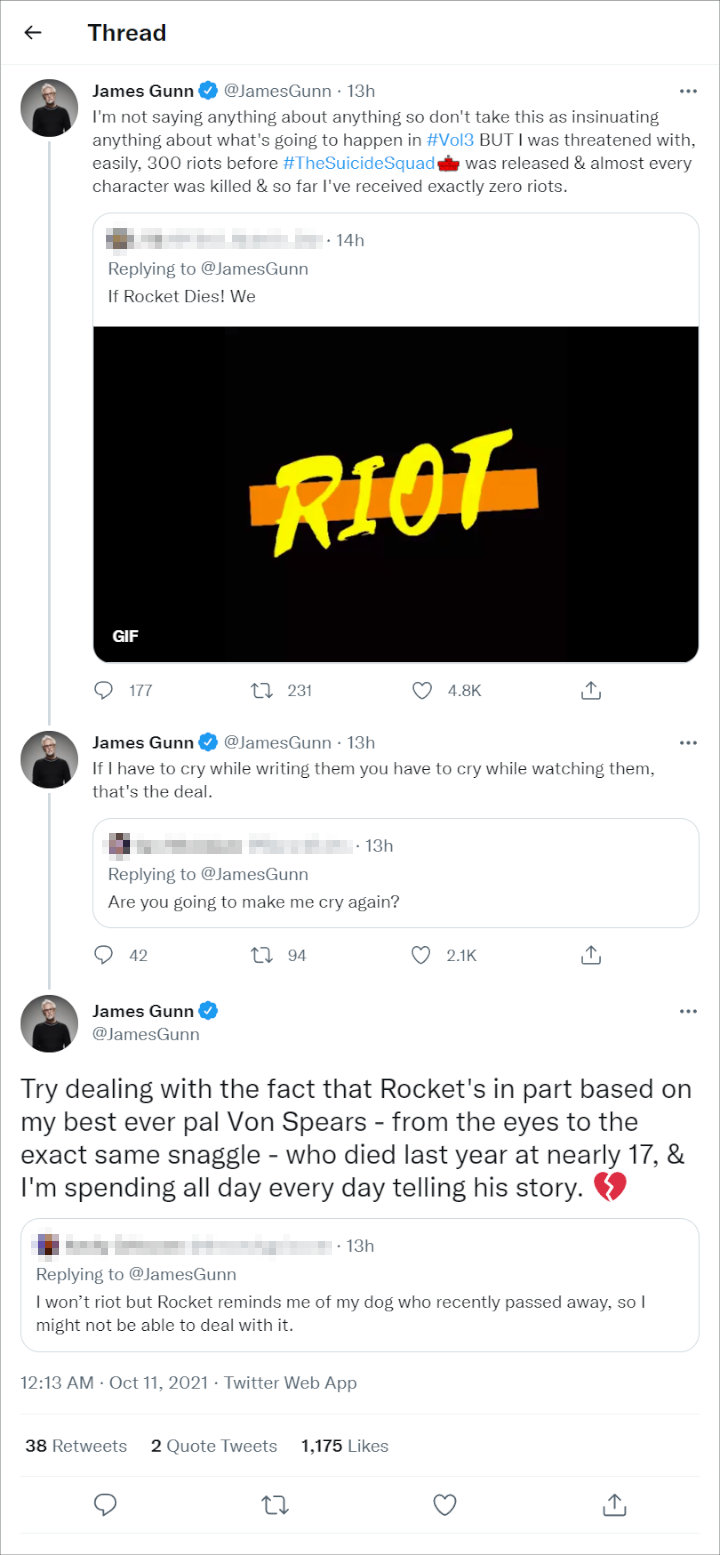 James Gunn replied to fans' questions about Rocket's fate in 'GOTG 3'.
"Guardians of the Galaxy Vol. 3" is expected to kick off production in November for a planned May 5, 2023 release. To tide fans over the long-awaited threequel, Gunn has filmed "The Guardians of the Galaxy Holiday Special" set to be released on Disney+ in December 2022.
Source: Read Full Article