'This Is Us': We Will See Baby Jack as an Older Child in a Flash Forward—Will a Blind Actor Play Him?
Ever since Kate (Chrissy Metz) and Toby Damon (Chris Sullivan) had their baby boy, Jack, fans have been asking to see more flash-forwards of him.
So far, we were given one glimpse into Jack's future, to him as an adult. Now, we heard that we would see him as a child on This Is Us, and we couldn't be more excited. Let's take a look at what we know so far. Warning: Season 4 spoilers.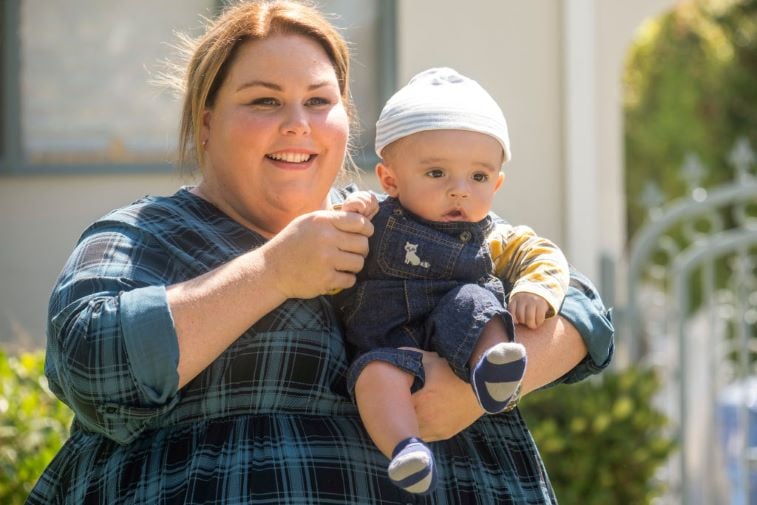 Baby Jack is not blind in real life
In the season 4 premiere of This Is Us, we learn that the newborn baby that Kate and Toby just had is blind. It shocked not only the fans, but the actors, too. 
"Reading that first script was a true shock — the way reading the pilot was," Sullivan admitted to the Hollywood Reporter.
Twin babies play baby Jack—a boy and a girl—named Weldon "Wells" Barnes and Poppy Barnes. Wells was featured first as baby Jack. Poppy, his sister, was only featured recently.
The twin babies are not blind in real life. The producers felt that working with a baby might be challenging enough without adding in a baby who was also blind.
The adult actor who plays Jack Damon is blind in real life
The season 4 opener of This Is Us spent a lot of time with a young, blind musician who meets a waitress named Lucy. The couple hits it off, and then we saw them fall in love, get married, and pregnant.
We found out his name at the end of the episode when he took the stage at a concert hall. We were shocked to find out we were watching a flash-forward of Kate and Toby's baby boy, Jack.
Blind actor Blake Stadnik plays adult Jack Damon. When NBC was casting for the role, showrunner, Dan Fogelman explained that they wanted a blind actor who could sing. "I was looking for a leading man who was without sight and could be funny and charming but also accessible and sweet," Fogelman told TV Line
Stadnik is a musical theater actor. He most recently was part of a Colorado company of Guys and Dolls, which he had to leave to be on This Is Us. His role on the NBC series was the first time he was ever acting in front of a camera. 
Fogelman reported that he did a great job despite it being his first TV gig, "It was quite a trial by fire for him, and he blew us away in every possible way."
The child actor who will play Jack will also be blind in real life
In the This Is Us flash-forward where Rebecca's family is together at her deathbed, Fogelman has noted, "Jack would be approximately 12 years old in that period you've been at with Rebecca." Fogelman explains, "What you're seeing [in the Season 4 premiere] is about 10 years-plus after that."
Therefore, we can conclude that adult Jack is about 22 in the flash-forward where he meets Lucy. We can also infer that we will see a 12-year-old child Jack in that scene with Rebecca at some point.
NBC recently put out a casting call for "visually impaired, legally blind or blind children between the ages of 8 and 15 years of age." The description went on say they are, "Seeking kids who are outgoing and friendly. Professional experience is not a requirement."
The submission deadline for the call is November 18, 2019. Our best guess is that we will see this 12-year-old Jack in a flash-forward at the end of season 4 or early season 5. He will be played by a blind child.
Until then, catch new episodes of This Is Us Tuesday nights at 9 p.m. on NBC.
Source: Read Full Article