'Tiger King 2' First Look Asks What Really Happened to Carole Baskin's Missing Husband (Video)
"Tiger King 2" debuts Nov. 17 on Netflix
"Carole told me that he hung around with a lot of unscrupulous type of people. Maybe he stuck somebody for some money, and they caught up with him," Alan Schreier, an ex-boyfriend of Baskin, says in the clip. He later adds of Lewis, "He did horrible stuff to Carole."
Check out the first clip from "Tiger King 2" above.
Withself-proclaimed "Tiger King" Joe Exotic behind bars, the Emmy-nominated saga continues with "Tiger King 2" as newfound revelations emerge on the motivations, backstories and secrets of America's most notorious big cat owners. Old enemies and frenemies, including Jeff Lowe, Tim Stark, Allen Glover and James Garretson return for another season of murder, mayhem and madness.
Season 1 of "Tiger King" followed the feud between Joe Exotic and Baskin, founder and CEO of Big Cat Rescue, a non-profit sanctuary for exotic cats in Tampa. The two faced off throughout the series, and their escalated cat fight will continue in "Tiger King 2," premiering Nov. 17 on Netflix.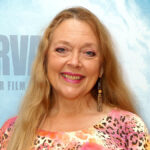 Source: Read Full Article