Carolyn thought she'd be paying bills in coins. Now her pay is off the rails
Carolyn O'Loughlin used to assume that at age 55, she was on the downward employment slope.
After working in the lower-paid, feminised industries of "retail and admin" most of her life, she never thought she would be able to afford something as luxurious as a cruise.
Carolyn O'Loughlin started a new career in the rail industry aged 55, transforming her life and her finances.Credit:Eddie Jim
"I thought my [work] life was over once I got to 55. I thought I would be separating the gold coins at this age to pay bills," said O'Loughlin, now 56.
"Coming from a job on $25 an hour, now I can go on holiday on a cruise. I just wish I knew about this [working on the railways] 20 years ago – at least I know about it now."
O'Loughlin trained as a track force protection operator [doing workplace safety] and is one of the large number of women the rail industry has been recruiting as it faces a predicted shortfall of 70,000 skilled staff needed by 2023, according to industry body the Australasian Railway Association.
She said railway work was "the best thing I've done in my life health-wise, physically and mentally", despite having believed it was "a men's job".
O'Loughlin's story is one the industry body's chief executive Caroline Wilkie hears commonly.
"Rail is one of the better-paid industries going around. There are opportunities to get into fairly entry-level roles at very generous salaries: you could apply right now to be a train diver in the Pilbara and be earning in excess of $200,000 in six to 12 months," she said.
And women from lower-paid, traditionally female-dominated industries are doing just that.
"Some of the more exciting stories I've heard are stories of hairdressers who have started driving coal trains in the Bowen Basin earning five times what they earnt as hairdressers," Wilkie said.
"They've heard about it from a sister or a friend and are really shocked to discover what amazing salaries and opportunities there are for women."
The construction industry is also actively recruiting women as it faces a labour shortfall of 105,000 workers. But so far, women account for only 12 per cent of the industry's workforce.
In rail, however, the proportion of women in the workforce jumped to 24 per cent in 2020-21 (up from 22 per cent in 2018-19, and is forecast to be up again this year).
Dannielle Walz, founder of the rail training organisation Training Ahead Australia, said interest from women had doubled since the pandemic, due in part to good wages, greater use of technologies and an authentic change in the workplace.
"Ultimately, culture in rail is changing," she said.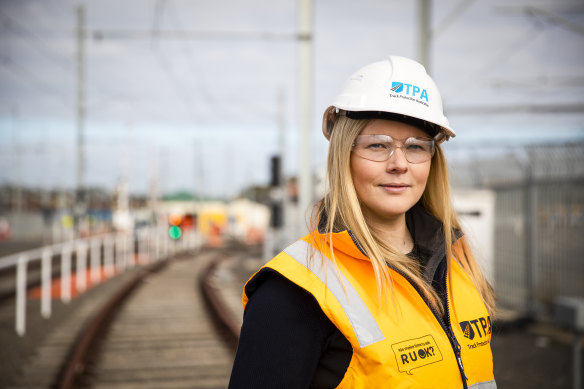 Dannielle Walz founded a training company helping to get women ready for careers in rail – where the high pay level surprises many.Credit:Nicole Cleary
"Women are doing a wide variety of roles, in business support and white-collar work but also going on the tools and operating machinery, as train drivers and labouring."
It has been five years since a report into Metro Trains by former senior detective, Val Smith, exposed claims of a toxic culture, bullying, gender discrimination and harassment.
Some evidence of change came when the state government announced it had recruited its 500th female Metro Trains driver in August.
A big campaign to attract more women into rail will be run by the rail industry body next year, alongside recruitment drives by other male-dominated trades, including civil construction.
O'Loughlin is currently working on the $531 million Gippsland rail line upgrade.
"It doesn't matter what race you are, how old you are, where you come from, your beliefs; there's a spot for everyone in this industry. I worked with a seven-months pregnant woman yesterday," O'Loughlin said.
"This job lets me pay the bills and still have some for myself, it's bloody great."
The Morning Edition newsletter is our guide to the day's most important and interesting stories, analysis and insights. Sign up here.
Most Viewed in National
From our partners
Source: Read Full Article