"Keyhole" Lip Filler Is Trendy but Controversial — Here's What You Should Know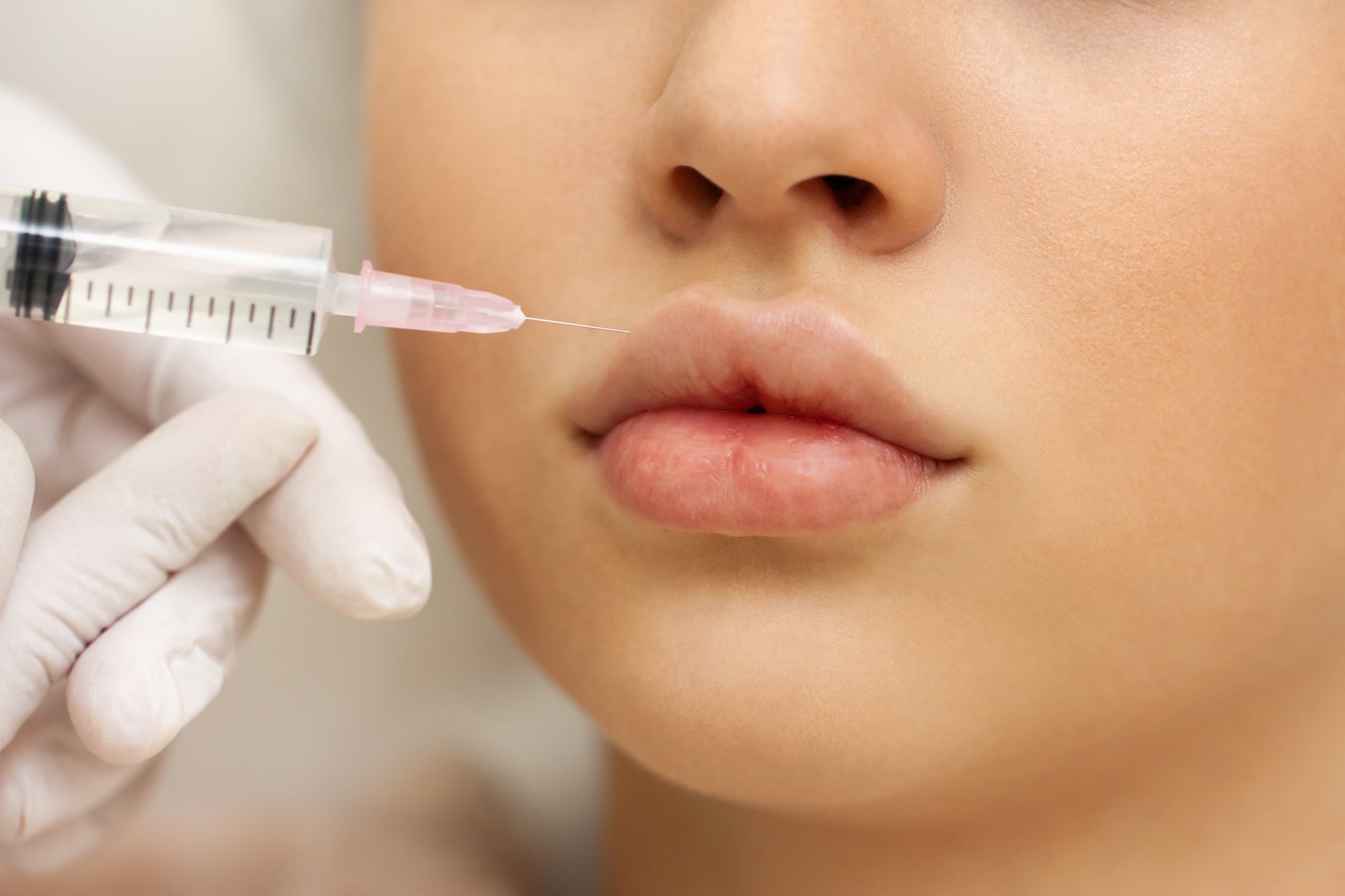 TikTok has been a mecca for cosmetic and plastic surgery procedures — more so than any other social media platform. With more people — celebrities included — opening up about the work they've had done or are considering, the candid video-sharing platform has acted as a soundboard for ideas. Doctors and patients alike trade information, leading more people to discover new approaches they hadn't previously heard of. In the world of lip filler, the "keyhole" technique is a great example of that.
Getting lip filler is a bit more nuanced than just injecting some dermal filler into your top and bottom lip to add volume — depending on how or where it's injected, you can get very distinct looks. That's where the "keyhole" lip filler technique comes in. If you've watched videos on TikTok about lip filler, chances are you've come across this trendy aesthetic result before. To learn more about it, including whether it's a good fit for you, keep reading.
What Is "Keyhole" Lip Filler?
This dermal filler technique is all about getting a particular look. "The filler is injected in a way to create a gap between the upper and lower lip, similar to a keyhole, enhancing a pouty appearance," double board-certified plastic surgeon David Shafer, MD, FACS, tells POPSUGAR. If you've eyed videos or selfies of people with perfectly plump lips that barely touch in the middle, leaving a little space the size of, well, a keyhole, then they may have gotten filler using this technique.
It's obtained through a special method of injecting. "The filler is essentially injected more laterally, leaving a medial or mill cap instead of a complete fullness across the entire lip," Dr. Shafer explains. "This adds to the contour and shape of the result." The result leaves lips looking "pouty, more contoured, and structured."
What to Know Before Getting "Keyhole" Lip Filler
You should proceed with caution when it comes to trendy procedures of any kind — what looks good on someone else may not suit you. "The vast majority of patients come in looking for a 'natural' lip augmentation," Dr. Shafer says. "In reality, the best patients are those where we are enhancing their existing shape." The most flattering lip filler result for your unique face and lip shape may be entirely different from the in-demand "keyhole" look.
"There are some techniques we can use to help alter the shape of the patient's lips and add definition, but in cases where the limits are pushed, the results start to look unnatural," he says. To find out if you're a good candidate for this particular lip filler style, it's best to consult with a board-certified dermatologist or plastic surgeon who specializes in dermal filler, and allow them to guide your decision on what you ultimately get.
"Keyhole" Lip Filler Cost
The total cost of getting dermal filler in your lips depends on where you go and where you live. On average, expect to pay between $500 and $1,000. This number is subject to change depending on how much you get and the brand used.
"Keyhole" Lip Filler Risks
Many of the risks associated with the "keyhole" lip filler technique are the same for all lip injections — this includes swelling and bruising. "If lips are overfilled, then there is also the risk of migration beyond the borders of the lips," Dr. Shafer says. "It's always best to be injected with a hyaluronic-acid-based product such as Juvederm, which has the potential to be 'melted' if there are any issues." Just keep in mind that getting filler dissolved comes with its own costs, not to mention some pain and discomfort.
"Keyhole" Lip Filler Before and After
https://www.instagram.com/p/CEQLnURDJQJ/
Source: Read Full Article