Donald Trump Sent Out A Cryptic Email With Only Three Words. Heres What It Said
The year 2021 has been anything but ordinary, especially in the months of July and August. Besides the fact that the world is still dealing with a pandemic and parts of Europe are on fire amid scorching heat waves, American politics have been plagued with scandals — with the most prominent involving Andrew Cuomo. The soon-to-be-former Governor of New York announced his resignation on August 10 following a number of sexual harassment allegations. Though he denied "intentionally mistreating women" (per Associated Press), he said: "The best way I can help now is if I step aside and let the government get back to governing."
One ex-politician who has been making a few fewer headlines these days is Donald Trump, who is currently living his post-presidency days at Mar-a-Lago. However, he recently started sharing statements via his Save America PAC, which he uses to make statements on everything from bills to other politicians. Now, a new three-word e-mail has led to social media users to try to decipher his cryptic message. Scroll ahead to find out what he wrote.
What does Donald Trump's statement mean?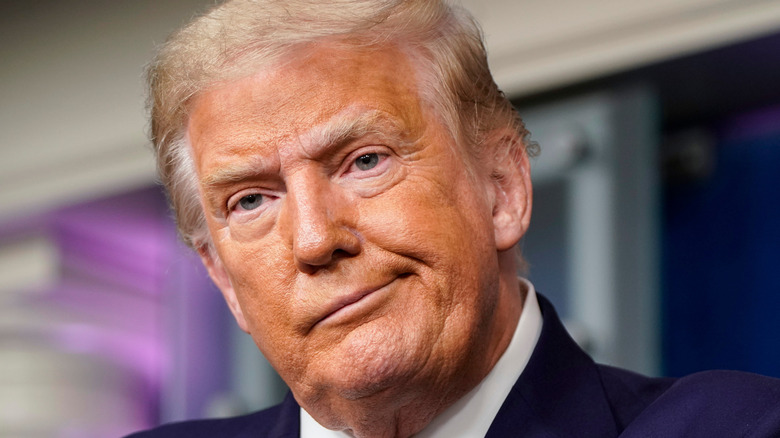 Former President Donald Trump's statements in recent weeks have raised some eyebrows — to say the least. One particularly bizarre statement about the new infrastructure bill came on August 11. "While you were all sleeping, the Radical Democrats advanced a plan that will be known as the $3.5 trillion Communist Plan to Destroy America," he wrote. "This legislation is an assault on our Nation, on our communities, and on the American Dream." Trump added, "And don't forget the crazy Green New Deal. America, you are being robbed in the dark of night. It's time to wake up!"
It's his latest e-mail, though, that really has everyone scratching their heads. Trump sent a three-word message to his recipients. In capital letters, he wrote: "Bullies never fight." He did not provide an explanation for his statement nor did spokesperson Liz Harrington offer any clarification.
This led the internet to come up with their own conclusions. "Wow. He finally confessed what a coward he is. And admitted he sent his supporters to the Capitol to do the dirty work for him. Progress!" Luke Zaleski, an editor at Condé Nast, wrote via Twitter. Meanwhile, others poked fun at the e-mail by sharing random three-word tweets like "Yellow matter custard," "Purple monkey dishwasher," and "Pot meets kettle."
Source: Read Full Article