Emilia Clarke Attempts to Clear Her Name in 'Game of Thrones' Starbucks Cup Fiasco
• A coffee cup that resembled a Starbucks cup was spotted in the latest episode of Game of Thrones, and it has sent the internet into a week-long frenzy.
• Emilia Clarke, who plays Daenerys Targaryen, posted in Instagram attempting to clear her name.
• Some reports say that the cup isn't actually a Starbucks cup.
The saga of the Game of Thrones Starbucks-resembling coffee cup continues to rage on, even though it's since been removed from the episode. The Queen of Dragons herself has finally weighed in, in an attempt to clear her name of wrong-doing.
In an Instagram post that pictured Emilia Clarke alongside Peter Dinklage and Jason Momoa (whose character, you might remember, died back in season one—hmmmmm), Clarke attempted to clear her name from the ongoing Starbucks-gate that's taken the week in culture by storm. She stuck with the argument that she leaves the bag IN her cup of tea—meaning the rogue beverage couldn't possibly be hers.
In case you somehow missed it, Game of Thrones managed to bungle a split second of the final cut of season 8 episode 4, "The Last of the Starks," by leaving a coffee cup in frame. Look in the bottom right corner, next to Clarke's Daenerys: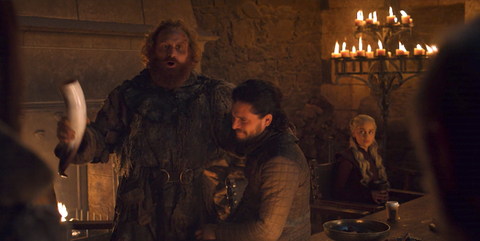 HBO
Clarke's Instagram read as such:
"Did I just stumble upon the truth here?! The cup bearer does not drinketh the Starbucks tea… oh and this ain't a spoiler just a lost wanderer coming home for a mid filming cuppa….🔥 @prideofgypsies you so fire you make my hair turn blue.
#forfuturereferenceileavethebagin#drogonyouhavemyheart4lyfe#familyvalues @gameofthrones#forthethrone #forthecaffeine#forthedragons #🔥 #🙌 #❤️"
With much attention falling on this gaffe, the New York Post actually reported that the cup was not, in fact, from Starbucks at all.
"The disposable cup, which showed up in the final cut of a scene in the fourth episode of the eighth and final season of the popular medieval fantasy show on HBO, was from a different 'establishment.'"
Regardless, the mistake has been a massive boom for the coffee giant—according to CNBC, Stacy Jones, a Hollywood marking executive who specializes in product placement campaigns, put the estimated value of all the buzz at $2.3 billion, while saying that an intended product in frame like that would be worth upwards of $250,000.
Check out Clarke's post below:
View this post on Instagram
Did I just stumble upon the truth here?! The cup bearer does not drinketh the Starbucks tea… oh and this ain't a spoiler just a lost wanderer coming home for a mid filming cuppa….🔥 @prideofgypsies you so fire you make my hair turn blue. #forfuturereferenceileavethebagin #drogonyouhavemyheart4lyfe #familyvalues @gameofthrones #forthethrone #forthecaffeine #forthedragons #🔥 #🙌 #❤️
A post shared by @ emilia_clarke on
Source: Read Full Article