James Franco Agrees to $2.2 Million Settlement to Resolve Sexual Misconduct Suit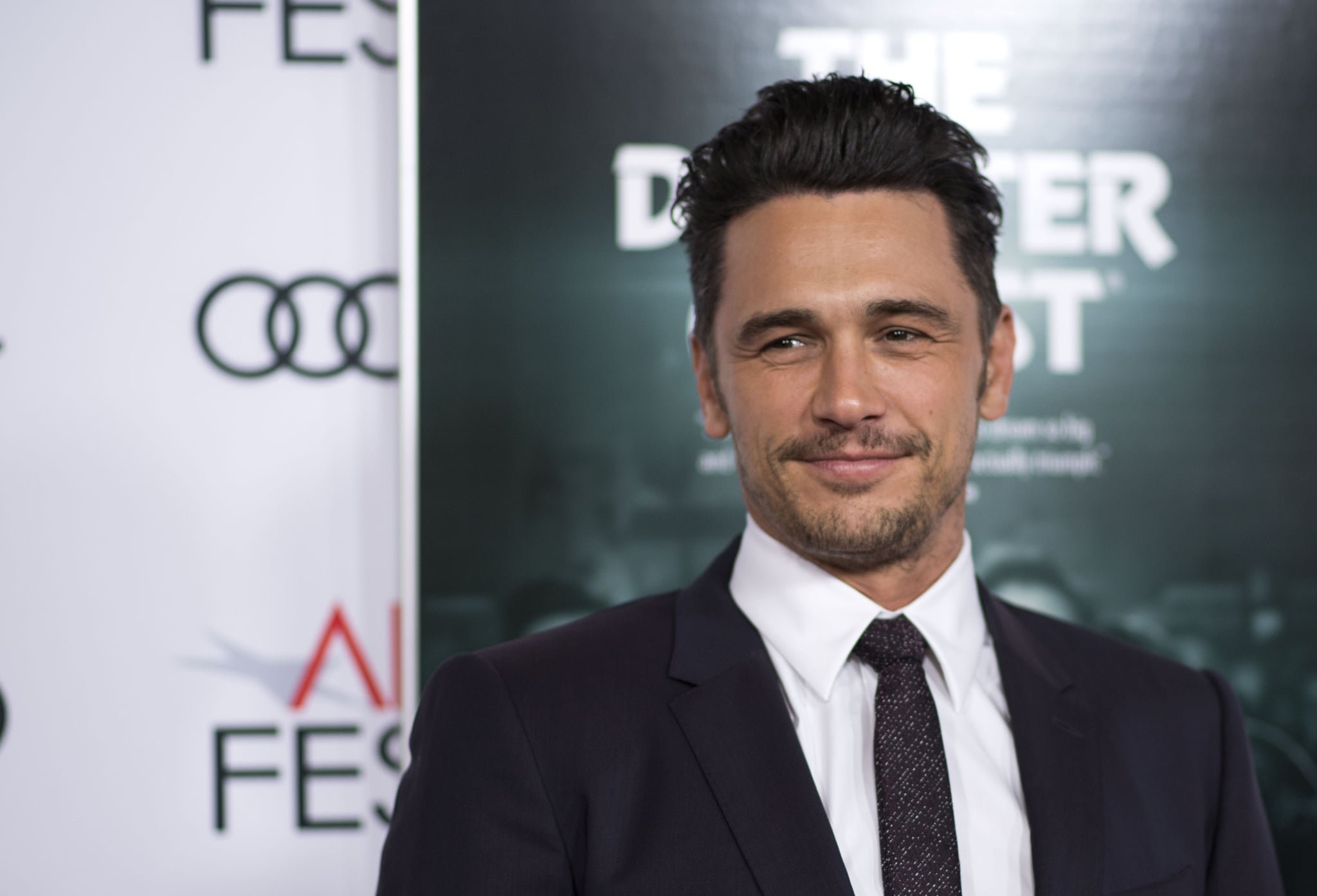 Image Source: Getty / VALERIE MACON
While gaining praise for his work in The Disaster Artist during the 2018 award season, James Franco's acting career wasn't the only thing that made headlines. Shortly after taking home a Golden Globe for his portrayal of director Tommy Wiseau, the actor faced multiple sexual misconduct allegations from several women who have worked with him previously. You can read the most important details ahead.
James wears a Time's Up pin at the Golden Globes. During the 2018 award show, the actor sported a Time's Up pin in support of the initiative to end sexual harassment and assault in the workplace.
Ally Sheedy posts (and then deletes) tweets about James. Shortly after the show, The Breakfast Club actress expressed her disdain for the actor — whom she previously worked with in 2014 during an Off-Broadway production of The Long Shrift — in a series of tweets that have since been deleted. "Why is a man hosting?" she wrote about the show's emcee, Seth Meyers. "Why is James Franco allowed in? Said too much. Nite love ya #goldenglobes." She also seemed to suggest that people like James led her to her decision to stop acting, adding, "Ok wait. Bye. Christian Slater and James Franco at a table on @goldenglobes #MeToo. James Franco just won. Please never ever ask me why I left the film/tv business."
Violet Paley accuses James of inappropriate behavior. Ally wasn't the only actress to call James out after his win. Violet Paley, who has had small roles in series like Sex&Drugs&Rock&Roll and Dad Friends, alleged that James had been inappropriate on several occasions. "Cute #TIMESUP pin James Franco," she tweeted. "Remember the time you pushed my head down in a car towards your exposed penis & that other time you told my friend to come to your hotel when she was 17? After you had already been caught doing that to a different 17 year old?" She also alleged that James offered her and a few other girls "an overdue, annoyed, convenient phone apology" shortly before the Golden Globes.
The New York Times cancels James's TimesTalk. On Jan. 9, 2018, The New York Times decided to cancel the actor's TimesTalk about The Disaster Artist, which was scheduled for Jan. 10. "The event was intended to be a discussion of the making of the film, The Disaster Artist," a Times representative told The Hollywood Reporter. "Given the controversy surrounding recent allegations, we're no longer comfortable proceeding in that vein."
James denies allegations. During a January 2018 appearance on The Late Show, James broke his silence after host Stephen Colbert pressed him about the allegations. "The things I heard are not accurate," James said before adding that he still completely supports people for speaking out. "They didn't have a voice for so long," he said, alluding to the Time's Up movement and his decision to wear the pin in solidarity at the Golden Globes. "So, I don't want to shut them down in any way. It's a good thing and I support it." He also addressed Ally's tweets, adding that he has "no idea" what he did to her, but he has nothing but "total respect for her." He reiterated the same sentiment during an appearance on Late Night with Seth Meyers, who hosted the Golden Globes, on Jan. 10, 2018.
Five women accuse James of sexually inappropriate or exploitative behavior. On Jan. 11, 2018, The LA Times published an article featuring interviews from five different women, four of whom were James's students and one of whom was being mentored by him, claiming the actor had been "inappropriate or sexually exploitative." One woman named Sarah Tither-Kaplan even spoke out on Twitter, writing, "Hey James Franco, nice #timesup pin at the #GoldenGlobes, remember a few weeks ago when you told me the full nudity you had me do in two of your movies for $100/day wasn't exploitative because I signed a contract to do it? Times up on that!"
James's attorney denies additional allegations. The LA Times added in their piece that James's attorney has denied each of the women's allegations, referring back to the actor's appearance on The Late Show as his official statement.
James skips the Critics' Choice Awards. On Jan. 11, 2018, the actor skipped the award show, where he won best actor for The Disaster Artist. "He's in a really bad place, so bad that he changed his phone number," a source told People. "His close friends are trying to be there for him but it's been hard — he's only talking to a select group of people. For now, he's just hiding out."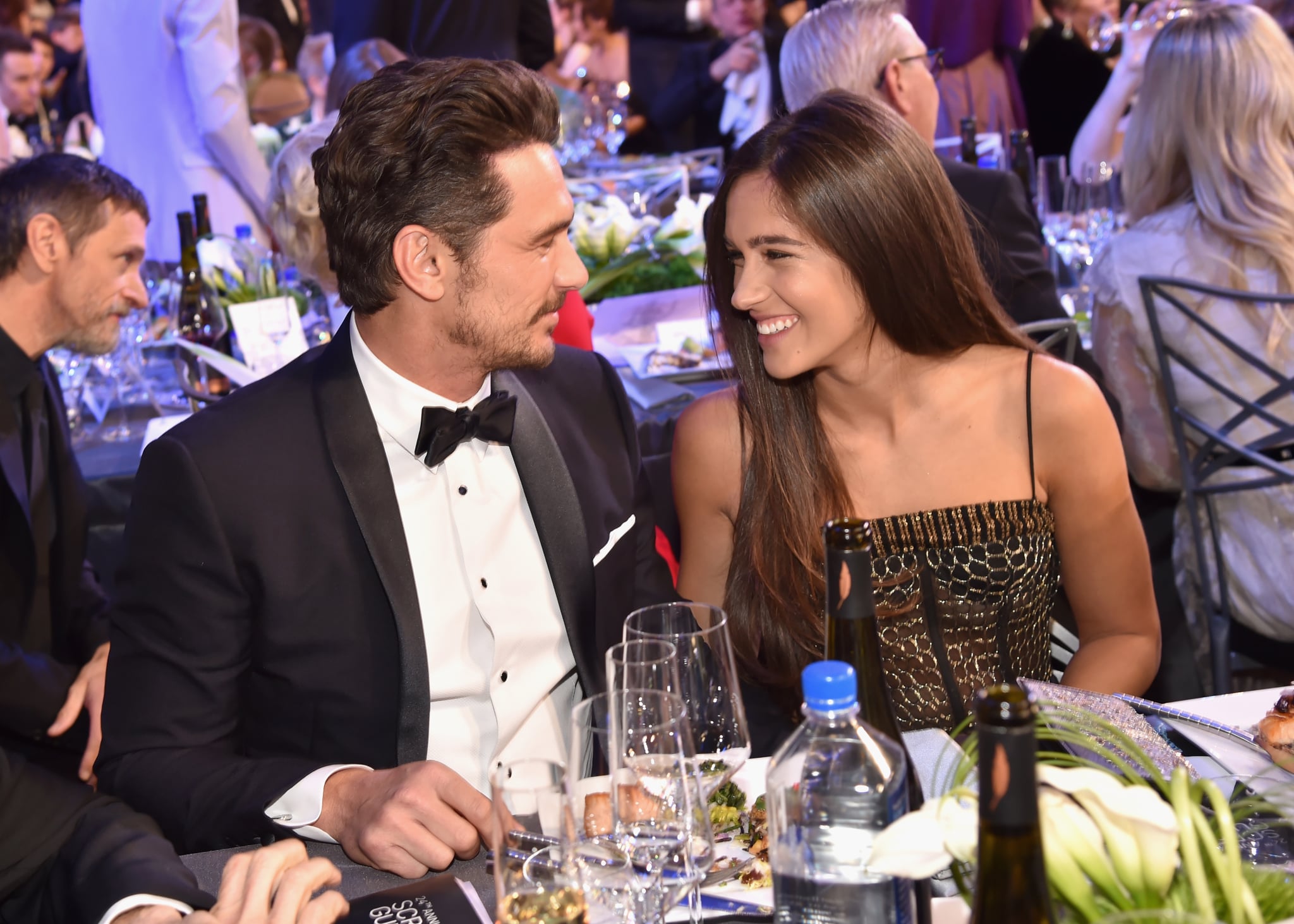 Image Source: Getty / Kevin Mazur
Alison Brie defends James. During the red carpet for the 2018 SAG Awards, the GLOW actress, who is married to Dave Franco, defended her brother-in-law after E! News reporter Giuliana Rancic pressed her about the sexual misconduct allegations. "I think that above all what we've always said is that it remains vital that anyone that feels victimized should and does have the right to speak out and come forward," Alison said before adding, "I obviously support my family, and not everything that's been reported has been accurate, so I think we're waiting to get all the information."
James attends the SAG Awards. On Jan. 21, 2018, the actor made a low-key appearance at the SAG Awards, where he was nominated for outstanding performance by a male actor in a leading role for The Disaster Artist. Although he opted to skip the red carpet, he was spotted sitting with his girlfriend Isabel Pakzad (pictured above) during the ceremony.
James is passed over for an Oscar nomination. In the wake of the sexual misconduct allegations, the actor received no Oscar nomination for best actor.
Two of James's accusers speak out on Good Morning America. On Jan. 23, 2018, Sarah Tither-Kaplan and Violet Paley sat down with reporter Amy Robach to discuss their reason for coming forward about James's inappropriate behavior. While Sarah said that he is "absolutely not a Harvey Weinstein," she added that he did create "exploitative environments for non-celebrity women on his sets." "It is a pyramid and at the top is rape and sexual violence and at the bottom are the other abuses of power that when they continue to happen over and over build and build and build and create a culture that allows the most heinous examples of sexual violence and misogny and discrimination to happen and if we allow any of them, we're allowing all of them."
James is digitally removed from Vanity Fair cover. On Jan. 25, Vanity Fair released their 2018 Hollywood Issue highlighting "12 Extraordinary Stars," including actors like Reese Witherspoon, Oprah Winfrey, and Tom Hanks. According to The Hollywood Reporter, James was to be featured on the cover, but was digitally removed last minute amid his sexual misconduct allegations. "We made a decision not to include James Franco on the Hollywood cover once we learned of the misconduct allegations against him," a spokesperson for Vanity Fair told THR.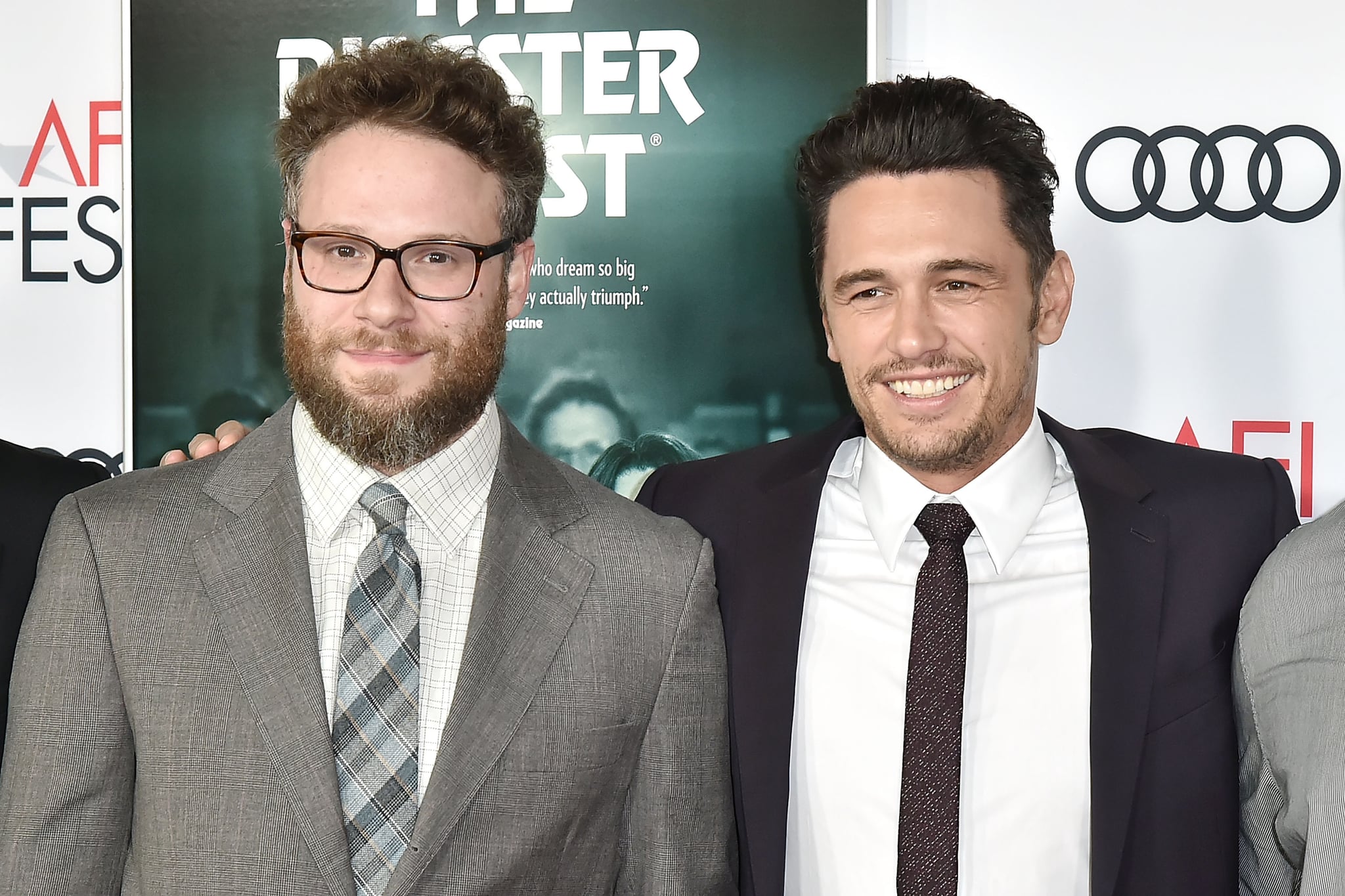 Image Source: Getty / David Crotty
Two former students of Franco's acting class file lawsuit. In 2019, Sarah Tither-Kaplan and Toni Gaal filed a lawsuit alleging that James "pushed his students into performing increasingly explicit sex scenes on camera" in ways that weren't acceptable on film sets. The lawsuit further stated that James "sought to create a pipeline of young women who were subjected to his personal and professional sexual exploitation in the name of education." In February 2021, a tentative settlement was reached after Sarah and Toni agreed to drop their individual claims.
Charlyne Yi accuses Seth Rogen of enabling James's abuse. On April 8, 2021, Charlyne used Instagram to call out the longtime collaborators. In her statement, she alleged that Seth enabled James, who she accused of "preying on underage girls" and "abusing his power and platform to gaslight them." She added that she had tried to quit her role of Safowa Bright-Asare on The Disaster Artist but was bribed with a "bigger acting role." She also said that "Seth Rogen was one of the producers on this film so he definitely knows about the bribe and why I quit."
Seth Rogen addresses Charlyne's comments. In an interview with The Sunday Times on May 9, Seth stated that he despises "abuse and harassment and I would never cover or conceal the actions of someone doing it, or knowingly put someone in a situation where they were around someone like that." He also reflected on 2018 comments made about working with James in the future and whether his perspective was important. "The truth is that I have not and I do not plan to [work with James] right now," the comedian said. When asked what his relationship was with James at the time, he couldn't quite define it but that "I can say it, um, you know, it has changed many things in our relationship and our dynamic." On May 13, Charlyne posted a checklist on her Instagram of actions she would like Seth to commit to, including apologizing to "survivors for making their lives even more vulnerable by publicly siding with an abuser," committing to "educating self about coercion, SA, and how to be a proactive ally," and protecting and hiring survivors.
James agrees to settlement. The actor agreed to pay $2,235,000 to resolve the lawsuit brought forth by Sarah Tither-Kaplan and Toni Gaal. Sarah is set to receive $670,500 minus lawyer fees of $223,500 and Toni will get $223,500 minus lawyer fees of $74,500. The other students involved in the lawsuit will receive, according to The Hollywood Reporter, "almost two-thirds of the remaining $1.341 million." James also agreed to non-economic terms for individual plaintiffs. As part of the settlement, both parties agreed to the following statement: "While Defendants continue to deny the allegations in the Complaint, they acknowledge that Plaintiffs have raised important issues; and all parties strongly believe that now is a critical time to focus on addressing the mistreatment of women in Hollywood. All agree on the need to make sure that no one in the entertainment industry — regardless of race, religion, disability, ethnicity, background, gender or sexual orientation — faces discrimination, harassment or prejudice of any kind."
Source: Read Full Article