Katherine Schwarzenegger Says Splitting Time Between L.A. and Chris Pratt's Farm Helps Her Keep "Balance"
If you follow either Chris Pratt or Katherine Schwarzenegger on Instagram, you can probably tell they really love animals. Like, really, really love them. Depending on the day, the two of them can be spotted hanging out with dogs, goats, horses, sheep, or massive cows such as this adorable creature…
From Longhorn to Snow Bunny. Learn how BabyGurl does it all and still manages to brings the fire in an all new episode of The Real House Cows of #Farmlife Hills
A post shared by chris pratt (@prattprattpratt) on
While they're both based in L.A., Chris owns a farm in Washington state, and Katherine told Cosmopolitan that splitting time between the city and country has helped her maintain a balance.
"I love being able to have that be a huge part of my life," she said. "I think it's a really amazing gift to be able to be in L.A., to be working and traveling and in that environment and then be able to take a breath and be around animals is, for me, a really great balance. I love being able to go visit my horse, to go be around goats, and lambs, and dogs."
I have often wondered why his hands were so rough. Now i know. He works the farm. He's a real man. (Katherine asked me what to write so I wrote the above even though it is not true. Full disclosure: I have very soft hands. I literally cut my hand today i think, on a lamb. I am from Hollywood. Love, Chris) #farmlife
A post shared by Katherine Schwarzenegger (@katherineschwarzenegger) on
@katherineschwarzenegger rocks the latest trend in fierce accessories. The eggshell wool baby lamb. Super high maintenance but worth it for this fashion icon. #farmlife
A post shared by chris pratt (@prattprattpratt) on
That's why it makes sense that she just partnered with Pedigree to produce a podcast exclusively about doggos. It's called "The Dog That Changed Me," and in each episode, Katherine talks to a celebrity guest about their experiences with animal rescue and owning pets.
Please enjoy this shameless plug from Chris:
Love all things dogs? Be sure to download the first five episodes of (future Mrs Pratt) @katherineschwarzenegger podcast! Spoiler alert my best buddy and JurassicWorld co-star @brycedhoward is one of the guests! AMAZING!!! The others include @mandymooremm @minkakelly and @haylieduff don't miss it! Click the link in Katherine's Bio!👍🏼
A post shared by chris pratt (@prattprattpratt) on
Katherine rescued her dog Maverick in 2013, and she definitely wants animal rescue to be a part of her life going forward (as well as lots of kids, if you ask her fiancé).
"I definitely would love to be able to foster more dogs and hopefully adopt more dogs in my future, for sure," she said.
Sleepy newborn lamb 🥰
A post shared by Katherine Schwarzenegger (@katherineschwarzenegger) on
Oh, and as for that whole wedding thing? Even though Katherine's admitted she's not sure yet whether Maverick will be involved in the ceremony, the whole planning process has been awesome, even if she and Chris haven't gotten that far yet.
"Yeah, it's going really well," Katherine told Cosmo. "I mean, it's a really exciting time, and it's been a really fun and an enjoyable process for me and I just feel really lucky."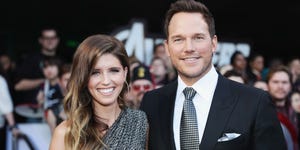 Source: Read Full Article