The Most Expensive Things Jeff Bezos Owns
In 2021, the same year he stepped down as Amazon's CEO, Jeff Bezos was dubbed the richest man in the world for the fourth year in a row by Forbes. Given his esteemed status, this beyond-rich American – who topped Tesla's Elon Musk and who surpassed tech magnate Bill Gates on the Forbes list by billions — obviously has the ability to buy whatever he wants. And he does, with purchases so varied and outlandish that they go well beyond the average person's imagination. Bezos is worth more than $191 billion as of August 2021.
Bezos' distinctive tastes were nurtured by vast earnings achieved about eight years after he ditched a high-profile Wall Street job, a gig he landed after graduating from Princeton. So why did he make this career move? Partially because, when he was 30, Bezos read "a report about the rapid growth of the internet" (according to Inc). Spurred on by this information, the "unfulfilled" Ivy Leaguer eventually evacuated his lucrative post in New York City to settle in Seattle, where he started Amazon in 1994 as a simple online bookstore that finally paid off big-time. Indeed, with this upstart, Bezos ultimately became the biggest winner ever in the unofficial entrepreneurial sweepstakes.  
Here's how mogul Jeff Bezos has spent a tiny portion of his massive earnings to own what have become his favorite — and, not coincidentally, his most expensive — things.
Jeff Bezos counts a giant, 10,000-year-old clock among his most valuable things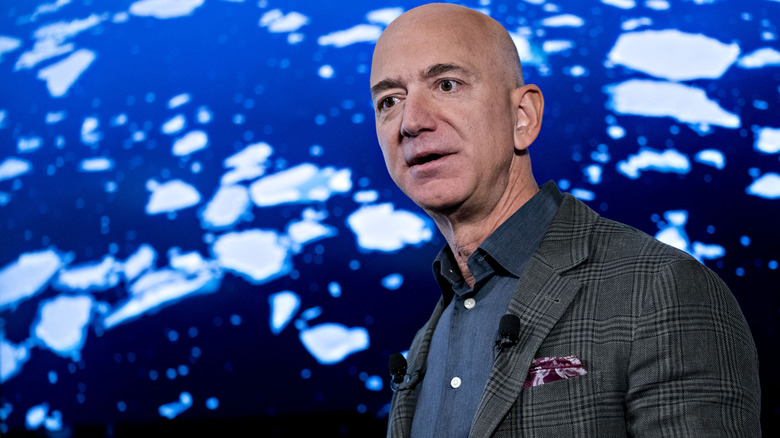 Jeff Bezos plunked down $42 million on a clock that only ticks once every year, according to Popular Mechanics. Called the 10,000 Year Clock, this monstrosity is so big that the as-yet-unfinished mechanical wonder — designed by inventor and MIT professor Danny Hillis to cuckoo once a millennium — is being worked on in its home, a voluminous space Bezos had carved out of a West Texas mountain. When done, the clock will reportedly "keep time for the next 10,000 years."
This outlandish purchase may seem wacky to mere mortals who likely wonder why anyone would spend millions of dollars on a massive timepiece that doesn't even do its job. Well, apparently, Bezos was the ideal candidate to buy into this particular machine, partially because he took "an early interest in how things work," per Biography. When he was a kid, he even reinvented the family garage by turning the space "into a laboratory." Back then, he would also install "electrical contraptions around his house." 
And so, with that background in mind, Bezos' purchase of this over-the-top clock isn't so far-fetched. "As I see it, humans are now technologically advanced enough that we can create not only extraordinary wonders but also civilization-scale problems," Bezos wrote on his clock's website. It is this thriving entrepreneur's prerogative to buy anything he desires at, um, any time he wishes to do so. 
A Beverly Hills mansion once owned by studio head Jack Warner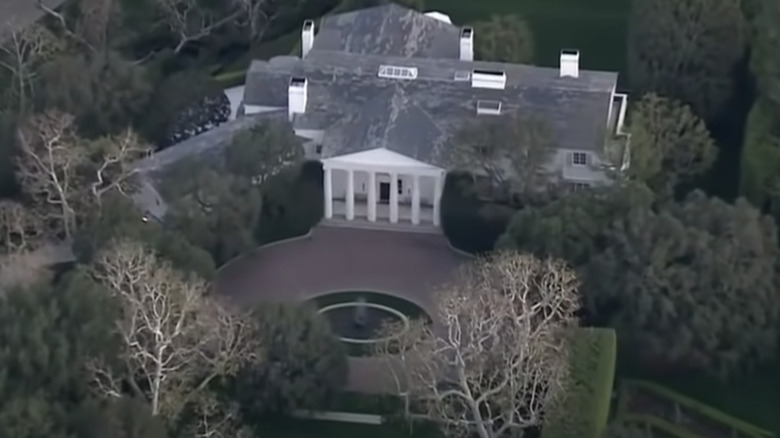 The year after his legal separation from MacKenzie Scott, Jeff Bezos bought the opulent Warner Estate in Beverly Hills' Benedict Canyon from music mogul David Geffen for $165 million, Variety reported. Designed during Hollywood's Golden Age by acclaimed architect Sumner Spaulding, this 9-acre acquisition boasts a stately main house on 14,000 square feet. The sprawling grounds feature a golf course, swimming pool, gardens, and a tennis court. Bezos dropped another $10 million on an adjacent house, which Variety says has six fireplaces, a media room, and more.
When he purchased this prime Los Angeles-area estate, Bezos had been dating Lauren Sanchez for more than two years, according to Business Insider. Sanchez has ties to the City of Angels as a former news anchor for a local Fox show, and she has experience as an actor. In his divorce, Bezos reportedly forfeited his former Beverly Hills retreat, per Variety, so these reasons could be why he and Sanchez put down heavy-duty roots in the vast metropolis. 
Those roots are enviable by any real estate standards. Bezos' initial 2020 Beverly Hills property was regarded as "one of the most beautiful properties in the world, let alone Los Angeles," by agent Kurt Rappaport, per The Wall Street Journal. The outlet quotes local real-estate guru Jeff Hyland's book, "The Legendary Estates of Beverly Hills": "No studio czar's residence … has ever surpassed in size, grandeur, or sheer glamour the Jack Warner Estate on Angelo Drive in Benedict Canyon." 
Jeff Bezos spent $23 million on Washington, D.C.'s largest home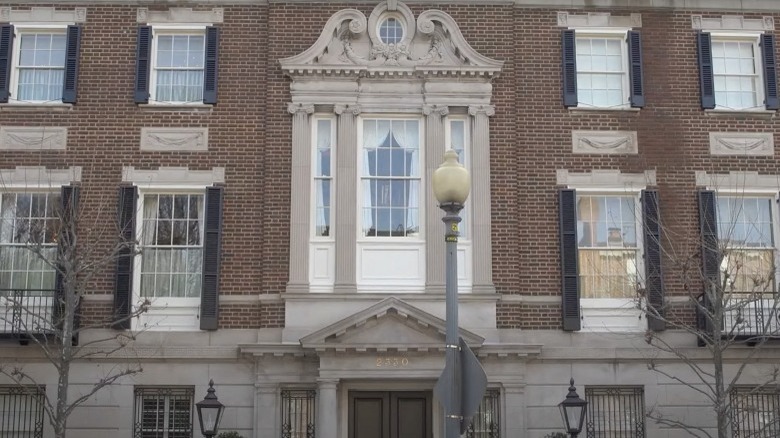 Superlatives continue to accompany nearly all the big-ticket items Jeff Bezos purchases, as evidenced by his 2016 acquisition of "the biggest home on the block," WUSA9 reported. Not only is his Kalorama neighborhood abode massive, but it also holds a unique pedigree: Bezos' new digs were a museum. Once home to The Textile Museum, the outpost moved to a George Washington University address in Foggy Bottom after 90 years in Kalorama.
The highfalutin place, which its new owner set out to renovate, actually takes up two separate buildings in a residential area, per Washingtonian. Certain residents through the years, like FDR, Woodrow Wilson, and the Obamas, are arguably even more famous than Bezos.
The Washington Post reported that an "anonymous buyer" purchased the famous manse for $23 million — paid for in cash. The outlet also provided insight into why the two buildings reside on the National Register of Historic Places. While Jefferson Monument architect John Russell Pope designed one, the other was the brainchild of Washington, D.C. local Waddy Butler Wood, a renowned architect. Jeff Bezos obviously knows a good building when he sees one. Make that two. 
Jeff Bezos bought The Washington Post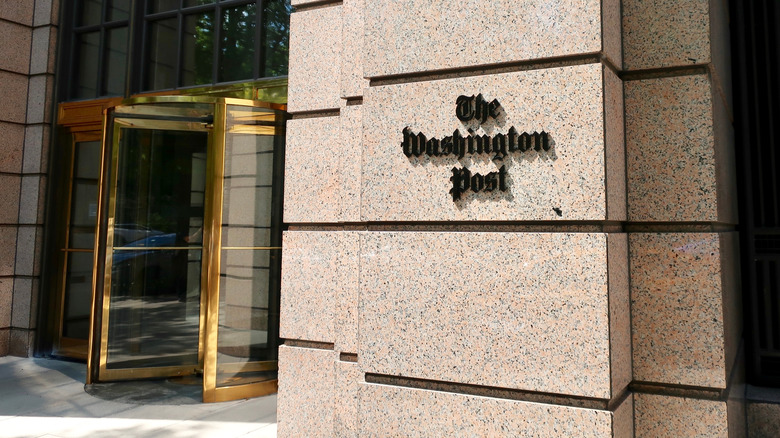 Jeff Bezos bought The Washington Post in 2013 for $250 million, but he didn't try to overtake the regime. Instead, he made sure Marty Baron, the editor of the paper, and Katharine Weymouth, the publisher, maintained their posts after the acquisition, the newspaper's media reporter, Paul Farhi, tweeted at the time.  
In an interview with Vox Media's Code Conference, Bezos had been "nervous" about taking over, admitting he "didn't know anything about the newspaper business." But then, his friend and The Washington Post's former CEO, Donald Graham, told him, "We've got a lot of people who know about the newspaper business, but what we really need is somebody who knows something about the internet." Ultimately convinced he could bring something "to the table," Bezos wanted to preserve the venerable newspaper, calling it "an important institution."
The Post had not been faring well financially when Bezos came on board to lead the herd, The Atlantic reported. However, Jeff Bezos didn't say things would change drastically under his tenure. In his letter to employees, Bezos noted that change would come over multiple years. "There is no map, and charting a path ahead will not be easy. We will need to invent, which means we will need to experiment," he wrote. Along with the newspaper of record, Bezos' purchase also included The Post's website, suburban Washington papers, and the Spanish-language publication El Tiempo Latino. 
Jeff Bezos bought a Manhattan penthouse and the two apartments below it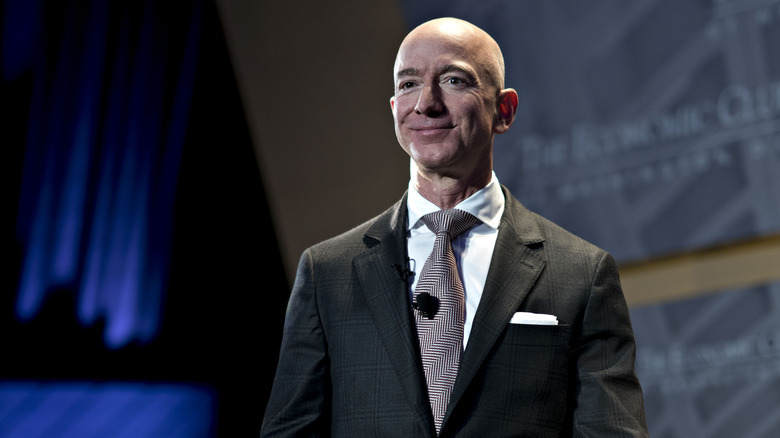 Another giant real estate purchase Jeff Bezos made got him three adjoining New York City apartments on Fifth Avenue close to Madison Square Park, maintains The Wall Street Journal. The outlet cites "people familiar with the transaction" when noting that the tech magnate paid "around $80 million" for these east coast homes during a post-divorce buy in June 2019. 
Once again, in the money-topping condo spread deal, Bezos made history by taking over the prime penthouse and the two apartments below it, with The Wall Street Journal calling this purchase "the priciest ever closed in New York south of 42nd Street." The outlet stated that the acclaimed owner's Manhattan digs include a dozen bedrooms in an area measuring a resounding 17,000 square feet.
The New York Post said a source told them Bezos had been "looking for a new home now that he is single again." The outlet remarked that the Amazon chief already owned a quartet of chic condos on Central Park West. These residences thrive in a building called The Century, known for its Art Deco splendor and its prominent positioning near Columbus Circle.
Jeff Bezos spent millions of dollars on his own private jet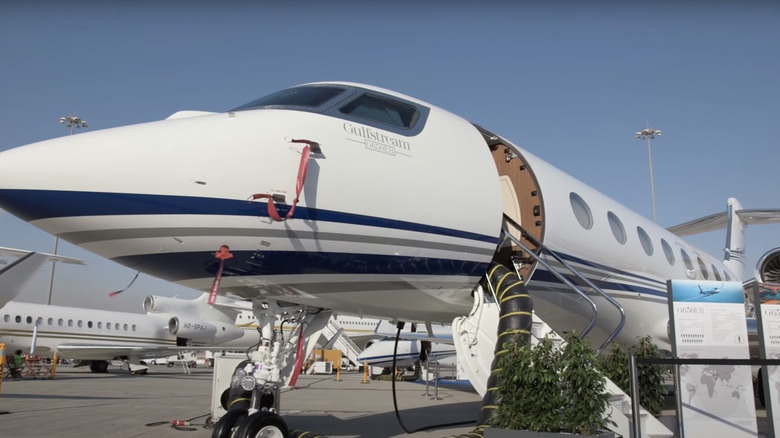 A man who owns a number of homes that stretch from one end of the country to the other (and who attends meetings all over the world), needs a way to hop from one place to the next at the drop of a hat. Enter Jeff Bezos' Gulfstream 650ER, a plane he purchased for his private use, according to Business Insider. The price he paid for this model? At least a cool $65 million, Business Insider estimates. 
Still, Bezos wasn't content to just own one of these jets. So, he bought a second one in 2019. But wait. The spending didn't stop there. To make the inside of these high flying objects — said to be among the fastest business jets in the sky — as keen as the outside, Bezos invested an estimated $5 million each to deck out their interiors, explained Private Jet Clubs. 
Bezos and girlfriend Lauren Sanchez enjoyed the luxurious ride when the pair flew on the eight-seater to Miami for a quick getaway in 2019, reports the Daily Mail. That same year, they were also passengers on his Gulfstream 650ER during a flight to Boston to see Bezos' son at MIT.
Jeff Bezos and Barry Diller own outrageously expensive yachts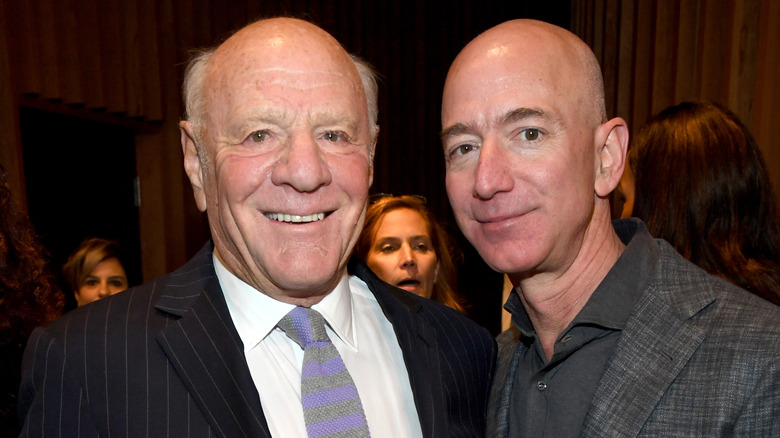 Fox Broadcasting Company owner Barry Diller and Jeff Bezos are both yachting fans. A 417-foot-long superyacht by Oceanco, similar to one Diller owns, is rumored to join the ranks of Bezos' most prized possessions. The cost? An estimated $500 million, give or take, Bloomberg reported.
In production as of 2021, Bloomberg reported that the finished Y721 product, with its three giant masts, would be "one of the largest sailing yachts ever built in the Netherlands, the unofficial capital of boat building for the extremely rich." So, apparently, Bezos went to the right manufacturer for his seaworthy vessel, a "pet project" (per Bloomberg) that is thought to include floating helipads on a support boat (via MSN). Other details about this superyacht have remained hush-hush, but MSN did report that when the COVID-19 pandemic took hold around the world, the sale of such extravagant boats, well, "buoyed." 
Whole Foods is part of Jeff Bezos' portfolio of high-profile holdings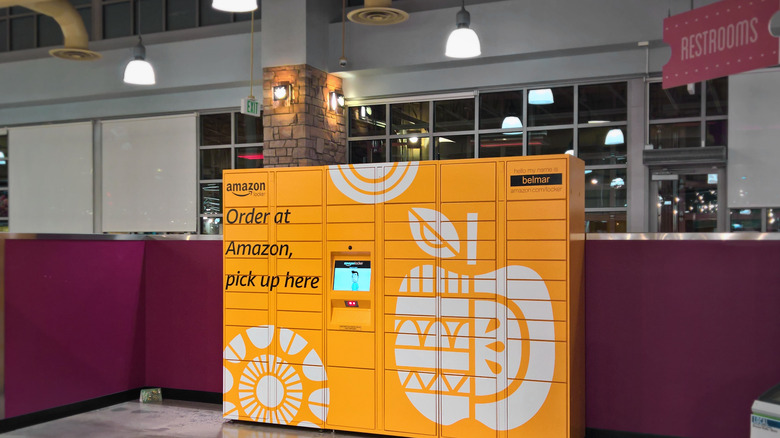 Who knew until he sunk $13.7 billion into buying Whole Foods that Jeff Bezos was so keen on groceries? Healthy groceries, to be exact. Bezos defended his decision to purchase the Austin, Texas-based grocery company, saying, in a press release, "Millions of people love Whole Foods Market because they offer the best natural and organic foods, and they make it fun to eat healthy. Whole Foods Market has been satisfying, delighting and nourishing customers for nearly four decades — they're doing an amazing job and we want that to continue."
The Whole Foods site offers both an online and a pick-up purchasing option via Amazon Prime — obviously an element Bezos put in place once he took over the brand. The grocery's site also includes details on weekly sales and even some recipes using Whole Foods products that offer basic training for those of us who have not yet conquered our gourmet cooking skills.
Jeff Bezos traded in his Wall Street job to start Amazon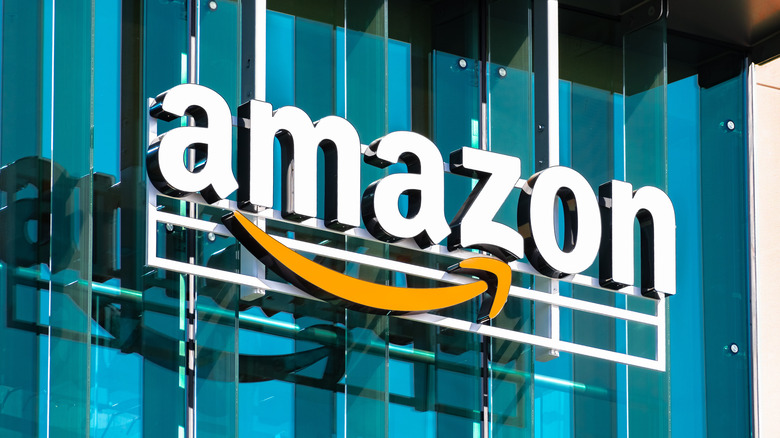 Jeff Bezos may no longer be the leading executive behind Amazon, but he still holds plenty of power as the founder of the world's largest retail business. Worth more than $1.75 trillion as of July 2021, Bezos is the major Amazon shareholder, CNN states. 
Even after Andy Jassy took over the chief executive title at Amazon from his colleague, who held the title for more than two decades, Bezos will "likely stay involved" in the company. Global technology analyst for market research organization Nucleus Research, Daniel Elman, told CNN that after leaving his post, the former Amazon leader will be "able to focus on company-wide initiatives and new products and services." Elman added that Bezos' capability "for cutting through noise identifying high-value opportunities cannot be overstated … so it would make sense for Amazon to free him from the operational grind to maximize those areas."
Going to space in his own rocket was Jeff Bezos' dream come true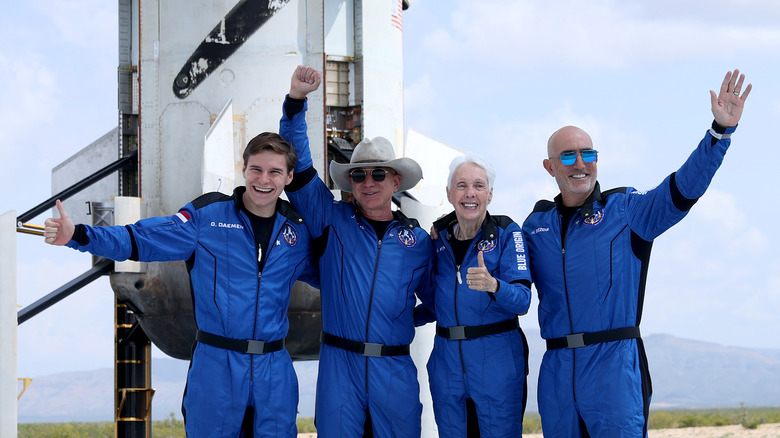 A lifelong "Star Trek" super fan, Jeff Bezos' creation of Blue Origin is not surprising. Since its inception in 2000, the eager aerospace company is funded by $1 billion per year of the maverick's Amazon stock. "I'm in the process of converting my Amazon lottery winnings into a much lower price of admission so we can go explore the solar system," Bezos said upon acceptance of the Buzz Aldrin Space Exploration Award in 2018, reported the Los Angeles Times.
When he was a kid, Bezos dreamed of making space a viable option for everyone with "hotels, amusement parks, yachts, and colonies for two and three million people…" Bezos also wanted to remove everyone from the earth in order to "preserve" it as a national park. He laid out these plans during his graduation speech given on June 20, 1982, as valedictorian of his South Florida high school, per the Miami Herald (via CNBC). Although his dream still seems far, far away, Bezos experienced the great unknown when Blue Origin's New Shepard grazed outer space during an 11-minute voyage on July 20, 2021, The Atlantic reported. 
Bezos' space exploration experiences won't stop there. For the mid-2020s, an even bigger Blue Origin rocket (New Glenn) is being readied so that both people and cargo, including satellites, can take part in regular space missions launched out of Cape Canaveral, per Space.
The Bezos Day One Fund is one of Jeff Bezos' prized possessions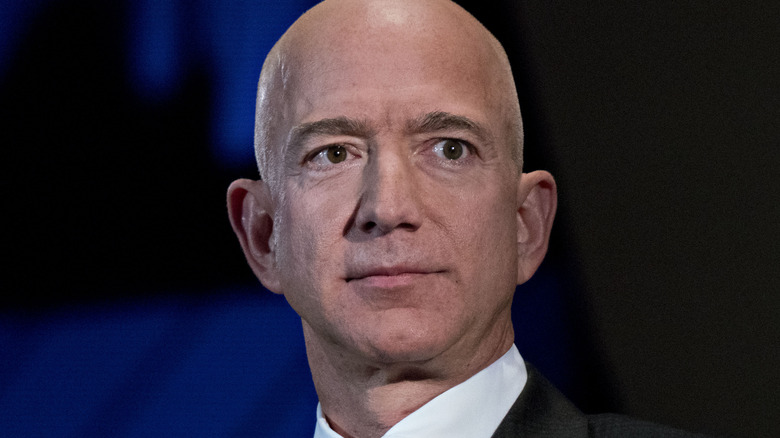 After a bit of nudging by alleged "critics," philanthropy is something Jeff Bezos has invested in in a big way, according to CNBC. His Bezos Day One Fund, launched in 2018 with $2 billion in seed money, is an American organization focused on creating top-rate preschools in low-income areas, in addition to supporting homeless families. His programs are given grants in order to fulfill Bezos' vision. In fact, in 2019 alone, "the fund awarded $97.5 million in grants" to two dozen U.S. organizations, with $5.25 million going to the Homeless Services Network of Central Florida, per CNBC.
When the Bezos Day One Fund became a reality, Bezos hopped on Twitter to explain the meaning behind the name of his philanthropic operation. "I talk often about the importance of maintaining a Day 1 mentality," he said, adding, "It's always Day 1, and I work hard to apply that mindset to everything I do … By so many important measures the world keeps getting better, and it's one of the fantastic aspects of human nature that we humans never stop looking for (and finding!) ways to improve things."
Good to his word, the Bezos Day One Fund continues to be at work as the organization fulfills the highly-engaged entrepreneur's financial legacy in the areas to which he has contributed a giant sum of his seemingly endless fortune. 
Source: Read Full Article