Shakira Seemingly Slams Gerard Pique, His New GF In New Single: 'You Traded a Rolex for a Casio'
"Good luck with my so-called replacement."
Shakira appears to be taking aim at her ex, Gerard Pique, in her her latest single, which dropped Thursday morning.
Titled "BZRP Music Sessions #53," Shakira collaborates with DJ Bizarrap on the upbeat song — which also drags an unnamed ex and his new girlfriend. The song comes following Shakira's split from the soccer star in 2022 and reports he's dating 23-year-old Clara Chia Marti.
Unable to render YouTube Video.
Translated from Spanish, the track begins with her saying her ex gave her "the worst version of you" during their time together — before adding, "I was out of your league, that's why you're with someone just like you."
"I won't get back with you, not if you cry, not even if you beg me," she continues, before she says he left her with "my mother-in-law as my neighbor, the press at my door and debt with the government."
"You thought you hurt me, but you made me stronger," she continues, before telling him, "No hard feelings, I wish you good luck with my so-called replacement."
"I don't even know what happened to you. You're so weird I can't even recognize you. I'm worth two 22-year-olds," she sings. "You traded a Ferrari for a Twingo. You traded a Rolex for a Casio. So much time at the gym, but maybe work out your brain a bit too."
Adding that paparazzi take photos of her everywhere she goes and she feels like a "hostage" in her own home, she says "I can be out by tomorrow and be my guest if you want to move her in too."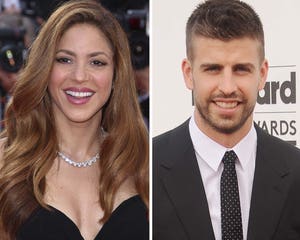 Shakira Posts About Wounds, Betrayal In New Year's Post Following Gerard Pique Split
In a statement made to Reuters at the time of their split, the three-time Grammy Award winner and her ex shared a joint message announcing their separation. The pair share sons Sasha, 7, and Milan, 9.
"We regret to confirm that we are separating," it read. "For the wellbeing of our children, who are our highest priority, we ask that you respect their privacy."
On the heels of her announcement, the "Hips Don't Lie" artist got extremely candid about going through "one of the most difficult, darkest hours" of her life in an interview with Elle.
She opened up about the "dissolution" of their relationship and admitted at the time it was "really hard to talk about personally."
"I've remained quiet and just tried to process it all," Shakira admitted. "Um, and yeah, it's hard to talk about it, especially because I'm still going through it, and because I'm in the public eye and because our separation is not like a regular separation."
Saying the situation has been tough for her and their children, she added that she's also tried to "conceal the situation in front of my kids."
"I try to do it and to protect them, because that's my number one mission in life," she continued. "But then they hear things in school from their friends or they come across some disagreeable, unpleasant news online, and it just affects them, you know? It's really upsetting for two kids who are trying to process their parents' separation. And sometimes I just feel like this is all a bad dream and that I'm going to wake up at some point."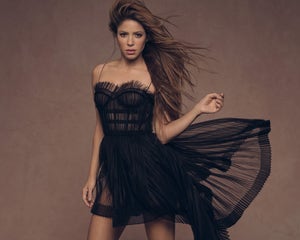 Shakira Opens Up About Shocking Gerard Pique Split, Custody Battle and Tax Fraud Allegations
Source: Read Full Article