Is 'Property Brothers' Totally Fake? Here's Why Some Fans Are Convinced It's Not Real
Anyone who's watched HGTV for more than five minutes has probablyseen the identical smiling faces of Drew and Jonathan Scott. The Canadian twinbrothers are two of the most recognizable hosts and their long-runningseries Property Brothers is one ofthe most beloved shows on the network.
However, like so many home renovation shows, Property Brothers has come under fire for being way too staged. Fans love watching the befores turn into afters, but at the same time, they don't appreciate seeing such unrealistic transformations play out on screen.
How fake is Property Brothers? Read on to find out.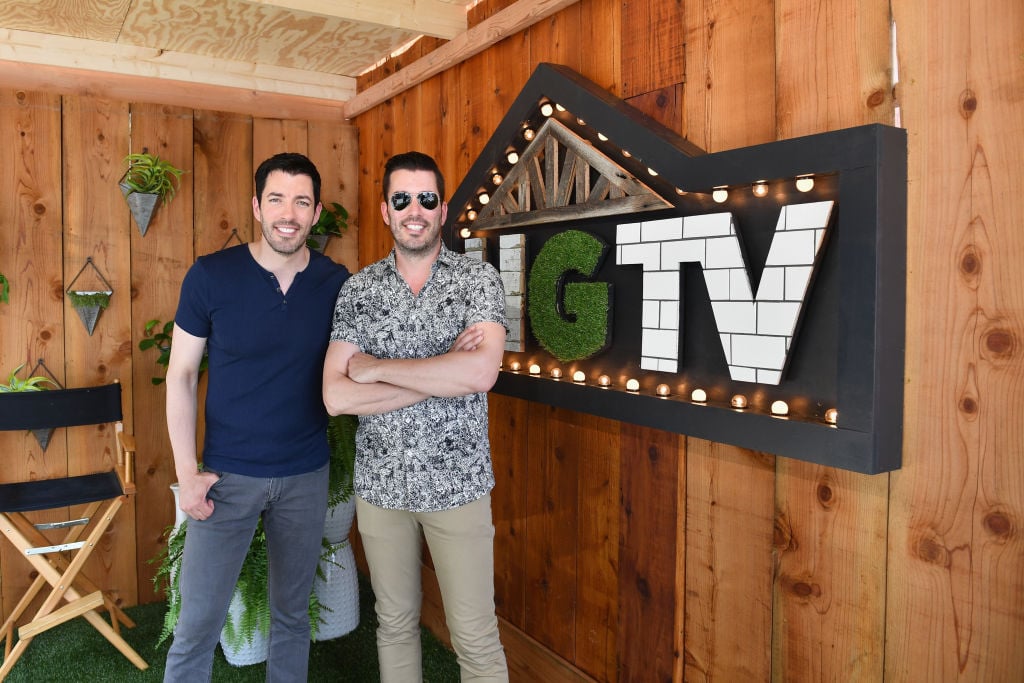 The drama on 'Property Brothers' is overplayed
The first home tour on Property Brothers is always interesting. The idea behind it is simple: Drew Scott takes the prospective homebuyers on a tour of a house they can't afford so they can bring their expectations back down to earth once they realize how much their "dream home" really costs.
Even avid fans of the show act surprised when that first house winds up being way too expensive. As you've probably guessed already, this part is definitely staged and usually, homebuyers are aware that the first house they tour is out of their budget. Otherwise, why would they even be on the show?
How do we know? For one thing, homebuyers only qualify to be on the show if they have at least $65,000 to spend on home renovations. Those people know that buying a perfect house that's already done won't be worth filming for Property Brothers. Also, every episode starts exactly the same way—anyone who's seen one episode also knows the premise of the show.
Sometimes the house hunting part is fake
Most people realize that on the popular HGTV show House Hunters, the prospective home buyers aren't touring homes they're really considering. Instead, they are already under contract on a house when filming begins, so all the houses they go to see aren't actually in the running.
Same goes for PropertyBrothers. While the show makes it seem like people are starting from squareone searching for their dream properties, in reality they've probably narrowedit down to a few options or may even have decided on a particular housealready.
"We have homeowners who have identified a house that they already like. Because everything moves so fast for the show, we have found that it doesn't work well for people who haven't even started searching," Jonathan Scott told Popsugar. "It needs to be people who really have started to narrow down the stuff that's important to them."
Jonathan Scott isn't always the realtor
Obviously if a couple already has a house under contract, it means they're also working with a real estate professional. There are times when Jonathan steps in to do negotiations (if he's licensed to sell houses in that state), but most of the home tours aren't legit.
Similarly, any person buying a home solo will always have a friend along so the episode isn't boring. This so-called sidekick doesn't serve any purpose besides making the dynamic more interesting.
The whole house doesn't get renovated
A $65,000 home renovation budget sounds excessive, but in theworld of contractors it doesn't always stretch too far. You'll probably noticethat Jonathan Scott and his crew only tour certain parts of the house duringthe big reveal. The reason for that? Not everything gets renovated, and showingall the rooms wouldn't be too exciting.
In a similar twist, Jonathan Scott is not the only one swinging ahammer, though the show certainly makes it seem that way. In real life, healways has a crew helping, even if they don't get as much time on camera.
The arguments are staged
Ever notice how there's always a big added expense or unforeseen issuethat pops up halfway through the episode? That's intentional to keep youwatching. And while problems are sure to happen during any renovation, it's thesurprise factor that's usually staged. Drew and Jonathan Scott are most likelywell aware of these issues long before the filming starts.
Also, the producers might do re-shoots and play up any argumentsbetween the homebuyers, no matter how trivial they may seem. After all, it'sthe drama that keeps people watching—right along with those satisfying bigreveals!
Source: Read Full Article