The Truth About Amber Portwoods Tense Relationship With Her Daughter Leah
Mother-daughter bonds and relationships are often painted as either home-run hits or relationships where something is very amiss. It's very hard to pinpoint where exactly that shift in relationship dynamics occurs. But for "Teen Mom" fans, anyone can look back at old episodes to see how the young moms of the show handled growing up with a child in tow.  Amber Portwood was one of the original cast members from "16 and Pregnant" in 2009 who was promoted to "Teen Mom" and eventually to "Teen Mom OG." 
In "Teen Mom OG," viewers can watch Amber's life with her firstborn, Leah Leann Shirley, drastically change throughout the years. Amber is single and has one other child, James Andrew Glennon, with her ex-fiance, Andrew Glennon. Amber did not have the greatest relationship with Andrew. After the couple got together in 2017 and called it quits in 2019, she decided to get a restraining order on Andrew for ignoring their custody agreement over their son, James. 
That's not the only strained relationship Amber is facing; there seem to be issues brewing between her and her daughter, Leah. Keep reading for more.
There's no communication between "Teen Mom OG" star Amber Portwood and her daughter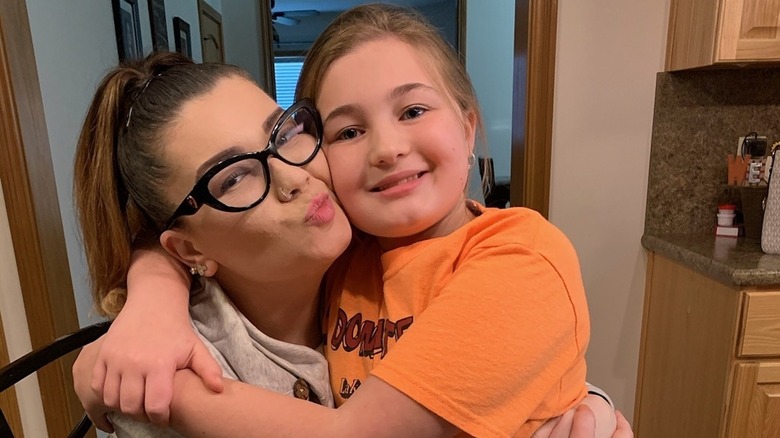 Amber Portwood had her daughter, Leah Shirley, when she was 18 years old in 2008. Thirteen years later, things look very different for the reality star and her child. Amber claims that her relationship with Leah is still struggling, and she hasn't seen nor heard from her daughter in a long time. "All I do is text Leah all the time," she added. "I don't get anything back. Never. Not anymore," Amber said on an episode of "Teen Mom OG," via People.
This breakdown of communication could possibly stem from the bad relationship Amber has with her ex, Gary Shirley, and his wife, Kristina Shirley. Amber went on a rant about Gary and Kristina on Instagram Live before the "Teen Mom OG" reunion and claimed they weren't the best parents for Leah. "[Kristina] doesn't take care of my daughter… Gary wouldn't have a job if it wasn't for me in the very beginning," Amber said on Instagram.
At the "Teen Mom OG" reunion, Amber had some fiery words to say about Kristina, Gary, and their complicated relationship. "You said I could trust you and I did trust you," Amber said about her ex, Gary, via E! News. "But I can't trust your wife and she has sat there and got in the way of me and my daughter over and over and over again as you have tried to push me towards my daughter."
Amber Portwood isn't giving up on her daughter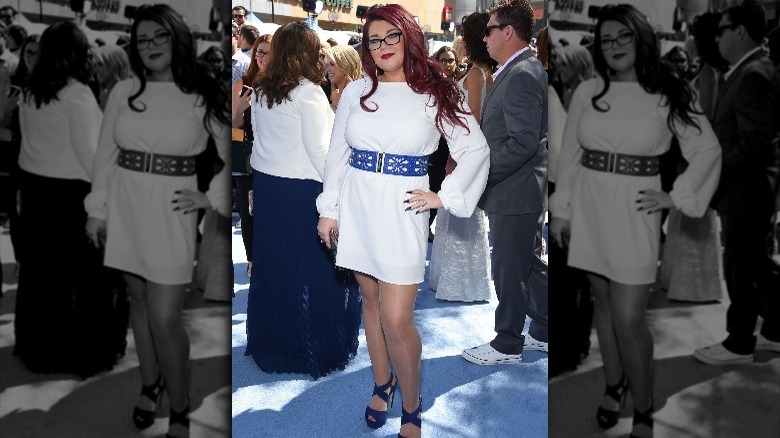 Accusations and intense conversations aside, Amber Portwood still isn't giving up the hope that she can repair her relationship with her daughter, Leah. "I can't count the days," Amber said on "Teen Mom OG," via People. "It's just going to make me more depressed. I don't understand why I'm getting treated this way right now. I'm not going to give up on her." 
In Season 8 of "Teen Mom OG," Leah said Amber "just birthed" her and then discarded her, according to People. These comments hurt and shocked Amber and her mom, Tanya Portwood, who both believe that there are outside influences making Leah feel this way. "Someone is in her ear," Amber stated, via People. "And it's not right."
Amber hasn't posted any interactions with Leah on her social media since Easter, and she wasn't allowed to see Leah on that day, either. Still, Amber posted a sweet note to Leah on Instagram in April: "I know you are going through a lot and there are many things I need to do to make things right. However, I will always love you, my beautiful daughter. Love you and Happy Easter." Let's hope that brighter days are upon the horizon for this mommy and daughter duo.
Source: Read Full Article