What You Need To Know About All Of Bobby Flays Ex-Wives
After Bobby Flay earned his Hollywood Walk of Fame star on June 2, 2015, his dual existence as chef and TV star was literally laid in cement. Even though this was likely a major career highlight, a not-so-pleasant piece of Flay's personal life was on full display at the event. By then, Bobby Flay had been married three times but was single when the Hollywood Chamber of Commerce presented him with a star on that stretch of Hollywood Boulevard. According to the Walk of Fame website, At that point, Flay became "the first chef to be honored with a star" on the famous sidewalk.
The ceremony took place not long after Flay and his third wife, "Law & Order: Special Victims Unit" actor Stephanie March, split up. The celebrity chef's first spouse is fellow chef Debra Ponzek, and his second wife is Kate Connelly, a TV host with whom he worked at the Food Network.
As for what went down in each of these relationships? And as for what happened at the Walk of Fame unveiling? Keep reading for the sometimes shocking answers to this question. Here's what you need to know about Bobby Flay and his ex-wives. 
Bobby Flay married Debra Ponzek at the Rainbow Room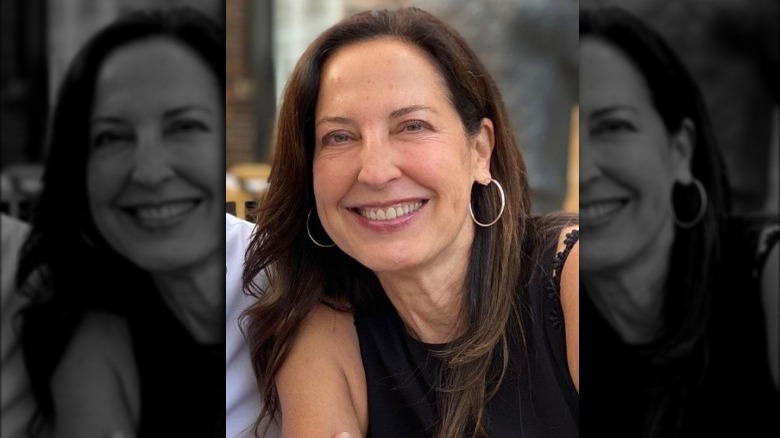 Bobby Flay and Debra Ponzek wed in 1991 at New York City's famed Rainbow Room after meeting the year before, according to The New York Times. While Flay and Ponzek are both professional chefs, neither cooked on that special occasion, which included a selection of delicacies like foie gras and oysters as starters prior to grazing on a number of delicious courses. As the outlet recounted, the guests were offered "lobster in consomme with fresh herbs, squab and veal with roasted shallots, goat cheese terrine with walnut bread." And as if you weren't salivating already, the final course included a vanilla and blackberry wedding cake by Sylvia Weinstock, the legendary baker that has appeared on TV shows such as "Nailed It!" and has been dubbed "the Leonardo DaVinci of cakes" by Wedding Market. 
According to The New York Times, Ponzek and Flay were ready to get hitched just "weeks after meeting" at a charity event. Evidently, Flay wooed his future first wife with his cooking. As The NYT recounted, he prepared "an elaborate meal" for Ponzek and her friends at Miracle Grill, the restaurant where he worked at the time. "It was great; I loved it," Ponzek shared with the outlet. Suffice to say, Bobby Flay set out to impress Debra Ponzek, and he did just that.
Bobby Flay and Debra Ponzek are both chefs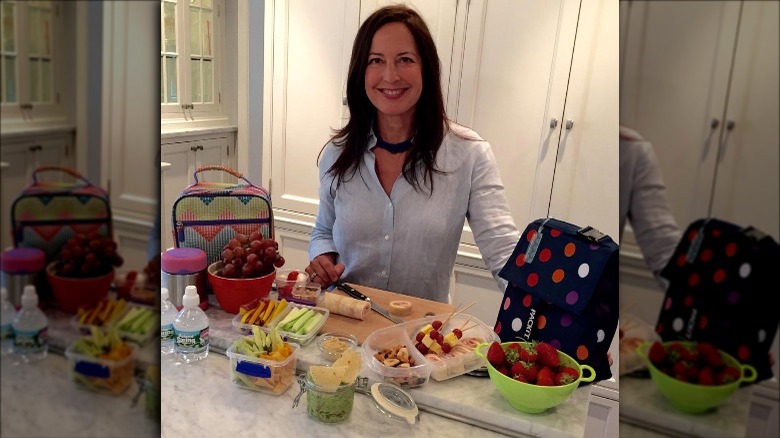 Long before chefs Debra Ponzek and Bobby Flay connected at that charity event, Ponzek had her sights set on a totally different career path. As The New York Times noted in the former couple's wedding announcement, she originally studied engineering at Boston University. But after she found herself "unhappy" at college, she pivoted to culinary school "and has been cooking ever since." 
While Ponzek and Flay sure know their way around a kitchen, it looks like their union was not exactly a recipe for success. Less than two years after becoming husband and wife, Debra Ponzek and Bobby Flay divorced in 1993, according to Us Magazine. The split happened the year after Ponzek won the coveted Rising Star Chef of the Year from the James Beard Foundation. But wait, the plot is thick like a roux: Ponzek and Flay were up for the same accolade that year.
As former James Beard Foundation Awards director Melanie Young recounted for Eater, "Bobby called me asking to withdraw his nomination to not compete against Debra. I told him, 'We can't change voting results.' The next year, Debra presented the Rising Star Chef Award to Bobby." Yes, the very year they ended their marriage, Flay received an award from his first ex-wife. 
Debra Ponzek found love again with another fellow chef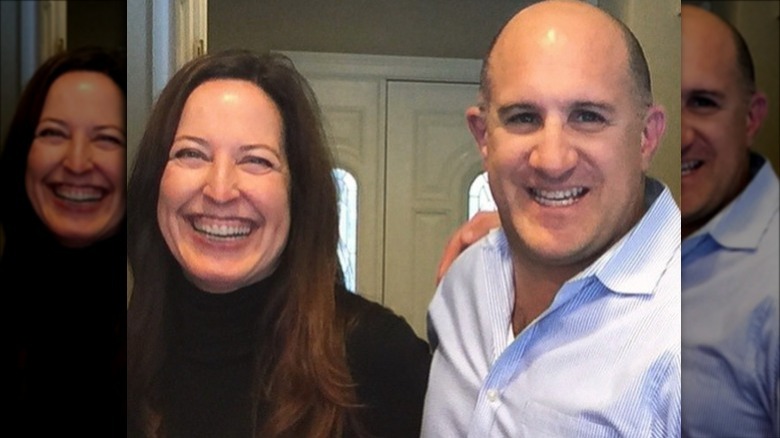 Debra Ponzek seems to have a thing for chefs. Not very long after she and Bobby Flay parted ways, she married fellow foodie Greg Addonizio. The two would go on to create Aux Délices, a specialty store "where everything is made from scratch" as well as an adjunct catering business called Aux Delices Events. As Ponzek shared on the Aux Délices website, they've known each other ever since they were in culinary school together back in 1984. They would end up in each other's lives once again following her divorce. "As fate would have it, I was on a late-night TV show doing a cooking demonstration and a mutual friend told Greg about it — and the rest is history!" Ponzek recounted. "Greg and I reconnected again and were then married in April 1995." The two share three children.
Ponzek has amassed an empire, making her worth an estimated $5 million as of June 2021, according to People AI. She is a successful cookbook author, having penned "The Family Kitchen," "The Dinnertime Survival Cookbook: Delicious, Inspiring Meals for Busy Families," and "The Summer House Cookbook: Easy Recipes for When You Have Better Things to Do with Your Time." She has also been nominated for multiple awards beyond winning the James Beard Foundation Award for Excellence's Rising Star Award in 1992, including the James Beard Award for General Cooking and the James Beard Award for Best Chef New York City.
For their first date, Bobby Flay took second wife Kate Connelly to the Monkey Bar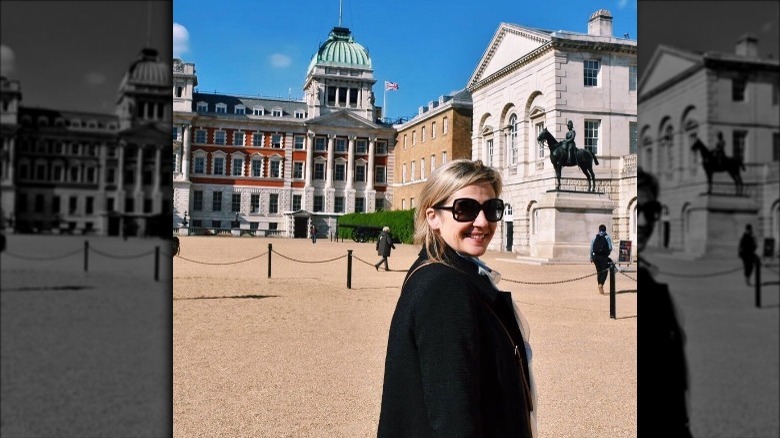 Bobby Flay "hit it off" with his second wife, Kate Connelly, when they crossed paths at the Food Network in the mid '90s, according to "From Scratch: The Uncensored History of the Food Network." She was co-host of a show titled "Robin Leach: Talking Food" on which her future husband was a guest spouting off about — what else? — food, reported The New York Times. Robin Leach warned Connelly to be careful when he noticed that the pair experienced "an instant attraction" which triggered "instant danger signals." 
Choosing not to listen to Leach, Connelly went out with Flay. In fact, their first date — dinner at Monkey Bar inside the Hotel Elysee in Manhattan — was a rousing success. "I've never had such a good time in my life on a date, ever, ever, ever," Connelly told the NYT. "I don't remember what I ate."
Flay and Connelly's dating relationship swiftly began shaping up into something more. After only a few months of knowing each other, the chef asked the television host to be his wife. According to the NYT, they married at Flay's Bolo Bar and Restaurant near midtown Manhattan. For his first wedding, he opted to go with food prepared by a kitchen outside of one of his establishments, but this time around? A different story. As the NYT noted, all of the dishes came from Flay-owned restaurants.
Family life for Bobby Flay and Kate Connelly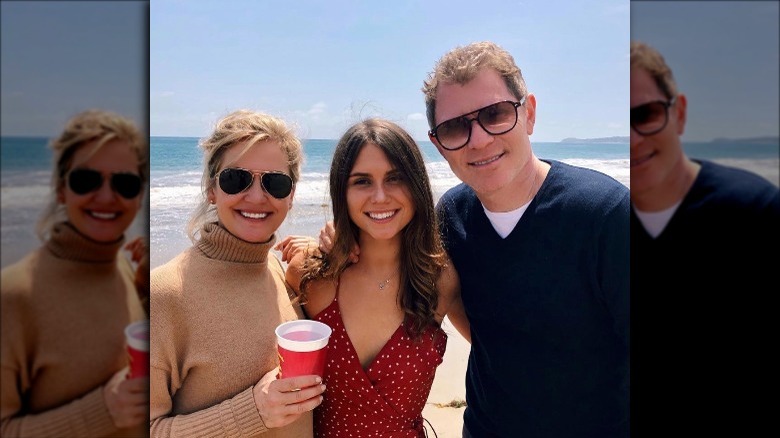 As The New York Times wedding announcement noted, Kate Connelly was a mother to a little boy named Jonathan before she met and married Bobby Flay. When the outlet asked the future Food Network megastar about how it felt to become a stepfather and a husband all in the same moment, he replied, "It's a complicated situation and the odds are against us, but that's what's great about it. If there's no challenge, why do it?"
Alas, Kate Connelly and Bobby Flay weren't married long before they split. As Extra recounted, they headed for divorce in 1998 — just three years after they said "I do." But before they ended things, they welcomed a daughter named Sophie Flay. Following her marriage to the "Throwdown with Bobby Flay" host, Kate has kept a relatively low profile away from the spotlight and social media, though she does occasionally show up in Sophie's Instagram posts.
Bobby Flay's love for daughter Sophie is never-ending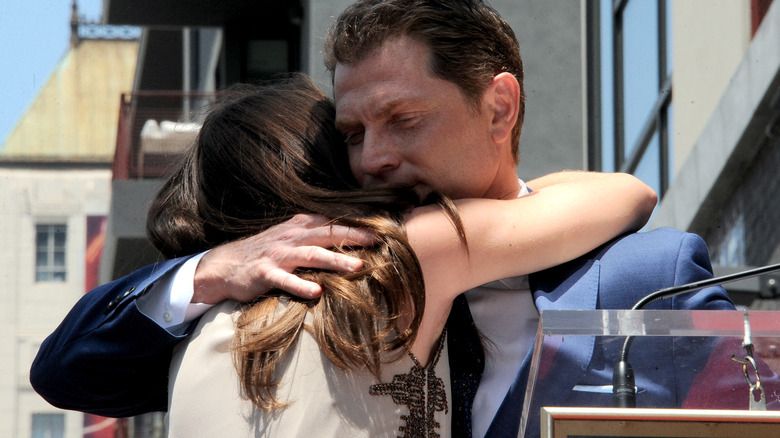 Born April 16, 1996, Sophie Flay sure seems to be following in Bobby Flay's footsteps. "The Flay List," a show where Bobby and Sophie seek out the best local restaurants in Los Angeles, hit the Food Network in 2019. "My dad and I are always talking about and trying to find our next great meal, and that's exactly what you see in the show," Sophie said of the series in Parade. "Basically, all we do when we're together is eat, so it was not surprising that it didn't feel like work." The two also took over iHeart Radio with "Always Hungry with Bobby Flay and Sophie Flay," a show where they have a blast talking about food and cooking while she gives her thoughts on cuisine trends for the younger, hipper set. 
In addition both being very into the culinary world, Sophie told Parade that she and her dad like "a lot of the same TV shows," listen to "a lot of the same podcasts," and "love horseracing."  
Per her ABC7 bio, Kate Connelly and Bobby Flay's daughter got her degree in broadcast and digital journalism from the University of Southern California, where she "won third place in the 2019 BEA Festival of Media Arts." She's interned at "The Today Show" and ABC7, the latter of which brought her on full time as a community journalist covering the giant city's northeast side, including Silver Lake, Echo Park, Los Feliz, and other enclaves in the area.
Bobby Flay's third marriage was complicated
It's not a stretch to say Stephanie March's relationship with the Food Network personality who inspired a not-so-flattering Urban Dictionary definition didn't end on the best note. Still, the beginning of her courtship with Bobby Flay was dreamy, according to CNN. A stalled blind date seemed to end in a perfect match, and March even believed the relationship would last forever. "I know it's a cliché, but I remember thinking, 'Oh my gosh, this is the rest of my life,'" she exclaimed to the outlet. 
The proposal went as smooth as ice. As CNN reported, Flay popped the question at the Rockefeller Center ice rink, leading to what would be his third marriage but her first. Two years after he proposed, the pair wed, and everything seemed to be as it should be. In fact, the actor and the chef even worked on camera together for various Flay ventures, including "Boy Meets Grill with Bobby Flay."
Of course, through the years of their marriage, March picked up plenty of credits on her own. She continued to embody her Alexandra Cabot character from "Law & Order: Special Victims Unit" on a spin-off show called "Conviction." She also had parts on "Grey's Anatomy," "Happy Endings," and "30 Rock," among many other television shows. 
Stephanie March reportedly accused Bobby Flay of stepping out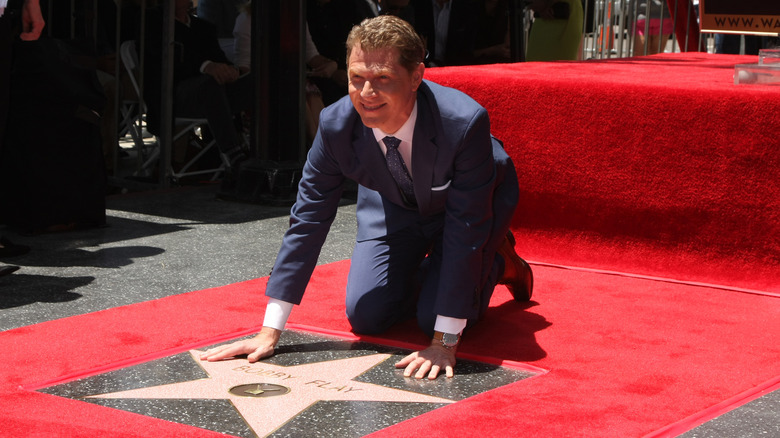 Sadly, the union with Bobby Flay was not Stephanie March's forever relationship. In April 2015, a source told People that the relationship was over, calling the split "inevitable." 
Following the news of their separation, Page Six reported a friend of March's alleged the Food Network chef was involved in a cheating scandal. According to the source, Flay allegedly was having an affair with his assistant, Elyse Tirrell. After this suggested situation came to light, Flay's rep stated they would "refrain from responding to continuing efforts by certain parties to spread rumors and innuendo." Regarding the allegations, a friend of Flay's told Page Six, "None of this has any basis in reality." During the divorce proceedings, March allegedly contested her $5,000 a month prenup. As In Touch reported at the time, March was "challenging her prenup with the celebrity chef and accusing him in court papers of adultery with three women, including actress January Jones!"
When Flay's Hollywood Walk of Fame ceremony took place only months after his relationship with March came to a screeching halt, a plane carrying a banner that read "CHEATER" soared right over the event. A rep for March told Us Weekly that March was "absolutely not behind [this]."
Stephanie March divorced Bobby Flay and married a tech mogul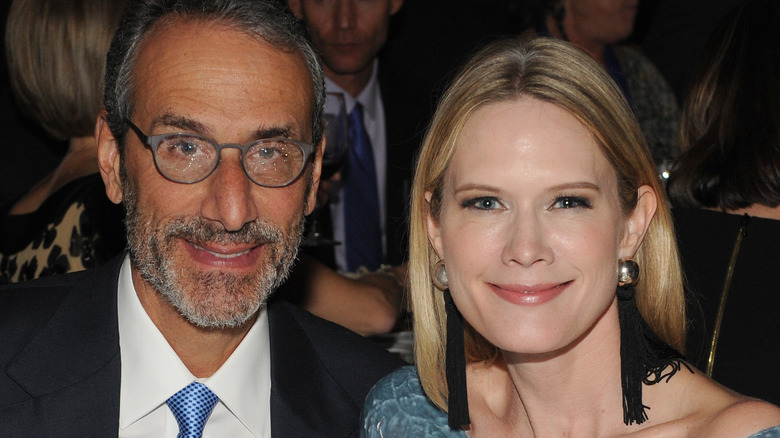 Even though Stephanie March and Bobby Flay went through a lot together — in an essay for Refinery29 she shared that she got breast implants as her marriage was coming to an end because "I couldn't change my life" — the actor didn't take very long to get over the Food Network personality. Not even a year after they divorced, she met her second husband, Dan Benton, according to People. A mutual friend connected the "Law & Order: SVU" star with the tech investor and co-founder of Andor Capital Management, and sparks promptly few. Evidently, that mutual friend knows how to make a match. 
After dating for less than a year, March and Benton became engaged during a romantic holiday in Greece and then wed at their home in New York. As People noted, a Dolce & Gabbana-clad March marched down the aisle to the "Star Wars" theme, "which her best friend played on her grandmother's piano." As for traditional touches, March "borrowed" the earrings she wore from her sister, and the blue flowers on her dress were the "something blue." The guests celebrated the newlywed couple over a delightful al fresco lunch. According to American Luxury, the two scooped up a spot in the West Village for a casual $35 million after they got married.
Bobby Flay fell in love with actor Heléne Yorke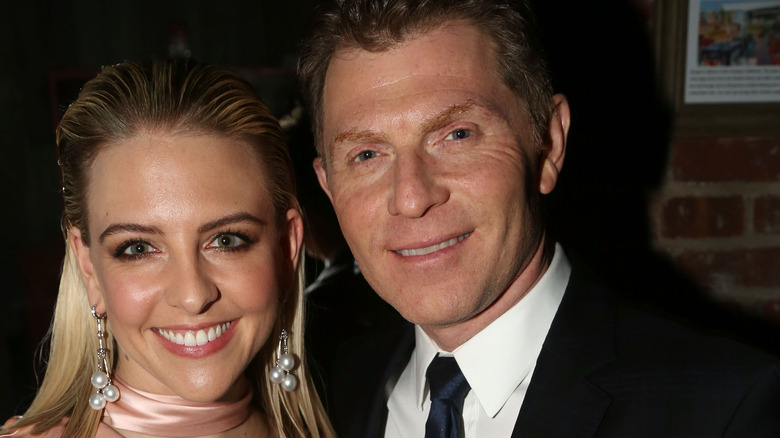 Bobby Flay had been a bachelor for a few years when he met Heléne Yorke in 2016 in a way worthy of a rom-com. As Flay recounted to chef Alex Guarnaschelli on an episode of "Beat Bobby Flay" (via People), the pair became an item after running into each other at a New York Knicks game. Yorke, who just so happened to be one of the guest judges on that very episode of "Beat Bobby Flay," also joked about what it's like trying to cook at home when Flay's around. (Spoiler alert: There's bellowing about oven temperature and ancho chiles.)
Yorke's credits run the gamut, from Broadway shows like "Grease" and "American Psycho," to memorable television and film roles. Meanwhile, the "Masters of Sex" thespian was happy with her guy for a good two years. But in 2019, Bobby Flay shared on an episode of "Beat Bobby Flay" that he was "very single," joking that Yorke "kicked [him] to the curb," (via People). This personal detail came up when guest judge Fran Drescher noticed there wasn't a wedding ring on Flay's finger. Learning there wasn't one, "The Nanny" star seemed to be angling for a date with the storied chef. Who knows? Maybe she will become the fourth Mrs. Bobby Flay. Stay tuned.
Source: Read Full Article